YORK AND PROUD OF IT
Next YCS Event: Thursday March 1st (7:30) - DALE BANTON at The Perseverance 63 Lamb's Conduit Street, London WC1N 3NB. All welcome. Its an independent freehouse in Bloomsbury, close to both Russell Square and Holborn tube stations. Darts nights (March 22), hospitality box (April 21 v Leamington) and more to follow. All Welcome. Read More
Graeme Crawford and City's Keepers: Who Is Our Best Ever?
YCFC Vice Presidents 200 Draw. £30 a season. Open to all. Read More
Congrats Andy Naylor our the 2017 YCS Quiz King. Try the quiz for yourself. PLUS: York City Quiz Book and our 2017 Yorkshire Quiz
YCST: website and JOIN THE TRUST
YCS - Statement Of Activity: 2016/7
London Calling: 2017/8 travel details
YCFC Accounts: Not good reading
Bowie (and more): play York Music and Musical City - YCFC music
League Standings: YCFC Season By Season
Players & Contracts: YCFC Players: Contracts, playing records and transfer fees
New Frontiers: Out Now: #27 click for free download plus all the new frontiers
Email Chairman Derek or Dot or webmaster Chris
YCS: Facebook and Twitter YCS or Twitter new frontiers / YCFC Quiz Book
Support City - Your Pick
YCS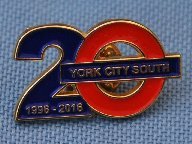 York City Quiz Book & Brief History. Available Now. £5 (add £1 for overseas P&P). Payments to 40-47-83 94-86-64-95 with your name as reference and email Chris quoting your reference and address or send a £5 cheque, payable to Chris Forth, to 80 Manor Way, Harrow, HA2 6BY. All profits to YCS / YCFC. Read More
York City South was formed in 1996. To mark our 20th anniversary, we have commemorative badges for sale at £2.50. Order via email - or see Ray or Dot at the next match.