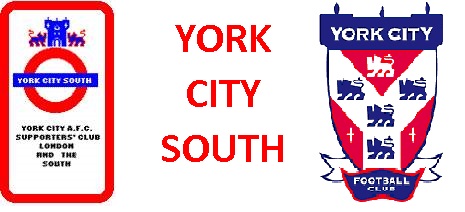 Upcoming Events At The Sheephaven Bay (and beyond)
Our usual venue is
The Sheephaven Bay
(2-3 Mornington Street, Camden, NW1 7QD), a 5 minute walk from Mornington Crescent tube. Our alternative inner London venue is
The Perseverance
63 Lamb's Conduit Street, London WC1N 3NB. All welcome. Its an independent freehouse in Bloomsbury, close to both Russell Square and Holborn tubes. PS We outgrew our previous venue,
Old Doctor Butler's Head,
2, Masons Avenue, London, EC2V 5BT.
YCS - Chairman's Report / Chairman's Welcome
2023 events to be announced very soon.
Thursday December 8 2022: Xmas social - AGM and guest speaker Alastair Smith.
Saturday December 3 2022: CITY draw 1-1 with Wrexham in front of a YCS crowd at The Sheephaven Bay
Saturday November 12 2022: YCS at The Sheephaven Bay to watch BT Sports as City visit Altrincham (kick off 5:20). All welcome. Good food and drink available.
Wednesday August 17 2022: YCS at The Sheephaven Bay to watch BT Sports as City visit Solihull Moors. All welcome. Good food and drink available.
Saturday April 23: YCS enjoyed hospitality, including a Jon Parkin Q&A, at the LNER Community Stadium and presented our player of the season trophy to Peter Jameson after the game. The only let down was a late Gloucester equaliser in a 1-1 draw. See the hospitality programme.
November 25 2021: Darts Night at The Sheephaven Bay
Autumn 2020: AGM & Quiz Night - Cancelled
Saturday March 14: YCS hospitality box v Altrincham - Cancelled, game off
Wednesday March 4: Darts Night
Wednesday November 13: Pizza With Parslow
Thursday October 17: Dean Kiely
Our social evenings are a lively mix of branch matters, City chit chat, City DVDs and videos, travel arrangements, darts, quizzes and much more. They are a great chance to share and discuss City matters. Throw in a few guest speakers and we've got a packed schedule. Previous speakers have included Sophie McGill, Douglas Craig, Chris Jones, Graeme Crawford, Jon Champion, Dean Kiely, Daniel Parslow, David Ward, Steve Beck and Josh Easby. There is an open invitation to the manager and his merry men to come along to a meeting, but obviously being in London makes it difficult for anyone from York to get down and back. Like the club, our finances don't stretch to the extravagance of overnight trips if they can be avoided. However, managers since Martin Foyle have invited us into the team hotel on a Friday night before an away game in the south east.
We're a potent mix of once a year supporters to season ticket holders, Yorkshire diehards to Cockney Reds, media whizz kids to pinstripe international jet setting accountants, Anne Robinson's best mate (not the horse!), various chums of Steve McClaren from his schooldays and government and FO officials. You're bound to fit in somewhere with that lot.
We have a special Christmas meeting in December, darts night in the bleak mid winter and YCFC Quiz in the spring. Warm up starts around 7 o'clock and the more formal bit is usually over by 9:30, but rest assured we put the world (or at least City) to rights until closing time.
Our socials are so legendary, one even made it onto Sky Sports!
...and finally, see all our Photos