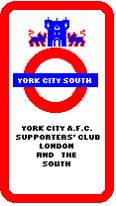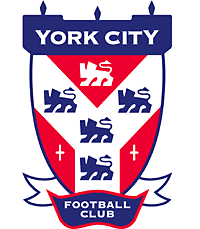 Southern Connections
My Ideas For The Future Of The Club
23/Apr/2005 (Farnborough) - Charles Forth (age 7)
Next season I think we will be promoted. I know Chris and Viv wronged many rights, but Billy is better and will sign some good players in the summer. Dad says Billy will have lots of new players to pick from in the summer so we should be alright. Anyway Billy must be good, he's got an 18 month contract, Sir Alex Ferguson's new one is just 12 months. And I'm glad he saved us from relegation, it would have been a disaster for us York City South supporters with all our away games in the north. My teacher, Miss Cunnington, gave me a minus house point when I told her Worcester and Kettering are in the north of England.
I'm doing my bit for City and trying to get the best football players in my class to sign for City Boys, they are called Josh, Dan, Akeel and Aidan. If we need a trouble maker for midfield who will always fight and get us lots of yellow cards than I know who we should sign from my school.
Today, I'm at the match with Dad. Mum has had to stop at home to look after my little sister who is called Nikki. She is 3 and Mum says she is too young to go to football because she wouldn't sit still. But I thought it was only Arsenal supporters who sit still, everyone else jumps up and down and shouts and screams a lot, just like Nikki. Anyway, Mum doesn't know much about football. The first time she saw City, it was 3-3 and she was excited. She was excited next time when York lost 2-4. After that York won 1-0 and she said it was boring because they weren't many goals. The last time she went it was at Brighton when it was abandoned. She says she wants to go there again. But Dad says their ground is now a Tesco. I didn't see any of those games, I'm not sure if I was in mummy's tummy or the glint in daddy's eye.
Today I'm excited because its the end of the season and that someone will get a trophy for Clubman Of The Season, I voted for David Stockdale. Dad says that some of our players playing today might not be here next season and they will be sad. I think they have been lucky to play for York, but if like Jonathan Maloney, they have improved at York then they should be happy as well.
Charles is also today's mascot. This is what he had to say about himself on Page 3. I'm Charles Forth (age 7) and made my City debut v Oxford in October 2003. I've gained representative honours for Quainton Hall School (Harrow) Under 8s. I'm a striker who doesn't score many goals. One day I want to play for City. My favourite City players are Chris Brass, David Stockdale, Paul Groves and Kevin Donovan. My hobbies include skiing, trains, making sandcastles and writing programme articles. My favourite foods are duck's tongue and salmon with rice.
We hold regular monthly meetings - usually on the second Thursday of the month. Our Annual General Meeting will be on Thursday 12 May from 7.45 pm at THE OLD DOCTOR BUTLER'S HEAD, 2 Masons Avenue, London EC2 5BT [in upstairs function room]. Lots of real ales on offer! Pub telephone number 020 7606 3504. Nearest tube stations are BANK [suggest use exit one] and ST PAULS [both on the Central Line]; or MOORGATE [on the Northern, Circle, Metropolitan and Hammersmith and City lines]. There will be some formal AGM discussions plus general updates and plans for the summer months. For more information, email Alastair Smith or phone him on 01903 813557. Everyone [members and non-members] most welcome!
Wedding congratulations. We would like to congratulate branch member, David Ward and Philippa Gooder on their wedding today.
Mascot. Read about Charles' day as mascot.
Want to see your name in print? The branch is invited to write a short article in every City home programme. The more people who contribute, the more varied and better our page becomes. Most things City related go, so write now, write here.
Bootham Crescent
Main Programme Page