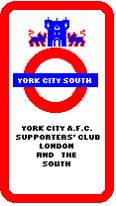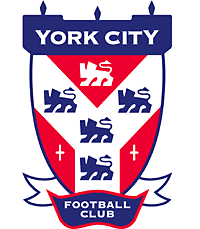 With nearly 100 years of history, York City have enjoyed both good and bad times. The one consistent has been its strong supporter base with many supporters making contributions, both small and large beyond their match day admission money.
Support York City
Launched June 3 2019: York City's first Commercial Opportunities brochure.
York City offers a wide range of options for supporters and friends and businesses to support the club, many can be tailored to suit individual needs, contact (Head Of Partnerships) or York City for more details, please note some prices are indicative and details are liable to change.
York City South offer:
Easy Fund Raising. Spend online at over 3,000 retailers and they donate a portion of your spend to YCS. Install the "Donation Reminder" and App to ensure you never miss a donation. Sign Up Now.
TOO LATE: York City Predictor - where will City finish? £5 to enter and cash prizes for the winner and runners up.
| | |
| --- | --- |
| £Nothing | York City South Easy Giving Shop online and part of your spend is a donation to YCS, register and off you go. PS Install the "Donation Reminder" and app to never miss a fundraising opportunity. Many companies offer 5% or 6%, including Trainline, National Express and many well know outlets, including most supermarkets, many food and drink outlets, electrical outlets, Amazon and eBay, in fact over 3,000, so something for everyone. Best of all, it costs you ABSOLUTELY NOTHING to donate to York City. |
| £Nothing | York Minstermen Easy Giving Shop online and part of your spend becomes a donation to York Minstermen. See York Minstermen Easy Giving. It costs you ABSOLUTELY NOTHING to donate. |
| £800+ | York City Vice Presidents Annual membership. Price includes Main Stand tickets and own hospitality lounge. The VPs arrange events throughout the year in support of York City across the year, many being open to non members, including golf days, pre match meals, quarterly raffles and an annual Christmas raffle. See the Vice Presidents page or contact Richard Adams. |
| £30 | One year's membership of the Vice Presidents' quarterly raffle. About £2,000 in prize money per season with the sales being split between prizes and a donation to City. Contact Richard Adams. |
| £5 | Keith Walwyn Lounge. Meet up with fellow supporters and friends before the game and enjoy a paid bar. |
| | Golf Day. An annual golf day with spectacular prizes and a chance to meet City players and management. Contact the Vice Presidents for more details. |
| | Season Tickets. A full season ticket gives a discount of up to nearly one third when compared to match day admission, equating to over 6 free games a season. Season tickets are available in all areas of the ground with discounts available for senior citizens, disabled, student and junior supporters. Contact our Commercial Manager. Check out half season tickets which give good value and are launched in late autumn. |
| £80 | Annual programme subscription. Get every home matchday programme delivered to your letter box within days of the game in our last ever Bootham Crescent season. Away subscription also available. Contact Gordon Neale for details. |
| £40 | Match Sponsorship and Hospitality Suites. A range of hospitality suites to enjoy the game. Pre match food and drink (alcoholic, non alcoholic and hot to suit all tastes). A chance to meet City players, past and present, and club personnel. The match sponsor will nominate their player of the game and present him with a bottle of bubbly. Several suites, of differing sizes, are available at a cost of about £60 per person. For more detais contact our Commercial Manager. |
| £1 | 50:50 Matchday Draw run by @YorkMinstermen. Half the proceeds go to the club; the other half is given in prizes. As a guide a 3,000 crowd will mean a £300 first prize plus other smaller prizes as well. As well as the cassh prizes, local companies such as PlayFootball York, City Cruises York, World Snooker, Minster Inn, Aldwark Manor Golf & Spa Hotel and the Pear Tree Farm donated prizes during the 2017/8 season. See the sellers around the ground before kick off, hear the result at half time and pick up your winnings after the game. 2017/8 saw £6,500 raised for the club. Can't get to the game? Postal subscriptions are available from Ian Tyssen. |
| | York City Foundation. A whole range of activities (at last count at least 27 activities) supporting the wider community, including ladies football, futsal, Sporting Memories, recreational junior football across the York area and much more, contact Paula Stainton and her team for more information. |
| £14 | Match day admission (David Longhurst Stand). £17 for the Main Stand. Discounts available for senior citizens, students and juniors. |
| | Ground advertising boards. Join a mix of national and local businesses in promoting your business. For more detail contact our Commercial Manager. |
| | Programme adverts. Ground advertising boards. Join a mix of national and local businesses in promoting your business. For further details contact our Commercial Manager. |
| £240 | Sponsor a player's shirt (home or away) for the year. Pick a player, pick up his shirt at the end of the season. For a lesser amount, you can sponsor shorts, boots and gloves. For further details contact our Commercial Manager. |
| £10 | Annual membership of the York City Supporters Trust annual membership. £100 life membership is also available. See the YCST web site for more details. |
| £10 | Join a local branch of The York City Supporters Club. There are branches, including @YorkMinstermen, Harrogate Minstermen, East Riding Minstermen and York City South. Check with each branch for membership details and branch activity. |
| | Family Season Tickets, Family Stand and Junior Reds. Ideal for the young supporters and their families. A dedicated area of The Main Stand with its own warm lounge with pre match and half time drinks and games plus club nights and a chance to meet the players. |
| | Benenden, our club sponsor, primarily operating in the private healthcare market, they also offer a range of travel and home insurance. |
| | Volunteer and more. There are always opportunities. Several of City's current staff were City volunteers and supporters before moving into their current roles at the club. Contact York City for more details. |