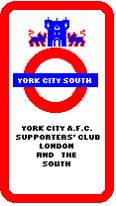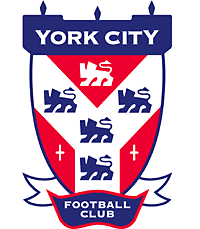 City History
Sophie Hicks
Sophie Hicks (nee McGill), City's Communications Director was the guest speaker at York City South's meeting on November 20. She spoke eloquently and candidly about a huge range of City topics. Her talk didn't finish until 10:50, the latest ever finish for any of our guest speakers.
Sophie arrived slightly harassed. She'd spent the afternoon helping to placate a squad of high performing strikers who'd just read newspaper rumours from Histon that City were about to bid for their star striker. Sophie opened the evening by detailing how she became involved with the club. She grew up as a regular supporter, sitting in the Pop Stand with Mum, Dad and Jason. Sometimes, she gave the impression she wished she could return to those days of corned beef sandwiches and Paul Barnes goals when the family could just turn up and take their seats in The Pop Stand. Enjoy the game, without the need to dress to impress whilst observing the niceties and rituals of the board room and taking care not to leap out of her seat when City score leaving a stiletto size hole in her leather seat.
After university and 3 months working at Manchester City, Sophie attended City's first fan's forum in the autumn of 1999. Douglas Craig's attempt to both re-position the club's standing in the community and to generate new ideas. A couple of week's later, she had a phone call from Craig and an invite to come in for a chat.
Days later, she started work with City. Having decided her own job title, thoughts that she might quickly write her own job spec were short lived. On Day 1, the other staff were not expecting her, she had no desk and no computer. Sophie said, "day one was the highpoint, then it was downhill all the way from there".
She rang through the Batchelor years and how The Supporters Trust took over the club. She was amazed at some of the goings one. Under previous regimes, free transfer players had arrived on huge salaries on long term deals, including one, when re-united with our manager, was asked the manager, "why do you want to sign me, my legs are gone". Anyone who saw him in our defence for 3 seasons at the start of the millennium would have asked exactly the same question. The Trust inherited others on large salaries, again from the embers of the Craig years, one on £3,000 per week. With Football League contracts, they had to be honoured in full and The Trust had no way out.
Equally, Terry Dolan, had a contract that had to be honoured. A twelve month rolling contract with a 12 month pay off if ever he was sacked. There was some flexibility when it came to Dolan's car, but even then, Dolan had to be convinced that his choice of car should be in line with the club's perilous financial position rather than a flash car obtainable at a discounted rate. He came across as old skool and I suspect found it difficult to come to terms with The Supporters Trust's community centric culture after spells with much larger clubs where financials had been much freer.
Craig is still in occasional touch with the club, he rang Sophie in the summer and gave her his forthright views on the Onome Sodje situation. She got the impression that he keeps well up to date with all the happenings at the club.
Sophie is also still in touch with Billy McEwan. She had a well done text from him after the Crewe win. She felt that McEwan was successful in re-building the club after the Brass months, but he struggled to take us up to the next level.
It was apparent that some of the decisions that The Trust and The McGills have made have been more from a fan's perspective and not as a hard nosed businessman, but who wouldn't be after a bit of success when logic goes out of the window. Does a player make a good player manager? Why was Brass's contract enhanced within 6 months when City were 10th in Division 4?. Was Colin Walker's early success entirely down to him or a reaction by the players from being released from the McEwan regime?
Martin Foyle came across very well for his interview. Arranged at short notice, he impressed all with his thorough preparation for the interview. Something that Sophie feels that he has carried on throughout his time at York. I got the feeling that Martin feels some managers are not as thorough and dedicated as he is. Hence his decision to request highlights are not shown on youtube and his reticence to divulge information at press conferences. As Sophie said, "he's paranoid, but not in a Billy paranoid sort of way" but praised Foyle as being "totally straight, totally honest".
We got into the pros and cons of Foyle and City's media relationships and how it might affect public perception of him and the club and how they might differ in good and bad times. The discussion lead onto how our fans sometimes abused players during a game. Sophie recapped instances of our players coming off the pitch at the end of the game, upset about the abuse our own supporters had hurled at them, able to describe individuals and recount word by word the insults. Hardly conducive to success on the pitch.
Touching on the ground. Sophie indicated that the club is still pursuing all options for the new ground and is working with the council's Stadium Project Manager.
Personally, I wouldn't want to be involved with a hung council, parties who may each have a different vision for the community stadium. That's not to mention the aspirations of City, the York City Knights RLFC and the athletics' lobby. Each has its own inputs and requirements.
Sophie backed up what Nick Bassett had said a month earlier around the club's timescales of spring 2010 for announcing the preferred choice.
Meanwhile, back at base, Ross Potter and the club's commercial department is looking to address the loss of revenue arising from the Nestle decision to end their sponsorship. Let's hope that the new frontiers ground naming bid is only the first of many.
When quizzed about ground sharing, Sophie stated that its estimated that it would take around £500,000 to bring the Bootham Crescent up to a standard to allow York City Knights to ground share.
Sophie indicated there might be some flexibility in the absolute date for exiting Bootham Crescent and stated that the age and condition of the ground mean urgent, expensive attention is required. The away end, toilet conditions and holes in The Main Stand are just 3 items needing major upgrades just to allow the club to stand still. You may have noticed sign on The David Longhurst Stand has recently lost a letter. Health and safety requirements mean it could cost several hundred pounds just to replace the one missing letter.
Moving onto the playing budget. The average wage is considerably higher this season than last in support of the club's decision to increase the playing budget and to aim for a better class of player. No player has individual performance bonuses written into their contracts, but there is a bonus system which applies to the whole squad, including manager, coach and physio when City are in the Top 10.
Incidentally, the youth side had been on a bonus if they'd beaten Carlisle in The FA Youth Cup during the week, the first time ever City had offered a bonus to the youth side.
Sophie also indicated that City's big brother house was costing the club nothing and was working very well. City pay the rent and deduct it from the player's salaries. Its enables City to attract better players from further afield and to offer them accommodation at a lower cost than they'd pay if they rented individually.
Throughout the evening, Sophie referred to her "day job" and Jason's "normal job", references to their family firm and a reminder that they like us are true supporters doing their very best for our club.
Josh Easby joined on the phone from New Zealand. An early start for him, after his early morning jog along the beach. He might have still been a little hung over from New Zealand's World Cup qualification, but reminded us all of the key role ex City midfielder, Leo Bertos, had had in creating the decisive goal. Apparently, that makes Bertos and the rest of the Kiwi squad New Zealand dollar millionaires.
We can't finish without a quiz, so:
"He's wearing shit shoes, he's a charlatan", Jason McGill's first reaction to who.
Name the 70 local schools involved in City's community schemes.
Name the City striker that Sophie would like to smother with hugs and kisses in a motherly sort of way.
Answers on the back of a £50 note to YO30 7AQ, York.