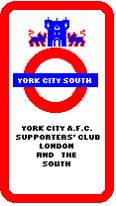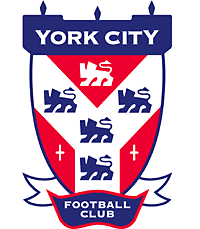 City History
Sophie Hicks (2015)
Sophie McGill, City's Commercial & Communications Director made a return visit to be guest speaker at York City South's meeting on April 16, 2015. As on her previous visit, she held her audience spellbound for over 2 hours, talking and discussing a whole range of issues affecting City.
This Season - Nigel
Sophie opened by describing her family as "true custodians of the football club" and giving her view of a "very interesting season, an unusual season which started with a lot of expectation and we very much thought with a definitely strengthened squad".
She spoke very highly of Nigel Worthington and truly believed without Nigel we would have been relegated in 2013. She said he played a huge part in the training ground developments and progressing EPPP status, the board were very grateful to Nigel for saving us in his first season and for generally moving the club forward. He was good at developing the whole football club and she cited improvements in office administration (noting the first thing she did recently when hearing of Rotherham's position in fielding an allegedly ineligible player was to speak to Lisa Charlton to double check all our players were eligible to play) and described Nigel as a "fantastic asset".
Nigel felt early on things weren't quite right. Towards the end of his time, there were rumblings from him that the players were unable to take on his expectations immediately on the training ground which frustrated him, someone who'd previously worked with players at a much higher level.
She noted in his final game at Newport, where Russell Penn, who Nigel felt was a key person hadn't heeded a half time warning to be careful when on a yellow card and was immediately sent off on the resumption.
A few hours after the game, Nigel spoke to the board to say he was considering resigning, they asked Nigel to consider his position over the weekend, but Sophie felt knowing Nigel, he would go ahead and tender his resignation, which he did.
Sophie felt Nigel had a genuine affection for the club and thought he felt he was doing the right thing for the club, an early resignation would maximise the amount of time his successor had to save the season.
This Season - Russ
Quickly, there were some very well known names who expressed an interest. Sophie suggested that the board had sought someone with proven lower league managerial experience. They weren't prepared to take a punt and risk the whole future of the club on someone who didn't meet this criterion and couldn't afford to take a risk on an inexperienced manager.
When the board meet Russ Wilcox, they were very impressed, "a player's manager, very workmanlike, very honest and knew Division 2".
Russ took some time to assess the squad's quality. The board provided strong support to Russ (Ed - this can be evidenced by having 6 loanees on the books on 2 separate occasions and bringing in the likes of Shaq Coulthirst all the way up north whilst ignoring some of the more vociferous message board postings). Sophie also mentioned the high budget, but that City will remain within Financial Fair Play regulations thanks to a JM Packaging donation.
Sophie spoke about relegation and how it could affect people's lives (including significant numbers of redundancies at the club, both in terms of admin staff and a reduced playing budget and the end of the academy).
Speaking about this season's home performances, she felt sorry for season ticket holders who are based in York and saw mainly only the home games.
Sophie ended her review of the season by noting the huge team effort, including, admin staff and the coaching staff, "a whole team effort".
Next Season
On April 28, Russ sits down with the board to discuss next season's playing budget, it will include initial discussions on the retained list. Russ Wilcox sits down with the board and maps out his plans for next season within the budget set by the board. Sophie indicated that this season's playing budget was a little over £1m (and York City Knight's budget is probably about one tenth of that).
With Football League's financial fair play regulations, City's budget is closely linked to income and with Bootham Crescent's limited options regarding non match day income, City's budget is invariably limited, when pressed, Sophie suggested it was around the 10th or 12th biggest in the division.
Sophie listed the players whose contracts expire this summer, indicating it was Russ' decision as to whether to offer them new contracts or not.
For those squad players already contracted for another season, the club could look to move them on, or worst case, to agree a deal with a player to terminate (and pay up) contracts. Whilst any such moves would impact this season's already heavily spent budget, it could free up additional playing spaces for next season. (Ed – football regulations would mean any deal would be largely on the player's terms).
Again, Sophie spoke about her family being hands on in running the football club but hands off in player recruitment and team selection.
The New Stadium – The Progress
Plans are now with the Secretary Of State, as is required when council land is involved, but it should be a rubber stamping exercise. Progress shouldn't be impacted by the general election. Sophie told us there is a 60 week build timetable with a provisional July 16th 2016 handover date time (meaning to hit that date, build work should start by the end of May 2015). (Ed – I suspect there are various things to be done post handover and before a league game can be played, such as the council granting a safety certificate).
Sophie found the people behind the stadium, the project management team, builders and architects to be very professional.
She suggested football regulations meant we would have to be in at the start of the season, rather than moving in mid season, but it was noted in the room that Coventry had moved this mid season.
The New Stadium – The Facilities
Sophie distributed an A3 size colour scale plan of the stadium, so detailed, it was difficult to read all the detail, but the colour coding suggested a large, flexible build.
Sophie described the stadium as being similar to Bootham Crescent. (Ed – personally I'd disagree, the shapes all seem to look like perfect rectangles, unlike Bootham Crescent; whilst behind the goals, the area looks much shallower than at Bootham Crescent.
The stadium will have 400 car parking spaces, the club as yet is undecided on how to allocate them.
Bootham Crescent has 3 hospitality boxes (not facing the pitch) and no non match day income. Sophie noted the end of season player of the year awards' dinner is held at the racecourse (with the racecourse taking their cut of the night). The new stadium will have 5 hospitality boxes and 3 large corporate areas, one taking 200 guests and the other 2 each taking 100, with a flexible option to combine 2 together when required into a 300 person venue. Such facilities would enable the end of season dinner to be held at the ground, saving on all the costs paid out to the racecourse.
For football and rugby, there are 2 sets of facilities including separate dressing rooms, boardroom and hospitality areas for both clubs.
The new stadium will have modern leisure facilities and will appeal to a wider audience.
Sophie also noted clubs can expect an average 30% uplift in support at a new ground, the success of the likes of Chesterfield was mentioned.
Part of City's agreement with the Football Stadia Improvement Fund (FSIF) is an all seater stadium, meaning the club's hands are tied with regards to standing. However, she noted the progress of safe standing since the original agreement was made, developments elsewhere and that the club is aware of supporter's representations and feelings on the subject.
Sophie noted fans might not always attend games with the same people and that the club was looking at ways to ensure flexibility in seating arrangements.
She noted the FSIF are decent people and have been brilliant towards York City.
City have worked with York council and the 2 companies bidding to manage the council's leisure facilities. City agreed a deal with GLL, the successful bidder, whereby the club will manage the whole stadium, leaving GLL to concentrate on their core strengths, such as swimming pools, libraries, parks and concert arenas whilst the stadium, which is not something GLL are not used to dealing with, is left in the hands of City who know all about stadium management. The arrangement gives City the right to sub-let the stadium's facilities.
Already, City have arranged one significant deal with a high profile organisation to hire out some of the corporate facilities for them to host a long running training programme, a new revenue stream for City.
The New Stadium – The Move
Alan Stevenson is in charge of plans to move to the new stadium, including the close down of Bootham Crescent. A series of events is being finalised and will be announced soon. It is likely to include a farewell dinner with many ex players and an auction of Bootham Crescent memorabilia. Once the club is in its new home, Bootham Crescent will be sold.
At the same time, Alan is looking to conclude work on the many logistical aspects of the new stadium, including the travel plan. Whilst still being worked on, Sophie was keen to ensure the travel plan includes good public transport links with the city centre and that the council's existing park and ride schemes are used.
York City Knights
Sophie mentioned a distant relative had played for York RL "in 1908", otherwise there is no real family connection with the club.
However, Sophie felt it would be great for City if The Knights were to play at Bootham Crescent, but would first need John Guildford and York City Council need to resolve their own arrangements before City could progress any detailed merger / acquisition talks with The Knights.
Player Of The Season
Sophie went on to nominate her player of the season, but first nominated Keith Lowe as her favourite player, "a fantastic guy, brilliant, really nice and normal guy, with a lovely wife, a cultured man who has just become the father of twins".
However, her vote for YCS player of the year went to Russell Penn, our "best captain for a very long time, a leader on and off the pitch". Sophie told how after Tuesday's win over Morecambe, she expressed her thanks to a still unshowered Russ for his help in ensuring our safety, her kind words almost reduced Russ to tears, "then he hugged me, sweat from his face making my hair stick to my face". Memories.
Sophie noted this season that all the players cared, something as a fan, "you believe they care, they give 100%", but now realised in some previous seasons that had not always been the case.
The Managers
A discussion on City's managers during the McGill years followed. Sophie felt virtually every manager had been beneficial to the club.
Billy McEwan is held in high regard, noting the quality of players he brought to City, Clayton Donaldson and Martyn Woolford included.
Gary Mills' Wembley success was noted as was Nigel Worthington's efforts in ensuring league survival in his first season and for the off the field improvements, his experience of working at a higher level rubbing off at City, including the training ground, EPPP improvement and office administration practices.
She described the Gary Mills scenario that there was a feeling that things were spiralling out of control, some players were not fully committed and that Gary himself was unwilling to change. Sophie spoke of a very, very close relationship with Gary Mills and would cite it as a key factor in our Wembley double success and that it was a very, very difficult decision to sack him.
Russ Wilcox was described as being well respected in the game, the hardest working manager we have had and how he regularly travels to watch up to 4 games a week, which bodes well for this summer's recruitment. As a person, he's well liked, down to earth and really good to work with.
The McGill Family
This led onto a discussion of recent games. What came across was the passion of Sophie and Jason and their Dad, first and foremost as life long City supporters and what a win means to them. Dave Winfield's red card against Hartlepool being prominent. Sophie and a referee in the room explained how the appeal panel have no half way house, they either keep the red or decide absolutely no offence occurred and take the red card away. There is no option to downgrade it to yellow. Given this, the club had other things to consider when appealing a card (Hyde's included), including the need to maintain team morale and Winfield being contracted for next season. The club felt the correct decision was to appeal (Ed - Football League regulations mean a £350 fee is payable if an appeal is made) (Ed (again) - you're making Sophie and Wilcox sound like the new Jose Mourinho and his everyone is against us mentality).
The McGill family have put about £2m into the club, but have taken no money out in wages or profit.
Sophie believes the board are able to ride the waves having been very sensitive to criticism in their early days, but nowadays have become more thick skinned.
She described Jason as being very enthusiastic, very optimistic, very high and excels when City are doing well but sometimes finds it hard when things are not going so well. She noted her Dad as being more cynical, comparing him to York City South Treasurer Ray Goodearl in some respects. Sophie felt she brought balance to the McGill family whilst acknowledging the incredibly supportive role played by Ian McAndrew, their fellow director. She felt all the board stick together.
Along The Way
Throughout the evening, Sophie covered many other subjects, including:
Russ Wilcox pleased to welcome Richard Cresswell onto the first team coaching staff, "a fresh face, a simple change can make a big impact" and felt the change had had a big positive impact on Jake Hyde.
The Academy has seen poor recruitment over the years and its a travesty we have not picked up more local players.
The fundraising efforts of AFC Wimbledon supporters where they regularly raise a six figure sum each season were noted.
City would be happy to have Supporters Trust representation on the board, although City have the right to veto any nominees. The last time the Trust put forward names, 2 were submitted on a both or nothing basis. City vetoed one on the basis that (s)he had nothing to offer, but would have welcomed the other. However the Trust withdrew both names.
The players are obsessed with Dave Flett's ratings.
City voted in favour of 3G pitches at the recent D1 / D2 clubs' meeting.
Didn't feel Diego de Girolamo had the stomach for a relegation fight and wanted out.
In Conclusion
Sophie narrowly failed to beat her own record for the latest finish by a guest speaker and I'm sure all 20 plus members present will have left knowing the club is in safe hands.
Sophie noted the efforts of supporters in the south in galvanising City support at southern away games and looked forward to meeting some of us again in a little over a week when York City South have a sponsors' box at the last home game of the season.
PS
On April 30, Jason McGill and Russ Wilcox spoke on Radio York, with callers on the line, it became a bit of a love in, playing a straight bat, their comments closely reflected what Russ and Sophie had said to YCS a few weeks earlier. Highlights included:
"Not many clubs at bottom turned it around (by changing managers)" - Russ
"Truly believed (we'd be completing around the play offs) – Jason, echoing the exact words Sophie spoke
"Fans have played a huge part" (in maintaining Division 2status)" – Russ
"Our away support has been tremendous this season, absolutely brilliant" - Jason
"(Next season) funds available, we want to compete at the top end of the table, the board will support Russ to do that" - Jason
"(Next season) competitive, a lot higher" - Russ
"(This season (2014/5)) City's playing budget, in terms of average salary is in the top 5 of League 2" – Jason, but indicated it wasn't the biggest squad in terms of numbers in the division
Russ - Spoke about Ben Godfrey as being the closest youth player to the first team. Russ would have considered playing him at end of season if he hadn't picked up an injury and young players "wear the shirt with more pride"
David Ward (Radio York and ex YCS member) gave his views of which players might be leaving this summer, noting players on the bench would probably be moved on and City's previous form of paying players off mid contract. Russ and Jason gave nothing away.
"Previous initiatives (ticket price reduction) not really worked, kids for a quid, no extra income, need to balance income against a playing budget that is successful" - Jason
City never ever budget to break even. "We go into season knowing we'll be losing money, to people, (the loss) is a substantial amount of money, it goes into hundreds of thousands of pounds. Gate income represents only 40% of income needed to run the club" - Jason
Monks Cross provides security for the club for 99 years, protecting the longevity of York City Football Club meaning what happened with the sale of Bootham Crescent cannot happen again, "we are custodians of the football club" – Jason, again echoing the words of Sophie
A caller stated the City Council have spent £4m on the stadium, "for every pound of public money, £5 of private money" - Jason
"York City Knights and the City Of York council need certain agreements in place before the Knights can play at Bootham Crescent. Its becoming increasingly difficult for York City to have any credibility in an organisation (Knights) that has a wonderful opportunity at the new stadium that can't reach agreement with the council, I believe the Knights deal with the council is a great deal and a better deal than the football club has with the council" - Jason
Russ - Noted Chesterfield's success and facilities at their new stadiumx