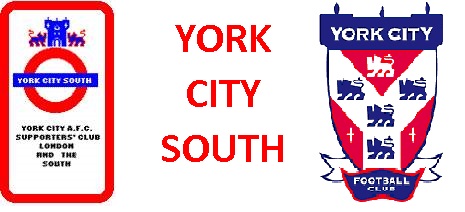 New division, new owners, new team
... *** THIS PAGE IS WORK IN PROGRESS THROUGHOUT THE 2022/3 SEASON *** ... *** THE FINAL ISSUE WILL BE SUMMER 2023. UNTIL THEN, SOME SECTIONS ARE SUBJECT TO CHANGE OR REFERENCE PREVIOUS SEASONS *** ...
2022/3 Season Preview
After 5 years in the wilderness of regional football, City returned to the big time of the National League. For City, it meant much more travelling, Halifax at 49 miles was our shortest trip whilst Torquay at 319 miles the longest. For York City South, there were 3 "home" games (Barnet, Dagenham & Redbridge and Wealdstone) within LUL's zone 5 on the tube and half the division is the south east, bounded by Southend, Maidenhead and Eastleigh. Further south and west were Yeovil and Torquay.
For City, there were 3 new opponents, Dorking, Maidenhead and Wealdstone.
With City, there were 15 ex Football League clubs in the league. Just Dorking played at such a high level for the first time.
The July 2022 announcement of Glen Henderson buying a majority shareholding in the club promised the start of a new era.
Again, season ticket details were slow to be released, but prices were maintained (with 2 extra league games on offer). Match day admission (£1) and hospitality prices were increased. The concession age was decreased from 65 to 60. Season ticket sales hit a record high. By June 20, "over 1,400" had been sold and on July 1st, City's social media noted sales of 1,715. The McGill sale gave sales a boost and City announced "over 2,100, a record high" on August 2 with City noting 2,211 season ticket sales when 400 match tickets for the AFC Bury FA Cup game went on sale. By December 3 (programme notes) it was 2,219 and included various "freebies" (volunteers, free carers and sponsorship package tickets). It is unclear how many "half season" tickets were sold.
2022/3 The Squad
Details of the 2022/3 squad were slow to emerge. But by the time pre-season training started on July 1, City had an almost complete squad with a budget described as both "competitive" and "mid table".
From the 2021/2 squad, 9 contracted and 4 loanees were offered new contracts. The disappointment from City's viewpoint was that Pete Jameson and Akil Wright turned down new contract offers in favour of moving into The Football League, surely every player wants to play as high up the pyramid as possible (and probably make as much money as possible), but when it is Harrogate, traditionally City's little brother, it hurts. That said, it probably underlines the gulf in wages when lesser FL sides can readily pluck off the better non league players.
Maz Kouhyar (I still don't understand how we could sign a highly rated player on a short term contract in March with no extension clause that we could invoke) and the rest all accepted their new contracts. They included loanees Sanders, John-Lewis, Hancox and Greaves, surely a new business model, "try before you buy".
Of the newcomers, 7 were released by Grimsby, Chesterfield and Boreham Wood, all clubs who'd finished high up in the National League last season. 2 of those (Burgess and Whittle) returning for a second spell.
Of the rest, Alex Hurst arrived for a small undisclosed fee from Port Vale, the first time we've paid a fee since Martin Gray signed David Ferguson and Adam Bartlett assuming you discount Jack McKay (who City said arrived on a free whilst Curzon said we'd paid a fee). Upfront, Luke James appeared destined for big things as a youngster, he was plucked by Peterborough from Hartlepool, but in this case, Posh's own version of "moneyball strikers" failed. Equally, Manny Duku has blown hot and cold. Its fair to say that none of the new strikers arrive as prolific scorers.
If AJ Greaves can curb his energies in the right direction, he could be the star of midfield, behind him, in defence, Sam Sanders could shine. It can only be hoped that these 2 youngsters display their talents and do enough to earn a return to The Football League, preferably with City.
By July 18, City had 25 contracted professionals (Michael Duckworth and Dan Pybus made it 27), including one loanee and 5 Under 19 former academy players. In addition, Scott Barrow who suffered a cruciate ligament injury in the 2022 play off final which will keep him out of the side until spring 2023 was given a contract as a duty of care. An unprecedented 4 (out 5) year 2 scholars (Under 18) signed pro contracts in the summer, only Josh Knowles was released. Conversely, all four of last season's Under 19 professionals (Maison Campbell, Lewis Cunningham, Jack Degruchy and Luke Jones) had been released in May.
The gulf between City and the Football League was demonstrated when Doncaster picked up Degruchy, offering him a 2 year contract with a further one year option for him to join their development squad, effectively a reserve side at 19, when he'd been released by City as "not first team ready" a few weeks earlier. He made his FL debut a week later in the opening game of the season. In October, Cunningham joined Birmingham on a one year contract with a further one year option, again linking up with their Under 21 / development side.
Whilst City had assembled an experienced squad, the lack of a cutting edge and an Akil Wright heir apparent were evident in pre season as City slumped to 5 defeats in 6 pre season games.
McGill Sells / Henderson Wants To Sell
The early days of the Henderson regime were busy, trying to uncover the full details of what they had inherited. It appeared many contracts were heavily weighted against City and Alastair Smith noted it had been a "frustrating" first few months.
In the early days, Glen Henderson was a popular and often seen figure around the ground and at games. Publicity pics were well to the fore. Supporter frustration started to be aired in late September when John Askey said he was seeking a new striker but funds were not available.
It soon became evident that the new regime had inherited a flawed budget. It appeared based on a 4,500 average attendance (assumed as all paying a full admission price with no allowance for concessions, complimentary tickets or VAT) and an over inflated projection for other revenue.
Speaking on Radio York (31st March 2023), Alastair Smith noted the financial situation was worsened by 2 managers being sacked, the pay offs (their own and own staff), costings in region of £200,000. The drop off in crowds and less beer sales didn't help. "The root cause is that expenditure is higher than income. I first raised this with Glen on September 3rd (2022) when I flagged up we would need at least £300K to get through the season. A lot has been made of Jason McGill walking away with £200K, but the reality is that he used the season ticket money to cover May and June expenditure, all clubs do this. In May and June this year (2023) the club will have very little income, so will have to use the (next) season ticket money to cover the wage bill. What we need to move towards is having enough income so that we don't have to use next year's income, that will help the budgeting / forecasting process in future. When we took over the expenditure was based on budgeted income to achieve a break even position, unfortunately, the budget was overly ambitious, on both income and costs, there was always going to be a big shortfall this season based on actual costs. The shortfall is now much higher, mainly due to the sacking of John Askey and David Webb, but we have also overspent on the playing budget this year. The cost to the club of sacking two managers and their staff is at least £200K in pay-offs and lost income streams. Credit card companies have not withheld any money, all income is being received as it should be."
In an explosive interview with Radio York (David Ward, November 1 (Radio York interview (link may break))), Glen Henderson revealed that there was a distance between himself and John Askey, Henderson gave no commitment that Askey would be in post in the long term (even by Christmas). Immediately seen as a car crash of an interview, there was an intense social media storm with Henderson's popularity plunging in the aftermath. Shortly afterwards, Glen Henderson effectively blamed David Ward for the fall out. The interview also highlighted some shortfalls in the numbers that the new regime believed that had inherited from Jason McGill.
On November 16, John Askey was sacked, the honeymoon was officially over. From being a popular, high profile figure, Glen Henderson stepped back, some enforced (his membership of a York City Supporters Group Facebook group was unilaterally withdrawn) and his presence at games became more guarded and he missed a couple through illness. Quickly (November 18), The Trust's Boost The Budget" scheme was halted.
On December 13, in a YCST press release Glen Henderson offered to sell his shares to YCST. Henderson had written to the Trust saying he is willing to trigger a buy back clause allowing the fans group to buy him out because it would be "in the best interests of the football club". Under the clause, it can buy Henderson's 51 per cent shareholding at a price set by an independent valuation, although the businessman said he would consider any offer which matches the investment he made to buy the club in July. The YCST statement appeals for new investors to come forward which might suggest when Henderson was approached, there were no other viable candidates. YCST launch a new appeal for funds to buy the shares. Quickly, Henderson had a change of mind, his shares were not for sale. The Trust confirmed that his initial decision had triggered the process and the sale would go ahead.
A protracted period of negotiations began. The Trust had a 3 month exclusivity period to buy back Henderson's shares. More on the Henderson era.
6 expressions of interest were received. The Trust set up a scrutiny committee to review them. Gradually they were whittled own (or withdraw) and by the end of the exclusivity period on April 4, there were no bids remaining. It is understood, that 2 bids progressed towards completion but floundered when finances were not forthcoming and that no one had shown interest in buy 100% of the shares. Effectively, Glen Henderson was now able to sell his shares himself (albeit subject to the terms and conditions that the Trust had placed on him when he bought them.
During the exclusivity period, rumours of financial woes were aired. In February, reported interest in Boreham Wood striker Danny Elliott feel through, apparently Glen Henderson was willing to fund the transfer but The Trust felt conditions that he wanted to attach to the deal made it impossible to accept. In late March, as the transfer deadline approached, City landed Chesterfield striker Danny Rowe on loan, a deal financed with funds raised from the Supporters' Trust's boost the budget campaign. In March, YCST stated they'd provided £145,000 to ensure the February and March payrolls were met and 3 weeks later, Mike Brown noted the Trust has contributed over £225k this season (Red and Blue Net, 24/04/2023). This period also saw rumours of a 3 year professional contract for Ethan Henderson.
On April 5, Alastair Smith noted, In theory the club should continue to be run as it was, however, Glen has decided what his plan is, he has asked Mike (Brown) and myself to resign as Directors as he feels he can't work with us and doesn't trust us. He feels that having Trust members providing free labour to help run the club was never a good idea and never will be. The only way Glen sees the club moving forwards is himself being full time in the Club which he will be from now on. He believes this is his investment now and he needs to have full control of it. Over the years the Supporters Trust has invested over £1.4 million into the football club, which dwarfs Glen's investment, even if you compare monies invested since the takeover the Supporters Trust have contributed more than Glen!! Mike and I will not resign, we owe a duty of care to the Football Club and Supporters Trust and, based on his actions since he's owned the club, do not believe Glen has the clubs best interests at heart. April 9: YCST update on the takeover process.
The whole period has seen numerous social media postings, often opinions that are stated as fact, whilst anonymous postings abound. Along the way, there were plenty of comments on the transparency of Club and Trust, the need to balance confidentiality with transparency giving rise to many observations. Certainly, we learnt more this season than in many recent seasons. That said, as City's proposed sale was progressing, the same was happening at Manchester United and Liverpool, in both cases, there seemed to be more transparency in the bidders involved.
Managerial Merry Go Round
After slow start to his City career, John Askey gained promotion in May 2022 and was seen as a hero. In the summer, there was press speculation linking him with Notts County. On August 26, he noted, "(Rochdale) made an approach and it's tempting to go into League football, but we've started something here and we want to try and see it through". On September 8, he was rewarded with a one year contract extension to see him through to the end of the 2023/4 season.
City's fine early season form continued throughout September before a slump set in.
On Radio York on November 1, Glen Henderson hinted that his relationship with John Askey wasn't all that it could have been, even refusing to stay that Askey would still be in post at the end of the year.
Even so, his sacking, on November 16, came as something of a surprise to the general public although early that morning, one caller to Radio York noted the name of Michael Morton several hours before the sacking was confirmed and the name David Webb was already known to David Ward. Speaking on Radio York (31st March 2023), Alastair Smith noted that the relationship between John Askey and Glen Henderson had broken down, they couldn't work together, and results were suffering in the run up to his sacking, the insinuation being that things would only get worse. Tim Ryan was appointed caretaker manager. It is understood that Kingsley James, City's first-team coach under Askey, turned down the opportunity to take temporary charge.
There were 60 applicants, all bar one, were in the professional game. Many were familiar names, none with strong City connections, but they did include Bolton Wanderers first-team coach Sam Hird was heavy favourite for the position, having been priced at 2/5 by BetVictor at one stage and was the subject of did he / didn't he apply posturing.
Askey was succeeded by David Webb who was assisted by Mikey Morton. Mark Lawrenson noted that he'd been approached by City when Askey was sacked, but wasn't involved on the interview panel, City told him, "it'll make us look weak" if he was involved. Listen: Finney Podcast #14 (approx 38 minutes)
Speaking on Radio York (31st March 2023), Alastair Smith noted that David Webb was already known to Glen Henderson and was his preferred choice. The interviewees rated on all the candidates on a number of criteria and invited the top 5 for face to face interviews (one didn't turn up). Of the interviews, Smith ranked Webb 4th. He noted 2 candidates weren't right and "kind of agreed all together" that David Webb was the one. That didn't stop him telling Webb that he felt he was DW he was the "4th best interview".
Webb's reign got off to a bad start. Starting work on December 5 (he was appointed on December 2), he was hospitalised with breathing difficulties and diagnosed with covid 2 days later. Released on December 13, he wasn't seen at the club until he oversaw City's 0-3 home defeat by Gateshead on Boxing Day. City's form slumped and there was very quickly a clamour for his head. Webb was sacked on February 8 with Mikey Morton assuming the caretaker manager role.
The contrast between David Webb and Mikey Morton was like chalk and cheese. In his early days as caretaker when Webb was struck down with covid, Morton spoke with sense and quickly had the listener on his side. Once Webb returned from illness (and we might never know how well he was when he made his debut on Boxing Day), he rambled his way through interviews, sometimes contradicting himself, his interviews were littered with buzz words. The listener learnt very little. After he was sacked, Morton picked up the baton and spoke with clarity, stressing the need for a settled side, getting the players to play in their best positions, be organised and to play as a team. I think I'd find it much easier to understand what Mikey Morton was telling me and what he wanted out of me than David Webb.
Whilst it is true that neither had managed at our level before, Mikey Morton arrived with 20 years coaching experience with top class academy players Manchester City and Leeds) whilst much of Webb's experience was in recruitment and away from coaching and match action.
Morton seemed to have a simple plan, Webb changed his plan nearly every game.
There is an old footballing adage that players very quickly found out a manager, listening to Webb and Morton, I know which would inspire me.
After Webb, Mikey Morton was initially given an open ended contract, Mike Brown and Alastair Smith voiced concern that they didn't agree with this. On March 30, it was decided to give Morton a contract to the end of the season and then review the situation. Morton was happy with that approach. Alastair Smith noted, "The one positive is that Mikey is one of the nicest people in football, he loves the club, and has said that he will do whatever is in the best interests of the club". He brought in Tony McMahon (February 20) to assist and discussions to add David McGurk to the back room staff floundered.
With the ownership situation unresolved, Mikey Morton was asked to continue in post until the end of the season. His passion was undoubted, but even he himself questioned his managerial credentials and whether he was cut out to be a manager. Some good performances, Barnet (home) and Chesterfield (away) in the run up to Easter netted 2 superb wins which took us clear of the relegation zone, safety was effectively secured a week later in the penultimate game of the season, a lack lustre 2-2 draw with Aldershot. Sandwiched between, were bad defeats as City's form was up and down.
Mikey Morton was confirmed as permanent manager on May 23 2023.
Season Review
At the start of the season, many would have taken survival as a result. They got their wish, survival was all but mathematically ensured in the penultimate game and a week later, City drew 1-1 at Notts County in front of an 11,336 crowd which included 1,433 City supporters (when was the last time we took such a big following to an away league game?). The point saw City finish 19th, 3 points and 2 places above the relegation zone.
With crowds standing up well at the LNER despite all City's turmoil, imagine an ownership model that works, maybe the sky is the limit (but capped by what an 8,500 capacity stadium offers).
Along the way, there was evidence that the side was capable of a much higher finish (witness the results against the top 7) whilst City went out of both cup competitions in disappointing fashion.
Underlying City's season was Glen Henderson. That is largely dealt with elsewhere, the sacking of John Askey and sale share, being key events. On March 13, Mikey Morton confirmed the ongoing ownership saga (and his own "temporary" position), was hampering his efforts to bring in more players.
City's season started with a solid 2-0 win over Woking and displays were generally consistent throughout the early games, cumulating in an impressive 5-0 win at The Hive over Barnet in early October. However, previous shortcomings were still apparent, including a lack of decisive goalscorer and failure to beat teams towards the bottom of the league. At the point, City had generally held their own and had only been outplayed once, when losing (24thSepetember) at home to Notts County a week before the Barnet 5-0 win. Following the County loss, many social media postings indicated that the Henderson honeymoon was over, some citing the lack of investment by a majority owner and others blasting the team's performance. The paucity of goals prompted John Askey on more than one occasion to suggest that he was looking to add another striker to his squad but he would need to free up budget by offloading player(s) first, the early departure of Scott Boden freeing up some budget. The trait of poor performances against struggling sides was very evident 3 days after the Barnet win when City were outplayed and outfought by 23rd placed Halifax. That defeat marked a downturn in City's form.
The poor run continued and shortly after an explosive Radio York interview, John Askey was sacked on November 16. Early season had seen many tight games, rarely outplayed, a paucity of goals but generally solid defence, although the home defeat to Southend when we conceded goals to 2 free headers from corners was a sign that things could be better.
David Webb was appointed manager, a left field choice with no previous managerial experience.
The turn of the year saw a raft of 2 year contract extensions. Dan Pybus was the first, it was the longest contract awarded by City since Jake Hyde earned a 3 year contract back in 2014. Matt Hancox, Adam Crookes and Maz Kouhyar quickly followed suit, apparently, the work of Glen Henderson and without reference to YCST). Meanwhile, unsubstantiated social media postings suggested that some players, Alex Whittle and Max Kouogun were named, were not playing as further appearances would trigger an automatic one year contract extension. In the case of Kouogun, he was the only player known to have been offered, but not signed a new contract, a player thought to have been attracting interest from the likes of Bristol Rovers just before Christmas.
City's form plummeted under David Webb. He had a difficut start (he caught covid in his first week and saw Morton win his first 2 games whilst he was hospitalised) and still seemed befuddled when he made his touchline debut on Boxing Day, a 3-0 home defeat to lowly Gateshead when the team seemed to struggle to follow his game plan and then he gave a most bizarre post match interview. He was sacked on February 8. His time in charge was marked by constant change, both in formation and players. The form of early season stars such as Dan Pybus and Max Kouogun badly tailed off as the organisation show under Askey was no more.
Under Mikey Morton, some good results were achieved alongside some poor performances, but enough to stave off relegation. After the Altrincham FA Trophy defeat in March, Mikey Morton rather bizarrely noted that hadn't been happy with the warm-up (Altrincham) and that this was then carried through into the match itself. Given the delayed kick off, it was rather surprising that nothing had been done to address his concerns before kick off as City went on to gave a very lack lustre performance. It all contrasted with his post match interview 4 days earlier after the 3-0 win at Bromley when he had a live Radio York love in (link may break) with match summariser Dean Kiely noting that his prized possession was the shirt Kiely had worn for City at Wembley in 1993.
Morton's time in charge saw some exceptional result away wins at Bromley and Chesterfield and Barnet (home) spring to mind, but there were a number of very poor performaces (FC Halifax at home possily being the nadir). Under Morton, City were more organised although fitness levels seemed to dip after Askey's departure.
The turn of the year also saw increasing talk of financial troubles. As early as August 2022, Alastair Smith had indicated that the budget the new regime had inherited was flawed and he was to expand on it at various times, including 2 programme articles. Despite this, City's overnight travelling squad for the Wealdstone game in February included Maz Kouhyar and Gus Mafuta, both returning from injury and possible candidates for a place on the bench and the suspended Mitch Hancox who joined Mikey Morton's "coaching staff" for the day, although given his 2 game suspension, he wasn't allowed in the dug out. Speaking on Radio York (31st March 2023), Smith noted "I guess there's a chance (of administration), I'm hoping its not likely, (it would be expected that a) 10 points deduction would be applied next season but would need to be out administration before the next Conference AGM (it was June 11 in 2022), or we would be relegated a league. The YCST supported City financially to ensure the February and March payrolls were paid on time, at various times, £145,000 and £225,000 contributions were noted (with Mike Brown noting "the funds provided by the Trust to meet the March payroll were not borrowed from anybody". Meanwhile, David Ward noted (April 3 and TOOAB#99) that YCST (Alastair Smith) stated Glen Henderson had offered money to buy a new striker (believed to be Danny Elliott) but conditions attached would have breached FA regulations. A week earlier YCST had provided funds to secure the loan signing of Danny Rowe.
2022/3 saw 110,251 people pass through the LNER turnstiles, up from 65,428 a season earlier in NLN. That's an average gate of 4,794 (including 500 away fans) this season, up 1,678 on last season. Away fans represented 10.5% of the total. It was City's highest home aggregate since 1984/5 when 127,764 watched the home league games. Away from home, 78,614 people saw City's league games, including 11,735 (14.9%) City fans. Meanwhile, some estimates put the cost of relegation at £500,000 a year.
Across City's side, there were a number of steady performers, enough to form the basis of a reasonable Conference League side. Early season form suggested upper mid table wasn't impossible to achieve. Lennell John-Lewis proved to be a decent target man, albeit not prolific whilst loanee Shaq Forde looked good in parts, a lot of ability but maybe lacking in application. A run of niggling injuries and being played in a number of different positions can't have helped him. Fellow loanee Ollie Tanner just never got it and disappeared in the last 2 months of his loan spell. Veteran loanees Mark Ellis and Danny Rowe had mixed reviews, neither did enough to suggest they should be first choice summer recruits. It would be interesting to speculate how City would have fared with a prolific scorer in the side.
In goal Ethan Ross was steady, maybe a little to keen to stay hn his line whilst Ryan Whitley didn't really make the most of his extended run. Michael Duckworth and Ryan Fallowfield were both steady (and injury prone) in various defensive roles. The centre of defence struggled. In midfied, the cetral players all turned in some decent performances, but no one stood out. Out wide, Maz Kouhyar, Alex Hurst and Luke James all had skill but struggled with end produst. Next season, it is to be hoped that the midfield can contribute a lot more goals. It was noticeable that several players, Max Kouogun and Sam Sanders included, performed better in the first half of the season, maybe down to the change of management. Sadly, once again, the youth products (we had 5 18 year old professionals, only one with a first team squad number) saw no first team match action. All had loan spells, all at tier 7 - 9 clubs, which might suggest they're not ready for Conference football. It was left to Ryan Whitley to hold the flag for the academy.
Reflecting on his time in charge, Mikey Morton noted the away win at Woking as the best performance with the Chesterfield (where we "defended the box well" and scored "3 great goals" whilst the Halifax game was his biggest disappointment and with hindsight he should have made about 4 or 5 changes as some players looked "gassed". Towards the end of the season, on more than one occasion, he said that City's style of play wasn't what he wanted, but circumstances dictated. Before the final game of the season, Mikey Morton noted he likes to vary his formation to match the opposition, statistically, City's results have been better when we've matched up the opposition, they had taken points in over 60% of those games. Morton's coaching team included Tony McMahon who had worked on an unpaid basis throughout his time with City. At the same time, he noted how he hoped to use this contacts (working at Manchester City and Leeds) whilst a long term friend, David Harrison joined Manchester United (from Everton) as director of football operations in March 2023 to recruit top flight youngsters on loan.
City picked up more points against top 7 opposition than any other National League team. They picked up more points against the top 7 (26) than they did against the other 16 sides combined (25).
Behind the scenes, City suffered some notable departures. Popular Media Officer Dan Simmonite announced departure (July 12) to take up a role at the Qatar World Cup whilst Liam Armstrong (Commercial Manager) and James Thwaite (First Team Assistant Coach) both suddenly departed in January as the Henderson hostilities were at their height. Meanwhile, on January 9, it was announced that Paula Stainton's role had been expanded.
Announced on successive days in March. On March 22, Watermark Plumbing Supplies, a Yorkshire based independent merchant become a club partner. The Yorkshire based company, founded in 2005, spans 3 branches in York (Layerthorpe), Malton, and Huddersfield and supplies bathrooms, heating, plumbing and renewable products. A day later, BoConcept launched a partnership with City which involved new tunnel and dugout sponsorship creating a clean sleek look, with their branding all around the stadium, it will make walking out of our tunnel even more stylish for our team. A premium international furniture retail brand since 1952, they are based in Monks Cross and offer unique Danish Design for the home and a free interior design service. At the time of writing, it remains to be seen who will be the short sponsor next season.
Awards and cards
Olly Dyson was voted clubmen of the season
Max Kouogun and Mitch Hancox both received one red card
Most yellow cards were awarded to Hancox (15), Dyson (9), Pybus (9) and Kouogun (6)
In a YorkPress poll, City fans had a chance to vote for their goal of the season. The Good Friday win at Chesterfield featured strongly. Michael Duckworth's effort to capitalise on a lacklustre clearance from Spireities goalkeeper Ross Fitzsimons to expertly drive the ball home from just inside the Chesterfield half was a clear winner. In second place was Olly Dyson's opener that day and in equal third place was Paddy McLaughlin's goal to seal City's 3-1 win that day. Equal third place was Duckworth's strike against Woking on the opening day of the season, a superb worked goal from a Maz Kouhyar short corner
Kurt Willoughby, with 20 goals in Chester's unsuccessful play off campaign, was voted NLN player of the season.
Along the way:
A couple of racist incidents were noted:

At Yeovil (September 3), clearly audible racist chants were directed at Lennell John-Lewis as he took a penalty. Yeovil's match highlights package did not include the spot kick and their own investigation failed to identify any culprits. Watch Yeovil match footage.
At Aldershot (October 22), one City supporters noted "The biggest disappointment today was the racist and homophobic chanting from a couple of idiots in the York City end. Thought we were better than that?!?!?".

On August 22 at the Fans' Forum, it was noted that "nearly 4,000" replica shirts had been sold. The final total was probaby impacted by ongoing supply chain issues.
The club celebrated its 100th birthday in May 2022 and celebrated the end of the 2021/2 season with promotion back to National League. Given coronavirus and the impending change of ownership, the occasion was marked by a series of rather low key events. A re-branding exercise in autumn 2021 resulted in a popular 2022/3 chocolate and cream change kit and centenary logo. A July 2022 pre season friendly was held against Notts County (our first ever opponents in 1922) but was only confirmed once the league fixtures had been released less than 4 weeks earlier. The occasion was marked by a special golden matchday programme, featuring an insight into the formation of the club using the long lost minute books from 1922 which have been retrieved and transcribed by club historian Paul Bowser. The programme was sold at £2 and came with a certificate of authenticity, hand signed by Chairman Glen Henderson. Each individual issue is numbered and only 1,000 will be printed. A centenary quiz filled one of the club's dates at the LNER (3rd November 2022) and other offerings included a "centenary style" leather football (£20) and at £100, a limited edition "unique centenary coin, individually numbered, boxed with a polishing cloth, and comes with a certificate of authenticity. A must for all York City fans, and something to treasure for the next 100 years!". Centenary celebrations ended on May 30, 2023 with a walk from Bootham Crescent to Brew York's HQ and a serving of centenary ale. See the Centenary logo reveal.

On October 5, it was announced that National League clubs would receive a total of £12.6m in funding from the Premier League over the next three years. The 72 clubs will share a sum of £9m to help with running costs and sustainability, working out at about £41,667 per club each season. "A further £3.6m (16,667 per club per season) will be available via the Premier League and Professional Footballers' Association's partnership to support the National League Trust and the network of club community organisations. The new Premier League investment is in addition to the Premier League's Stadium Fund which has made £33m available over the next three years to help clubs across the football pyramid to transform matchday experiences and improve sustainability. Funding for maintenance and new infrastructure is available to clubs playing in steps 1 to 6 of the National League, including those promoted into the English Football League, as well as for the Women's football pyramid". National League general manager, Mark Ives, welcomed the Premier League's support and said it was a "timely boost of vital funding" and added, "Fans and communities are at the heart of everything we do. The Premier League's increased funding package for the National League Trust means even more resources for our club foundations to continue and expand their roles in local communities".
City's FA Cup win at AFC Bury netted £9,375 but defeat at Shrewsbury meant they took the £41,000 prize money on offer.
On December 10, the National League's own streaming service was launched. It cost £9.50 per game with takings split between League (15%), 25% between the 72 (NL / NLN / NLS) clubs and 60% to the club from whom the subscriber logs in. Brad Saxton and York Hospital Ball were used to provide some City commentaries for the service.
On January 7, the match day programme noted that City had been hit with a £540 bill from Woking after supporters damaged toilets in the away end. Some suggested they were very delapidated before City arrived.
On January 10 social media reports noted that City were paying Shaq Forde £200 per week and Ollie Tanner £400, the rest of their wages being subsidised by their parent clubs.
John Askey was appointed Hartlepool manager on February 23. Despite starting his reign with 7 unbeaten games (including 5 drwas), he couldn't save them from relegation. It was reported that he was turned down for Buxton manager's job ib autumn and rumours persisted that he was still on City's payroll at £80,000 pa until October 2024.
Several ticket issues were noted:

At times, following City away was problematic with home clubs having different ticketing systems. Some clubs insisted on online pre booking with no sales on matchday whilst ticket sales for the AFC Bury game were delayed whilst the clubs came up with a solution to allow priority to City season ticket holders which meant City had to email season ticket holders (those who'd provided an email address) a "private" link to allow them priority purchase via AFC Bury.
A similar situation impacted City with Notts County being the first club to contact City to ask that their season ticket holders got priority booking.
Train strikes and petrol prices proved further obstacles to travelling fans.
Increasing clubs (not City) tended to either charge more for tickets on match day or cease the sale of tickets to away fans on the day of the game.
Sadly, as ever, during the season, City lost some ex players, John Mackin (29/Jul/2022), Billy Hodgson (12/Aug/2022), Charlie Twissell (believed Jan/2023, age 90)) and Andy Provan (12/May/2023) plus supporters Main Stander Cyril Nutbrown (28/Jul/2022), Graham Craven (13/Sep/2022), John Wortley (18/Oct/2022, age 85) and Tony Robinson ((15/Mar/2023) aged 75, a popular former YNS member who died following a stabbing incident in Fulford) included.
The Players
Scott Barrow Didn't play following his injury in the 2022 play off final. Was a valued member of the coaching staff undertaking various back room roles as the turmoil of the season unfolded. Accepted new contract. (Apps: 0 Subs: 0 Goals: 0)
Scott Boden Released by Boreham Wood, they didn't invoke their option on his second season (after 13 goals in 49 appearances during his first year season with them). An early summer signing, he failed to score in his brief City career and was offloaded to Buxton where his career long struggle to find the back of the net continued. He's probably happy, he swapped a one season contract with City for nearly 2 at Buxton. Left in September 2022. (Apps: 1 Subs: 3 Goals: 0)
Jacob Bulmer Made the bench in the FA Trophy game against Chelmsford, he was a regular for City's Under 19 side and had a month on loan at Redcar Athletic. First season pro, released. (Apps: 0 Subs: 0 Goals: 0)
Scott Burgess Rarely seem in the second half of the season. With a 2 year contract, expect him to be around next season, unless we can offload him. Contracted for 2023/4 season. (Apps: 1 Subs: 10 Goals: 0)
Maison Campbell A surprise signing from AFC Telford in January, retuning to City, he made his debut as substitute a few days when replacing the concussed Ethan Ross at Oldham. Didn't let anyone down, but with Ryan Whitley recalled from his loan spell, he became a regular bench warmer. Highly rated by the management team. Contract extension triggered. (Apps: 0 Subs: 1 Goals: 0)
Adam Crookes Quietly goes about his job and doesn't make too many mistakes. Consistent. One of the side's quicker defenders . Contracted for 2023/4 and 2024/5 seasons. (Apps: 25 Subs: 1 Goals: 3)
Ben Dale The only young professional to have been given a City first team squad number. No City first team action but enjoyed a 4 month early season loan spell with Redcar Athletic (Northern League, Division 1 (Tier 9)) where he won several man of the match awards and generally earned good reviews. First season pro, released. (Apps: 0 Subs: 0 Goals: 0)
Michael Duckworth Injury prone but technically gifted who liked to celebrate his rare goals. Performed well in a back 3, that may be his best position going forward allowing Fallowfield the wing back role. Worth a new contract. Accepted new contract. (Apps: 21 Subs: 1 Goals: 2)
Manny Duku Got a few important goals (but needs to score more) and very inconsistent, it is easy to see why he has had so many clubs in his career. When he came on as sub, he often made an impact, enough to start the next game when he invariably he disappointed. Another new club beckons. Out of contract, released. (Apps: 15 Subs: 21 Goals: 7)
Olly Dyson Clubman of the season who was often the best of our midfield and he chipped in with a few goals as well. Our most creative player who can dribble, pass and drive forward but needs to make his presence felt in every game. His fine form was rewarded when he played as a substitute for England C (Non League side) against Wales C (March 21,2023 (Altrincham's J. Davidson Stadium)). At 23, we're still waiting for him to bulk up . Contracted for 2023/4 season. (Apps: 46 Subs: 2 Goals: 6)
Mark Ellis Old school centre half. Had the occasional poor match but was often our best central defender. However, after we played at Torquay in April, one Torquay web site (TorquayTalk) noted, "Mark Ellis wasn't generally regarded as one (bad signing) when we brought him in on loan (August 2022). But just go and look at the stats when he was here, and then go and look at the way he failed to deal with hat-trick hero Aaron Jarvis and Frank Nouble on Saturday. Some of our worst defensive displays of the season happened when the veteran stopper returned to the Gulls and our goals conceded went through the roof. Ellis did little but moan at referee Ryan Atkin during Saturday's game (for good reason on occasion) but his only real contributions came with long throw-ins and losing Jarvis for the opening goal". His distribution was often old school "boot it". Came with the bonus of a potent long throw. Mikey Morton noted that Barrow helped us out with a "really good deal" and the cost ("family lives in Crewe, we put him up in a hotel") whilst expressing an interest in him for next season.. Return to parent club. (Apps: 14 Subs: 1 Goals: 0)
Ryan Fallowfield Good, consistent player. Started slowly but very worthy of a place down the right (struggled when deployed, out of position, down the left). Turned in a string of pleasing performances, but suffered several niggling injuries. Contract extension triggered. (Apps: 39 Subs: 2 Goals: 2)
Shaqai Forde Arrived on loan from Watford in late December having missed the first part of the season through injury, his seasonal debut being just 2 weeks before he arrived at City. Added goals to the side after Christmas, maybe enough to ensure our safety. His progress was hampered by being played in a number of different positions in different formations whilst he suffered a spell of niggling injuries in his first couple of months with City. Undoubted talent, if only his application matched it. His talent was way above that usually seen in City strikers, some of his movement in the box and passes were exquisite. If he wants to make it at Watford, he needs to grow up quickly. Let's hope his career progresses much further than Diego de Girolamo. Return to parent club. (Apps: 16 Subs: 7 Goals: 9)

Anthony (AJ) Greaves Personally I had high hopes for him, a midfield enforcer in the making. Unfortunately, his energy was often mis-directed and after a broken jaw in October (received on a Saturday night out) he was rarely seen. He ended the season on loan at Spennymoor . Out of contract, released and refused invite to return for pre-season training. (Apps: 1 Subs: 5 Goals: 0)
Jonny Haase No City first team action. Started the season on trial at Bradford PA (Tier 6) and then, moving down the tiers, had loans spells with Guiseley (Northern Premier League, Premier Division (Tier 7)), Eccleshill United (Northern Counties East Premier Division (Tier 9)) and Northallerton Town (Northern League Division 1 (Tier 9)). At Eccleshill, Social media reports stated that he'd had difficulties getting into team as the manager was reluctant to drop his own players who would lose a 3 figure appearance fee and could join another club with 7 days' notice. Accepted new contract. (Apps: 0 Subs: 0 Goals: 0)
Mitch Hancox Always popular, he struggled to significantly add to his hatful of goals in the previous season. Our talisman, when he played well, the whole team seemed to play well. 10 yellow cards meant a 2 game ban in February and a post match red card at Torquay saw him miss the last 2 games of the season . Contracted for 2023/4 and 2024/5 seasons. (Apps: 33 Subs: 10 Goals: 3)
Ethan Henderson Whatever his ability (and contractual status), he needs regular game time. Only 21 in May 2023, he is still young enough to make an impact, it might be stretching the imagination for him to make the same impact as John Byrne and Richard Cresswell did when they eventually earned regular first team spots aged 21 having spent the previous 3 years struggling around the reserve and first teams. Contracted for at least the 2023/4 season. (Apps: 0 Subs: 0 Goals: 0)
Alex Hurst Arrived with a lot of good feedback from Port Vale fans. Good steady worker with a turn of pace. Final product was rarely good (and that can be said about all of City's wide men). Contracted for 2023/4 season. (Apps: 26 Subs: 10 Goals: 2)
Luke James It seemed a strange signing, dropping down from Barrow in late July. Again, good in parts, but no end product  . Out of contract, released. (Apps: 9 Subs: 10 Goals: 1)
Lenell John-Lewis Full of energy, application and focus working for the team. Defends set pieces like a warrior and often ploughed a lone furrow upfront. Finishing isn't always his strong suit, if it was, he wouldn't be in the Conference. After we played at Torquay in April, one Torquay web site (TorquayTalk) noted, "I'd be all for us trying to sign Lenell John-Lewis. I thought he gave our defence a torrid time on Saturday and his captaincy was excellent. No moaning, unlike some of his team-mates and 100% professionalism at all times. I rarely am impressed by an opposing player, but I'd be delighted to see him forming a 3 headed rotating giant with Jarvis and Nouble in 2023/4's perfect world". Voted YorkPress player of the season. Contract extension triggered. (Apps: 43 Subs: 2 Goals: 17)
Fraser Kerr Slow, steady and ponderous. Decent in the air but prone to mistakes. Out of contract, released. (Apps: 24 Subs: 3 Goals: 3)
Maziar Kouhyar Missed about 4 months through injury and was largely a sub on his return. Like most of City's wide attacking men, he looked good in parts but failed to deliver. Given his lack of end product and injury spell, I'd nominate him as my disappointment of the season, but with 2 years left on his contract there is plenty of time to turn it around. Contracted for 2023/4 and 2024/5 seasons. (Apps: 22 Subs: 11 Goals: 1)
Maxim Kouogun For someone expected to leave in January (Bristol Rovers and Wrexham were strongly mentioned), he lost his way and place in the side after Christmas. One of several players to play better in the first half of the season than the second (possibly down to the management immediately post Askey). Of the players known to have been offered a contract extension during the season, the only one not to sign it. Pacy, but needs to stay focused throughout the game and assert his physicality. Out of contract, offered new contract but joined Scunthorpe. (Apps: 40 Subs: 2 Goals: 2)
Kyle Lancaster No City first team action but loan spell with Northallerton Town (Northern League Division 1 (Tier 9)). First season pro, released. (Apps: 0 Subs: 0 Goals: 0)
Gus Mafuta A big disappointment. Injured early season (he seemed to get injured a lot and then take ages to get fit), he found his first team opportunities very limited and when he got his chance, he didn't do too much to suggest he warranted it. He retains possession well and offers a strong physical presence that our midfield misses but offensively is lacking somewhat. His passing could be better. Out of contract, offered new contract but joined Solihull Moors. (Apps: 15 Subs: 7 Goals: 0)
Patrick McLaughlin Injured early season, he improved as he got more games under his belt. Slow and not very mobile, works and presses hard. Seems influential amongst his teammates. Accepted new contract. (Apps: 17 Subs: 4 Goals: 1)
Elliott Owen No City first team action but early season loan spells at Silsden AFC (Northern Counties East League Premier Division (Tier 9)), Tadcaster Albion (Northern Premier League, Division 1 East (Tier 8)) and Frickley (Northern Counties East Premier Division (Tier 9)). First season pro, released. (Apps: 0 Subs: 0 Goals: 0)
Dan Pybus Mr Marmite. Some liked his assurance on the ball, his ability to take and make a pass, albeit often sidewards or backwards. Involved in everything and gave a modicum of control to our poor midfield Very good before January but dropped off considerably as the season progressed (and that's not the first time that has been said). For a near ever present, some goals would have been nice. Contracted for 2023/4 and 2024/5 seasons. (Apps: 43 Subs: 0 Goals: 0)
Ethan Ross Steady in goal. Given the number one shirt despite some mixed feedback from Stockport supporters, his performances never plunged to the depths suggested by those reports. Maybe he liked his goal line too much. Concussed at Oldham in January, he suffered a second concussion soon after his return and didn't play again. Return to parent club. (Apps: 34 Subs: 0 Goals: 0)
Danny Rowe I'm inclined to leave his report blank as he did nothing for City. Patently not match fit on his arrival, he looked nothing like the goalscorer he had been much earlier in his career. Return to parent club. (Apps: 3 Subs: 1 Goals: 0)
Sam Sanders Never really got going and picked up a few injuries. Fell out of favour with Webb and Morton for reasons unknown. Was very consistent last season but didn't hit those heights this.  More of a ball playing defender. Contracted for 2023/4 season. (Apps: 22 Subs: 2 Goals: 3)
Johnny Shepherd No City first team action but loan spells with Silsden AFC (Northern Counties East League Premier Division (Tier 9)), Northallerton Town (Northern League Division 1 (Tier 9)) and Tadcaster Albion (Northern Premier League, Division 1 East (Tier 8)). In the autumn, at Northallerton, he scored 6 goals in 8 games. Regular scorer for City's Under 19s side, including 2 4 goal hauls. Accepted new contract. (Apps: 0 Subs: 0 Goals: 0)
Ollie Tanner Arrived with a big reputation, but didn't do anything for City (arriving in late January, he didn't play after February and seemed to be the player no one ever mentioned). Return to parent club. (Apps: 2 Subs: 5 Goals: 0)
Nathan Thomas An early season triallist (he missed the whole of the 21/2 season through injury), he eventually won a short term contract in October as his fitness levels slowly improved. His performances earned a contract extension to the end of season. In early February, he suffered a hamstring injury and wasn't seen again until the penultimate game of the season. Having played Championship level football, his class was evident although increasingly he was brought down to City's level as those early classy deliveries later failed to find their intended target. Out of contract, released and refused invite to return for pre-season training. (Apps: 7 Subs: 7 Goals: 2)
Ryan Whitley Can be dominant in the box but can also be awful. Distribution is OK at best. Has the potential to become much, much better. Went to Boston for match practice, a spell interrupted by postponements before being recalled when Ethan Ross was concussed at Oldham. With Ross suffering a second concussion he was an ever present from February onwards. Prone to the odd slip, his confidence grew and form improved with a regular place in the side but maybe still difficult to say with confidence that he'll be our number one next season. However, he finished the season with a hugely impressive Man Of The Match performance at Notts County. Contracted for 2023/4 season. (Apps: 18 Subs: 1 Goals: 0)

Alex Whittle Steady in defence and a willing attacker, sadly his final product was often poor. Contract extension triggered, but subsequently released by mutual consent. (Apps: 35 Subs: 3 Goals: 0)
Released on May 10, City's retained list revealed that 13 players are contracted for next season with contractual discussions ongoing with another 5. A further 5 were released (with 2 of those being invited back for pre-season training).
Across the season, several players' contracts had had automatic extension clauses triggered (believed to be based on the number of games played). Maison Campbell's extension was perhaps a little surprising and he can be expected to spend next season on the bench as understudy to Ryan Whitley.
There were no major surprises. Some might be disappointed that only 3 senior professionals were properly released.
Of the 5 players still in contract negotiations, Michael Duckworth was probably the only one to warrant a first team place whilst given their fitness concerns, the futures' of Paddy McLaughin and Scott Barrow's might not involve full time playing. That said, both were prominent members of Mikey Morton's backroom team and popular figures around the club.
The decision to invite AJ Greaves and Nathan Thomas back for pre-season training might surprise some people.
Given the retained list, City's squad will have a familiar look next season with little room to bring in a raft of new first team standard players. Key areas to strengthen would appear to be centre back, central midfield and a striker, effectively replacements for Mark Ellis, Akil Wright and Shaq Forde.
The list did not detail City's 6 young professionals (all aged (or approaching) 19, and one year beyond their 2 scholarship years). 4 were quietly released in the last few days of May (maybe one had been released earlier), with no publicty, shortly after completion of the academy season. 2 (Jonny Haase and Johnny Shepherd) signed new contracts with City. Read More.
Fanbanter released a full list of all National League clubs' retained / released lists.
Agents' Fees
In their first season back in the National League, York City spent £27,937 (year ending 31st January 2023), in payments to agents, this was the sixth highest amount paid by any National League club, according to annual figures released by the Football Association.
In non league, £663,237 was paid to agents, big spenders were:
Wrexham £163,737
Oldham Athletic £80,747
Chesterfield £77,194
Notts County £68,379
Dagenham £32,500
York City £27,937.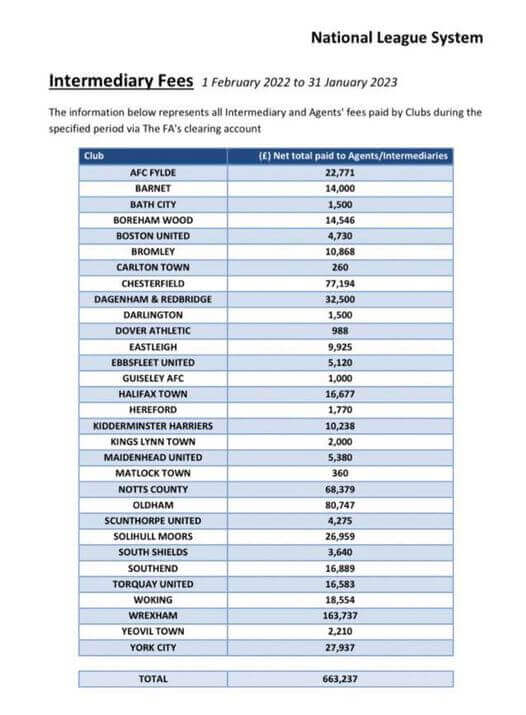 For City, the signing of 15 players (Kouogun, Hurst, Dyson, Hancox, John-Lewis, Burgess, Crookes, Fallowfield, Whittle, Sanders, Mafuta, Greaves, James, Duku and Pybus) were noted as involving agents' fees whilst 6 other senior pros (Whitley, Duckworth, Kouhyar, Kerr, Boden and Thomas) did not warrant agent fees.
More than £318 million was paid by Premier League clubs, with £51m of that attributed to Manchester City. Elsewhere, £36.3m was spent in the Championship, £5.6m in League One and £1.6m in League Two.
The full figures for the EPL, Football League and National League clubs are available on The FA website, including spend by club and players involved.
YCFC Academy
Once again, for the 2022/3 season, City competed in the National League Football Alliance North Division (Under 19) alongside other National League and National League North teams (AFC Fylde, Altrincham, Blyth Spartans, Boston United, Chester, Chesterfield, Darlington, FC Halifax Town, Gateshead FC U19s, Guiseley, Notts County and Solihull Moors). Altrincham and Gateshead being newcomers whilst Stockport dropped out following their promotion. 13 sides (Aldershot Town, Boreham Wood, Bromley, Dartford, Dorking, Dover, Eastleigh, Hampton & Richmond Borough, Maidenhead, Maidstone, Oxford City, Welling and Woking) competed in the southern equivalent. Dorking and Maidenhead being newcomers whilst Weston-Super-Mare dropped out. Being an Under 19 level competition, City's 6 youngest professionals were eligible to play in Alliance games.
City's promotion means that the Under 18 side was exempt from the Extra Preliminary and Preliminary rounds of the FA Youth Cup. They joined the competition in the qualifying rounds in late September.
In terms of performamce, overall it was a successful season. The team progressed through the FA Youth Cup qualifying rounds for the first time in 6 seasons before losing on penalties at Rochdale in Round 1.
The undoubted highlight of the season was victory in the National League Alliance Academy League Cup, beating Woking 1-0 in the final which was played at St George's Park, Burton in May. In the league, City finished third, they would have been champions if they'd beaten Blyth in the last week of the season.
In the league, a mass of postponements meant City's season extended well into May, with 14 games played after the end of March, the that included 13 league games in a 24 game season. City enjoyed a strong late season run, possibly coinciding with the return of the Ben Dale / Elliot Owen centre back partnership and a general return of the other young professionals from loan spells. An unbeaten 16 game run was ended by Blyth in the penultimate game of the season which ended City's title aspirations. Manager Tim Ryan put the fine run down to coaching techniques and how it takes time for the summer intake to get used to City's philosophies and methods. Whilst at the end of the season, Mikey Morton noted during his time in charge that it had been difficult to integrate the academy players given the large first team squad and the high number of academy fixtures.
At the end of the season, Dan Wilson, Head of Youth Development heaped praise on some of the younger sides who are also celebrating similar success to the Under-19 cup winners. Our Under 14s have just won their league and they're off to the National finals and have got a county cup final. Our Under 16s have just won their league and they're off to the National finals days (where they won the Junior Premier League National Champions Tournament). We know where our talent is and there is talent in other age groups as well, but whilst we don't get any protection we could lose any of those players at the drop of a hat for nothing. We've had it this year, we've had Premier League clubs (Manchester City took one in August) come and take players (including age groups below 16) that have been with the club for six years for no compensation. For a Football League club, we would get five figure sums for those players that would be reinvested in the academy. We can't do that, so long term planning as a National League academy is tough".
Season highlights included beating champions Blyth 6-0 in the cup and wins in successive November weeks over Gateshead 7-1 and AFC Fylde 15-0. The 9-1 win at Boston also deserves a mention as do Harry Burland's 6 goal haul against AFC Fylde and Jonny Shepherd who scored 4 goals in each of 2 games.
Scorers: Hernandez (17), Burland (13), Shepherd (13), Ezard (8), Gordon (8), Clayton (6), Harrison (5), Owen (5), Haase (3), Heaton (3), McLoughlin (3), Edenene (2), Lancaster (2), Algar (1), Dale (1), Pickles (1), Own Goal (2).
Up front Alex Hernandez (top scorer, netting 17 goals in 28 appearances) proved a regular threat as did Harry Burland, whilst on the right, George Harrison put in a number of pleasing performances. Burland has another season as a scholar.
However, the perennial problem remains. When will we see our youth products in our first team? After releasing all the 2021 first year pro intake at the end of the 2021/2 season, this season's 6 "first season" professionals didn't get a minute of first team game action whilst several had loan spells at lower league clubs, mainly tier 8 and 9, suggesting they have some way to go before being first team ready.
Scholars and first season professionls are limited to "youth" football unless able to go out on loan. In City's case, throughout the season, 9 youngsters enjoyed loan spells, including all 6 of City's 19 year old ("first season" professionals). Ben Dale (Redcar) and Jonny Shepherd (Northallerton) possibly being the ones who made the biggest impressions whilst out on loan. 3 scholars also enjoyed loan spells:
George Harrison: Bridlington Town (Northern Premier League, Division 1 East, Tier 8)
Tom Algar: Bridlington Town (Northern Premier League, Division 1 East, Tier 8)
Tom Pickles: Goole (Northern Counties East League Premier, Tier 9)
Of City's 6 "first season" professionals (attached to the academy), none played a minute of first team football during the 2022/3 season, young keeper Jacob Bulmer sat on the bench once. 4 were released whilst Jonny Haase and Johnny Shepherd signed new contracts with City. From the scholars, a year or 2 younger, Alex Hernandez (Year 1) and George Harrison (Year 2) signed pro contracts at the end of the season whilst all other Year 2 scholars were released at the end of their scholarship.
However, the pathway to the first team is almost none existent. Even out on loan, there are problems, at least 2 of City's loanees have found their progress blocked at clubs due to the managers not wanting to drop and upset their own players (and for them to lose a £100+ appearance fee) in the knowledge that such players can leave the club with just 7 days' notice if they wish.
Over the years, City have had a reserve team, challenges over the quality of opposition and finances have seen that pathway closed.
John Byrne and Richard Cresswell both enjoyed several seasons of reserve team football before having their breakthrough seasons. Even this season, Gabby McGill, who turned 22 in September 2022, has ony just started to make a real impression at first team level with Airdrie.
With squads generally bigger today then ever before (and manager reins shorter than ever before), for youngsters, making the breakthrough and having a run of games to eatablish their place in the first team is harder than ever. I'm sure many noted the gradual improvement in Ryan Whitley's form once he had a run of games in the first team.
Beyond the Under 19 / 18 side, City run a whole series of age sides. It was noted that the Under 12 side lost one of their best players to Manchester City in August 2022 whilst the Under16 side won their age group's JPL national title.
Home league fixtures were played at City's Wiggington Road training ground (YO32 2RB), usually on a Wednesday afternoon with an early kick off (usually 2pm (or earlier if required)) to finish in daylight. Home FA Youth Cup and National League Alliance Cup games are due to be played at the LNER Community Stadium (or another designated home ground). In practice, the home FA Youth Cup tie was played at Selby and home Alliance Cup games at the training ground.
Further Reading: National League Under-19 Alliance website.
2022/3 National League Youth Alliance
| | | | | | |
| --- | --- | --- | --- | --- | --- |
| Date | Opponents | Competition | Venue | Result | Scorers (and notes) |
| Sat 16 Jul | EVERTON U16 | Friendly | H | L | Lost by one goal |
| Fri 22 Jul | Northallerton | Friendly | A | L 1-2 | Shepherd |
| Fri 29 Jul | Rotherham U18 | Friendly | A | L 2-3 | Ezard (2) |
| Sat 06 Aug | STOCKTON T | Friendly | H | W | City won, no other details available |
| Tue 09 Aug | Tadcaster | Friendly | A | Postponed | Tadcaster FA Cup commitments |
| Sat 13 Aug | Mansfield U18 | Friendly | A | WDL n-n | No details available |
| Wed 17 Aug | YORK COLLEGE | Friendly | H | W 7-1 | Clayton (3), Gordon (2), Shepherd (2) |
| Tue 23 Aug | HARROGATE U18 | Friendly | H | WDL n-n | - |
| Wed 31 Aug | DARLINGTON U19 | Friendly | H | W 7-0 | Burland (2), Clayton, Edenene, Hernandez, Shepherd and Ezard |
| Wed 21 Sep | FC HALIFAX | NLFAU19N | H | W 2-0 | Shepherd, Hernandez |
| Thu 29 Sep | Cleethorpes Town | FAYCQ2 | A | W 3-0 | Clayton, Heaton, Harrison |
| Wed 05 Oct | DARLINGTON | NLFAU19N | H | D 1-1 | Ezard |
| Fri 14 Oct | HYDE | FAYCQ3 | H | W 1-0 | McLoughlin |
| Wed 19 Oct | GUISELEY | NLFAU19N | H | L 0-1 | - |
| Tue 01 Nov | Rochdale | FAYC1 | A | L 1-1 (2-4) | Hernandez |
| Wed 09 Nov | GATESHEAD | NLFAU19N | H | W 7-1 | Shepherd (4) Hernandez (2), Gordon |
| Wed 16 Nov | AFC FYLDE | NLFAU19N | H | W 15-0 | Burland (6), Hernandez (2), Owen (2), Shepherd, Harrison, Clayton, Ezard, Pickles |
| Wed 30 Nov | Altrincham | NLAALC1 | A | W 3-2 | Shepherd (2), Gordon |
| Wed 07 Dec | SOLIHULL MOORS | NLFAU19N | H | D 1-1 | Burland |
| Fri 06 Jan | Blyth | NLFAU19N | A | D 2-2 | Heaton, Lancaster |
| Wed 11 Jan | Solihull Moors | NLFAU19N | A | L 0-2 | - |
| Wed 25 Jan | BLYTH | NLAALC2 | H | W 6-0 | Gordon, OG, Ezard, Lancaster, Heaton, Burland |
| Wed 08 Feb | Guiseley | NLFAU19N | A | L 1-2 | Hernandez |
| Wed 15 Feb | AFC Fylde | NLFAU19N | A | W 4-2 | Hernandez (2), Burland, Algar (p) |
| Wed 22 Feb | CHESTER | NLAALQF | H | W 3-1 | McLoughlin, Dale, Gordon |
| Wed 15 Mar | NOTTS CO | NLFAU19N | H | D 1-1 | Gordon |
| Wed 22 Mar | FC Halifax | NLFAU19N | A | W 4-0 | Gordon (2), Ezard, Hernandez |
| Wed 29 Mar | Notts Co | NLAALSF | A | W 2-1 | Hernandez, Harrison |
| Fri 31 Mar | Altrincham | NLFAU19N | A | W 4-1 | Hernandez (2), Gordon, Ezard |
| Wed 05 Apr | Notts Co | NLFAU19N | A | W 2-0 | McLoughlin, Shepherd |
| Wed 12 Apr | Boston | NLFAU19N | A | W 9-1 | Shepherd (4), Ezard (2), Harrison, Haase, OG |
| Fri 14 Apr | CHESTER | NLFAU19N | H | W 3-2 | Haase, Shepherd, Hernandez |
| Wed 19 Apr | Chesterfield | NLFAU19N | A | D 1-1 | Hernandez |
| Fri 21 Apr | Chester | NLFAU19N | A | D 0-0 | - |
| Wed 26 Apr | Gateshead | NLFAU19N | A | W 2-0 | Hernandez, Harrison |
| Fri 28 Apr | CHESTERFIELD | NLFAU19N | H | W 4-2 | Clayton (2), Haase, Burland |
| Wed 03 May | WOKING | NLAALF | N | W 1-0 | Clayton |
| Fri 05 May | Darlington | NLFAU19N | A | W 6-1 | Burland (2), Clayton, Owen, Ezard, Edenene |
| Wed 10 May | ALTRINCHAM | NLFAU19N | H | W 1-0 | Owen |
| Wed 17 May | BLYTH | NLFAU19N | H | L 2-3 | Owen, Edenene |
| Fri 19 May | BOSTON | NLFAU19N | H | W 2-1 | Burland, Hernandez |
EVERTON U18 (H) (16/Jul/22) (Friendly) L
City went down to a one goal defeat.
NORTHALLERTON (A) (22/Jul/22) (Friendly) L 1-2
City's U19s fell to 2-1 defeat away to Northern League opponents Northallerton at The Calvert Stadium who included former City striker, Luke Jones on their bench. City's starting line up included 5 professionals (if you include about to be signed Jacob Bulmer as a pro), 5 year 2 scholars and one first year scholar.
The opening quarter was fairly even with no clear cut chances. Haase and shepherd were to the fore for City. After 36 minutes, Lancaster dropped a shoulder and crossed towards the near post for Shepherd, but the forward can't guide his effort on target as he put it narrowly wide. He made amends 5 minutes when Edenene played a through ball and Shepherd beat the keeper at his near post from the edge of the area. Almost immediately, the home side were level when Micky Rae smashed the ball home from close range after Bulmer had kept out his original header to men the sides went in level at the break.
City started the second half strongly with Hernandez and Shepherd going close before the home side took the lead on the hour when a free kick from 25 yards out curled over the wall and into the top-right corner. As the game opened up, both sides had further chances, Gordon and Payne for City, but neither side could add to the score.
CITY: Bulmer; McLoughlin (Marshall, 65), Heaton (Myers, 82), Owen, Haase ( c ); Algar (Payne, 75), Clayton (Dawson, 61), Ezard (Gordon, HT); Lancaster (Burland, 80), Shepherd (Magwere, 80), Edenene (Hernandez, 53). Unused Subs: Lumsden
OPPONENTS: Dawson; Jones (D), Graham, Crust, Chidanyika, Trialist A, Stapley, Stephenson, Rae, McMann, Howard. Subs (usage not recorded): Trialist B, Trialist C, Groom, Spalding, Jones (L).
Goals: Shepherd (41). Opponents: Rae (42), TBC (60)
Bookings: City: -. Opponents: -
Sent Off: City: -. Opponents: -
Referee: TBC
Attendance: TBC
ROTHERHAM U18 (A) (29/Jul/22) (Friendly) L 2-3
A Max Ezard brace couldn't prevent City from going down 3-2 at Rotherham.
Billy Gordon went close for City from the edge of the area after 3 minutes before Rotherham took the lead with a tap in at the far post after a delivery into the box from the right (10 minutes). As the half progressed, City pressed, first a corner into the area from Gordon was cleared by the hosts before Williams Edenene won the ball on the edge of the Rotherham area and was denied by a smart save by the keeper. Rotherham finished the half stronger. City made 6 half time substitutions and were quickly rewarded when one of them, Ezard curled in a free kick from the edge of the area into the net off the back post (49 minutes). On the hour, fellow sub, Tom Algar forced the home keeper into a finger tip save but 3 minutes later, City fell beheind when Rotherham netted from the penalty spot Jacob McLoughlin took down a Rotherham man. 9 minutes later, Ezard levelled the scores when he headed home from Alex Hernandez's cross. Parity lasted just 3 minutes before Rotherham made it 3-2 when they forced the ball home from close range from a corner. On 84 minutes, livewire Ezard curled a shot narrowly wide of the post as he went for his hat trick. 4 minutes later, McLoughlin headed narrowly wide from an Algar corner.
CITY: Hogan (Bulmer, 70), Marshall (McLoughlin, HT), Myers (Heaton, HT), Owen, Magwere (Pickles, 65); Dawson (Payne, HT), Gordon (Lumsden, HT), Clayton (Algar, HT); Harrison (Ezard, HT), Hernandez, Edenene (Trialist, 65). Unused Subs: -
OPPONENTS: TBC.
Goals: Ezard (2). Opponents: 10, 63, 72
Bookings: City: -. Opponents: -
Sent Off: City: -. Opponents: -
Referee: TBC
Attendance: TBC
STOCKTON T U18 (H) (06/Aug/22) (Friendly) W
City beat Stockton with a clean sheet in a hastily arranged friendly.
TADCASTER (A) (09/Aug/22) (Friendly) Postponed
City's game against Tadcaster's mens' team was postponed due to the host club's FA Cup commitments.
MANSFIELD U18 (A) (13/Aug/22) (Friendly) Result Unknown
No details available.
YORK COLLEGE (H) (17/Aug/22) (Friendly) W 7-1
City had a comfortable 7-1 win over York College with goals from Clayton (3), Gordon (2) and Shepherd (2).
City dominated the first half. After a couple of early chances, City took the lead with a Jonny Shepherd header (20'). Another header, this time from Kieran Clayton (32') saw City double their lead before 2 tap ins from Billy Gordon (39' and 44') and another Jonny Shepherd (45') header saw City 5-0 up at the break.
The second half was more even. York College got a goal back when their substitute raced clear and beat Hogan (67'). City finished the stronger with 2 late goals from goals Kieran Clayton, a header (82') before he raced clear through on goal and finished calmly past the keeper to complete his hat trick.
CITY: Bulmer (Hogan, HT), McLoughlin (Pickles, HT), Heaton, Owen (Marshall, 67), Haase (Magwere, HT); Clayton, Algar, Gordon (Dawson, HT), Edenene (Lumsden, 67); Harrison, Shepherd (Burland, HT). Unused Subs: -
OPPONENTS: TBC.
Goals: Clayton (3), Gordon (2), Shepherd (2). Opponents: 67
Bookings: City: -. Opponents: -
Sent Off: City: -. Opponents: -
Referee: TBC
Attendance: TBC
HARROGATE U18 (H) (23/Aug/22) (Friendly) Result Unknown
No details available.
DARLINGTON (H) (31/Aug/22) (Friendly) W 7-0
City enjoyed a comprehensive 7-0 win against Darlington with goals from Burland (2), Clayton, Edenene, Hernandez, Shepherd and Ezard.
Goals from Hernandez (9'), Shepherd (21') and Ezard (27') gave City a 3-0 half time lead.
Further goals from Burland (79' and 82'), Edenene (54') and Clayton (61') completed the 7-0 win in a game where City's defence was rarely troubled.
CITY: Bulmer (Hogan, HT); McLoughlin, Heaton (Magwere, 70), Owen (Dawson, 58), Haase (Clayton, 58); Gordon (Marshall, 75), Algar, Ezard (Payne, 75); Shepherd (Burland, 58), Harrison (Pickles, 65), Hernandez (Edenene, 58). Unused Subs: -
OPPONENTS: TBC.
Goals: Burland (2), Clayton, Edenene, Hernandez, Shepherd, Ezard. Opponents: -
Bookings: City: -. Opponents: -
Sent Off: City: -. Opponents: -
Referee: TBC
Attendance: TBC
FC HALIFAX (H) (21/Sep/22) (National League Youth Alliance League (North)) W 2-0
The Under 19s started their National League Alliance Academy North campaign with a 2-0 win over FC Halifax Town as goals from second half substitutes Jonny Shepherd and Alex Hernandez sealed all three points for the Young Minstermen, which delighted Youth Team Manager Tim Ryan at the full time whistle. Ryan named a strong side ahead of kick-off, which featured first-year professionals Jacob Bulmer, Jonny Haase, Ben Dale and Elliot Owen.
It didn't take City long before they tested the Halifax defence, as Harry Burland trapped the ball down on the edge of the area, before firing narrowly wide of the keeper's right hand post with a fierce strike. Two brilliant balls across the face of goal followed for the Minstermen in quick succession as they looked to break the deadlock, but Kieran Clayton and George Harrison were both unable to steer the ball home from close range on both occasions. The visitors were reduced to ten men with seven minutes to go before half-time as their goalkeeper was handed a second yellow card by the referee after he came rushing out of his area and took out the onrushing Burland. He'd been booked on 20 minutes for taking too long with the ball. An outfield player went in goal.
Burland went one on one with the stand in keeper 3 minutes into the second half, but again the home side couldn't find a breakthrough as he lifted the ball straight into the hands of the stand-in 'keeper. A minute later, FC Halifax had their first chance but a shot from the dge of the area curled wide. The deadlock was finally broken in the 65th minute through substitute Shepherd. He steered the ball home from close range after a good pullback from the left from fellow substitute Alex Payne. Further chances on goal for City followed through captain Tom Algar, as well as Haase. Algar tried his luck from distance and saw the ball fly narrowly wide of goal from 25 yards out, before Haase's intended cross towards the back post from the left hit the keeper's upright and the visitors escaped further danger. City did manage to find a second goal of the afternoon though with five minutes of play remaining. Hernandez scored with an easy header after finding himself unmarked at the far post from a corner, he tucked the ball away with ease into the top right corner to seal all three points.
Footnote:Town's U19s B side faced Eccleshill United in the National League U19 Alliance North at the same time. They are one of a very few teams who runs 2 sides at this level.
CITY: Bulmer (GK); McLoughlin (Heaton 86'), Dale, Owen; Harrison, Gordon, Ezard (Payne 60'), Algar (c), Haase (Edenene 86'); Clayton (Hernandez 75'), Burland (Shepherd 55'). Unused Subs: -
OPPONENTS: TBC
Goals: Shepherd (60'), Hernandez (85'). Opponents: -
Bookings: City: Haase. Opponents: CB
Sent Off: City: -. Opponents: Keeper (2Y)
Referee: TBC
Attendance: TBC
CLEETHORPES TOWN (A) (29/Sep/22) (FA Youth Cup, 2nd Qualifying Round) W 3-0
The Minstermen advanced to the final qualifying round of the FA Youth Cup with a comfortable 3-0 victory over Cleethorpes Town at the MyEnergi Stadium with goals from Kieran Clayton, Nathan Heaton and George Harrison.
Given the age restrictions of the competition, City fielded a younger and much changed side from the one that featured a week ago in their National League Alliance league opener a week earlier. City were on the attack from the off and after a couple of half chances took the lead after 12 minutes when Clayton headed home at the far post after a cross into the area from the right by Harrison. A double chance followed when midfielder Billy Gordon twisted and turned after breaking into the penalty area, before his low left footed strike came back off the post and forward Harry Burland powered the rebound onto the crossbar from close-range. City doubled their lead on 21 minute through defender Heaton, who found himself unmarked in the penalty area to head home into the bottom left corner at the near post from a Tom Algar corner. It was truly a dominant first-half display from City who had further chances to extend their lead before half time. Max Ezard drilled the ball narrowly over the bar after a cut back from the right before Harrison volleyed over after a cross from Williams Edenene on the left.
Harrison extended City's lead five minutes into the second-half with a stunning strike. He was played in on the right and from close range, fired into the roof of the net, beating the 'keeper at his near post. Ezard, Gordon and Edenene had further chances as City looked for a fourth goal of the evening, but all three couldn't capitalise with their chances, before substitute Alex Hernandez headed narrowly wide of goal after an inviting cross in from the right. Michael Hogan had a fairly quiet night in net for City and he was only tested on a couple of occasions towards the end of the game, but he ensured that City kept a clean sheet as the club advanced into the next round of the competition.
Coach Tim Ryan will have been pleased with the dominant performance but may believe the amount of squandered chances needs to be addressed.
CITY: Hogan (GK); McLoughlin, Heaton, Myers; Harrison, Gordon, Algar ( c ), Ezard (Payne 60'), Edenene (Magwere 72'); Burland (Hernandez 51'), Clayton. Unused Subs: Pickles, Dawson, Marshall, Lumsden
OPPONENTS: TBC
Goals: Clayton (12'), Heaton (21'), Harrison (50'). Opponents: -
Bookings: City: -. Opponents: Keeper
Sent Off: City: -. Opponents: -
Referee: TBC
Attendance: TBC

DARLINGTON (H) (05/Oct/22) (National League Youth Alliance League (North)) D 1-1
The Young Minstermen came from behind this afternoon to secure a point against Darlington in the National League Alliance Academy North. After falling behind to a first half penalty, substitute Max Ezard brought the home side back into the contest on the hour mark with his first goal of the season.
It was a bright start by City as they went close to opening the scoring twice inside the opening five minutes. Hernandez was played through on goal before being denied by a smart save by the Darlington 'keeper, before Payne drove an effort over the bar after a corner was failed to be cleared away. Darlington were awarded a penalty just after the half hour mark when a City player had appeared to take down a Darlington man. The penalty sent Michael Hogan the wrong way as the visitors took the lead after 33 minutes. Two further efforts came from the visitors in the first half, but both were easily held by Hogan as the Minstermen went into the break narrowly trailing.
Three substitutions made at half time changed the way the Minstermen played in the second period and one of those brought the hosts level on the hour mark. A perfectly threaded pass through the Darlington defence by Kieran Clayton found Ezard, who beat the 'keeper at his near post with a curling effort to bring the game level. In second half injury time, the Minstermen had three really good opportunities as they looked for a winner. Ezard curled an effort narrowly over the bar after a good pull back from Harry Burland. Ben Myers had an effort blocked after visitors failed to clear the ball away from a free kick, before another strike from Ezard from distance was superbly tipped away by the Darlington shot-stopper.
A point ensures the U19s remain unbeaten after their first two league games.
CITY: Hogan (GK); Owen, Heaton (McLoughlin 46'), Myers; Payne (Edenene 46'), Algar, Gordon, Lancaster (Burland 54'), Haase; Hernandez (Ezard 46'), Clayton. Unused Sub: Marshall.
OPPONENTS: TBC
Goals: Ezard (60'). Opponents: -
Bookings: City: Hernandez (42'). Opponents: 4 (15'), 5 (55'), 9 (76', dissent)
Sent Off: City: -. Opponents: -
Referee: TBC
Attendance: TBC
HYDE (H) (14/Oct22) (FA Youth Cup, 3rd Qualifying Round) W 1-0
City's Under 18 side secured their place in the First Round proper of the FA Youth Cup with a 1-0 win over Hyde United (aka Rochdale Under 18s' reserve side) in a game played at Selby's Fairfax Plant Hire Stadium. Originally scheduled for the LNER stadium, the game was switched when City gained late FA approval to play home games (up to and including Round 5) at an alternative venue, believed due to the LNER lease conditions and cost of stadium hire for the game.
The game featured ten yellow cards, one red card, an awful pitch and a good performance by George Harrison. Jacob McLoughlin scored the only goal of the game, nine minutes before half-time, which sets up an interesting tie in the next round for the Young Minstermen as they take on Football League side Rochdale away. An away tie at Shrewsbury or Sutton Coalfield awaits the winners in Round 2.
City started the game brightly, against a side who were in their fourth FA Youth game this season, as Max Ezard's strike from distance was denied by a brilliant block by a Hyde defender on the edge of the area. Four minutes later, Harry Burland went close as the ball fell to him inside the penalty area, but after great work from the Hyde 'keeper, he was able to keep the ball out of his net after rushing out to deny the young Minstermen forward. City took the lead in the 36th minute, courtesy of defender Jacob McLoughlin. After a great ball in from Tom Algar from a set piece, Hyde failed to clear the ball away to safety, before McLoughlin was able to fire the ball home into the bottom right corner to hand his side the lead from near the penalty spot. The half finished with an ugly brawl resulting in 5 yellow cards.
Three minutes into the second half, Kieran Clayton went close after meeting a brilliant ball into the area from the right, but the forward wasn't able to keep his header down as it flew narrowly over the bar. Clayton had two further good chances as the young Minstermen looked to double their lead. Great play by substitute Alex Hernandez set Clayton up on the edge of the area where he had an effort deflected out for a corner, before he went on to head another great chance over the bar after good work down the right-hand side by George Harrison. The visitors were reduced to ten men with a minute of play remaining as their captain was shown a second yellow card by the referee after a foul.
It is understood that John Askey was in attendance.
City held on for the win, which sees them advance into the 1st Round proper of the FA Youth Cup, where they will take on Football League side Rochdale.
Read Awayonsaturday's blog.


CITY: Hogan (GK), McLoughlin, Edenene (Lumsden 90'), Algar (C), Heaton, Myers, Harrison, Gordon, Clayton, Ezard (Payne 56'), Burland (Hernandez 63'). Unused Subs: Magwere, Pickles, Dawson, Marshall
OPPONENTS: TBC
Goals: -. Opponents: -
Bookings: 10 in total, including City: Algar. Opponents: #1, #3 #5, #10
Sent Off: City: -. Opponents: #3(2Y)
Referee: TBC
Attendance: 233
GUISELEY (H) (19/Oct/22) (National League Youth Alliance League (North)) L 0-1
City's Under 19 side lost their first game of the season when going down 1-0 at home to Guiseley.
City dominated the early stages, Clayton missing a good chance after good work down the left wing Hernandez. Further City chances went begging before Bulmer came to City's rescue to keep City level after 26 minutes. There were more chances for both sides but the half time score remained scoreless until Guiseley took the lead with a goal from close range on 43 minutes.
City had the better chances in the second half thanks to a Heaton header, a stonewall penalty appeal turned down when Clayton was pulled down and then Payne fired straight at the keeper when clear but couldn't equalise and went down to a first defeat of the season.
CITY: Bulmer (GK); McLoughlin, Heaton, Myers; Harrison, Payne, Algar (Dawson, 64'), Gordon (Ezard, HT), Haase; Hernandez (Edenene, 57'), Clayton. Unused Sub: Hogan, Marshall.
OPPONENTS: TBC
Goals: -. Opponents: 43'
Bookings: City: Payne (32'). Opponents: #4 (54')
Sent Off: City: -. Opponents: -
Referee: TBC
Attendance: TBC
ROCHDALE (A) (01/Nov/22) (FA Youth Cup, 1st Round) L 1-1 (2-4)
City's FA Youth Cup journey came to an end after a penalty shoot out defeat at Rochdale in the First Round. It was the first time in 6 seasons that City had progressed through the qualifying rounds into the competition proper.
After going behind early on at the Crown Oil Arena, the Minstermen came from behind to level the game just before half-time through Alex Hernandez. After the score remained at 1-1 until the end of extra-time, Tim Ryan's side missed two penalties as they lose 4-2 in the shootout against the Football League side.
After a strong start in the rain for the home side, they took the lead in the 19th minute through Darren Ehimamiegho, who capitalised from close range after Michael Hogan had originally kept out an initial shot from Rochdale. It was nearly two for the home side with seven minutes to go before half-time, but a shot from the right of the penalty area came crashing back out into play off Hogan's left-hand post. 4 minutes later, City were level after a long ball forward from deep, wasn't dealt with by the Rochdale goalkeeper and Alex Hernandez was on hand to score from close range.
Three early changes for the home side sparked an immediate response early on into the second half for Rochdale, but Hogan was unworried as two shots whistled well wide of goal. The score remained level at full-time, but after neither side could find a winner in extra time despite City having the better chances with an Algar free kick punched away by the home keeper (96') and Harrison shooting over from distance (107'). The tie was decided by a penalty shoot out.
City missed their first two penalties, which put the home side into an early ascendancy, but strikes from Nathan Heaton and Harley Dawson kept the shoot out alive. With the last kick of the game, Rochdale converted from twelve yards to send them through into Round 2 and away tie at League One side Shrewsbury Town.
CITY: Hogan (GK), McLoughlin (Lumsden 91'), Edenene, Algar ( c ), Heaton, Myers, Harrison, Gordon, Clayton, Ezard (Payne 59'), Hernandez (Dawson 113'). Unused Subs: Carr, Magwere, Pickles, Marshall.
OPPONENTS: Craven, Cunningham, Sutton, Dunlop, Watts ( c ), Ayub (Burgess (52'), Anderson (Yaduat, 56'), Kyffin, Street, Bailey, Ehimamiegho (Jesus, 50'). Unused Subs: Pozzoni, Greenwell, Dos Santos, Lawrenson, King.
Goals: Hernanzez (42'). Opponents: Ehimamiegho (19').
Bookings: Not noted
Sent Off: Not noted
Referee: TBC
Attendance: 332
GATESHEAD (H) (09/Nov/22) (National League Youth Alliance League (North)) W 7(Seven)-1
City recorded a comfortable 7-1 win over Gateshead as the teams turned round 1-1 at half time. Jonny Shepherd netted 4, making 11 goals in 10 games this season for the forward (5 goals in 2 games for the Under 19s and 6 goals in 8 games whilst on loan at Northallerton). Alex Hernandez (2) and Billy Gordon completed the scoring on a wet and blustery afternoon.
City started strongly, Shepherd missed a tap in at the far post and 2 minutes later Alex Hernandez finished at the near post after a great ball in from Harrison on the right to give City the lead. Clayton, Shepherd, Hernandez and Shepherd again all had chances as City dominated. As half time approached, Gateshead began to press missing a chance when clear throw and Hogan also had to make a smart save, even so, there was time for Owen (39') to narrowly head over and Gordon (44') to curl a free kick just over the bar before 3 minutes into injury time, The 'Heed levelled with a header from a cross.
City started the second half strongly. After great work by Alex Hernandez, the keeper spilled the ball and Jonny Shepherd (50') was on hand to smash the ball into the bottom right corner. 5 minutes later, Alex Hernandez curled home from a tight angle. Gordon and Clayton had chances before City were awarded an indirect free kick inside the Gateshead area after a pass back to the keeper which resulted in a great block on the line to deny Shepherd from the free kick. After 74 minutes, Jonny Shepherd rounded the keeper and finished from close range and 2 minutes later, a great header from Billy Gordon from a Harrison left wing cross made it 5. A curling effort across the face of goal saw Jonny Shepherd (81') complete his hat trick. Harrison (86') nearly made it 7 as he raced through and fired narrowly wide across the face of goal before a ball from Williams found Jonny Shepherd (90') who headed home from close range to make it 7-1.
CITY: Hogan (GK), McLoughlin, Heaton, Owen, Haase (Edenene, 62); Harrison, Payne (Gordon 38'), Algar ( c ) (Dawson, 80), Clayton (Ezard, 71); Shepherd, Hernandez (Lumsden, 75). Unused Subs: -
OPPONENTS: TBC
Goals: Shepherd (4), Hernandez (2), Gordon. Opponents: Not recorded-
Bookings: Not recorded-
Sent Off: Not recorded-
Referee: TBC
Attendance: TBC
AFC FYLDE (H) (16/Nov/22) (National League Youth Alliance League (North)) W 15(Fifteen)-0
City romped to a 15-0 win over AFC Fylde. AFC Fylde, in recent years have regularly been one of City's rivals towards the top of the league finished with 9 players after 2 red cards. For City, half time sub, Harry Burland scored 6 goals. Alex Hernandez (2), Elliot Owen (2), Jonny Shepherd, George Harrison, Kieran Clayton, Max Ezard and Tom Pickles also scored. By the end of the game, City's twitter commentary was struggling to keep up with the goals and in the last 10 minutes was reduced to just noting the scorer.
City dominated from the start and early close range efforts from Elliot Owen (8') and Jonny Shepherd (12') gave City an early lead before AFC Fylde were reduced to ten men as Alex Hernandez was taken out by the last man (14') and their #2 was booked for a foul on Kieran Clayton (21'). Alex Hernandez (24') pounced on a loose ball to smash it home from close range and 2 minutes later George Harrison swept the ball home after a low cross into the area from Haase to make in 4-0. The half finished in familiar fashion with a yellow card for AFC Fylde's #10 (39') a goal for Kieran Clayton (45') when the midfielder found a gap in the defence to run through before finishing calmly under the keeper to make it 5-0. There was still time to see AFC Fylde's #10 receive a red card after a second yellow.
From the first whistle of the second half, City attacked. Max Ezard (47') headed home with the aid of a deflection before Alex Hernandez (49') slid the ball into the bottom left corner from close range before Harry Burland (55') tapped home at the far post after a ball in from the left for City's eighth and his first. Harry Burland was played in by Dawson who rounded the keeper to score his second (62') and 5 minutes later Elliot Owen headed home from a corner via an AFC Fylde, the goal was originally credited as an own goal. 2 minutes later (69'), Harry Burland headed home a Tom Pickles' cross to complete his hat trick. As AFC Fylde's 9 remaining men tired, the last 10 minutes became a blur of goals with 3 more for Harry Burland (81', 85' and 86') before Tom Pickles (89') completed the scoring.
CITY: Hogan (GK), McLoughlin, Owen, Heaton, Haase (Pickles, 50); Harrison (Gordon, 50'), Algar ( c ) (Dawson, HT), Ezard, Clayton (Edenene, 50); Shepherd (Burland, HT), Hernandez. Unused Subs: -
OPPONENTS: TBC
Goals: Shepherd (2), Gordon. Opponents: Not recorded
Bookings: Not recorded
Sent Off: Not recorded
Referee: TBC
Attendance: TBC
ALTRINCHAM (A) (30/Nov/22) (National League Alliance Academy League Cup Round 1) W 3-2
Goals from Jonny Shepherd (2) and Billy Gordon saw the U19 side advance into the next round of the National League Alliance Academy North Cup after a 3-2 win at Altrincham.
CITY: Hogan (GK), McLoughlin, Magwere, Heaton, Edenene; Harrison, Algar ( c ), Gordon, Clayton; Shepherd, Burland. Subs (usage not recorded): Pickles, Dawson, Payne, Lancaster, Ezard.
OPPONENTS: TBC
Goals: -. Opponents: -
Bookings: City: -. Opponents: -
Sent Off: City: -. Opponents: -
Referee: TBC
Attendance: TBC
SOLIHULL MOORS (H) (07/Dec/22) (National League Youth Alliance League (North)) D 1-1
City came from behind to earn a point against Solihull Moors.
Moors took the lead on 8 minutes with a header. Immediately City went in search of an equaliser with George Harrison to the fore. He fired over (9'), threaded the ball into the area but no one could get onto the end of it (15'), curled an effort narrowly wide (16') and combined with Nathan Heaton to set up another chance. Billy Gordon went close after good work from Williams Edenene (29') before Harry Burland equalised on 31 minutes when he bundled the ball home from a corner. Edenene had a chance just before half time to give City the lead.
After Ben Dale (47') and Jonny Haase (55') fired wide, both sides had penalties saved. First, Billy Gordon (59') and then Moors (66') missed. The last chance fell to City but Elliot Owen headed tamely at the keeper from a cross.
CITY: Bulmer (GK), McLoughlin, Dale (Dawson, 67'), Owen, Haase ( c ); Harrison, Heaton, Gordon, Ezard (Payne, 78'); Burland (Hernandez, 57'), Edenene (Lancaster, 70'). Unused Sub: Pickles.
OPPONENTS: TBC
Goals: Burland. Opponents: TBC
Bookings: City: Harrison (53'), Dawson (86'). Opponents: #7 (69').
Sent Off: City: -. Opponents: -
Referee: TBC
Attendance: TBC
BLYTH (A) (06/Jan/23) (National League Youth Alliance League (North)) D 2-2
Second half goals from Nathan Heaton and Kyle Lancaster earned City a 2-2 draw against 2nd placed Blyth at Newcastle University's Cochrane Park ground in a game originally postponed from December 14. City's side featured just one of the club's 5 home grown first seasosn professionals.
Gordon, McLoughlin and Clayton had chances for City in the first 20 minutes. As City continued to press, Harrison fired well over with a left-footed effort on 38 minutes. 3 minutes later, Blyth took the lead with a curling effort from the edge of the area following a tame clearance header from a corner.
On 54 minutes, Clayton was taken out in the area after good work by Harrison. Nathan Heaton's penalty (thanks to the linesman's intervention) went into the bottom right to equalise. Gordon and Clayton combined well and only the keeper's quick reactions prevented City taking the lead. City continued to press and Harry Burland made the most of a mistake at the back to square the ball across goal for Kyle Lancaster to smash home from close range (60'). On 66 minutes, Gordon's low curling effort was saved by the Blyth keeper to prevent City extending their lead. On 78 minutes, Blyth levelled the game with another curling effort. In the last few minutes, City's Tom Algar had the best chance, but his shot was saved by the Blyth keeper as City finished the game the stronger.
The point put Blyth top of the table and left City 6th, albeit with 3 games in hand over each of the 2 teams immediately above them in the table.
For City, upfront, number 9, first season scholar Alex Hernandez, although not first team ready, looked useful as did fellow season one scholar George Harrison on the right of midfield. Hernandez, not dissimilar in appearance to Ryan Edmondson, looks more physically developed than any of the other youth team players. Billy Gordon, and Kieran Clayton also had decent games. In general, City's defence held a good line and there was good communication between the team. Young pro Jacob Bulmer in goal was particularly vocal.
Plaudits too for the referee, he controlled the game well and with good humour, though let both sides know he wasn't going to stand for any shenanigans.
CITY: Bulmer (GK), McLoughlin, Heaton, Edenene; Harrison, Algar ( c ), Dawson, Gordon; Lancaster, Hernandez (Burland, 18'), Clayton. Unused Subs: Payne, Myers, Pickles, Hogan.
OPPONENTS: TBC
Goals: Heaton (54', penalty), Lancaster (60'). Opponents: TBC
Bookings: City: TBC. Opponents: TBC
Sent Off: City: TBC. Opponents: TBC
Referee: TBC
Attendance: TBC
SOLIHULL MOORS (A) (11/Jan/23) (National League Youth Alliance League (North)) L 0-2
City conceded a goal in each half to lose 2-0 away to Solihull Moors at their Studley Sports Centre ground.
CITY: Bulmer (GK), McLoughlin, Heaton, Myers, Edenene; Lancaster, Algar ( c ), Dawson, Gordon; Burland, Clayton. Subs (Only 3 named, usage unknown): Payne, Marshall, Lumsden.
OPPONENTS: TBC
Goals: -. Opponents: TBC
Bookings: City: TBC. Opponents: TBC
Sent Off: City: TBC. Opponents: TBC
Referee: TBC
Attendance: TBC
BLYTH (H) (25/Jan/23) (National League Alliance Academy League Cup Round 2) W 6-0
City's Under 19 side romped into the Quarter Finals of the National League Alliance Academy League Cup with a 6-0 win against high flying Blyth Spartans this afternoon. With an earlier than normal 12:00 kick off (presumably to get the best of the sun in the middle of a mini freeze), City were always on top.
City were quick out of the blocks and nearly opened the scoring when Shepherd fired narrowly wide (3'). Blyth were reduced to ten men in the 21st minute when their right back received a second yellow card for dissent having previously been booked a couple of minutes earlier for a foul on Shepherd. From the resulting free kick, Billy Gordon (23') curled a spectacular effort over the Blyth wall and into the top left corner to give City the lead.
After the interval, City extended their lead with an own goal (54') after a neat pull back from Shepherd from the left, before Maz Ezard smashed home (70') from close range after good work down the right by winger Lancaster (3-0). Then, Kyle Lancaster (74') waltzed through the Blyth defence beating 4 defenders before finishing in the bottom right corner to make it 4-0. On 77 minutes, Nathan Heaton smashed home from close range after a free kick to make it five. Finally, Harry Burland was picked out by Max Clayton and side footed the ball home first time from inside the area to complete the scoring (87').
CITY: Hogan (GK), McLoughlin, Heaton, Myers, Edenene (Lancaster 52'); Harrison, Algar ( c ) (Marshall 78'), Payne (Dawson 46'), Gordon; Shepherd (Burland 65'), Clayton (Ezard 68'). Subs: -.
OPPONENTS: TBC
Goals: Gordon (23'), OG (54'), Ezard (70'), Lancaster (74'), Heaton (77'), Burland (87'). Opponents: -
Bookings: City: TBC. Opponents: TBC
Sent Off: City: TBC. Opponents: #2 (2Y)
Referee: TBC
Attendance: TBC
GUISELEY (A) (08/Feb/23) (National League Youth Alliance League (North)) L 1-2
In a mid table clash, City went down 1-2 away to Guiseley in an evenly matched game that could have gone either way. The game was switched to Bradford PA's Horsfall Stadium whilst the early 11:15 kick off bought back memories of 1970s Northern Intermediate League games. The loss leaves City in 10th place, (3 places below Guiseley) but with multiple games in hand over many of the teams immediately above them.
After early pressure from City, Guiseley took the lead on 15 minutes after a strong run forward by a Guiseley midfielder who forced a save from Hogan before the rebound was slotted home from close range by Kyle Burrows. In search of an equaliser, City had the better chances in the rest of the half, hitting the woodwork twice with Kieran Clayton thrice going close before Gordon's curling effort was tipped over the bar.
In the second half, Alex Hernandez went close before Ezard played in Alex Hernandez who slotted comfortably under the Guiseley keeper to level the game on 53 minutes. Both sides had chances before Guiseley scored the winner on 77 minutes through a second from Kyle Burrows. In the last few minutes, both teams had chances to score in a nail biting finish.
CITY: Hogan (GK), McLoughlin, Dale, Myers, Edenene; Harrison, Algar ( c ), Dawson (Ezard HT), Gordon; Shepherd (Hernandez HT), Clayton (Burland HT). Unused Subs: Payne, Heaton.
OPPONENTS: Bradbury; Walters, Miller, Maumbe, Storton, Grey, Mason, Grzelak, Khan (Kilbride), Burrows. Unused Subs: TBC
Goals: Hernandez (53'). Opponents: Burrows (15',77')-
Bookings: City: TBC. Opponents: TBC
Sent Off: City: TBC. Opponents: TBC
Referee: TBC
Attendance: TBC
AFC FYLDE (A) (15/Feb/23) (National League Youth Alliance League (North)) W 4-2
City earned a 4-2 win on the road over AFC Fylde at their Mill Farm Sports Village ground after a delayed kick off courtesy of goals from Alex Hernandez (2), Harry Burland and Tom Algar. A slightly depleted City side fielded just 4 susbstitutes, including Bailey Wilson, a debutant, a schoolboy who becomes a scholar in the summer.
City had the best of the early play with a Burland chance and penalty appeal turned down(4'). McLoughlin and Hernandez combined and it took a smart save by the AFC Fylde keeper to keep the scores level. 3 minutes later (24'), Burland made a great run down the right and crossed for Alex Hernandez to nod home from close-range. 8 minutes before the break, a long rage effort saw AFC Fylde level and they vainly continued to attack as the half ended.
City went on the attack as soon as the second half started. Burland and Gordon combined before great work by Hernandez on the right saw him square the ball across goal for Harry Burland to tap in (50'). 5 minutes later, a near post header saw the home side equalise. City went in search of another goal, Hernandez nodded wide after an Algar free kick (57) before Lumsden was to the fore. First, he rounded the keeper but his effort from a tight angle was blocked on the line (64') and then he had the ball in the back of the net after beating the keeper to a through ball (70') but was flagged offside. His endeavours were rewarded when he turned provider, he gambled on a defensive mistake by the Fylde keeper and the ball came back to Alex Hernandez who curled home the ball into the bottom corner (76'). Tom Algar completed the scoring when his powerfully hit penalty found the bottom left corner (84'). In a rare AFC Fylde attack, Payne was forced to clear off the line (86') before young Wilson saw the keeper off his line and had an effort cleared. Seconds later, Lumsden hit the bar and Clayton hit the rebound into the side netting (87').
CITY: Hogan (GK), McLoughlin, Dale, Heaton (Marshall, 88), Clayton; Dawson, Algar ( c ), Gordon (Lumsden, 62), Ezard (Payne, HT); Hernandez, Burland (Wilson, 62). Unused Subs: - (only 4 named).
OPPONENTS: TBC
Goals: Hernandez (21', 76'), Burland (50'), Algar (84' (p))-. Opponents: -
Bookings: City: TBC. Opponents: TBC
Sent Off: City: TBC. Opponents: TBC
Referee: TBC
Attendance: TBC
CHESTER (H) (22/Feb/23) (National League Alliance Academy League Cup Quarter Final)) W 3-1
The Young Minstermen reached the semi-final of the National League Academy Cup with a comfortable 3-1 win over Chester.
City took the lead on 20 minutes through a Jacob McLoughlin header from a corner and doubled their lead when Ben Dale headed home from a free kick (43'). There was still time before the break for Chester to be reduced to 10 men when they had a player sent off for a foul on Billy Gordon.
On 57 minutes, Chester pulled a goal back before great play down the left by Harry Burland saw him square the ball across goal for Billy Gordon to tap home from close range to seal the win (70').
CITY: Bulmer (GK), Harrison, McLoughlin, Dale, Clayton; Lumsden (Payne 86'), Algar ( c ), Gordon; Hernandez (Magwere 85'), Ezard (Dawson 66'), Edenene (Burland 66'). Unused Sub: Myers.
OPPONENTS: TBC
Goals: McLoughlin (20'), Dale (43'), Gordon (70'). Opponents: -
Bookings: City: TBC. Opponents: TBC
Sent Off: City: TBC. Opponents: One (44')
Referee: TBC
Attendance: TBC
NOTTS CO (H) (15/Mar/23) (National League Youth Alliance League (North)) D 1-1
After 3 weeks out of action, City earned a 1-1 draw with Notts County at Wiggington Road thanks to a Billy Gordon goal.
Both sides had early chances, but soon it was one way traffic as City got on top. Max Ezard had a low effort from the edge of the penalty area turned away and Kieran Clayton headed wide from the resultant corner (10') then Alex Hernandez went closer when he clipped the outside of the post (11'). After Ben Dale was booked for a foul on the half way line (22'), City went on the attack and it was largely one way traffic. Ezard fired narrowly over from close-range (27') before, 4 minutes later, Hernandez played in Billy Gordon who fired home into the bottom right corner inside of the area to give City the lead. 4 minutes later, it was nearly two for City but Jacob McLoughlin fired narrowly wide at the far post after Williams Edenene's ball into the area. It took a brilliant Jacob Bulmer save to deny a header from point blank range (41') to send City in with a half time lead.
Bulmer was called into action early in the second half when he tipped away a cross into the area from the right but a County man was on hand to smash home the rebound from close range to equalise (52'). City pushed for a second goal. Jonny Shepherd (65') drove an effort narrowly over after a corner was only half-cleared by the visitors, then a Dale (71') header went straight into the gloves of the Notts County keeper from a free-kick and a minute later, hit the crossbar with a long range shot.
After a yellow card for Ezard (73'), City continued to press. Shepherd (77') rounded the keeper but his effort was cleared off the line by a Notts County defender, Harley Dawson (80') couldn't beat the 'keeper from close-range and Charlie Lumsden (88') drove an effort wide after Jonny Haase's free kick wasn't dealt with by the visitors.
CITY: Bulmer (GK); McLoughlin, Dale, Haase ( c ); Clayton (Lumsden 62'), Dawson, Gordon (Algar 62'), Ezard (Payne 74'); Hernandez, Burland (Shepherd 62'), Edenene (Magwere 86'). Unused Subs: -.
OPPONENTS: TBC
Goals: Gordon (31'). Opponents: TBC (52')
Bookings: City: Dale (22'), Ezard (73'). Opponents: TBC
Sent Off: City: TBC. Opponents: TBC
Referee: TBC
Attendance: TBC
FC HALIFAX (A) (22/Mar/23) (National League Youth Alliance League (North)) W 4-0
Goals in each half from Billy Gordon and second half strikes from Max Ezard and Alex Hernandez gave City a comfortable 4 - 0 away win at the Wyke Sports Village (BD12 9HA). With just half the season's games played, City have plenty of opportunity to improve on their lowly league position.
CITY: Hogan; McLoughlin, Dale, Haase ( c ); Dawson, Myers, Ezard, Gordon; Burland, Hernandez, Clayton. Subs (usage unknown): Bulmer, Edenene, Marshall, Payne (only 4 named).
OPPONENTS: TBC
Goals: Gordon (2), Ezard, Hernandez. Opponents: -
Bookings: City: TBC. Opponents: TBC
Sent Off: City: TBC. Opponents: TBC
Referee: TBC
Attendance: TBC
NOTTS CO (A) (29/Mar/23) (National League Alliance Academy League Cup Semi Final)) W 2-1
The U19s came from behind to seal their place in the National League Alliance Academy Cup Final after a 2-1 win over Notts County with goals from Alex Hernandez and George Harrison at County's Keyworth United FC's ground (NG12 5NZ).
Tim Ryan named a strong squad ahead of kick off, featuring all five first-year professionals; Jacob Bulmer, Ben Dale, Elliot Owen, Jonny Haase and Jonny Shepherd (No mention of Kyle Lancaster - Ed).
The hosts started the brightest, opening the scoring after only three minutes. After a ball into the area from the right wing was knocked back across goal at the far post, Bulmer was beaten by a close-range finish as the hosts started the game strongly. City edged forward instantly with a double chance inside a minute as they looked for an instant response. Max Ezard's low drive was deflected for a corner from the edge of the area, before Billy Gordon's lofted effort over the keeper narrowly flew wide of the post. Bulmer was called into action to deny the hosts from doubling their lead in the 25th minute, as the young goalkeeper made a brilliant finger-tip save to deny a goal-bound header from a corner. The U19s levelled the contest on 32 minutes when the pacy George Harrison squared a ball into the area from out wide and saw Gordon's shot deflected into the path of Alex Hernandez who slotted home from close-range. Chances galore came in an end to end first half with Jacob McLoughlin heading narrowly wide from a corner from City, before Bulmer produced another brilliant save for the young Minstermen on the stroke of half-time, denying a Notts County midfielder from close range after good build-up play by the hosts in the final third.
In the second-half, Harrison went close to finding York the lead with an effort from a tight angle, but his shot was well held by the County 'keeper after the winger was played in by Shepherd. After good pressing, City took the lead in the 73rd minute with a spectacular finish when George Harrison lobbed the keeper from 25 yards when a County clearance fell at his feet. County went close with ten minutes to go as they looked for an equaliser as a free kick from the edge of the area was deflected out for a corner, before the resulting ball played into the penalty area was easily gathered by Bulmer.
City held on for the victory and take on Woking in the final on Wednesday May 3rd.
Watch match highlights.
CITY: Hogan; McLoughlin, Owen, Dale, Haase ( c ); Algar, Ezard, Gordon; Harrison, Shepherd, Hernandez. Subs (usage unknown): Hogan, Burland, Dawson, Payne, Edenene.
OPPONENTS: TBC
Goals: Hernandez, Harrison. Opponents: TBC
Bookings: City: TBC. Opponents: TBC
Sent Off: City: TBC. Opponents: TBC
Referee: TBC
Attendance: TBC
ALTRINCHAM (A) (31/Mar/23) (National League Youth Alliance League (North)) W 4-1
City beat Altrincham 4-1 at Rochdale AFC's Manor Farm (WA15 7HE) ground in a game that was originally scheduled for October 26. A brace from Alex Hernandez, Billy Gordon's free-kick and a Max Ezard goal secured all three points for the Young Minstermen. No other details are available.
CITY: -. Unused Subs: -
OPPONENTS: TBC
Goals: Hernandez (2), Gordon, Ezard. Opponents: -
Bookings: City: TBC. Opponents: TBC
Sent Off: City: TBC. Opponents: TBC
Referee: TBC
Attendance: TBC
NOTTS CO (A) (05/Apr/23) (National League Youth Alliance League (North)) W 2-0
City faced Notts County for the 3rd time in 3 weeks in a game that was re-arranged from October 12 due to City's FA Youth Cup commitments. It was another win for the Under 19s as second half goals from Jacob McLoughlin (55') and Jonny Shepherd (74') sealed a 2-0 win to make it 6 wins in the last 7 undefeated outings. Interestingly, County hosted the game at their Clifton Football Centre venue after last week's game at Keyworth.
CITY: Bulmer; McLoughlin, Heaton, Dale, Haase; Algar ( c ), Dawson, Payne; Harrison, Shepherd, Hernandez. Subs (usage unknown): Ezard, Gordon, Marshall, Burland, Edenene.
OPPONENTS: TBC
Goals: McLoughlin, Shepherd. Opponents: -
Bookings: City: TBC. Opponents: TBC
Sent Off: City: TBC. Opponents: TBC
Referee: TBC
Attendance: TBC
BOSTON (A) (12/Apr/23) (National League Youth Alliance League (North)) W 9-1
It was another win for the Under 19s as they secured a 9-1 win at Boston United at the Jakemans Community Stadium in a game postponed from September 28 due to FA Youth Cup commitments. City's scorers were Jonny Shepherd (4), Max Ezard (2), George Harrison, Jonny Haase and an own goal.
CITY: Hogan; McLoughlin, Owen, Dale, Haase; Harrison, Algar ( c ), Payne, Gordon; Shepherd, Hernandez. Subs (usage unknown): Ezard, Dawson, Burland, Edenene, Heaton.
OPPONENTS: TBC
Goals: Shepherd (4), Ezard (2), Harrison, Haase, OG. Opponents: TBC
Bookings: City: TBC. Opponents: TBC
Sent Off: City: TBC. Opponents: TBC
Referee: TBC
Attendance: TBC
CHESTER (H) (14/Apr/23) (National League Youth Alliance League (North)) W 3-2
The Under 19s made it 8 wins in their last 9 games with a 3-2 win over highflying Chester thanks to goals from Jonny Haase, Jonny Shepherd and Alex Hernandez. The game had been postponed from January 18 due to wintry weather.
CITY: Hogan; Heaton, Owen, Dale, Haase ( c ); Burland, Dawson, Payne, Gordon; Shepherd, Hernandez. Subs (usage unknown): Ezard, Clayton, Edenene, Lumsden, Marshall.
OPPONENTS: TBC
Goals: Haase, Shepherd, Hernandez. Opponents: TBC
Bookings: City: TBC. Opponents: TBC
Sent Off: City: TBC. Opponents: TBC
Referee: TBC
Attendance: TBC
CHESTERFIELD (A) (19/Apr/23) (National League Youth Alliance League (North)) D 1-1
The Under 19 side extended their unbeaten run to 10 games with a 1-1 draw at Chesterfield conceding a late equaliser after having had the better of the game which was played at Staveley Miners Welfare FC's ground.
After 12 minutes Chesterfield flicked a header on from a throw onto the bar. At the other end, George Harrison was to the fore, linking with up with Jacob McLoughlin (7') but neither Harry Burland or Alex Hernandez could get onto the end of the cross. 9 minutes later, a snap shot from McLoughlin from the edge of area went wide. On 23 minutes, Max Ezard played in Harrison whose cross was held by the Chesterfield keeper. 2 minutes later, Harrison's cross found Alex Hernandez who beat the keeper at his near post with a header to give City the lead. City continued to press. Elliot Owen's header (34') was cleared off the line, Kieran Clayton sliced a shot wide (38') and then Clayton's effort from distance was parried away by the keeper (41') as City sought to extend their lead before half time.
City largely dominated the second half. Tom Algar's corner was headed over at the back post by McLoughlin (48') before Hernandez was denied from close range by the keeper after racing through on goal (59') and then he hit the bar with a header (67'). 5 minutes later, City had the ball in the net when Clayton's long range shot was parried into the path of Jonny Shepherd who finished from close range but saw his effort ruled out for offside. As time was running out, the hosts equalised with a header which beat Jacob Bulmer from a long-throw (90'). In injury time, City had a chance of a winner but Harrison was denied by a smart low save by the home keeper
Match Photos
CITY: Bulmer; McLoughlin, Owen, Dale, Haase; Harrison, Algar ( c ), Ezard (Gordon, 57'), Clayton; Burland (Shepherd, 57'), Hernandez (Edenene, 83'). Unused Subs: Dawson, Payne.
OPPONENTS: TBC
Goals: Hernandez. Opponents: -
Bookings: City: Haase (62'). Opponents: TBC
Sent Off: City: TBC. Opponents: TBC
Referee: TBC
Attendance: TBC
CHESTER (A) (21/Apr/23) (National League Youth Alliance League (North)) D 0-0
City recorded a goalless draw away to second placed Chester in a game played at Chester's King George V Sports Hub. The draw left City fifth in the table with up to 4 games in hand on each of the teams above them in the table. The game was originally postpone from November 23 due to FA Youth Cup (Round 2) commitments. No other details are available.
CITY: Bulmer; McLoughlin, Owen, Dale, Haase; Algar ( c ), Payne, Ezard, Clayton; Harrison, Shepherd. Subs (usage unknown): Dawson, Gordon, Burland, Edenene, Hernandez.
OPPONENTS: TBC
Goals: -. Opponents: -
Bookings: City: TBC. Opponents: TBC
Sent Off: City: TBC. Opponents: TBC
Referee: TBC
Attendance: TBC
GATESHEAD (A) (26/Apr/23) (National League Youth Alliance League (North)) W 2-0
It was another win for the U19 side as they extended their unbeaten run to 12 games with a 2-0 win away to Gateshead at the International Stadium (Neilson Road, Gateshead, NE10 0EF, note a training pitch next to the athletics stadium) with goals from Alex Hernandez and George Harrison.
City went on the offensive from the start with Billy Gordon heading wide (2'), Kieran Clayton heading over (5') and Elliot Owen's header hitting the bar with Ben Dale knocking the rebound wide (14'). City's only rewards were yellow cards Kieran Clayton (4') and Billy Gordon (8'). On 16 minutes, a rare Heeds' attack saw their effort go wide. 5 minutes later, Harrison, who was the architect behind a lot of City's early good work, volleyed wide. As City continued to press, Hernandez had the ball in the net from close range, but was flagged offside (32'), then a rare long range effort from Gateshead clipped the post (34') before Alex Hernandez put City in front when he finished off Kieran Clayton's header close range.
City continued on the attack in the second half. Harry Burland turned four Gateshead defenders before hitting the outside of the post (55') and 5 minutes later wing back George Harrison drove forward and stuck his effort across the face of goal into the bottom left corner. With 7 minutes to go, Harley Dawson found Williams Edenene in space on the left but the winger fired wide of the post. 2 minutes later, Gateshead nearly pulled a goal back but a great goal line headed clearance by Dawson saw the Minstermen retain their clean sheet to win 2-0.
Match Photos
CITY: Bulmer; Heaton, Owen, Dale, Haase (Myers 75); Harrison, Algar ( c ), Payne (Dawson 65'), Gordon (Ezard HT); Hernandez (Edenene 75), Clayton (Burland, HT). Subs: -.
OPPONENTS: TBC
Goals: Hernandez, Harrison. Opponents: -
Bookings: City: : Clayton (4'), Gordon (8'), Dawson (76'). Opponents: TBC
Sent Off: City: TBC. Opponents: TBC
Referee: TBC
Attendance: TBC
CHESTERFIELD (H) (28/Apr/23) (National League Youth Alliance League (North)) W 4-2
City came from 2 down to beat Chesterfield by 4-2 with goals from Kieran Clayton (2), Jonny Haase and Harry Burland in a thrice postponed game (September 14, December 21 and (scheduled at York St John University (YO31 8TA) for March 10)). The win extended City's unbeaten run to 13 games. It was City's ninth game in 30 days and with next week's cup final in mind, City made 8 changes to the starting line up that beat Gateshead 2 days earlier.
City fell behind to a 3rd minute close range header and 10 minutes later a great block by Elliot Owen in the area prevent another Chesterfield goal. As City got more into the game, Williams Edenene forced a good low save from the Chesterfield 'keeper after good link up play with Clayton (21') and then Burland turned on the edge of the area and teed up Bill Marshall who put the ball narrowly wide of the post (32'). A minute later, Chesterfield doubled their lead when a ball forward from deep saw their forward finish calmly, slotting the ball over Michael Hogan into the back of the net. On 40 minutes, Heaton's free kick was only half cleared away and Max Ezard drove a low effort wide of the post. As the clock ticked into injury time, Kieran Clayton tapped home at the near post after an Edenene cross to reduce the deficit.
After the break, City came out looking for an equaliser. On 51 minutes, the ever dangerous Edenene raced through on goal and forced a low save from the keeper. 6 minutes later (2 minutes after City made a quadruple change), City equalised when Kieran Clayton headed home Jonny Haase's corner at the near post. Jonny Haase put City in front after 66 minutes from the penalty spot when he sent the keeper the wrong way after a foul on Billy Gordon. City completed the scoring 9 minutes later when Harry Burland slide in at the far post to finish off a great attack after Edenene's low cross into the area from the left. 4 minutes later, Tom Pickles' cross found Billy Gordon at the far post, but his header could only find the keeper's gloves.
The 4-2 win left City in 5th place, but closing in on the 2 teams immediately above them with 3 and 4 games in hand needing to claw back 4 and 5 points.
Reflecting on the game, manager Tim Ryan admitted he was pleased with his side's second-half performance after they came from behind to secure a crucial 4-2 win in the league. "I thought the boys had a really tough game, they came out of the traps and they were on the front foot more than we were in the opening half. The decision and intensity in the opening forty minutes wasn't good enough, the boys know that themselves, but I thought that they did really well to come out in the second-half and get us that crucial win. We've been on a really good run of form recently and we have a lot of players who have been trying to grasp an opportunity ahead of the cup final and I thought that the lads did really well in the second half against Chesterfield all in all."
CITY: Hogan; Myers (Pickles 55), Heaton, Owen ( c ); Marshall (Algar 78), Dawson (Gordon 55), Lumsden (Haase 55), Ezard (Payne 55), Edenene; Burland, Clayton. Subs: -.
OPPONENTS: TBC
Goals: Clayton (45', 57'), Haase (66'p), Burland (75')-. Opponents: -
Bookings: City: Haase (76'). Opponents: TBC
Sent Off: City: TBC. Opponents: TBC
Referee: TBC
Attendance: TBC
WOKING (N (St George's Park)) (03/May/23) (National League Alliance Academy League Cup Final)) W 1-0
Previewing the game, manager Tim Ryan said, "It's a massive game for the club, it's a national final for the club, but it's also a really important game for the club's Academy and the individuals within it. It's one which we're really looking forward to going into, we head into it in really good form and we're confident we can get something out of the game. The game is something which has been bubbling amongst the team for the last month now, ever since we got that win at Notts County in the semi-final. We've done well in this competition, as well as the FA Youth Cup this season. It's really good that we're on this current good run of form, the players are playing with a lot of freedom. I have a big desire to help improve the boys and I like to put a bit of intensity into our play, and it's clear to see that it's starting to show in our recent run of games. Once you get into a winning mentality, winning games becomes a habit. Everything that I'm asking the boys to do, they are doing, I feel they're doing really well and they're all developing. I say that as a squad too, because they train together day-in-day-out and I think this is one of the strongest set-ups that we have had in recent years."
Tim Ryan's faith in his side was rewarded with a 1-0 thanks to a headed goal from Kieran Clayton in the second half to lift the National League Academy Cup at St George's Park.


City started strongly and went close to taking the lead in the opening couple of minutes through Jonny Shepherd's low strike from the edge of the area, but it was blocked by a Woking defender, before George Harrison's attempt to drive into the area was well read by a defender. On 10 minutes, Jonny Haase's free kick was parried away by the Woking goalkeeper nearly into the path of Alex Hernandez moments later, but the Cards were given a free kick after a foul on the 'keeper, before he had to react quick again to beat Hernandez seconds later to the ball at the near post after a dangerous low cross into the area by Harrison. Alfie Burton (17') went close for Woking, driving an effort across the face of goal and narrowly wide of Jacob Bulmer's right hand post, before the forward then sliced an effort over the bar on the half hour mark from the tightest of angles. Hernandez (34') had one final chance before the break for the Young Minstermen as they looked for an opening but he was denied by a fine smart save by the 'keeper after breaking through the Woking defence.
The Minstermen came out for the second half and started strongly, mirroring how they started the first half and Hernandez nearly went close at the far post from a Haase free-kick (46'), but he was unable to get his head onto the ball. 6 minutes later, Clayton headed narrowly over at the near post from a Haase corner. In a rare Woking attack (62'), Elliot Owen headed away a long distance strike from for Woking. 5 minutes later, City made the break through when quick play down the right saw Harrison's cross headed home at the far post by Kieran Clayton via the post and the keeper's back. Jonny Shepherd had a brilliant opportunity to double Ryan's side lead with fifteen minutes to go, but his curling left footed effort which was destined for the top left corner, was superbly met by a finger tip save by the Woking 'keeper. On 80 minutes, Hernandez crossed low for Clayton from the left but Woking were awarded a free kick for a foul and as the game went into injury time, Harrison found Hernandez who found the back of the net only for the striker to be flagged offside.
Despite late pressure from Woking, City were able to hold out for the win which sees them become crowned the 2022/23 National League Academy Cup Champions. City's first ever national cup success.
Watch the match and trophy lift.
CITY: Bulmer; McLoughlin, Owen, Dale, Haase; Harrison, Algar ( c ), Payne (Gordon 57), Clayton (Ezard 85); Shepherd (Burland 89), Hernandez. Unused Subs: Hogan, Edenene.
OPPONENTS: TBC
Goals: Clayton (67). Opponents: -
Bookings: City: TBC. Opponents: TBC
Sent Off: City: TBC. Opponents: TBC
Referee: TBC
Attendance: TBC
DARLINGTON (A) (05/May/23) (National League Youth Alliance League (North)) W 6-1
City's Under 19 side extended their excellent unbeaten run with a comfortable 6-1 victory at Darlington with goals from Harry Burland (2), Kieran Clayton, Elliot Owen, Max Ezard and Williams Edenene with the goals for the Minstermen in a game postponed from March 8 due to snow that was played at Billingham Town's Bedford Terrace ground.
If City win all 3 of their remaining games, they will top Blyth, the current league leaders on goal difference. However, Solihull Moors will win the league if they win their last game at AFC Fylde.
CITY: Hogan, McLoughlin, Heaton, Owen, Haase ( c ); Harrison, Dawson, Gordon, Ezard; Burland, Edenene. Subs (Usage Unknown): Hernandez, Lumsden, Payne, Marshall, Clayton.
OPPONENTS: TBC
Goals: Burland (2), Clayton, Owen, Ezard, Edenene. Opponents: -
Bookings: City: TBC. Opponents: TBC
Sent Off: City: TBC. Opponents: TBC
Referee: TBC
Attendance: TBC
ALTRINCHAM (H) (10/May/23) (National League Youth Alliance League (North)) W 1-0
The side extended their unbeaten run to 16 games in all competitions with a 1-0 over Altrincham thanks to a second half headed goal from Elliot Owen in a game postponed from February 22 due to City's cup commitments. The win took City's unbeaten run to 16 games (13 wins, 3 draws).
City had the better of the first half with Jacob McLoughlin heading narrowly over the bar at the far post from a Tom Algar corner (11'), Jonny Shepherd's curling effort from the edge of the area was parried away by the Altrincham keeper (26') and George Harrison raced clear down the right and sent in a low cross which neither Shepherd or Alex Hernandez could reach (33'). At the other end, Michael Hogan came off his line quickly to deny Altrincham after a quick attack down the right (13') and Elliot Owen put his body on the line to deflect an effort from inside the area out for a corner (43').
Again, City had the better of the second half and took the lead on the hour when Elliot Owen headed home from a free kick. Owen went close again when he headed narrowly wide from a corner (77'). A minute later, Shepherd found Alex Payne on the edge of the area but his low strike was well held by the keeper (78'). 4 minutes later, Hogan got down to save from point blank range after an inviting cross from the right. On 85 minutes, Elliot Owen hit the bar with a header from a Tom Algar free kick.
The win left City 3rd in the table closing in on leaders Blyth.
CITY: Hogan, McLoughlin (Burland, 55), Dale (Myers, 87), Owen, Edenene (Ezard, 30); Harrison, Algar ( c ), Gordon (Payne, 55), Clayton; Shepherd, Hernandez. Subs (Unused): Marshall.
OPPONENTS: TBC
Goals: -. Opponents: -
Bookings: City: TBC. Opponents: TBC
Sent Off: City: TBC. Opponents: TBC
Referee: TBC
Attendance: TBC
BLYTH (H) (17/May/23) (National League Youth Alliance League (North)) L 2-3
In a game postponed from March 1st due to City's cup commitments, 3rd placed City hosted league leaders Blyth in a game where the title could be decided. A City win and the title challenge remains alive whilst a Blyth win would see them claim the title. After taking a half time lead through Elliot Owen, Blyth hit back with 3 second half goals before Williams Edenene scored a late consolation. The result confirmed City finish 3rd in the league.
Defender Elliot Owen gave City the lead on 33 minutes when he smashed the ball home from close range after Kieran Clayton's volley was deflected into his path.
After the break, Blyth came out strongly with Jacob Bulmer making 2 good saves before Blyth equalised on 56 minutes when Bulmer was lobbed from the edge of the penalty area. Blyth kept up the pressure and after Bulmer had made a good save. On 69 minutes, a good passing move ended with a stunning strike from distance into the top left corner to give Blyth the lead. Desperate to remain in the title race, City pressed for an equaliser knowing a win was needed to stay in the title race. It took a brilliant save to deny Clayton when his shot, from Edenene's cross, forced a brilliant save from the Blyth keeper. A minute later, Nathan Heaton's header forced another smart save from the Blyth keeper. On 86 minutes, Jacob McLoughlin's throw was headed on by Clayton. 2 minutes later, Owen headed narrowly wide. Almost immediately, a long ball forward allowed the Blyth number 9 to lift the ball over Bulmer from the edge of the area to make it 3-1. City continued to press and as the game went into injury time, Williams Edenene struck from the edge of the area to make the final score 2-3.
CITY: Bulmer, Harrison, McLoughlin, Owen, Clayton; Algar ( c ), Gordon (Heaton 72), Ezard (Payne 69), Clayton; Burland (Dawson 72), Shepherd (Edenene 69), Hernandez. Sub (Unused): Marshall.
OPPONENTS: TBC
Goals: Owen, Edenene. Opponents: -
Bookings: City: TBC. Opponents: TBC
Sent Off: City: TBC. Opponents: TBC
Referee: TBC
Attendance: TBC
BOSTON (H) (19/May/23) (National League Youth Alliance League (North)) W 2-1
The league title was up for grabs on the final day of the season as City host Boston and 2nd placed Solihull Moors visited AFC Fylde. Unfortunately, City's defeat 2 days earlier had ended our interest in the title.
City ended the season with a 2-1 win over Boston thanks to goals from Harry Burland and Alex Hernandez in a game postponed from March 29 due to City's cup commitments.
There was little hangover from the defeat 2 days earlier which ended City's title interest as on 4 minutes, forward Harry Burland raced down the right and beat the keeper with a low effort across the face of goal. 3 minutes later, Billy Gordon drove a left footed effort narrowly over the bar from the edge of the area. As Boston fought back, young Harley Dawson cleared of the line (11 minutes) before Boston equalised with a penalty when their number 11 cheekily chipped his effort down the middle (25 minutes). Both sides had further chances before the break. A great finger tip save from close range by Michael Hogan denied Boston from going ahead (28 minutes) and a minute later, Burland forced the Boston keeper into action from the edge of the area with a curling effort and 10 minutes later, Charlie Lumsden fired narrowly wide of goal after meeting Burland's cut back.
City had the better of the second half. Gordon drove narrowly wide (54 minutes), 2 minutes later Jacob McLoughlin forced a fine save from the Boston keeper and on 67 minutes, Max Ezard curled a free kick narrowly wide. As City continued to press, Clayton headed over from close range (75 minutes) and then Ezard drilled a low shot across the face of goal (76 minutes). Finally, with 10 minutes to go, substitute Alex Hernandez headed from George Harrison's cross.
Later in the day, AFC Fylde beat Solihull Moors 2-1 meaning Blyth topped the table (54 points from 24 games), with Solihull on 50 points and City 3rd on 48 points. If only City had beaten Blyth 2 days earlier we would have been champions.
CITY: Hogan; McLoughlin ( c ), Marshall, Heaton; Pickles (Harrison 69), Dawson, Gordon (Ezard 60), Payne, Lumsden (Hernandez 69); Burland (Clayton 60), Edenene. Sub (Unused): Algar.
OPPONENTS: TBC
Goals: Burland, Hernandez-. Opponents: -
Bookings: City: TBC. Opponents: TBC
Sent Off: City: TBC. Opponents: TBC
Referee: TBC
Attendance: TBC
North Riding Senior Cup
WHITBY TOWN (A) (26/Oct/22) (North Riding Senior Cup, Round 2) L 0-2
City entered and exited at the 2nd Round stage losing 2-0 away to Whitby Town at their Towbar Express Stadium in a game that was originally announced as being played at York. For the second successive season, John Askey did not travel to Whitby for the game, putting Kingsley James and Tim Ryan in charge.
City's side featured 6 first team squad players including injury returnees (Michael Duckworth and Paddy McLaughlin), Under 18s and Ethan, the 20 year old son of Glen, Henderson. Previously, Henderson had made one first team City appearance on the bench as an unused substitute in the 4-1 home defeat to Hereford in March 2020 towards the end of his 2 year scholarship when he proved to be a prolific striker. Described as a "canny, good finisher" but given City's line up, he was deployed in midfield.
2 goals, one in each half, from ex City loanee Bradley Fewster settled the tie in favour of the home side who also included other former City players Lee Bullock, Daniel Rowe, Lewis Hawkins, Coleby Shepherd and Aaron Hatswell. Jeff Miller was the physio in their dugout.
CITY: Whitley; McLoughlin, Kerr, Heaton; Harrison, Duckworth (Myers, 75), Algar (Clayton, 86), McLaughlin ( c ), Henderson (Ezard, 66); Thomas. Duku. Unused Subs: Gordon, Payne.
OPPONENTS: Bland, Fergus, Shepherd, Bramwell ( c ), Beeden, Griffiths (Green, 60), Hawkins, Fewster, Haswell (Boyle, 84), Hackett (Bullock, 72). Unused Subs. Tomlinson, Dijksteel.
Goals: City: -: Opponents: Fewster (18, 58)
Bookings: Not noted
Sent Off: Not noted
Referee: -
Attendance: 361 (one down on a year earlier)
Pre Season Friendlies - For The Record
MIDDLESBROUGH (H) (08/Jul/22) L 2-3
City began life under new ownership with a narrow 3-2 defeat against Championship side Middlesbrough in the 2022/23 pre-season opener. It was the first opportunity for the supporters to see the players wear the new centenary home kit as the club marks its 100th anniversary since the football club were established. New club chairman Glen Henderson received a warm welcome in front of the supporters ahead of kick off. John Askey named two different sides for each half against Boro. New signing Ryan Fallowfield missed out of the side, alongside fellow right back Michael Duckworth and midfielder Paddy McLaughlin. The visitors broke the deadlock after five minutes. Josh Coburn made a break down the left before crossing the ball centrally for Sonny Finch at the far post, who swept the ball home into the back of the net beyond City keeper Ethan Ross. Ross was called into many saves during a tight first half denying Riley McGree, Matt Crooks and Darragh Lenihan as Middlesbrough went in search for a second goal. Askey made eight changes at half time and reverted the side back into their usual 4-3-3 formation. Moments after coming onto the field at the break, substitute goalkeeper Ryan Whitley was forced into action as he got down low to deny Duncan Watmore from close-range but he was unable to keep out an effort from Callum Kavanagh minutes later as he made it 2-0. The Boro sub was in the right place at the right time to sweep the ball home into an empty net, after he received the ball inside the penalty area after a deflected shot fell into the path of the onrushing midfielder. Four minutes later the home side found themselves a way back into the game with a superb header from new signing Manny Duku. He rose highest inside the penalty area to meet a looping cross into the area, he powered his header into the top-left corner of the goal, leaving Middlesborough goalkeeper Luke Daniels rooted to the spot. Cavanagh made it 3-1 to the visitors with only seven minutes left on the clock. A ball in from the right found the midfielder at the far post, who headed home from close-range beyond an outstretched Whitley as it looked like the Championship side would secure a comfortable victory in North Yorkshire. With a minute left, City scored a second goal to pull the game back to 3-2. Alex Hurst beat his man on the left, his low and hard crowss was deflected off a Middlesborough defender and into the net. It was a much-better second half performance from the Minstermen, but they unfortunately fell to a 3-2 defeat after giving it a real good go against a good side in front of a healthy 4,198 crowd.
York City: Ross (GK) (Whitley 46'), Kouogun (Kerr 46'), Sanders, Crookes, Mafuta (Greaves 46'), Dyson (Dale 84'), Burgess (Kouhyar 46'), Hancox (Duku 46'), Whittle (Trialist A 46'), Boden (Hurst 46'), James (John-Lewis 46')
Goals: Duku (69'), Own Goal (89')
Middlesborough: Roberts (GK) (Daniels 46'), Giles (Fry 46'), Smith (McNair 46'), Bilongo (Bola 46'), McGree (Jones 46'), Finch (Dodds 46'), Hackney (Howson 46'), Dijksteel (Coulson 46'), Coburn (Tavernier 46'), Crooks (Kavanagh 46'), Lenihan (Watmore 46')
Goals: Finch (5'), Kavanagh (65', 83')
Attendance: 4,198 (1,310 away supporters)
Referee: Ross Joyce
BRADFORD C (H) (16/Jul/22) L 1-4
The Minstermen suffered defeat at the hands of League Two side Bradford City as they continued their pre-season preparations. John Askey named a much changed starting eleven from the one that featured against Middlesbrough last Friday evening, opting for his favoured 4-3-3 formation, which saw Maxim Kouogun and Sam Sanders paired together in the heart of defence for the first time since May's National League North playoff final win. Maziar Kouhyar and Manny Duku started out wide after both impressing against Boro last time out, whilst Scott Boden was chosen to lead the line for the Minstermen. The visitors had the game's first real chance after only five minutes through Emmanuel Osadebe as he capitalised on a mistake at the back by City left back Alex Whittle, but he failed to trouble goalkeeper Ryan Whitley as his shot on goal flew well over the bar from the edge of the area. Bradford took the lead on 13 minutes through midfielder Kian Scales. Lee Angol ran at the City defence on the left hand side after York had given the ball away, he had Scales outside of him on the overlap, he played in the midfielder who stroked the ball home from a tight angle to give the West Yorkshire side the lead. They extended their lead after 24 minutes when Jamie Walker crossed the ball centrally for striker Andy Cook at the far post, who steered the ball back across goal and into the bottom-left corner with a well struck left-footed volley. Cook missed a brilliant opportunity to make it three for the visitors from close-range ten minutes later as he drilled a strike well wide of goal, after turning Sanders in the penalty area, before Scales went close again for Bradford having a strike towards goal deflected wide for a corner. The home side's chances were limited in the first half but they had a couple of chances as they looked to find a way back into the game. Kouhyar curled a free-kick wide across the face of goal from 20 yards out from the right hand side, before right back Ryan Fallowfield was denied by Bradford keeper Harry Lewis from a tight angle minutes before half-time. Bradford hit City immediately after the break as they made it 3-0. Lee Angol raced clear through on goal to meet a perfectly-timed through ball and he struck the ball calmly and composed across the face of Ethan Ross' goal two minutes into the second half. Substitute Jake Young linked up well with Walker for Bradford as he tried to find his side's fourth goal of the afternoon minutes later, but a smart save by Ross denied the Bradford substitute from close-range as he looked to extend his side's lead even further. Lenell John-Lewis pulled a goal back for the Minstermen in the 63rd minute, connecting with an Olly Dyson cross into the area from the right and he fired home from point blank range on the volley to find York a way back into the game. The visitors showed their Football League class late on in the second half as they put the game to bed with their fourth goal of the afternoon. A low cross into the area from the right was met by forward Kian Harratt, who turned a defender in the penalty area before smashing the ball home into the roof of the net beyond Ross from close range.
CITY: Whitley (Ross 46'), Fallowfield (Trialist A 46'), Kouogun, Sanders (Crookes 46'), Whittle, Greaves (Mafuta 46'), Burgess (Dyson 46'), Hancox (C) (McLaughlin 46'), Duku (James 46'), Boden (John-Lewis 46'), Kouhyar (Hurst 46'). Unused Subs: Dale, Trialist B
Goal: John-Lewis (63').
BRADFORD C: Lewis (GK), Halliday (Sutton 46'), Fouldes (Crichlow 46'), Staunton (Cousin-Dawson 62'), Platt (Songo'o 46'), Smallwood (East 46'), Osadebe (Harratt 46'), Scales (Wood 77'), Cook (Young 46'), Walker (Threlkeld 62'), Angol. Unused Subs: Richardson
Goals: CITY: Scales (13'), Cook (24'), Angol (47'), Harratt (80')
Referee: Ross Joyce
Attendance: 2,411 (938 away supporters)
Man of the Match: TBC
BISHOPTHORPE (A) (17/Jul/22) L 10 runs
City made 171-5, going down by 10 runs to Bishopthorpe in a cricket match. Ryan Whitley scored a century (with at least 8 sixes) before being caught as City closed in on Bishopthorpe's score. Ryan Fallowfield and Michael Duckworth also looked useful with the bat.
GUISELEY (A) (20/Jul/22) L 0-1
In a game put back 24 hours due to the red heat alert, City suffered their third successive defeat in pre-season after falling to a 1-0 defeat against Guiseley. John Askey once again named two different sides to feature in both halves, which featured a trialist in the first half who started in a midfield three for the Minstermen. City had the game's first chance after only six minutes, Luke James ran to the left byline before crossing centrally towards the back post for Manny Duku, who headed narrowly wide of the target from close-range. Olly Dyson tried his luck from long range with a curling effort which was seen out for a corner with the aid of a deflection, before Gus Mafuta drove a fierce effort well over the bar after the ball became lose on the edge of the area after Guiseley had failed to clear away a dangerous delivery into the box by Duku. Guiseley had to wait until five minutes before the break to finally test the City defence. Former Minsterman Jake Cassidy crossed towards the far post for Trialist C, but he was unable to guide his header goal bound as York went into the break level. A brilliant block by Michael Duckworth denied Cassidy from taking the lead five minutes into the second-half for Guiseley after he found himself unmarked in the penalty area, before City went close with a free-kick from Duku but it was blocked easily by the wall of Guiseley defenders. Duku went close again moments later but he was this time denied by a smart save by the Guiseley keeper, as he got down low to deny the forward from close-range. The home side took the lead just after the hour mark as Trialist C headed the ball home from close-range after City had failed to clear the ball away from danger in the penalty area. The West Yorkshire side thought they had doubled their lead in the last ten minutes after a Guiseley man had beaten Ethan Ross, but a brilliant goal-line clearance by young defender Ben Dale ensured the Minstermen escaped. City went close near the end of the game as they looked for an equaliser. Substitute Mitch Hancox had a shot from the area blocked by a Guiseley defender, but they weren't able to find a way back into game as they fell to their third successive defeat in pre-season.
CITY: Ross, Duckworth (Fallowfield 68'), Kouogun (Dale 55'), Sanders, Whittle (Crookes 45'), Trialist A (Greaves 58'), Dyson (Hancox 68'), Mafuta (Burgess 68'), Duku (Hurst 68'), John-Lewis (Boden 68'), James (Kouhyar 68'). Unused subs: Whitley, Kerr, McLaughlin
GUISELEY: Trenerry (Moloney 45'), Trialist A, Smith, Cartwright, Sikora, Ible, Johnston (Crofts 69'), Dean, Cassidy (Haw 85'), Trialist B (Trialist D 75'), Trialist C (Trialist E 69'). Unused subs: Nkem, Tuton, Garder, Hebda, Trialist F, Leigh
Goals: CITY: -.
Goals: GUISELEY: Trialist C
Referee: Sam Clayton
Attendance: 399
MACCLESFIELD (A) (23/Jul/22) L 0-4
City 4-0 to Macclesfield FC at the Leasing.Com Stadium. The 8th tier side secured promotion last season in their first campaign as a newly formed club, as they ran out winners of the North West Counties Premier Division. John Askey returned to Macclesfield having spent over 25-years with the original club as both a player and manager and he received a warm reception from both sets of supporters ahead of kick-off. City lined up in their brand-new chocolate and cream kit for the first time and they went close to opening the scoring after only two minutes. Adam Crookes delivered a ball towards the far post from the left hand side and right back Ryan Fallowfield met the ball, narrowly diverting the ball back across goal and out for a goal kick. The home side opened the scoring after six minutes through James Berry, who stabbed the ball home from close range after Fallowfield had failed to clear the ball away in the penalty area after a cross into the box from the right hand side. Hancox was denied moments later with a spectacular effort from long distance with Macclesfield keeper Marcelo Pitaluga at full stretch to keep out his effort, before Maziar Kouhyar was denied from close range with a left-footed effort which was well held by Pitaluga. Scott Boden went close with a header after connecting well with a cross into the area by Alex Hurst from the left, but he was unable to capitalise on his effort as the Minstermen headed into the break 1-0 down. Macclesfield doubled on 49 minutes through Neil Kengni, who received the ball on the right hand side and dragged the ball into the bottom right corner, after City had lost possession on the edge of the area. Boden was denied by a brilliant save by Pitaluga as City looked for a way back into the game minutes later, with the Macclesfield shot stopper keeping his header out from point-blank range as he connected with a cross from Hancox. The home side made it 3-0 in the 56th minute as Alex Curran's free kick from 25-yards out was kept out by a smart save by Whitley, but Macclesfield substitute Tom Clare was on hand to smash home the rebound from six-yards out. City went close through Kouhyar who forced a good save from Pitaluga from close range on the hour, before substitute Manny Duku headed wide of goal after connecting with a cross in from the left at the far post. Macclesfield made 4-0 with five minutes to go through Clare's second goal of the afternoon, as he sent Whitley the wrong way from the penalty spot, after Kouogun brought down Berry in the penalty area.
CITY: Whitley, Fallowfield, Kouogun, Sanders (Whittle 71'), Crookes, Trialist A (Greaves 46'), Burgess (Mafuta 58'), Hancox (C) (Dyson 71'), Hurst, Boden (Duku 58'), Kouhyar (James 65'). Unused Subs: Ross, John-Lewis.
MACCLESFIELD: Pitaluga (GK), Pemberton, Lee, Fensome, Cowan, Mendy, Kengni, Danns, Owens, Curran (Bower 83'), Berry (Clare 46'). Unused Subs: Bell, Grimshaw, Freedman, McColl, Blake, Greaves.
Goals: CITY: -
Goals: MACCLESFIELD: Berry (6'), Kengni (49'), Clare (56', 85' (p))
Attendance: 871
SELBY (A) (26/Jul/22) W 4-0
City beat Selby Town 4-0 at the Fairfax Plant Hire Stadium to pick up their first win of pre-season at the fifth attempt. A quick fire brace from Lenell John-Lewis who scored with two headers and strikes from Scott Boden and Olly Dyson, all in the second half, was enough for York to come away with a win. John-Lewis went close to opening the scoring after only five minutes, but he dragged an effort wide across the face of goal from the right, before Duku was unable to head home at the far post after a delivery into the area from Michael Duckworth. Duku sliced an effort well over the bar on the half-hour mark after good work again on the right by Duckworth, before John-Lewis was denied at the front post with a header after another brilliant cross into the area. Olly Dyson had another opportunity for the Minstermen five minutes before half-time as they looked to gain advantage in the game, but he was unable to prod the ball home from close-range as his effort was well held by the Selby Town goalkeeper. City started the second period strongly and went close again through Dyson, who fired narrowly wide of the target from the edge of the area, before Duku blazed over the bar from point-blank range after good work by John-Lewis on the edge of the area. York finally broke the deadlock after 58 minutes through John-Lewis, who powered home a header into the bottom-left corner via the post, after he rose high to connect with a cross into the area from Duckworth. Three minutes later and the visitors doubled their lead. Exactly as it happened three minutes prior, John-Lewis powered home a header into the back of the net after another good cross into the area from Duckworth. Scott Boden made it 3-0 to the Minstermen in the 71st minute, moments after he came off the bench. He steered the ball into an empty net from a tight angle after the Selby goalkeeper was beaten to the ball by the forward after coming well out off his line. Mitch Hancox drilled the ball over the bar on the volley as York looked for a fourth goal of the evening with ten minutes to go, before AJ Greaves had a goal ruled out for offside after Ryan Fallowfield was penalised in the build-up. Dyson went on to make it 4-0 though for the Minstermen with five minutes to go. After linking well with Fallowfield, the midfielder struck an effort low across the face of goal which went into the back of the net via the post. Coach Kingsley James thought his side played with a "good intensity, I think we created numerous opportunities. We were sloppy at times, but it was difficult, the pitch was dry. All in all, I think it was good, I thought we played with a good intensity and we respected the opposition and the game".
CITY: Ross (Whitley 45'), Duckworth, Kerr (Sanders 50'), Crookes (Dale 72'), Whittle (Fallowfield 70'), Burgess (Greaves 45'), Dyson, Hancox, Duku (James 56'), John-Lewis (Boden 70'), Hurst (Kouhyar 45').
SELBY: Walters, Ward (Leicester 56'), Wilson, Rollinson, Clamp, Gothard, Snaith, Davison, Flanagan, Stephenson, Clapham. Unused Subs: McNaughton, Cooper, Vass, Clark, Leeming.
Goals: CITY: John-Lewis (58', 61'), Boden (71'), Dyson (84').
Referee: TBC
Attendance: 1,648
NOTTS CO C (H) (30/Jul/22) L 0-1
City ended their pre-season schedule with a narrow defeat against National League title favourites Notts County. It was a rematch of the Minstermen's first ever fixture 100 years ago to celebrate the club's Centenary, and City turned out in their special edition home maroon / red shirt for the occasion rather than the chocolate /cream stripes. City goalkeeper Ethan Ross played a pivotal part between the sticks and started early with a good save to deny Ruben Rodrigues' drive through a crowded area. Notts County followed up through former City man Kyle Cameron minutes later who crashed a header onto the crossbar as the Magpies captain looked to carve an opener. County looked strong in front of goal, but it was a mistake on the edge of the box which ultimately gifted the visitors the lead, with Jim O'Brien dispossessing AJ Greaves on the edge of his own box and making no mistake slotting home on 18 minutes. City then fought back with a chance of their own when Mitch Hancox struck from the edge of the box, but his effort was blocked at the last man. Just before half time Ethan Ross was called upon to keep City in the game with a superb block which stopped an almost certain Sam Austin goal as the midfielder volleyed from inside the area. The second half provided much of the same with Notts County again on top but Ethan Ross keeping the scoreline to a minimum with another save early on, this time top marksman Macaulay Langstaff latching onto a through ball, but his snapshot pushed over the crossbar by the City shot stopper. Strike partner Cedwyn Scott replaced Langstaff and had a golden opportunity to double the lead when through on goal, only to drag his shot onto the post on 70 minutes. Fellow substitute Kario Mitchell then had his late strike towards the bottom corner turned around the post by Ethan Ross and in the dying moments the Magpies had a well worked goal pulled back for offside before the final whistle blew. Second best for most of the game, City mustered only one effort on target all afternoon and had Ethan Ross to keep the score at 1-0.
CITY: Ross, Duckworth (Fallowfield 74'), Kouogun (Kerr 74'), Crookes, Whittle, Trialist A, Greaves (Burgess 63'), Hancox (Dyson 63'), Kouhyar (Duku 79'), John-Lewis (c) (Boden 76'), James (Hurst 63'). Unused subs: Whitley, Dale, Sanders.
NOTTS CO.: Slocombe, Brindley (Palmer 65'), Taylor (Vincent 65'), O'Brien (Nemane 65'), Cameron (c), Langstaff (Scott 57'), Adebayo-Rowling, Baldwin (Francis 46'), Austin (Mitchell 75'), Bajrami, Rodrigues (Chicksen 65'). Unused sub: Brooks.
Goals: CITY: -. COUNTY: O'Brien (18')
Referee: Matt Sowerby
Attendance: 1,504 (177 away)