The times they were a changing as City entered the swinging 60s, illuminated by the club's first floodlights that were installed in summer 1959. With a historic 1955 FA Cup run behind City, the footballing world was changing.
In 1958, The Football League abolished the regional Division 3 and there was increasing pressure to abolish football's maximum wage. It was finally abolished in January 1961 after a concerted campaign by Jimmy Hill and The Professional Footballers' Association. Previously, no player could earn more than £20 a week, meaning City's players could earn as much as an England international. Both events were to have a profound impact on City.
Until the abolition of the maximum wage, across football, many players preferred a part time career to full time football, supplementing their wages by outside jobs. City's 1955 FA cup side featured 4 part time players, Gordon Brown (storeman), Norman Wilkinson, Sid Storey(miner) and Billy Fenton (draughtsman). Equally, if the most you could earn was £20 a week, you might as well earn it in relatively pleasant environs as post war austerity was still all round and environmental clean up wasn't even on the horizon.
As one of The League's smaller clubs, other clubs could now offer better playing contracts terms than City could.
Up to 1958, City had a relatively tranquil life in Division 3 (North),only once applying for re-election since their election into The Football League in 1929 and rarely pressing for promotion. With just one team promoted, City's most realistic chance of promotion was in 1955 when the fixture backlog caused by City's cup run saw City's hopes fade after cup defeat, 13 games in 36 days yielded 3 defeats and 3 draws (as City fell 7 points short in the 2 points for a win era).
1957/8 saw City finish 13th, their average position during their Division3 (North) days, thus being consigned to the new Division 4 on goal average.
Now there were regular league games against southern based teams and there were more realistic hopes of promotion. In City's division, 4 teams being promoted from Division 4 and 2 from Division 3 whereas just one had been promoted from Division 3 (North).
Promotion was immediate as the side still bore more than a passing resemblance to the 1955 side. With 1955 cup heroes Tommy Forgan, George Howe, Billy Hughes, Ron Spence and Norman Wilkinson still in the team, City entered the season with high hopes. That confidence was well founded as we won our opening 3 games without conceding a goal. Having hit top spot in September, City stayed there for 6 weeks. Cup fever came and quickly went with a Round 1 defeat. All the focus was on the league. A dodgy January ensued, a draw with Chester in early February saw City drop out of the top 4 for a week. A win at Watford a week later saw us regain a promotion spot. 4 weeks later, a 2-0 win at Exeter proved pivotal. At the end of the season, Exeter were fifth in the table, missing promotion by one place and 3 points. By now, City were on a run of 20 games undefeated to the end of the season. Wins in our last 3 games saw us claim 3rd spot. Captain, Peter Wragg, with 14 goals was top scorer and one of 3 players who hit the net 10 or more times. City's defence with Tommy Forgan, an ever present with 17 clean sheets, was the key to our success. Newcomers included Barry Jackson who made his debut on the first day of the season. The side included the up and coming youngsters, including Colin Addison, Ken Boyes and Barry Tait. In a different era, celebrations both for players and fans were rather muted compared with today. On the back of promotion, the first ever set of floodlights were installed at Bootham Crescent. Unfortunately the lights failed to lift the gloom as City finished their first season in Division 3 in 21st place, thus suffering an immediate and first ever relegation in 1960.
On the pitch, City struggled back in Division 4, finishing 5th, then 6th, then 14th and finally 22nd in 1964. Re-election was confirmed in an era when the bottom 4 had to seek re-election to the Football League. City scored a maximum 48 votes, each of the other 3 league clubs scored at least 36 votes whilst the best of the non league applicants polled just 5 votes. It was a virtual closed shop.
Off the pitch, City were badly affected by a betting and bribery scandal that rocked English football at the time and involved a former City captain Jack Fountain. Read More.
A season later(1964/5) it was 3rd place and promotion. Once again immediate relegation followed in 1966.
For 1964/5, with a defence which remained largely unchanged, it was down to the forwards to lead the fight. Youngster Paul Aimson was signed from Manchester City to lead the attack whilst wingers Andy Provan (Barnsley) and Derek Weddle (Darlington) were signed to help to provide the ammunition. Behind them, another youngster, Dennis Walker, signed from Manchester United in April proved his worth, scoring 12 goals by October 9th before moving back into midfield. Walker's early season goals propelled City into a respectable league position, but 5 defeats in October saw City slip to a season low 7th place (Ed – oh happy days).
Autumn saw 2 of our 1954/5 cup heroes, now veterans, recalled to the team. Tommy Forgan in goal and Norman Wilkinson upfront, Wilkinson went on to score 9 goals in 21 games whilst Forgan added another 7 clean sheets to his club record. With Aimson hitting top form and Wilkinson in attack, City went on a run of 10 wins (and a draw) in 11 games. The run came to an end in January when 2nd paced City lost away to league leaders Tranmere. City's fine form soon returned as 4 wins in the next 5 games, ending with a 5-1 thumping of Newport saw City top the table in early March for a week. At the end of March, City regained top spot when gaining revenge over leaders Tranmere with a 4-0 thrashing, Derek Weddle scoring a hat trick in front of 13,444.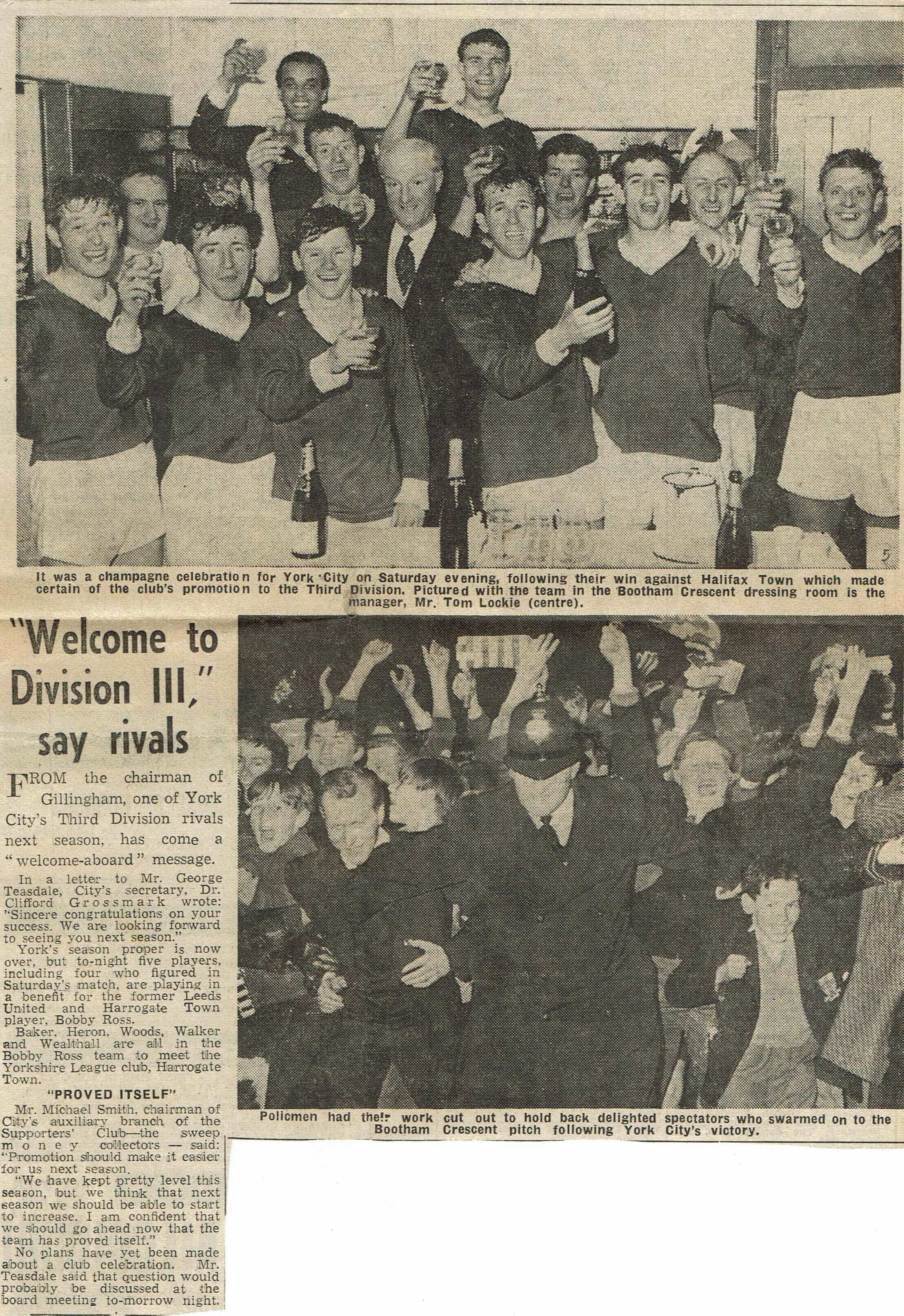 With the season ending with 8 teams within 7 points of the top, every point was vital at the top of the table. City's final game of the season saw 12,719 inside Bootham Crescent to see City go to top of the table with a 4-0 win over Halifax. That night, Halifax fielded Archie Talor, a speedy winger who later played for City. City's tactics were to "clunk" him early to slow him down, he wasn't "clunked" until the 88th minute. Promotion was assured. However, with games in hand, subsequent points gained by Brighton and Millwall saw them both leapfrog City. We finished 3rd, just one point behind champions Brighton.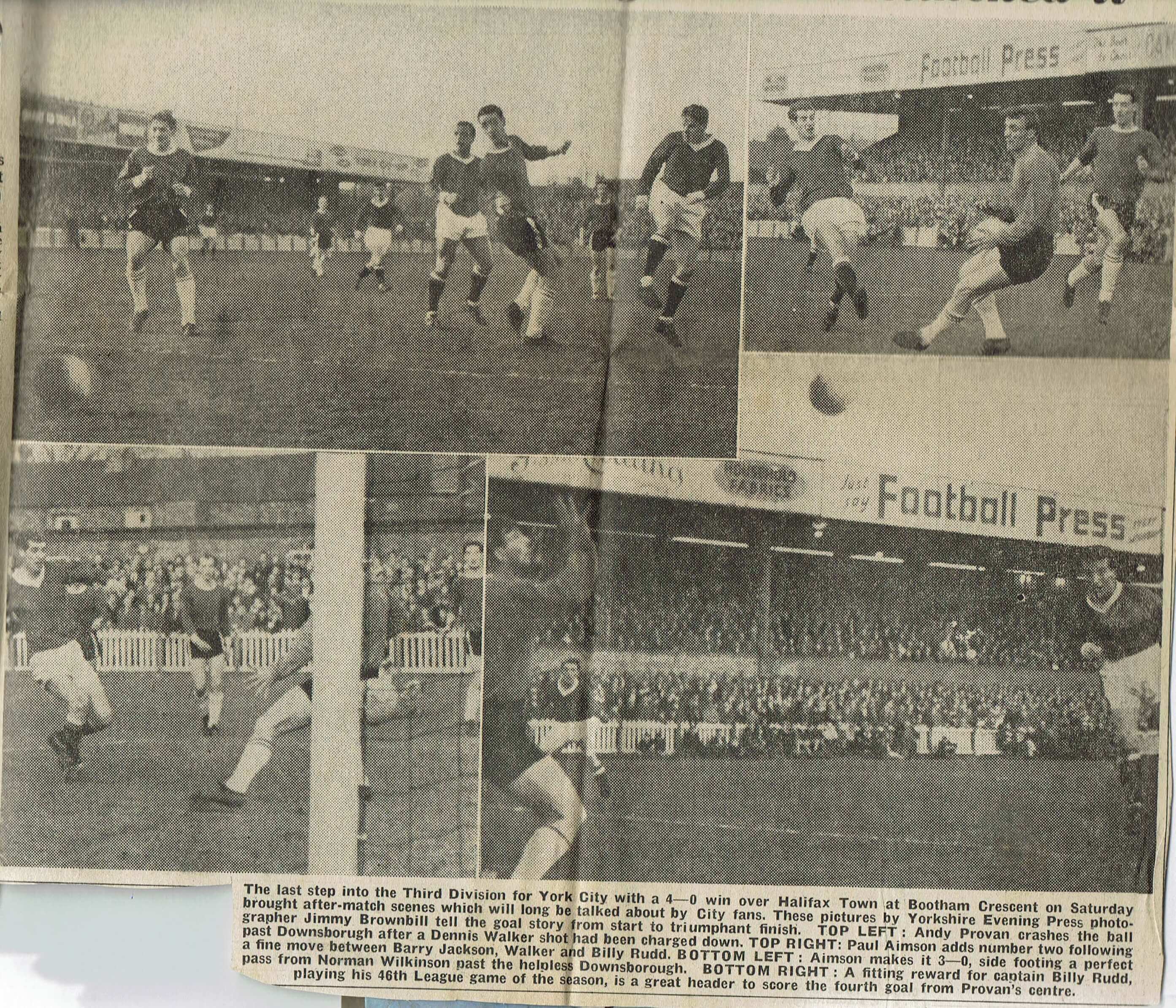 Showing more flair than our previous promotion side, the 91 league goals scored had only been bettered on one occasion and have since been bettered only once more. Paul Aimson had been a revelation upfront. 30 goals in all games. Behind him, captain Billy Rudd's skilful promptings from midfield, the 19 goals from Andy Provan and double figures from both Andy Provan and Derek Weddle provided a fine supporting cast. However, it was very much a team effort, a settled side using just 17 players, with string contributions from all over the side. As in 1959, City lasted just one season back in Division 3 winning just 9 games as we finished bottom. Stars such as Paul Aimson (in March 1966 for Bury after scoring 17 goals in the first 32 league games (plus 4 cup goals)) and Eamon Dunphy were sold whilst our heroes of the 1965 promotion campaign never regained their best form. The season also saw the last remaining paying links with our 1955 cup heroes severed as both Tommy Forgan and Norman Wilkinson left the club.
Relegation was immediate. Things got worse and City had to apply for re-election in each of the next 3 seasons.
1966 saw the last playing links with the 1955 FA Cup side severed when Norman Wilkinson and Tommy Forgan left the club in the summer.
1967 saw a hostile take over bid fronted by Peter Rhodes, a locally based former Football League referee, Bert Tait (father of Barrie and Peter) and 2 others. They advocated more non match day income generation at Bootham Crescent, including a golf driving range and dance hall.
October 1967 saw Tom Lockie, who'd been caretaker manager in 1955, sacked as City's manager, City's first ever managerial sacking.
By the time Lockie left, the side contained Phil Burrows and Ted MacDougall (£5,000 signing from Liverpool). Joe Shaw replaced him. He lasted less than a year before resigning for personal reasons (to assist his wife in their ailing children's clothes shop in Sheffield), his big signing was Phil Boyer (£3,000 from Derby).
Tom Johnston was appointed manager in October 1968, but he couldn't prevent City from having to apply for their 3rd consecutive re-election in 1969. That season, Johnston gave Chris Topping his City debut and the following season signed Barry Swallow as Barry Jackson's long City career entered its final furlong.
That season, 1969/70 saw City reach mid table, but the season's highlight was an FA Cup run, beating Cardiff (then Division 2, now The Championship) after 2 replays before narrowly going down to top flight Southampton after a replay in Round 4.
With Boyer and MacDougall departed for Bournemouth, Paul Aimson had returned to City. The 1970/1 side that was to gain promotion was virtually in place.
Throughout the decade, money was tight, the decade being marked by Friday night / Saturday night kick offs as City strove to eke out every pound, believing night games were more popular than Saturday afternoon games. This was eventually curtailed when the football pools companies withdrew their £100 per match "licensing" fee for games not paid on a Saturday afternoon. Other traditions that were dying out as the 60s ended were the use "The Happy Wanderer" as City's run out tune, it dated back to our 1955 FA Cup run whilst 2 more traditions managed to just creep into the 1970s, they were the "5 minute" flag above The Social Club (on bleak days the lowering was usually accompanied by to "Keep it there!" once it descended to halfway), usually a signal for a siable exodus and the ability to change ends via the tunnel. Meanwhile, The Supporters Club and their fundraising Auxilary Club continued with their fundraising efforts. "The Rossettes", a group of young women dressed in red and white selling lottery tickets, were formed in Feruary 1968 when a new fundraising initative with a £100 top prize was launched.
The side that Tom Johnston put together was to enjoy 2 promotion campaigns.