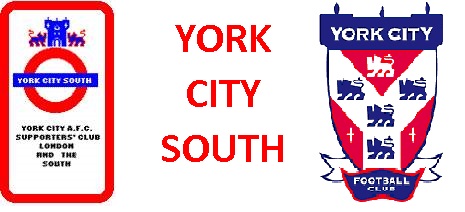 York City - The 1968 - 1982: Tom Johnston and Division 2
Tom Johnston showed what could be done with little money as he became the first manager to take City to 2 promotions
Promotions under Tom Johnston in 1971 and 1974 were recognition for his ability to build a side. However, neither side had the outstanding stars that other City promotion campaigns had, both promotions were the result of hard work, organisation and team spirit in the days when the players' dressing room motto was "we'll win in spite of Johnston". Having won promotion in 1971, we were to survive the next 2 seasons on goal average before shocking the footballing world by gaining promotion to Division 2 in 1974. Both sides bore a strong resemblance to Johnstonís dour personality. Lead by Barry Swallow, 3 of the back four were regulars in both sides, as well organised sides, some might say, lacking flair, ground their way to success. They were largely journeyman, workmanlike with no real stars, just competence across the whole pitch. Only Brian Pollard from the 1974 side went onto have any sort of career at a higher level after leaving City. In 1971, Paul Aimson, one of the best ever forwards to play for us scored 26 goals. By 1974, the Jimmy Seal / Chris Jones strike partnership, with veterans Barry Lyons and Ian Butler in the twilight of their careers were doing the business upfront as we gained promotion to Division 2 (now The Championship) for the only time (to date) in our history.
After Johnston left in January 1975, he was succeeded by Wilf McGuinness. It was effectively Johnston's side that comfortably avoided relegation in 1975.
McGuinness' efforts to refresh the side saw City struggle and relegation was on the cards a long time before the end of the 1975/6 season. It has to be said that in Johnston's side, every player had played at the peak of their ability and without his galvanising influence, for an ageing side, some would say relegation was inevitable.
City slipped straight through Division 3 a year later. Those 6 seasons (1971-7) represent the longest period City have ever spend above the basement division. McGuinness was on his way.
He was replaced by Charlie Wright and City hit rock bottom. Re-election followed in 1978. With the club in dire finacial straits, Michael Sinclair was appointed chairman in 1978.
A period of re-entrenchment followed. Gone was the maroon Y front and in came a red / blue kit. The matchday programme became a giveaway at the turnstile (at least its few advertisers got their adverts viewed by 100% of the crowd).
Funds were scarce, City's finances were dire. The sale of Chris Topping to Huddersfield averted a deeper financial crisis. Crowds dropped, during the 1976/7, the average home attendance was 2,986 (the first time it had dipped under 3,000) and a season later plunged to 2,139 as City finished in the re-election places with just 1,3339 witnessing a final day of the season 3-0 home defeat to Northampton.
A 1979 share issue saw City's share capital increase from its original £4,000 to £100,000. The issue was largely a debt reduction exercise and allowed the directors to convert loans into shares, it was heralded as ensuring the club's survival, effectively clearing most of City's historic nett current liabilities (accumulated losses) of around £100,000, the highest in the club's history.
After the failure of high profile names, City stayed in house to replace Wright, Barry Lyons being promoted from youth manager in March 1980. Unfortunately, he failed to turn around City's fortunes and he was relieved of his duties in December 1981. The high spot of his tenure was probably his signing of Chesterfield's sixth choice striker in the summer 1981. Keith Walwyn's arrival was to mark the start of next chapter in City's history.
Kevin Randall and Barry Swallow had spells as caretaker manager as the 1981/2 season drew to a close.