Paul Aimson had 2 spells with York City. Unlike many returning heroes, he did not disappoint on his return.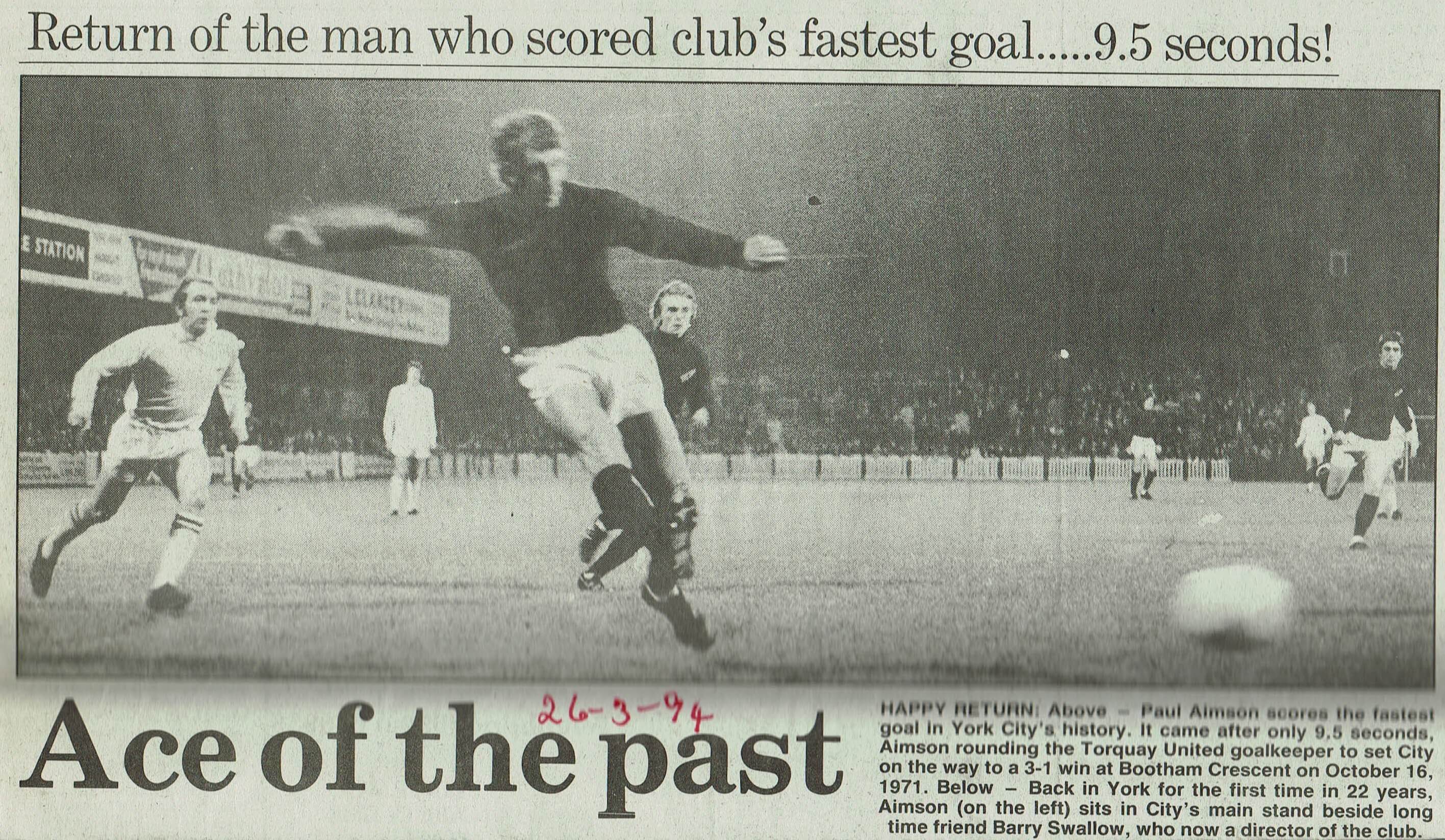 He was a product of Manchester City's youth academy where he was a team mate of Phil Burrows. Originally a centre half, he was converted to centre forward and scored 6 first team goals for the Maine Road club.
Aimson first joined York for £1,000 from Manchester City in July 1964 before leaving two years (and one promotion) later.
In his first season with City, Aimson top scored scored 26 goals as York gained promotion from the bottom flight. He left the following season, in March 1966, to join Bury for £10,000.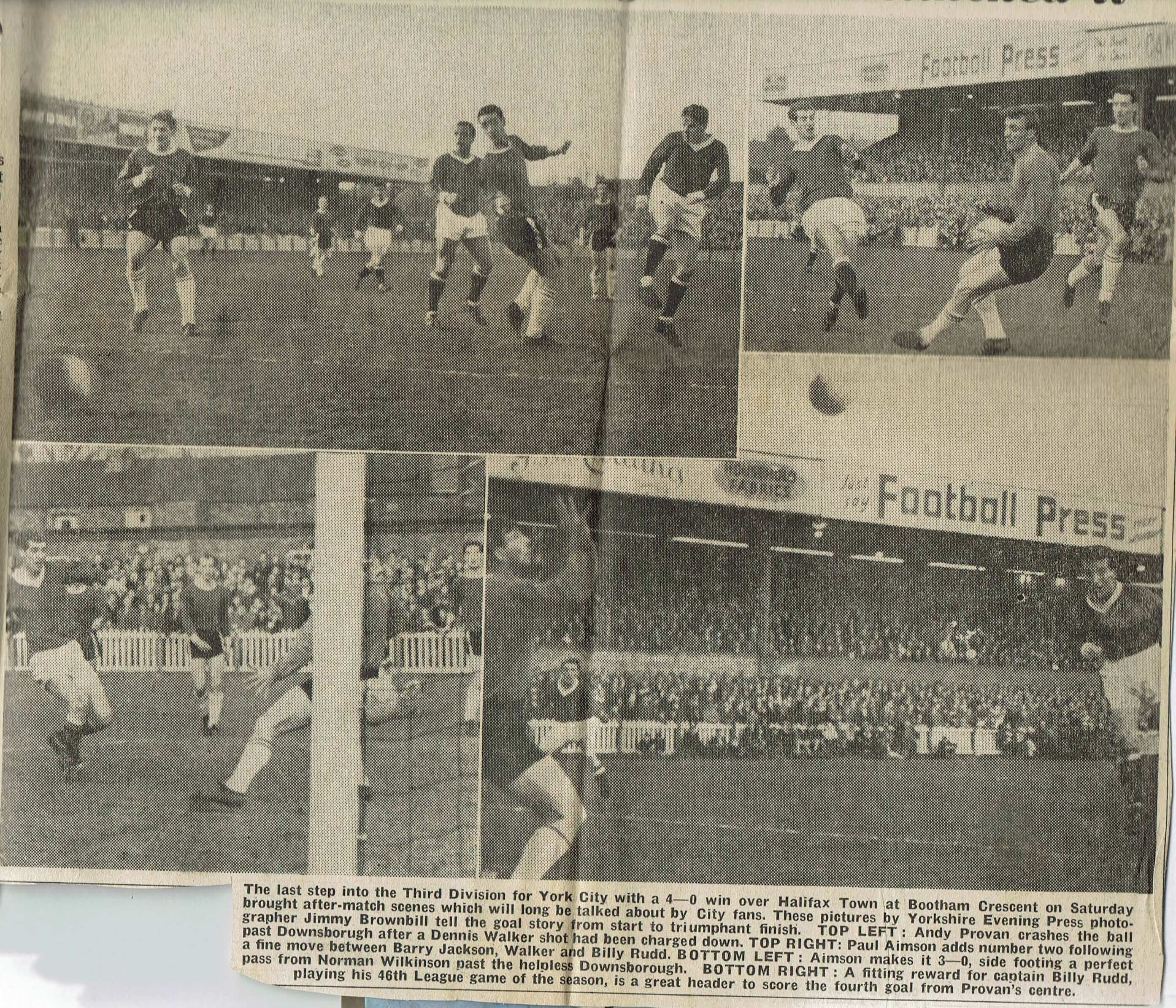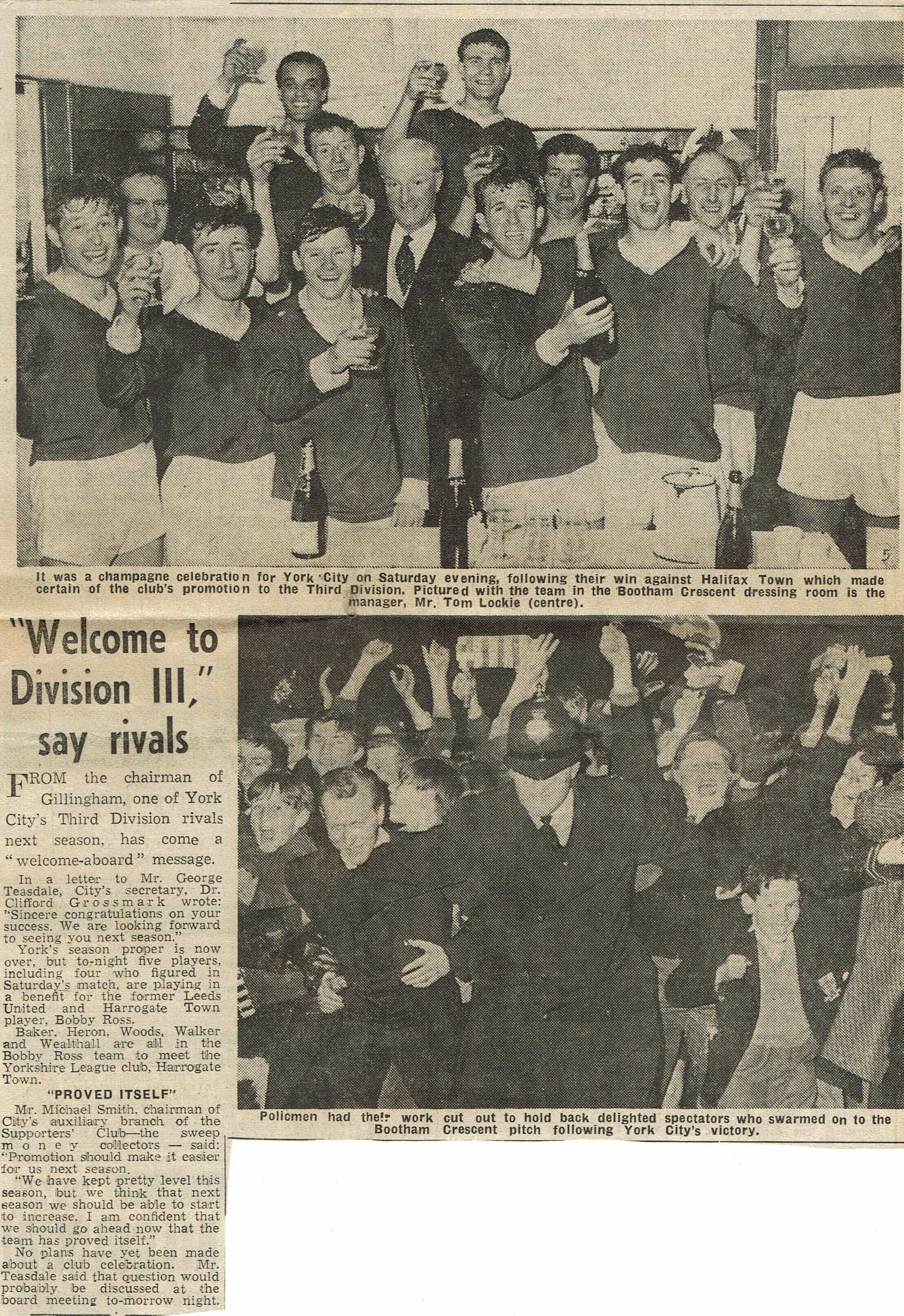 He had short spells with Bradford City and Huddersfield before returning to City in August 1969 for £8,000.
Aimson, in the 1970/1 season, once again scored 26 goals for York City as we again gained promotion from the bottom flight. He also famously scored a last minute header against Southampton in a FA Cup Round 4 match, which gave City a 3–3 draw and so earning a replay. WATCH: YORK CITY 3 Southampton 3
In October 1971, Aimson scored the fastest ever goal in City's history. Personally, I'd say it was about 4 seconds after kick off, vying for the record of the fastest ever goal. City kicked off, ball played backwards, big whack to right wing, where Tommy Henderson made a short dribble before laying the ball off to Aimson who smashed it home from around the D. 1-0. His effort was officially timed outside the record held by Jim Fryatt, but its directness, big boot to the winger, dribble, cross, goal, makes many believe it beat Fryatt's laboured effort.
Aimson left City for Bournemouth for £12,000 in March 1973. Ironically, he had been signed by Bournemouth to replace the Ted MacDougall / Phil Boyer partnership, both of whom had also left City for Bournemouth and went on to play top flight and international football. Many City watchers of the era, rated Aimson the best of the 3.
Aimson moved to Colchester for £8,000 in August 1973. Uniquely for a City player, both times he left City, we secured a higher transfer fee than we had paid to sign him.
He retired from football a year later due to an injury. He suffered a thrombosis in his leg, at the time, there was even a brief period when the doctors thought they'd have to amputate a part of his leg. After football, he became a probation officer. Aimson recalled: "I had an operation to have a cartilage out of my knee and they told me to go back to playing but every time I jumped and landed it swelled up. I went back to hospital and they found that the whole of my knee had collapsed and had to be rebuilt. After the operation, I was complaining that the plaster of Paris was too tight and when an Australian doctor put a window in it, my knee had ballooned and, when he put the scissors in, the blood travelled four yards. I had haemorrhaged and a blood clot had to be removed. They tried to keep me awake and it worked when the priest was sent in to give me my last rites. I eventually fell asleep for 36 hours after they had got rid of the clot and it was touch and go whether I would wake up. It has left me disabled but you would not really know and I will never give in to it."
For a prolific striker, Aimson would often stress the importance of team play, "Winning is always more important than scoring goals. I was always happier winning and not scoring than scoring in a losing team. If I can lay one off and York win 1-0, it's better than scoring and City losing".
Aimson, was the fifth highest scorer in City's history, in all he bagged 113 goals for City, including five hat-tricks in a total of 248 City appearances. He was top scorer in four of the six seasons he spent at Bootham Crescent. However, he was full of praise for his colleagues. He noted that any striker is only as good as the service he receives from his team-mates, "I've got no time for players who play for themselves. There were too many chiefs and not enough indians. We never played like that at York and I wasn't as successful at the other clubs I went to because they used to stick me on the halfway line and boot the ball forward for me to chase. I couldn't have wished for better service than that given me by the likes of Billy Rudd, Tommy Heron and Barry Jackson at York. Billy put balls on a plate for me. He is the best player who ever played behind me and made my job easier and Phil Boyer was the best to play alongside me because I always knew where he was. We then had Archie Taylor on the right and he was a great crosser. I think if Tom Johnston could have got Dave Wagstaffe on the left wing from Manchester City then me and Phil could have broken Dixie Dean's scoring record. (Wagstaffe moved from Manchester City to Wolves in 1964 and played 324 top flight games for them over the next 12 years, so I'm not sure if Wagstaffe was ever a realistic City target, more likely a good friend of Aimson in Manchester City's youth side - Ed). York is my team and, from all the places I went, I loved York the most. The people and crowd were wonderful to me and I'd climb mountains to please them. They were the happiest days of my life, although being a granddad is running that close."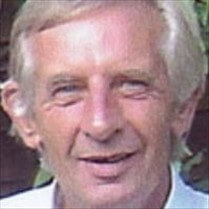 Ex-City stalwarts Chris Topping, Graeme Crawford, Brian Pollard, Pat Lally and David Dunmore all gave moving testimonials after learning of his death.
Recalling his memories, Topping said: "He's got to be up there as one of the best players I played with and was a very good servant to York. Tom Lockie and Tom Johnston both liked him as managers and he came back to help the club at the right time. He was mobile with a good touch and could finish. He was typical of a Manchester City youngster really. He came with skill and was cocky. He was the perfect man to have up front. You could give him the ball and he would fight for it. He worked hard and he could give a ticking-off but could take one as well. Aimson was also a very likeable man. He was a good team-mate who socialised as we all did with our wives in that group of players. I'll remember some good nights out with Paul when we stayed over after games at places like Torquay. He always joined in and liked a pint of beer. I'm just glad Graham Bradbury and Steve Beck from the club organised a reunion with Paul in the summer. He came to York and I was there with the likes of Barry Jackson and Phil Burrows. He looked poorly then and it was very emotional, chatting about good, old times for hours and I'm grateful we had that time together".
Crawford, widely regarded as one of City's finest goalkeepers, was between the sticks during Aimson's last two seasons, and was equally impressed by his ability. He said: "Paul was one of the best centre-forwards York City ever had. As well as scoring, he could bring everybody else into play. He was an unselfish centre-forward but still got his goals as well. He gave 100 per cent in every game and was a real crowd-pleaser. He was also a really nice, genuine lad who always helped the younger players. It is a sad loss for his family and he will be one of the legends that will be remembered at York City for a long time".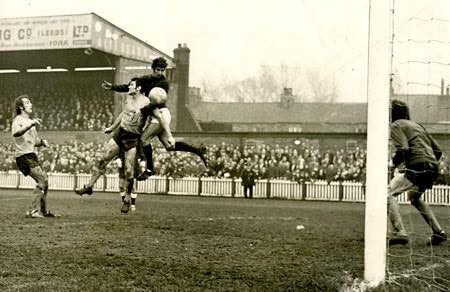 Pollard echoed Crawford's sentiments about Aimson's attitude towards the club's next generation of players having made his debut at the age of 17 alongside the then 28-year-old striker in a home game against Rotherham in March 1972. "To this day, I remember Aimy coming up to me before my debut and telling me all I had to do when the ball was cleared up to him was keep running and he would flick it on. He said he would look after me and he did. He made that game so easy for me because I had only played for the reserves before then and he was such a nice man". Pollard retained his place in the side for the game against Chesterfeld a day later, his supply helping Aimson to net a hat trick.
Likewise, Lally found a friendly face in Aimson when he made the long move to Bootham Crescent from Millwall in 1971. He said, "He was a totally genuine and honest man and one of the first to take me under his wing when I moved to York. He was there to give me his time if I needed any help and he is a sad loss. His ability to get the best out of players around him and to find space for himself in and around the penalty box made things easier for other players. His work ethic and attitude to the game was also fantastic and he was a great role model. He was a tremendously successful centre-forward and it surprises me he never played at a higher level because he would have done himself justice".
Dunmore played a season with Aimson during the latter's first spell at the club and also has fond memories, saying, "He would do anything for anybody and was a terrific footballer. He was great in the air and I can't speak too highly of him. He was a good all-round, centre-forward".
Aimson received a standing ovation when he returned to Bootham Crescent in 1994.
Aimson last returned to our ground 18 months before his death and was given a standing ovation. In later life, Aimson was astonished to learn that his club captain at York, Barry Swallow, had received £172,661 after the club bought back their home from Bootham Crescent Holdings directors Douglas Craig, Colin Webb and Swallow. His comments are not suitable for a publication like this.
Paul Aimson died of a heart attack in hospital near his home in Christchurch, Dorset after a long illness on January 9, 2008. He was aged 64.
Everyone who saw him play will have their own personal memories, but for many, his "perfect" hat trick at Hull in September 1965 will take some beating. Yes he was good, he could shoot with either foot and was brilliant in the air as his hat trick that day proved. That season, Hull finished as Division 3 champions and City finished bottom and were relegated.
Read More: David Batters names Paul Aimson as City's best ever striker.
Paul Aimson: The Chosen One
Taken from a submission to the Four Four Two magazine for their cult heroes article in February 2016
My earliest York City memories are terrace wags shouting, "You're not as good as Paul Aimson" as we endured 3 successive re-election campaigns in the late 1960s. Aimson, a tall, cultured, ginger haired centre forward had struck 30 goals as we were promoted in 1965. Powerful in the air, good with both feet, what more could you want?
He left in 1966 and returned in 1969. A season later, his 31 goals steered us to promotion. In mid table at Christmas, an epic cup tie with high flying Southampton was followed by 10 wins in 11 games (Aimson scored in 10) and promotion.
There are few players any club will sign twice and sell for a higher fee both times. Singlehandedly he replaced the MacDougall / Boyer partnership at York and then at Bournemouth side when he finally left City in 1973.
Paul Aimson: Magic Moments
Southampton, they were to finish the season 7th in Division 1 and had Ron Davies and Mick Channon up front, visited York for an FA Cup Round 4 game in January 1971.
In York in those days, the FA Cup was something special, many supporters still spoke about our 1955 semi final.
After a quiet first half, the game came to light in the final quarter. Southampton raced into a 2 goal lead.
With about 12 minutes to go, City pulled one back, hopes of a draw quickly evaporated as Southampton restored their 2 goal lead.
City pushed forward and with about 3 minutes left, Aimson outjumped the defence to knock down for Dick Hewitt to blast home from close range.
Renewed hope, Southampton were defending desperately, deeper and deeper, City kept probing and another cross from the right found Aimson whose powerful header earned City a well deserved equaliser.
WATCH: YORK CITY 3 Southampton 3
Footnote: In 2014/5, Paul's grandson, Will Aimson was contracted to Hull City as a promising young defender. In November 2014, whilst on loan with Tranmere, he suffered a badly broken leg playing against Portsmouth (when he collided with his teammate Danny Holmes (later of York City)). In January 2016, he joined Blackpool and later Bury before joining Plymouth in 2019. In the summer of 2021, he signed a 2 year deal with Bolton.
Paul Aimson talks toYork Press in 2005.