Best Ever City Book
March 2020: In a twitter pool, David Batters, York City: The Complete History was voted the best book about York City, polling 63% of the poll. Second was Paul Bowser's Bootham Crescent: A Second Home (27%) and tied in third place were Chris Jones, A Tale Of Two Great Cities and Garry Beckett's York City Memoirs.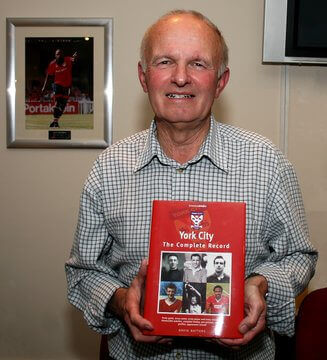 Each offers a different perspective on City's history, David Batters a match by match, season by season, player by player history, Paul Bowser's book, equally comprehensive, is stuffed full of rare and unseen photos and artefacts, Chris Jones' book will bring back fond memories for many whilst Garry Beckett offers interviews with over 30 City players ranging in era from Jack Pinder to Tony Barras, in an easy to read format, each interview gives many behind the scene insights into York City.
All 4 are still available. David Batters' books via internet sites and details of the other 3 are available every Sunday in TOOAB.
Paul Bowser - Bootham Crescent: A Second Home
Anyone picking up a copy of Bootham Crescent: A Second Home will be in for a pleasant surprise. Going way beyond its title, it builds into a comprehensive history of York City in the year that the club is expected to move from its historic ground forever. The book runs to 273 A4 sized page and includes 240 images, among them old photos and reproductions of press cuttings, gate receipt books, memorabilia and even cartoons. For the first time, many artefacts from multiple public and private sources are made available to lavishly illustrate the book.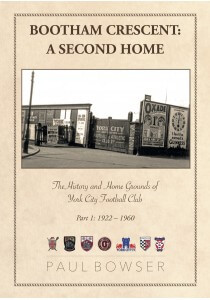 Lovingly and painstakingly, Paul Bowser hasn't tried to replicate former club historian Dave Batters' definitive books about the Minstermen. He writes from a different perspective, that of Bootham Crescent. What shines through is the closeness of the club and its supporters. Supporters Club member's wives were knitting socks for the players in 1924. In 1932, many supporters provided free labour as the club moved into Bootham Crescent, carrying materials across the city from the old Fulfordgate ground to Bootham Crescent. At the same time, a City director gave his house deeds to the Supporters Club to provide them with the collateral to fund the Popular Stand.
The building of Bootham Crescent is dealt with great detail, much is noted of the iconic tunnel which was designed to allow easy exit from The Popular Stand and just as importantly to allow spectators to transfer from one end of the ground to the other and saw WW2 usage as an air raid shelter.
The book details a former York City club founded in 1908 and the former uses of the Bootham Crescent area, including confirmation that Yorkshire County Cricket Club's only ever county game to be played in York before 2019 was not played at Bootham Crescent as widely believed, but at another cricket ground just across the railway line. Another chapter deals with the summer of 1937 when Bootham Crescent was used as a baseball ground as baseball fever swept across England.
The ground was completed in less than 3 months from the lease being agreed to the first match. Contrast that to today. City are expected to move in to Monks Cross in early 2021, almost 20 years after former chairman Douglas Craig set the wheels in motion for the exit from Bootham Crescent.
Elsewhere some modern traits are discernible. For the club's first ever "big game", an FA Cup tie against Worksop Town at Fulfordgate, some ticket prices were increased whilst during City's 1938 cup run to the quarter finals, tickets prices gradually increased with Main Stand tickets for the quarter final costing 5 times as much as normal matchday tickets, prices for all other sections of the ground, except ground admittance, were also raised. Ground admission was kept at usual rate in part recognition of the supporters' efforts in helping to build the ground and their ongoing fundraising work. For the 1938 Huddersfield quarter final, an all time record 28,123 packed into the ground whose capacity today is just 8,000. The book contains several photos taken at the match and during war time games which show fans encroaching onto the pitch and others taking up vantage points on top of the Popular Stand and other roofs. The logistics of packing the ground during the cup runs of 1938 and 1955 make fascinating reading when compared with today's health and safety consideration.
Pre WW2 struggles, on and off the pitch, are well documented as are the early post war days when crowds flocked to football, allowing City to buy the ground, reaching the FA Cup semi final as a Division 3 North side in 1959 and then gaining promotion for the first time in the club's history in 1959.
Whilst the cup runs and first promotion season in 1959 are covered, the history of the club is amply told with reference to the ground and York's supporters building into a superb social history of the period.
Volume 1 covers the period up to 1960. At 273 A4 sized pages, it is a weighty tome and with Volume 2 even bigger, in total they will surpass the 728 pages of the 1995 book The Sandgrounders, The Complete League History of Southport FC by Michael Braham and Geoff Wilde, believed to be the biggest ever book detailing one football club's history. Volume 2 is expected in mid 2021.
Best way to buy the book is to contact Paul Bowser directly or buy Book 1 (1922 - 1960). The first edition is now sold out, but to meet demand and including minor updates, a reprint was made available in April 2022. Contact Paul for details.
York Press review - Book 1 (1922 - 1960)
Book 2 was published on 12th July 2021 and covered the period 1960 - 1993.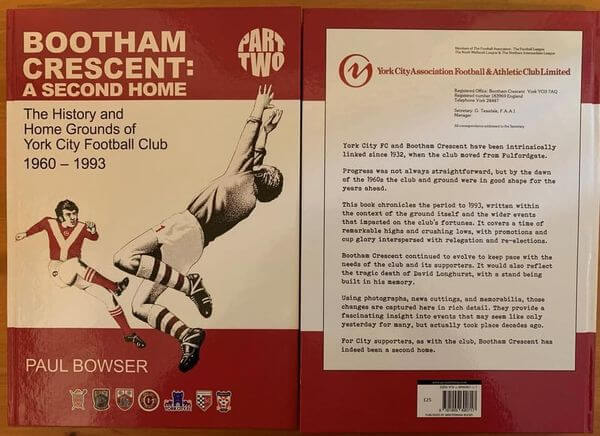 As Paul said, "I'm thrilled to confirm that part two of 'Bootham Crescent: A Second Home' has been published today. It consists of almost 270 pages within an A4 hardback cover, with dozens of images in mono and colour. Building on the story from 1960 onwards, it traces the development of Bootham Crescent from that year through to 1993 against the backdrop of York City's fluctuating fortunes. It covers the highs of promotions and cup runs, and the lows of relegations and re-election campaigns. The famous Second Division spell, the record-breaking 1983/84 campaign, and the unforgettable 1992/93 play-off win remind us all of happier times. That said, many City supporters - me included - also retain fond memories of watching the club during the barren years which also punctuated the 1960s, 1970s, and 1980s. All of those ups and downs are captured in the pages of the book, which also continues the story of how the York City match programme has evolved over the years, along with examples of other ephemera in a comprehensive set of appendices for the period. I'm also delighted to reveal that the foreword has been written by another City devotee in the media - Jon Champion - who was covering the European Championship final on Sunday for ESPN. It's not too late to secure your copy via Bootham Crescent: Book 2 (1960 - 1993) or email Paul. Thank you to everyone who has supported this venture, as the book would never have seen the light of day without the pre-orders".
With Book 3 still to come, the combined size is likely to surpass the 728 pages of the 1995 book The Sandgrounders, The Complete League History of Southport FC by Michael Braham and Geoff Wilde, believed to be the biggest ever book detailing one football club's history.
Dave Flett - Sunset Over Bootham Crescent
Launched on 6thMay 2022, the day of City's 100th birthday, Dave Flett announced his new book Sunset Over Bootham Crescent was on sale as part of the club's centenary celebrations.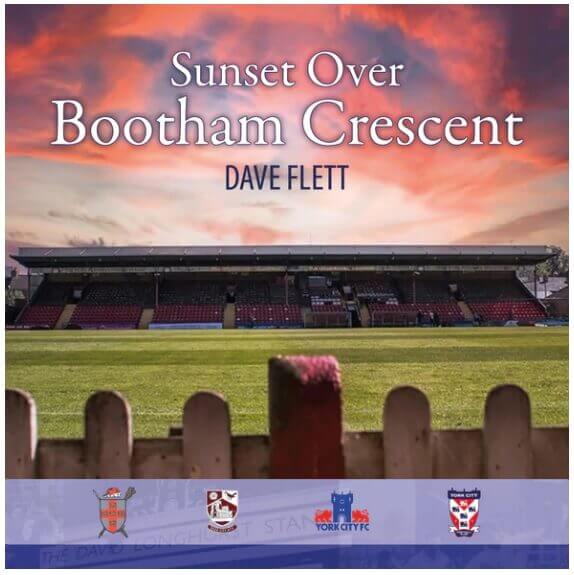 Written by The Press' former City reporter Dave Flett, the book comprehensively chronicles the history of the Minstermen's cherished former home from 1932 to 2020 in 580 A5 pages printed on glossy paper and its packed with memories, historical research and photographs. Dave, who covered the club from 2003 to 2019, spoke to City greats from every era for the publication, including the likes of Barry Jackson and Alf Patrick before they passed away. It provides another worthy addition to our club's history and differs from many similar books in that it draws extensively on the recollections of many visiting managers and players, including Sir Alex Ferguson, Mark Lawrenson and Charlie Nicholas, based on exclusive interviews after their participation in some of the classic cup contests staged at the stadium. The book costs £25 and is now available from the club shop both online and in store. Buy Now.
Older Books
Football's most famous book with City connections is almost certainly Eamon Dunphy's "Only A Game?", an account of Millwall's season which starts with high hopes of promotion to the top flight, but disintegrates like most pre season hopes. Dunphy, a former City player, started off as a Manchester United junior under Sir Matt Busby before making his first team debut with City. Within 6 months, he'd left for Millwall where he was to spend the majority of his professional career before embarking on a successful media career whilst based in Dublin. He featured extensively on Irish TV and as a journalist and author. He has authored, co–authored or ghost written several books, including U2 ("Unforgettable Fire - Past, Present, and Future - The Definitive Biography of U2 "), Roy Keane ("Keane - The Autobiography") and Sir Matt Busby ("A Strange Kind of Glory") biographies and has managed to fall out with more people than I could mention, but including U2, Roy Keane and Jack Charlton. In 2013, Dunphy, the man The Guardian called 'the most entertaining, blindingly brilliant pundit of all time', published his autobiography, "The Rocky Road", it briefly covers his few months with City in 1965. Signing from Manchester United, Dunphy believes Matt Busby didn't want to sell him to a big club, preferring to sell him as far down the leagues as possible to avoid the possibility of another Johnny Giles situation, a disgruntled squad player sold cheaply, who'd flourished at his next club. Dunphy alleges Busby may have even taken the difference between the Birmingham offer and City fee for himself. Forthright as ever, Dunphy believes City never showed the same will to win as some of his later clubs. I suspect Dunphy is the first, if not only, ex City player to write books on subjects outside football.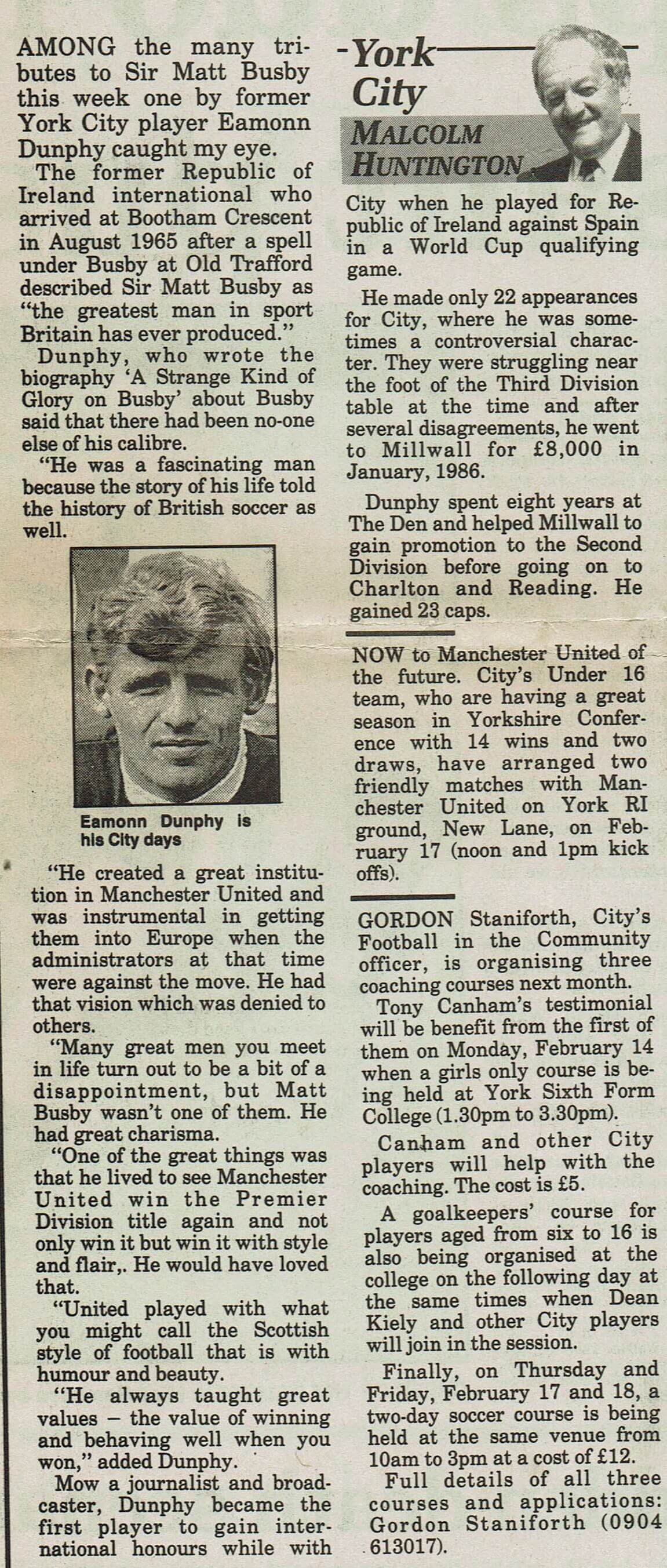 The earliest book I can recall with a City slant is Sam Bartram's biography. "Sam Bartram. The Story Of A Goalkeeping Legend", first published in 1956 (and revised in 2009). Bartram, a popular City keeper during World War 2, had a long and successful career with Charlton, some people would name him England's best ever uncapped keeper. His first managerial appointment was with City in 1956. After leaving City, he turned to journalism and had a long and successful second career with "The People" newspaper. Mike Blake's "Sam Bartram: The Story of a Goalkeeping Legend" is a must for anyone who to wants to know more about Sam and his career.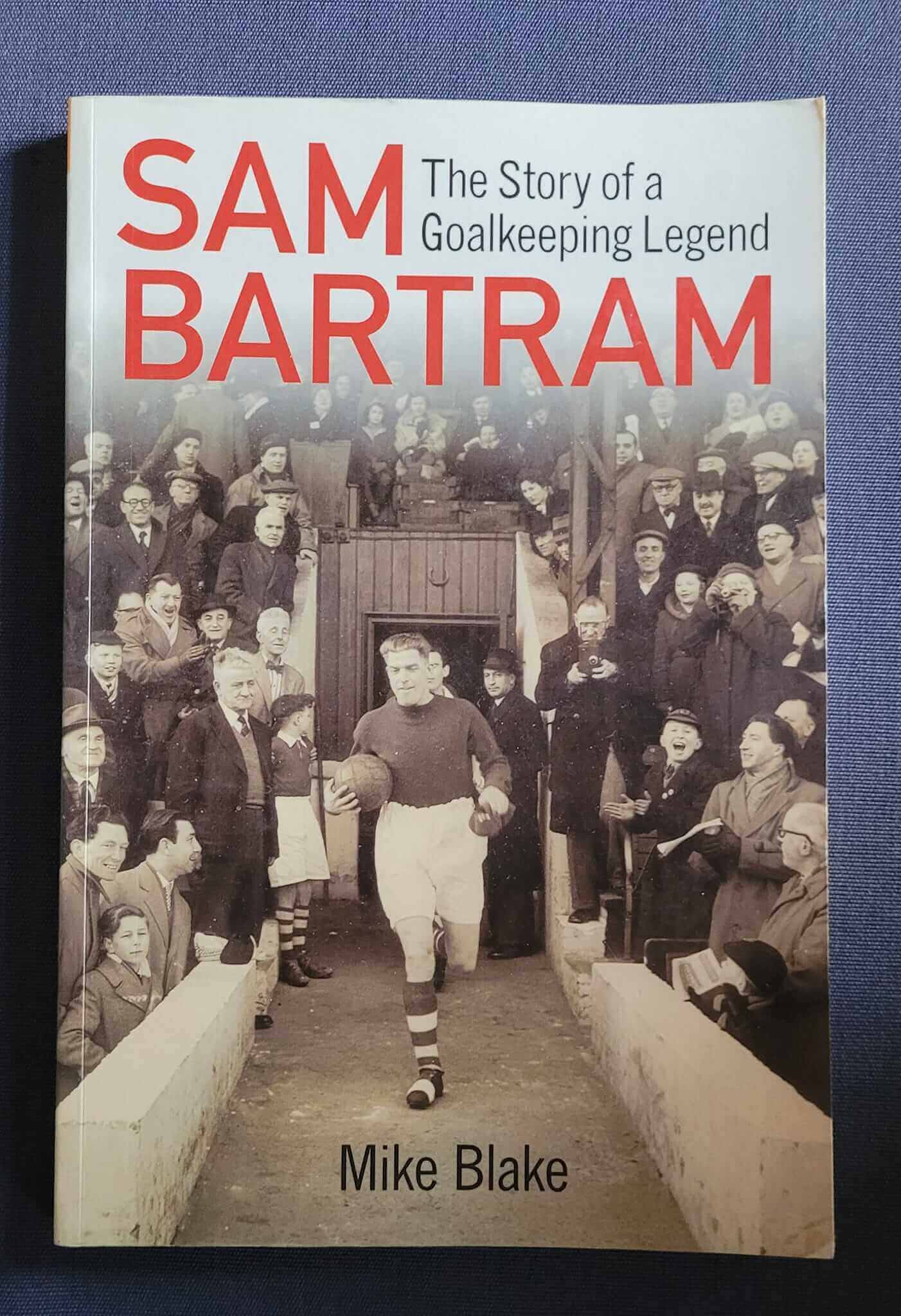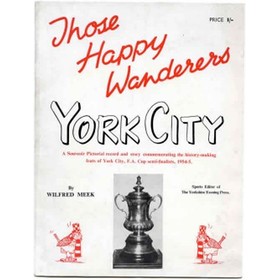 Another ex-City keeper Neville Southall's autobiography, "The Binman Chronicles" was published in 2012. His follow up, "Mind Games: The Ups and Downs of Life and Football" was published in September 2020 and is a deeper read where he reflects on the travails of the modern game, how some of society's problems are reflected within it and draws upon his own experience to tackle one of its final remaining taboos: mental health. He doesn't hold back on the biggest subjects and gets stuck in to some of the most important topics surrounding the beautiful game.

Keith Houchen's 2 years with City are best remembered for his FA Cup winner against Arsenal, his career is best remembered for his 1987 FA Cup Final goal for Coventry. His book, "A Tenner & A Box of Kippers", also recalls some of the times when he came up against City during his playing and managerial career. Whilst in his first book, "Made In Sheffield", Neil Warnock recalls how his brief 1978 City career saw him training in his suit on a Friday and sacked as club captain 4 days later after just one game for City. In 2013, he published his follow up, "The Gaffer".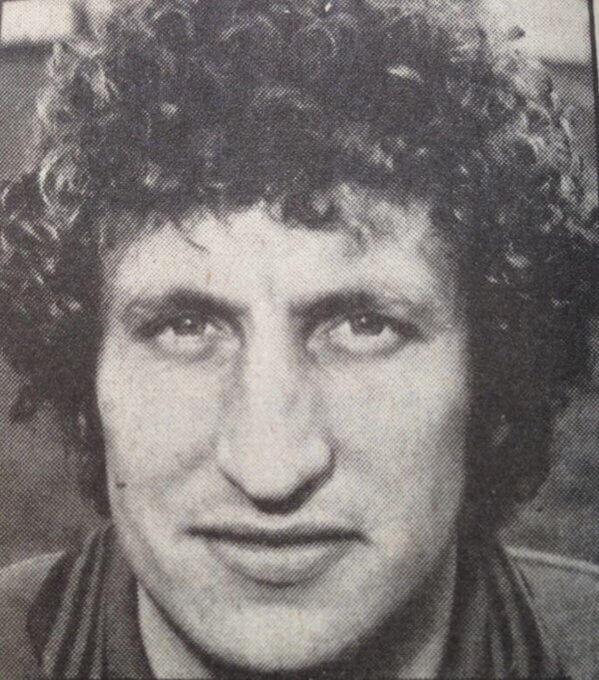 The February 2008 appointment of

Neil Redfearn to City's coaching staff (and our short term caretaker manager in November 2008) had me scrambling through my bookcase to locate "There's Only One Neil Redfearn", first published in 2006. From memory, the only City related incident that comes to mind is his spell as Neil Thompson's assistant as Boston won Football League status. He goes into chapter and verse on many subjects including Scarborough and Eric Winstanley, but neither City nor Colin Walker gets a real mention. His playing career being a series of highs, being dropped / unhappy and moving on. No wonder he did not make it as a manager. The book's dust jacket details the career of his ghost writer, Andrew Collomosse, a Huddersfield sports journalist. He seems to have written books about many West Yorkshire footballers and Yorkshire cricket stars, including his 1998 effort "On the Edge", a 140 page soft back book by Tom Cowan who was our left back during our ill fated 2002/3 season. Collomosse also collaborated with ex centre half (and father of George) Peter Swan in his 2008 book, "Swanny: Confessions of a Lower-League Legend", the foreword was written by Helen Chamberlain, presenter of Soccer AM. Swan had become a running gag on the show in 2000 when the show's production staff persuaded every footballing guest to say that their best mate in football was Peter Swan. Wilf McGuinness features his Old Trafford days strongly in his 2008 book, "Manchester United - Man and Babe", the less said about his time as City manager the better. To this day, I still cringe every time I hear his joke, "I took York City from Division 4 to Division 2 in successive seasons ... in reverse order".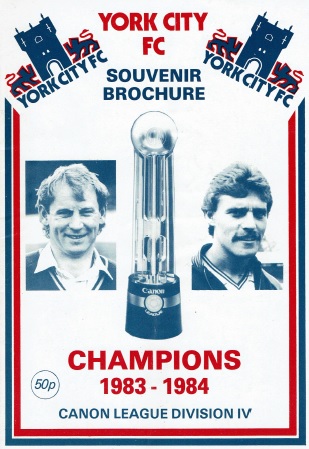 A more popular ex City manager Denis Smith published his biography, "Just One Of Seven", the title being references to both his spot as one of seven siblings and one of seven managers to manage in over 1,000 league games in November 2008. His time with City gets a good mention, his ability to see in players what others didn't is insightful, so are some of his disagreements with the board. He rates Michael Sinclair very highly and appears particularly proud of the number of his players who are still involved in top level coaching over 20 years later, including Roger Jones, Andy Leaning, Mal Crosby, Chris Evans, John Byrne, Sean Haslegrave and Ricky Sbragia. The publication was marked with a book signing evening at Bootham Crescent. Incidentally, the publisher is behind the "Know The Score" books, whose rooster features many fine books on Midlands' football. Elsewhere, Smith's 1984 Division 4 Championship winning season was celebrated with a 20 page club produced souvenir brochure. It contained all the expected content, but surprisingly, the biggest contribution was from physio Gerry Delahunt.

Many other books, too numerous to name check them all, also feature diverse mentions of City or City related incidents. In Steve Claridge's autobiography, he recalls being punched by a City supporter when about to take a corner as a youngster at Bootham Crescent. "Kicking In The Wind", a fly on the wall account of a season at Rochdale, includes a frightening insight into how another club viewed City's board of directors (or at least one board member) in the 1994/5 season when we beat them in The Football League Club to earn a trip to Old Trafford.

Manchester City fanatic, Colin Schindler has written a host of Manchester City themed books, "George Best And 21 Others" traces the careers of the 21 other players who featured in the 1964 FA Youth Cup semi final alongside Best. Manchester City's side included Phil Burrows and Chris Jones who later starred in our 1973/4 promotion season. The book, pieced together from a series of interviews with all the players, traces their careers from their early schoolboy days all the way through their professional careers. The book also features David Meek, for many years the Manchester Evening News' Manchester United correspondent and son of Wilf Meek, the former York City director and Malcolm Huntington's predecessor as The Yorkshire Evening Press City correspondent.

In 2016, nearly 50 years after he left City, Ted MacDougall published his autobiography, "MacDou-GOAL", written with the then Bournemouth club secretary, Neil Vacher. Given its authorship, it centres on Bournemouth and Norwich, 2 clubs where under John Bond, the best was seen of MacDougall, when Bond re-united him with Phil Boyer, a partnership born in York. His time with City is noted for players, their "pushbikes" and memories of Ron Spence's one treatment cures all injuries. Read More.

Meanwhile, "City Go Nap As Quakers Halt Slump" was a photographic effort centred around a 5 goal win for City over Darlington with lots of black and white photographs. In a similar vein, Tony Cole's "Home End: Scenes From The Final Days Of A Traditional English Football Ground", is an excellent limited edition, behind the scenes black and white photographic record of Bootham Crescent, published in December 2018, in what was expected to be City's last season at the old ground. Read More. Published in November 2020, his follow up, "All Gone Away" contains 190 black and white images of City's NLN trudgery and an intro by legendary photographer Kevin Cummins. Email Tony.

In 2011, Dave Roberts "32 Programmes" became a best seller. One man's efforts to prune over 1,000 programmes from matches he attended to just 32. Although growing up in the south east, he had a York City fixation from an early age and his 32 programmes contains one from the Aldershot v City game in March 1971. In his book, one chapter deals with each programme, here he tells the world about the game, the lengths a teenage boy went through to get his non plussed mates to go to see City and how he managed to mix up

Paul Aimson, his idol with Phil Burrows. Great eulogising, great reading.

On the day that Paul was born, the angels got together, and decided to create a team so good,
So they gave Ron Hillyard the goalie's gloves, then they young picked Chris Topping too (do-do-do, do-do-do),
That is why football fans in town,
Follow you all around,
Just like me, they long to see, York Ci-ty.

Whilst not strictly City, only the title was snaffled without permission, in October 2013, David Walker (Sunday Mirror, Sports Editor), published his book, "There's Only One Arthur Bottom", with the strapline "Football Icons & Cult Heroes". Players from each of the 92 clubs are profiled. For City, they are Barry Jackson and Arthur Bottom. Our entry struggles to creep into a second page (shorter than many clubs), but does end with a reference Josh Easby's worldwide daily newsletter. The front cover is illustrated with what could be considered to be a City player figurine. Inside, ex City players, Ted MacDougall (Bournemouth), Neil Grayson (Cheltenham) and Sam Bartram (Charlton) feature as their clubs' iconic players.

September 9th 2021 saw the publication of Gary Mills' biography "Young Millsy", written with John Brindley of the Non League Paper. Having managed 9 different clubs, after an illustrious top flight playing career, his 2 spells as City's manager take their place in his story. "The principles of competing and winning three points on a Saturday are much the same whether you're playing at Liverpool or Arnold Town. I've loved the journey and I'm still loving it and I hope that comes across in Young Millsy". As a manager, he said, "I've not tried to copy Brian Clough or any of the managers I played for but I would have been daft not to learn lessons from them. I have always kept things simple, encouraged my players to enjoy their football and built a club spirit. I once asked Jon 'The Beast' Parkin what he normally did on a Friday before a game and he said 'drink six pints'".

Also published in September 2021 was Jackie McNamara's biography "His Name Is McNamara" which covers a long and often illustrious career in which its claimed, "Jackie pulls no punches as he gives us the inside track on a career at the highest level of the game and the battling qualities he needed to succeed. It was those qualities that he drew on when his life was threatened by a brain aneurism in early 2020". Most of the book covers his playing time in a rather dry and bland format. Career progression and wins over Rangers to the fore. Just about only Craig Bellamy comes across as a "bad guy" whilst with Wolves the healing hands of Glenn Hoddle couldn't help with a serious cruciate injury but caused much merriment with the back room staff. One of 5 out of contract senior Celtic players in the summer of 2005, negotiations didn't start until new boss Gordon Strachan had replaced Martin O'Neill in June. Having wanted a 3 year deal in 2004, he'd settled for a one year deal, effectively on reduced terms as part of the deal meant some money being paid as a bonus at the end of the contract as a bonus for Celtic retaining the league title (they didn't). His book mentions a £30,000 a week deal and that he accepted an accumulated drop of income of £200,000 when signing a 2 year deal with Wolves. He portrays his contractual dealings with Strachan as being more along the lines of giving his opinion on potential Strachan targets, they included being asked "would Derek Riordan fit in at Celtic", maybe a portent of things to come. Maybe given Celtic's parsimonious nature that none of the 5 out of cvontract players had much of a future under at Celtic under Strachan. Personally for me, the book got caught my attention when he moved into management. In his first role managerial role at Partick he showed innovation to stretch his management budget and brought in various specialists (life coach, awareness coach and fitness coach) to get the most of our his players. He exceeded expectations in his first season and had Partick in a title winning position when he left for Dundee United in the following January. At Tannadice, his player sales saw the club's overdraft drastically reduced. It is fair to say that during his tenure, the fortunes of both clubs improved and they played an attractive style of football. Equally, he left both clubs under controversial circumstances (firstly over compensation and then over rumours regarding his cut from player sales). His time with City is covered in an 18 page chapter, "A City Interlude", the first 3 pages being dedicated to his previous managerial roles. An out of the blue call from Jason McGill lead to him being appointed City's manager, he freely admits he knew nothing of City or League 2. Despite City having a budget similar to Dundee United (SPL), he felt the standards were lower, indeed he states that his coach, 40 year old Simon Donnelly was the best performer in training. His "babes team" is glossed, other than maybe suggesting the division's higher placed teams played the better football. The only players to be named are Marvin McCoy whose response was "too much information, man" when McNamara gave him instructions to "get tight, don't let him cut in and get on his right foot" when facing Adam Hamill and Jonathan Greening who McNamara suggests had an upcoming social event so might had deliberately wanted to get himself sent off at Portsmouth. He also recalled the "President's Club" (sic) providing funds to buy GPS equipment to help to improve player fitness in training. McNamara goes onto say how a persuasive Jason McGill had to talk him into continuing as manager when City were relegated to the National League and again to take the CEO post. No mention is made of the train ticket incident.

Clarke Carlisle

In September 2013, Clarke Carlisle told of his last season as a professional player in "You Don't Know Me, But ... A Footballer's Life ", a season which featured 3 months with City before he walked out to sign an 18 month contract at Northampton, only to announce his retirement 6 months into that contract. Having decided to retire at the end of the previous season, the 2012/3 season kicked off with Clarke on the sofa, either at home or in the Soccer AM studios. From £8,000 a week at Burnley, he turned down £1,500 (or £1,200 as per the Undr The Cosh podcast) at Northampton and £800 a week at Burton in favour of retirement. He soon realised his yearning to play remained as strong as ever and used the Soccer AM show as a last ditch plea for a club. He got a call from Gary Mills (when he had 2 centre halves injured), medical passed, contract signed (a grand a week plus a ton for each appearance and every clean sheet) and he was in the side against Oxford despite no pre season training. Somehow he got through the game as we won 3-1. He tells some interesting tales and sounds like he soon became the dressing room seasoned pro to whom the younger players looked up. He tells of Jamal Fyfield and Jon Challinor greco – roman wrestling in the dressing room before a game when a snatched programme was thrown into a dustbin and a prank got out of control, recriminations and retributions in the dressing room when Gary Mills held an open forum into a defeat, mixed messages from Mills and his coaching staff, negative shouting from the bench, demoralisation of the front players and a particularly telling tale of Michael Potts being admonished on the training ground after, in Clarke's words, he executed 7 or 8 good passes before one failed. Mills stopped the session and pilloried Michael Potts for the one failed pass. When sitting, injured, in the main stand, he again noted negative shouts from the very top down.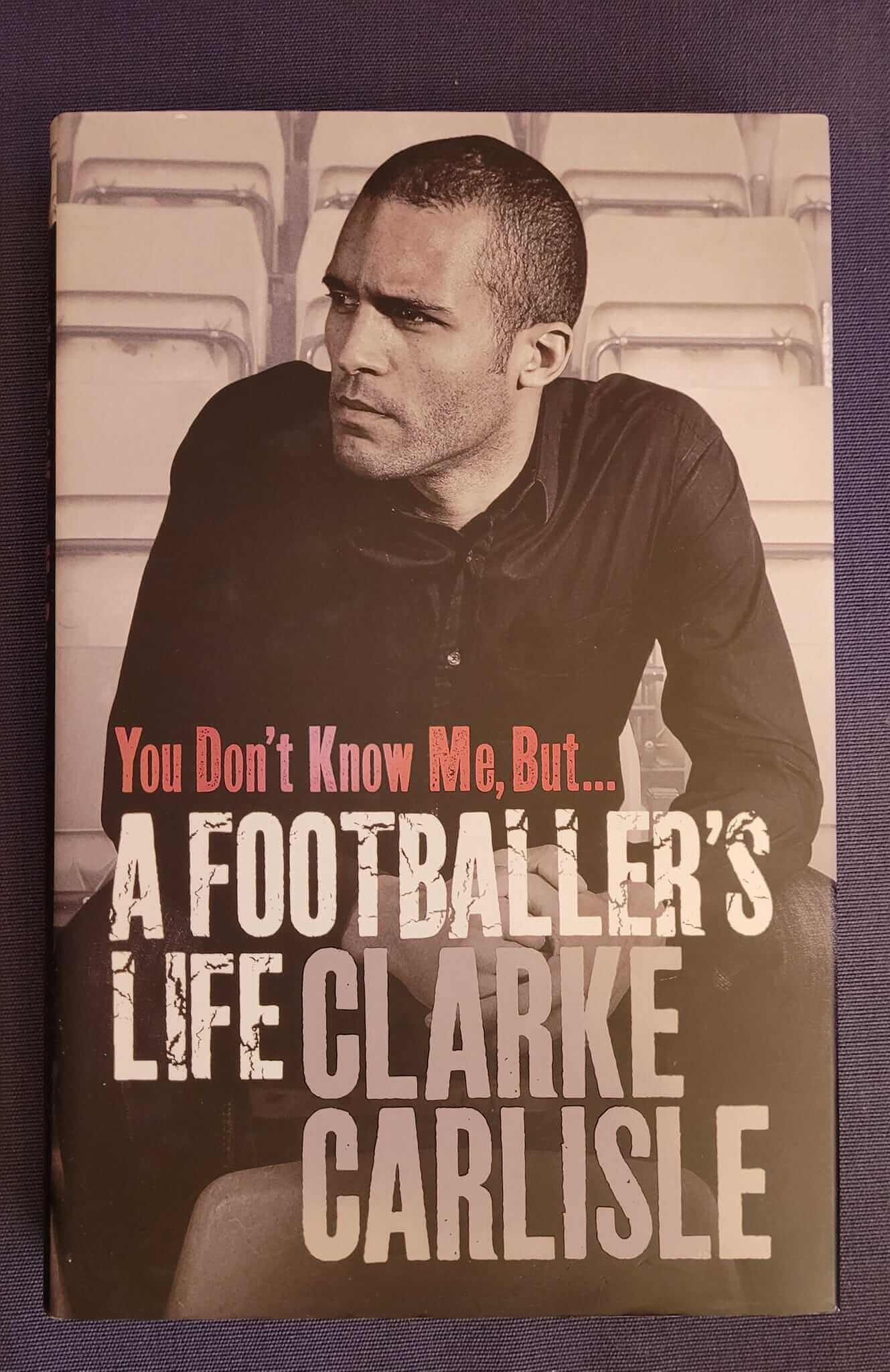 On a 3 month short term contract, Northampton kept sniffing around and offered £1,400 a week plus £200 a game appearance money, something which Mills told him City could not match. Carlise also felt his rugged style of play was more suited to Northampton than Gary Mills' footballing side. By the time it came for Carlisle to sign his contract, Northampton's terms were reduced which meant his contract was effectively worth less than he'd been on at City when his travel expenses were taken into account. Signing an 18 month contract, he was on the losing side in the end of season play off final and tjhen announced his immediate retirement (ripping up the last season in favour of ITV punditry work). Elsewhere, he covers some of the PFA related issues he dealt with, including Kick It and Reginald D Hunter, as well as anecdotes from his earlier playing career. He gives the impression of always having a smile on his face, a positive attitude and well respected by teammates (maybe not to a manager's liking) and opposition alike, possibly someone a manager might even consider a threat. Overall, he seemed to have enjoyed his time at York. His book goes inside the dressing room, profiles the life of a journeyman pro, albeit quite an unusual one. Available in all good libraries.
A month after Carlisle's book, Sir Alex Ferguson's second biography, "Managing My Life" was published, it contained no obvious references to City.
Some other books with City connections:
Published in April 2012, "Thanks For The Memories" saw Roger Eli, he had a month on loan with City in 1988, recall his career with a foreward from Alastair Campbell.
"Box to Box: From the Premier League to British Boxing Champion" - Curtis Woodhouse (2016)
In his autobiography, "You Can Have Chips: The Autobiography Of Steve Wignall", he tells of a game in November 1985 when Brentford visited York on a snow covered pitch with soft underfoot conditions. He notes Keith Walwyn and Dale Banton had already scored 23 goals in the first 4 months of the season, so with both sides, separated by one point the top 7, a tough game was expected. Wignall (and his defensive partners, Terry Hurlock and Terry Evans) were expecting a tough game. "We were heading for a clean sheet. Not many teams would manage that Bootham Crescent that season. Late in the second half, a loose ball dropped between me and Walwyn. Most centre forwards would just try to nick the ball as the defender flew into the tackle. But not Keith. He competed for every ball with anybody. It was a 50:50 ball so we both launched into the challenge. Unfortunately for me, my back foot slipped on the dodgy surface and I arrived a little too early for the ball. I knew the second we made contact I was in trouble". Wignall limped on until the end, but his right medial knee ligament was torn and he was out for 3 months whilst Keith Walwyn went on to score a late winner.
"An End Of Innocence" (published February 2021) covers English football from 1945 through to 1970, a period when the game went through enormous changes. Across nearly 400 pages in 68 short chapters, author Tim Quelch illustrates the changes by detailing seasons, teams and games alongside the evolution of the game, including player contracts, the match ball, a players' place in society and match preparation. One of the longer chapters, "The Winter Of Our Content" covers City's run to the semi finals of the 1955 FA Cup and provides plenty of reasons why many of that side should be included in a best ever City XI. Tim Quelch's masterly use of language brings to life our cup run. His latest book is a worthy successor to his earlier works which coverage Burnley FC, Sussex CCC and football and cricket in general over the last 70 years.
Tony Collins made only 10 City appearances in his only season (1949-50) with City. A journeyman player, one of many to pass through our club's doors, he went onto have a lasting impact on the game. City's first black heritage player, as he was at 5 clubs, he became the League's first black manager in 1960. Later, as a well respected coach and scout, he worked at Leeds and Manchester United under Don Revie, Ron Atkinson and Alex Ferguson. Once described as "a pioneer" by Roy Hodgson, in July 2016, his biography, "Tony Collins: Football Master Spy" (a reference to the famous dossiers he produced on Leeds' upcoming opponents for Revie) was published. The book co-authored by his daughter Sarita and Quentin Cope.
"The Truth Book Of Soccer", a 1974 New Zealand publication authored by a certain Josh Easby. The City connection extends to the front cover which features Phil Boyer. Read in full.
"Addicted To Football", the biography of Jon Newby, a March 2004 centre back City loanee from Hudddersield, who started his downwards 15 year journey with one Premier League game for Liverpool was published in March 2022 by Pitch Publishing. His story gives a fascinating insight into the world of the journeyman player.
No clues for guessing the focus of George Mallett's "Potter, Hopcutt and a Desk in East London: The Story of Östersunds FK's European Adventure" published on April 3rd 2023. It follows Graham Potter's time at Ostersunds FK (OFK) in Sweden from the perspective of 2 City who first saw him play when we got pumped 3-0 by Exeter City in 2001. In Sweden, Graham Potter's name kept cropping up alongside former academy man Jamie Hopcutt. As a passing interest becomes a full blown obsession, the pair follow Östersunds across Europe, from a war torn Ukraine to a Howard Kendall themed bar in Bilbao, to a defining Europa League last 32 night at the Emirates. Fascinated by the people they meet along the way, the pair discover a team of misfits rejected at almost every level, a fan base confused by their Scandinavian fascination and a club not afraid to do things differently while knocking out some of Europe's most storied clubs. The book touches on the 2003 Save City campaign, the memories of Bootham Crescent and those small moments that make you fall for your team (including a Jimmy Sangare header versus Stevenage). The book gets at what it is that attracts us to the underdog, telling the story of a collection of dreamers from all over the world who rose from Sweden's Division 4 to knock out some of Europe's biggest clubs. More and buy.
Published in April 2023, "Galvinised! The Footballing Tale of Brothers Tony and Chris Galvin", written by David Saffer, tells the footballing story of brothers Tony and Chris Galvin, it involves sibling rivalries, family fall outs, the lesser talented brother going further in the game as well as international tales and playing football in China. Read more.
x
x
Chris Jones
Late 2014 saw Chris Jones publish "The Tale Of Two Great Cities".
Growing up in south Manchester, Chris attended a grammar school in Altrincham, got spotted by Manchester City, travelled half the length of Manchester twice a week to train in the evening and had arguments with his rugby playing school over his football commitments. Jones seems to have spent his formative years dreading the day he got rejected by Manchester City, his dream over. Recently, reading a Matt Busby biography, you could believe the red half of Manchester were throwing money at every teenager (and their parents) with a modicum of ability.
There's some interesting behind the scenes tales at Maine Road. Starting with his open trial where he turns up a s a centre forward, registers as a right winger when he see the number of strikers, is changed out of his kit thinking he has failed when he overhears a coach tell an old lady he can't find Chris Jones. Coming through the ranks at Manchester City, he never quite made the grade although he did make 2 appearances for them in their 1967/8 Division 1 championship winning season. Francis Lee was a big money signing early in the season and Jones' fate was effectively sealed.
Moves to Swindon and Walsall followed, neither quite worked out, its probably fair to say that he was eventually forced out of both clubs.
He joined City in the summer of 1973. Having played against City just before the end of the previous season, he'd a tough game against our back four and had been foiled by Graeme Crawford, he was confident of City's defensive abilities, he even compared our defence to Swindon's 1969 League Cup winning defence and suggested that Graeme Crawford was the best keeper he ever played with.
From that game, Jones's fellow Walsall striker, the bearded Bobby Shinton who later played for Manchester City and Newcastle United wasn't spared, "'Send Jesus over here and I'll crucify him,' said John Mackin. He portrays the whole back 4 as being thugs and assassins. "As I (Jones) pulled myself up off the ground from yet another scything tackle, I looked up to see who hammered me and there was Barry Swallow, saying 'Great tackle, send him over here if he gets up and I will have a piece of him'. Then another piped up and said, 'If he comes over here he will get even worse treatment'. That turned out to be John Mackin, and I thought what a vicious bunch of thugs York had for a defence". Myself, being very young at the time, I was surprised about that, he describes Chris Topping as having the most vicious slide / scissor tackle he ever came across. My recollections of a mild and meek Phil Burrows were blown apart.
On his arrival, manager Tom Johnston told Jones he'd have to score the goals as strike partner Jimmy Seal had lost all his confidence. Drilled by coach Colin Meldrum, he spent pre season closely with Jimmy Seal and the midfield to ensure the strikers were always on the move and that the midfield knew exactly where to play the ball. He credits Meldrum with City's success that season.
The rest is history as Jones and Seal's goals were the icing on the cake as we gained promotion to the second tier.
Jones describes the 1-1 draw against Oldham which clinched promotion as the greatest day in his football career. Watch this game and some of the following season's Division 2 now.
Jones' portrayal of Tom Johnston as a dour Scotsman is easy to believe. Jones portrays a continual under current of distrust in the manager, both before and after his arrival resulting in player's meetings and votes of no confidence in the manager including bug infested showers.
For Jones, the unrest reached a peak just before the start of the 1974/5 season with Phil Burrows failing to agree a new contract with City and a dispute over the reduced number of match day car parking spaces in the ground for the players for the 1974/5 season spring to mind. Burrows' departure and the breakup of City's defence being seen by Jones as the start of City's decline.
Johnston comes across very much as an office bound manger, leaving the training and coaching to Billy Horner and later Colin Meldrum. A popular dressing saying of the time was, "in spite of him (Johnston), we will succeed". Jones theorises that the players were united in their dislike of Johnston which engendered a good team spirit.
Jones does credit Johnston as being one of the few managers he had the belief in Jones' goalscoring ability to make the difference in a decent side. Despite a brace in both games, I suspect Jones rues the games against Fulham in 1974/5. He scored 2 in each game, a disallowed goal at The Cottage and not being allowed to take a penalty in the return denied him hat tricks against Bobby Moore.
With Wilf McGuinness replacing Johnston as manager, City visited Old Trafford at Easter 1975. Making his first return as a manager to Old Trafford and hearing applause from the Stretford End, he urged his players to jog towards them and give them a round of applause. As McGuinness and the players walked forward, the applause turned to boos.
Jones recalls an incident a year later on a post season trip to Majorca, the night of Brian Pollard's 21st birthday. McGuinness told the board that his twin brother whom he'd not seen for many years was coming and he had to go to the airport to collect him. Half way through dinner, there was a kerfuffle at the door and a rather loud, garrulous strode in, "Where's Wilf? I'm his twin". With plenty of hair, checked jacket, kipper tie and Cuban heels, "Where's Wilf?", he demanded. He was sat down near the chairman and told him that his brother would be back soon. Not soon enough, in his loud Canadian accent, he demanded to meet "Wilf's team" and began insulting the players. Still no Wilf, but Pollard's birthday cake arrived. In Wilf's absence, Barry Swallow stood up and said a few words about Pollard. As he raised his glass to toast Pollard, he brushed his glass against Wilf's twin's wig which fell off exposing the twin as Wilf. Joke over. It had gone on for much longer than the players, who'd been in on the secret had expected. Chairman Bob Strachan, a dour Scot, was not amused. The evening ended with Dennis Wann gently nudging McGuinness into the pool. Maybe that might was the beginning of the end for McGuinness at City, but closely resembled some of his time as Manchester United manager when he seemed still to be a mate of the players when he should maybe have been closer to the board.
The next season, Jones fell out of favour as McGuinness tried to put his own stamp on the team. John Stone was injured, Barry Swallow was getting no younger, as were Lyons and Butler. Upfront, McGuinness favoured a Hinch / Cave partnership over Seal / Jones. The rest is history.
Jones speaks highly of Barry Swallow's leadership skills, describing him as "a great motivator with similar characteristics to Malcolm Allison" and noting similar traits of confidence, aggression and arrogance between the 2.
Jones' playing career ended with a whirlwind tour around some lesser northern clubs, including a spell at Rochdale where poor performances lead to manager Bob Stokoe fining his players for not trying. A players' dispute followed which featured on the BBC news with Bob Stokoe directing the reporter to ask each of his strikers why they weren't scoring more goals. It wouldn't happen today.
Throughout the pages, Jones touches on the changing social history of the times, including the big freeze in 1962, the 1973 miners' strike and the 1978-9 winter of discontent. His footballing career brought him close, too close for comfort, to Robert Kennedy's assassination in 1968 and the IRA's mainland bombings in 1975.
PS I won't say anything about the grammar and spelling. We have Bryan and Brian Pollard within a couple of pages and the apostrophe seems to have gone totally missing in the photo section.
The Tale Of Two Great Cities, priced at £14.95 hardback and £10.95 paperback is available to order here.
Jon Parkin
In September 2018, "Feed The Beast", an honest, no holds barred, autobiography of Jon Parkin was published. The first by a current City player and possibly the last from a player from the "refuelling" era. John "The Beast" Parkin isn't your average footballer and admits he'll go down as "the last of a dying breed, just an average fella from Barnsley who ended up playing football for a bit". With its large typeface and double spaced lines, it is an easy read.
On his debut he recalls, "I wasn't going to be involved that night for the game. So I met up with a girl who I knew and ended up having a bit of a cheeky afternoon and then went for fish and chips. I ended up being sub and having to come on at half-time and obviously I'd just had fish and chips and a bit of nookie in the afternoon". Before City, first time around and not enjoying his football, he enrolled as a nursery nurse. It was going really well and he got on a placement doing 2 nights a week for four hours after training and all day Wednesdays on placement. But then an injury at York put pay to Wednesdays off and an end to any thoughts of being a nursery nurse. During a 2007 Stoke pre-season tour to Austria, he smashed up a golf buggy. With the urge to put his foot down, the buggy raced to the bottom of a hill, skidded out of control, Parkin jumped out, but ended up paying £1,200 to fix the damage. Bandaged up, he wasn't going to miss the Real Madrid friendly. After the game, he asked and got Fabio Cannavaro's shirt. Cannavaro taped him on his shoulder, not speaking English, but gestured at Parkin's shirt, an incredulous Parkin, "What?! You want this?' Why on earth does he want this? He's won the World Cup and I can imagine he's got shirts from everybody and anybody and he's asked for my quadruple XL Stoke shirt". There are similar anecdotes in his book, many revolve qaround refuelling.
What shines throw is Parkin's love of his son Oliver, he has always been at his happiest when he has been able to live close to his son and his strong relationship with Tim, his career long agent.
Regarding City connections, Parkin praises Colin Walker, for giving him his first YTS and professional contracts at Barnsley as well as Eric Winstanley and Bob Widdowson who were significant influences on a young Parkin, Terry Dolan for signing him for City at a time when Parkin was close to quitting his footballing career and Jason McGill / Gary Mills for bringing him back to York. He also recalled earlier misdemeanours at York when the chairman wanted to sack him and a mud throwing incident under Chris Brass.
Along the way, he reveals Alan Irvine to be the best manager he played for. Read More
City History: Dave Batters - York City: A Complete Record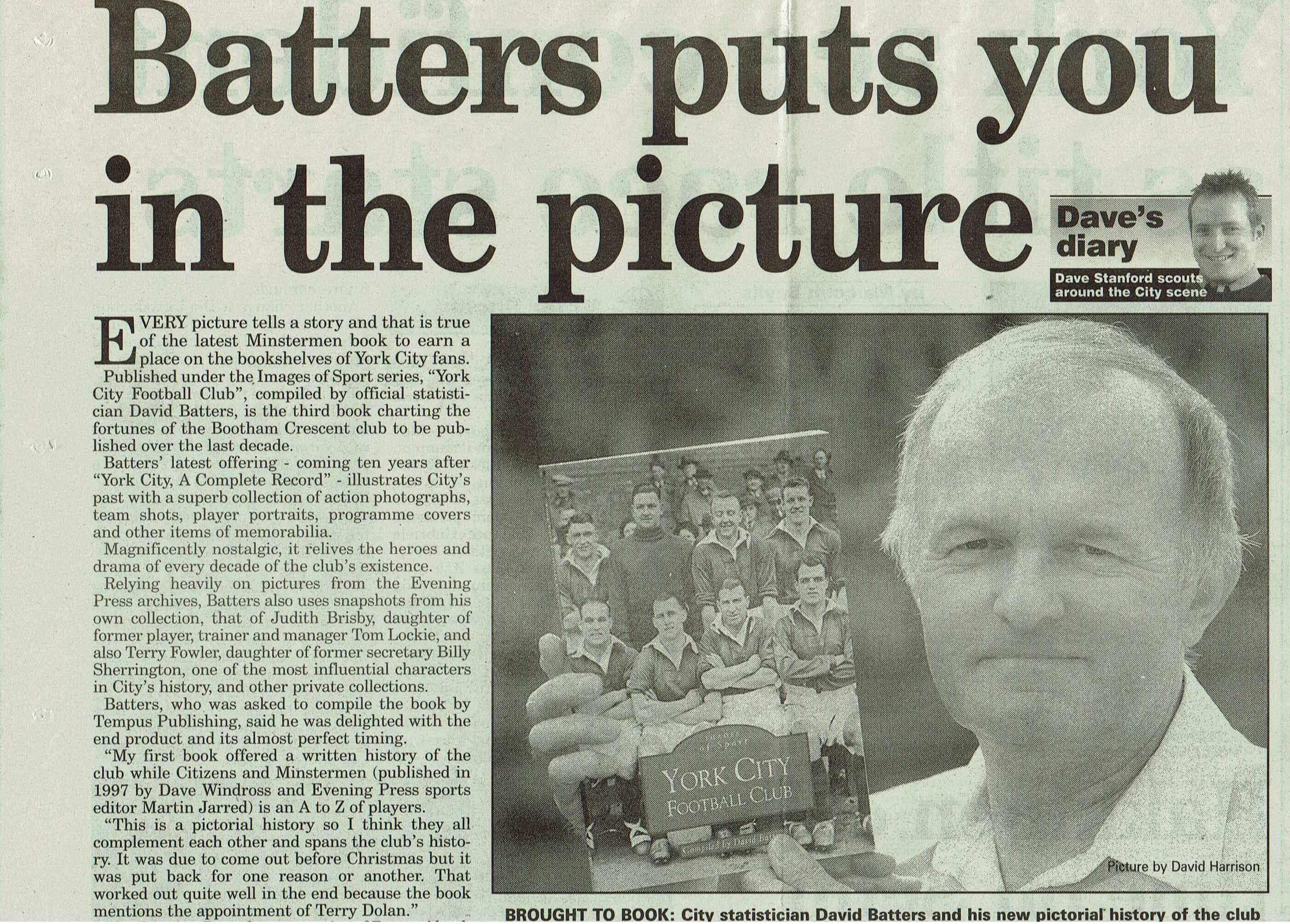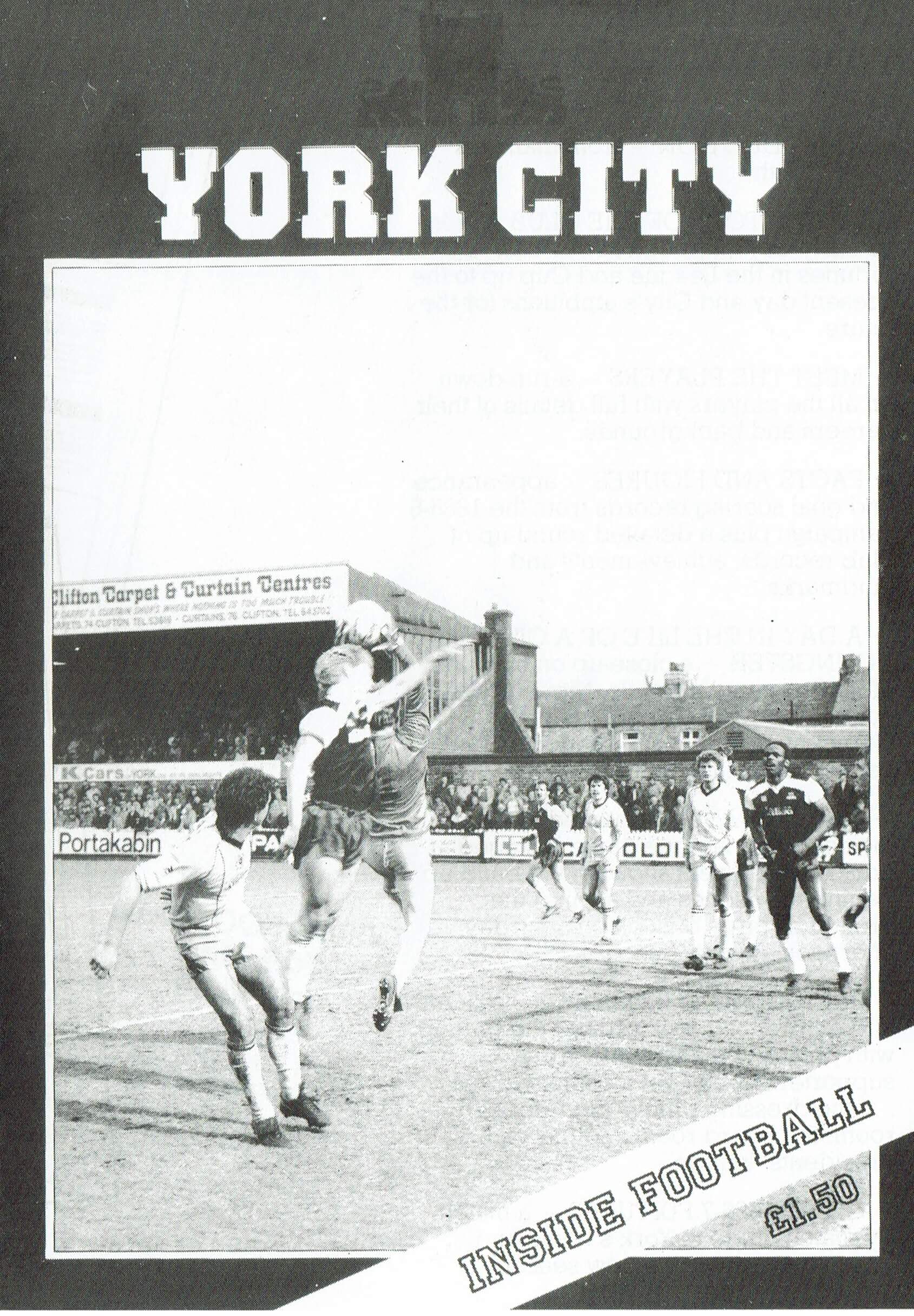 Drawing on his extensive personal City archives, Dave Batters produced the definitive City book in "York City. A Complete History". It was the first book to cover City's entire history.
First published in 1990, the first half is an account of City's history whilst the second half features pen pictures of every manager and many of our more prominent players. It finishes with a statistical section including a full list of results and playing careers.
Having started out as an independent project, it was published as part of the Breedon Books series, which covered most of the 92 league clubs in the late 1980s and 1990.
An updated version was published in 2008.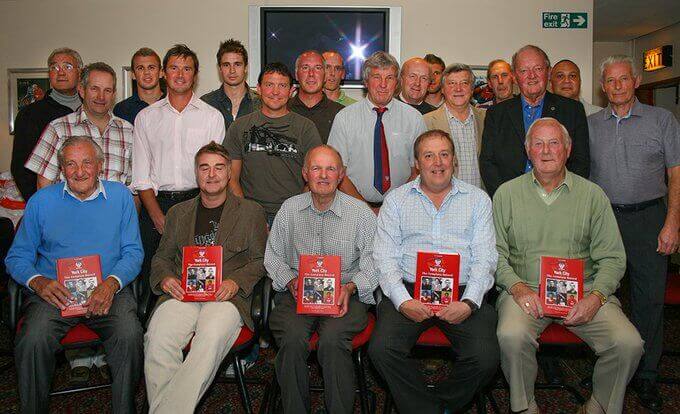 Both books provide a definitive history of York City, including results and line ups from every match, player and manager profiles, details of cup runs and promotion seasons, the history of City's grounds and much more.
In between, in April 2000, Dave published, "Images of Sport - York City", a Tempus publication, sometimes known as "York City Football Club: A Pictorial History".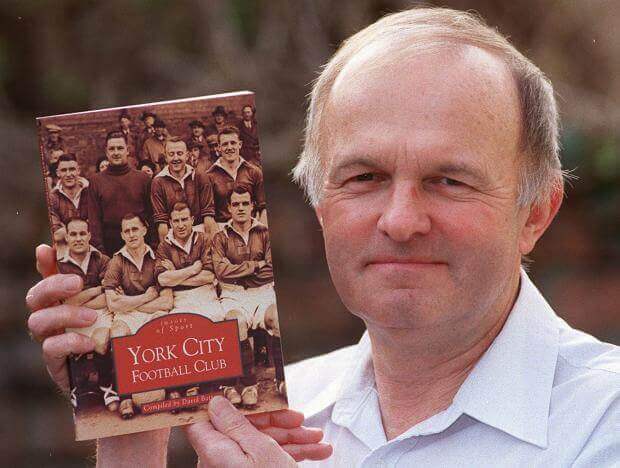 Dave attended his first match as a nine-year old during the 1948/49 season and was a lifelong York City supporter until his death at the age of 75 in 2014.
A labour of love, Dave compiled a massive collection of City newspaper cuttings, programmes, statistics and other paraphernalia. The information became engrained in his memory and he was the "go to" person to settle any City related argument.
He began contributing to the programme in 1974 by submitting a 'Memory Lane' feature and soon became the club historian. His archive was also frequently referenced in The Yorkshire Evening Press. Later, he drew upon this archive to create books that became the York City bibles to many fans.
Always cheerful and genial, Batters was also a familiar face around Bootham Crescent on matchdays as a co-commentator and summariser for York Hospital Radio. Indeed, the only time I ever saw him angry was when discussing the fate the Douglas Craig inflicted on the club.
City History: Other Early Publications
In September 1987, "Inside Football - York City" was available from the club shop at £1.50. Believed to be an independent publication, it covered all the bases, including history, meet the players, facts and figures, behind the scenes and more.
In 1987, Malcolm Howe published "In Search Of York City", in which he recounted his memories of the first 81 grounds on which he's seen City play since he saw his first City game in 1964. The book is amply illustrated with photos of the day whilst Malcolm's words bring back good memories of City's former days and players. It is an enthralling read, but sad to see so many of the grounds pictured no longer exist. Knowing Malcolm and Linda Howe are still regular supporters in 2019, I'm sure they've got more than enough material to publish a second volume.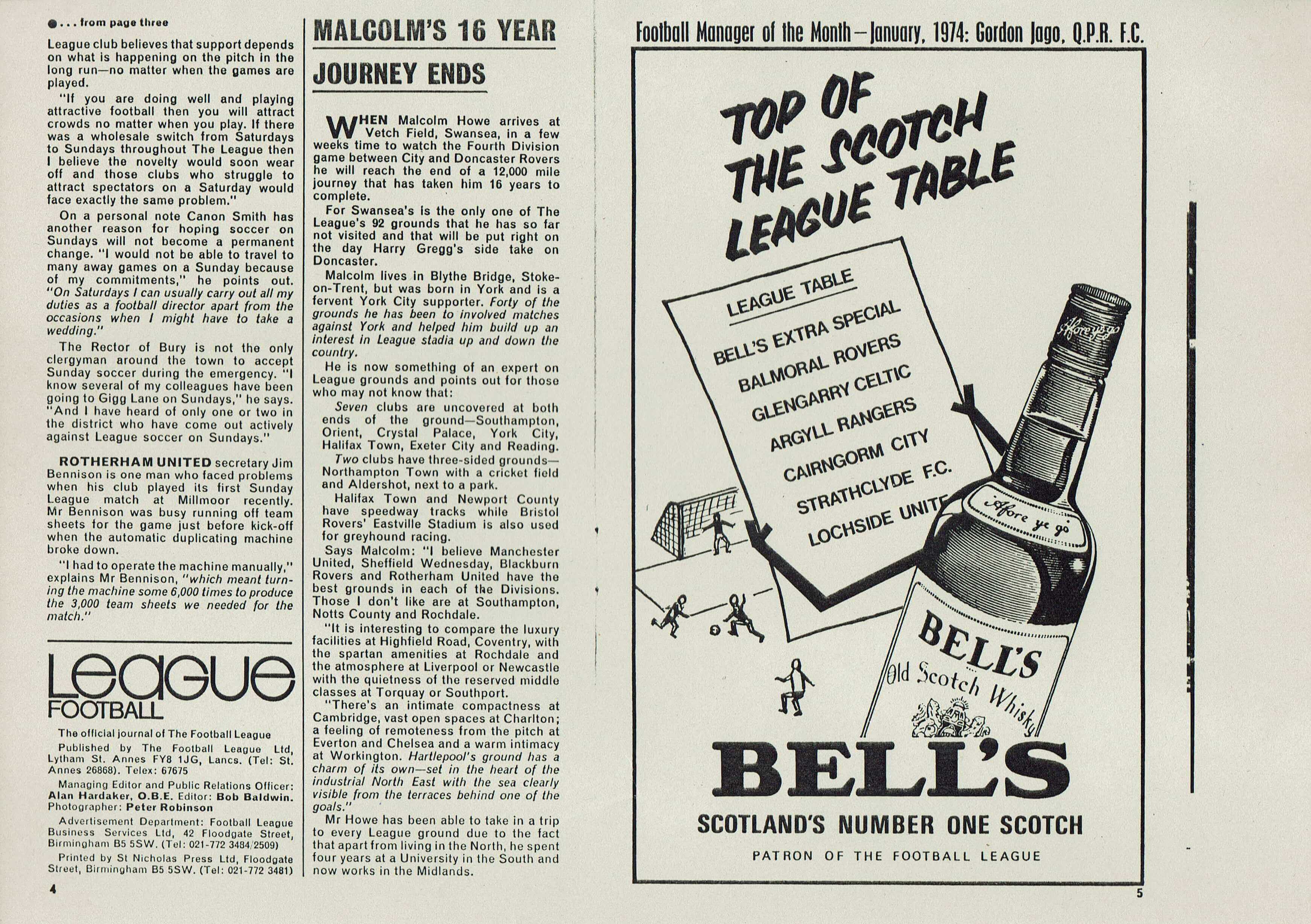 1989: York City Facts & Figures (Windross/Edwards)
1996: Whose Turn is it for the Brain Cell Today? Fan's View of 95/96 season (Steve Mann)
1997: "Citizens and Minstermen, A Who's Who of York City FC 1922-1997", co-authored by Dave Windross and Martin Jarred, features pen pictures of all the players to have played for City, plus managers and chairman as well. An easy to reference who's who of City.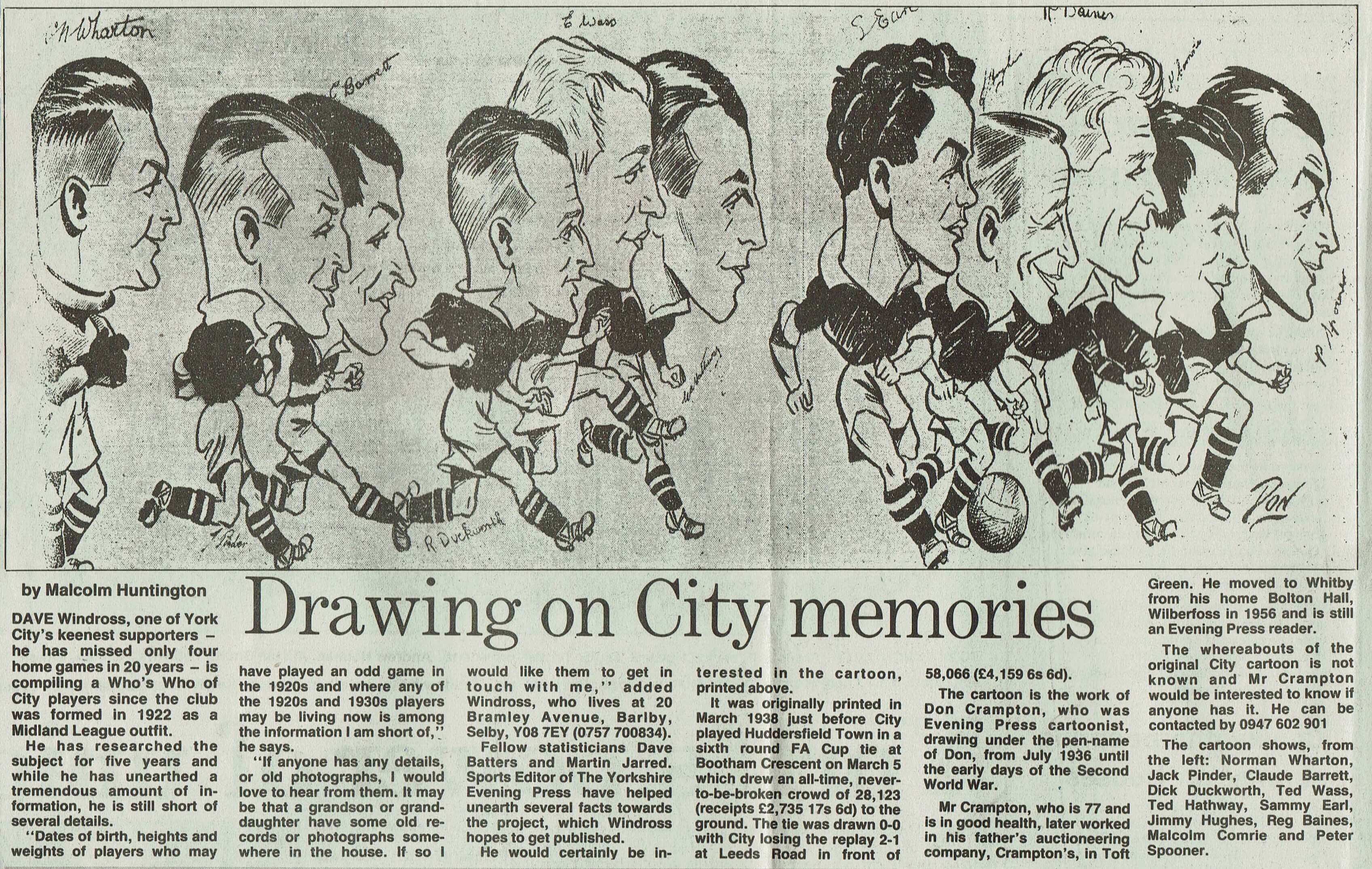 Neil Jacques' "York City Remembered - a Personal Recollection", does exactly what the title suggests, written by a step son of a former City director, it is hard to put down. All profits went to The Supporters Trust during the dark days as the Trust sought to gain control of our club.
Personal Favourites
My favourite City book is Garry Beckett's (aka Garry Vaux), "City Memoirs" for a quick dip into City across the years. First published in 2001 this unique collection contains a multitude of memories, both happy and sad, from behind the scenes at Bootham Crescent providing a unique insight into this wonderful football club and recalls some of the characters who have walked through the gates and stepped onto the Bootham Crescent pitch. Its once again available as a download. It features over 20 former City players in their own words recounting their time at Bootham Crescent. A myriad of images are presented, many don't show the club in a very good light, infectious diseases in the dressing room, lack of respect for managers, lack of respect for players, I could go on. I'm sure nearly every City supporter will find interviews with some of their all time City heroes from Jack Pinder to Tony Barras and Paddy Atkinson. For me, the chapters where a City player was diagnosed with a life threatening illness after City's first Wembley appearance and the manager who was ignored by the players on the training ground were particularly revealing. Incidentally, its author, Garry Beckett is the publisher of Bicycle Kicks. Small world, although Simon might have disagreed when he was in the saddle.
My non City favourite book award is shared between and "Kicking Against The Wind" for the perennial struggles of Rochdale, including an unsavoury away day at Bootham Crescent and the extortionate wage demands of Gary Bull. Another fine read is the Robin Friday book, an account of the brief career of a lower division Rodney Marsh. For football humour from another era, try one of Fred Eyre's early books.
Recent City Books
The recent years have spawned a cottage industry in City books, each documenting our progress over a specific time period.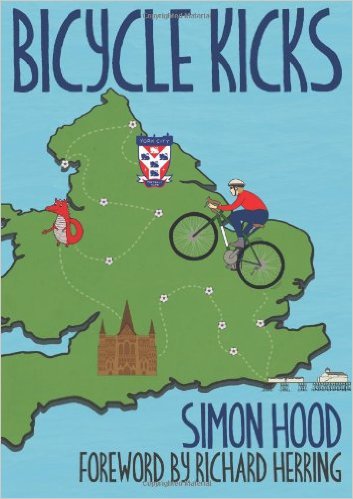 "Bicycle Kicks", Simon Hood details his season long travails following City across the country in the saddle. Sick of drifting aimlessly through his thirties, he gives up his job and flat to embark on a unique adventure. A lifelong York City supporter, he sets out to cycle to their every match over the course of a season. York are languishing in the fifth tier of English soccer; home to footballing outposts as obscure as Ebbsfleet, Histon and Nailsworth. What follows is a ten-month, fifty-match, 10,000-mile pilgrimage taking Simon from Tyneside to the Sussex coast, from Cumbria to Kent. Along the way he rides through floods and snow with friends old and new, meets a Knight of the Realm, breaks a couple of bikes and battles with The Bonk. Would he make it to each match in time for kick-off? Would he resist the temptations of public transport? Would the team rise to the challenge and reward his efforts with an unlikely shot at glory?
Buy It
Facebook It
Simon's Page
Paul Wilson's "City Are Back" 220-page book chronicles the double Wembley season of 2011/2. More details He portrayed the following season (2012/3) in "The Joy Of Sixfields (The Minstermen Survive)" which was published in December 2013. It's a tribute to his friends, fellow City fans, Ted Clark and Bill Barton who died earlier this year. It tells the story of York City's first season back in the Football League and once again shows the joy and despair endured by all football fans following their team. It culminates with City retaining their Football League status, in what was a magnificent end to the season, the turning point being at the Sixfields Stadium with a win over the then high flying Northampton Town, giving them the platform and confidence to end the season in style. Its produced in a limited edition and has 256 pages with photographs, match reports, league tables and statistics of York City's return to the Football League. It costs £15 and can also be purchased directly from Paul himself, please phone him on 01423 325295 or online Read More
In "York City: Fighting Back", Dave Flett, City correspondent of The Press chronicles the eight-year journey that York City underwent to regain their Football League status and the dramatic fight to stay up during their first season back. In 2004/05 optimism for a swift return was high, but ultimately misplaced as signings like Paul Robinson failed miserably to live up to expectations. In total, the team visited the new Wembley Stadium four times as a non-League club, having also been beaten in the 2009 Trophy final, the 2010 play-off final, and played Premier League clubs Bolton and Stoke in the third round of the FA Cup. York faced the realistic prospect of oblivion twice during campaigns in which they narrowly escaped relegation. After two failed attempts at promotion via the play-offs, York City achieved a historic Wembley double when they triumphed in both the FA Trophy and Blue Square Bet Premier play-off final, sparking sensational scenes of celebration in the city. Despite plying their trade at the club's lowest-ever level, it was a colourful period in the Minstermen's history, and their return to the Football League proved just as enthralling. The illustrated 96 page book, which is the latest title in Amberley Publishing's extensive Sports series, is on sale priced £14.99 and is available at the York City Club Shop. Read More
In early 2014, Dan Tait, later of York Hospital Ball fame, chronicled his 20 year odyssey of watching City "through thick, thin and thinner" in his book "Keep The Faith" Read More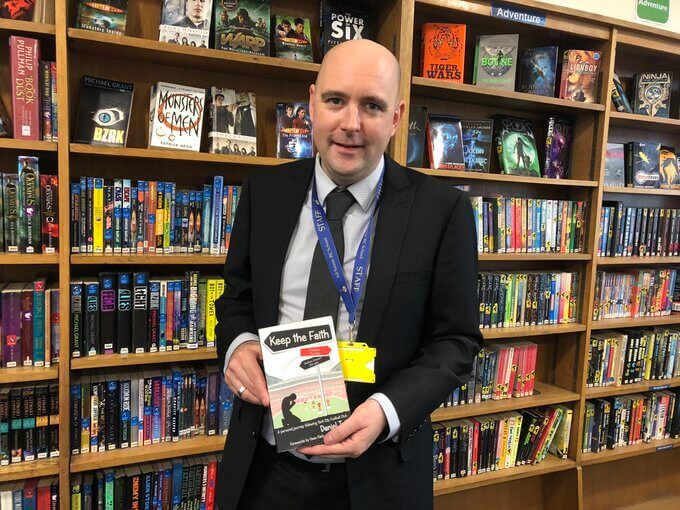 City Fanzines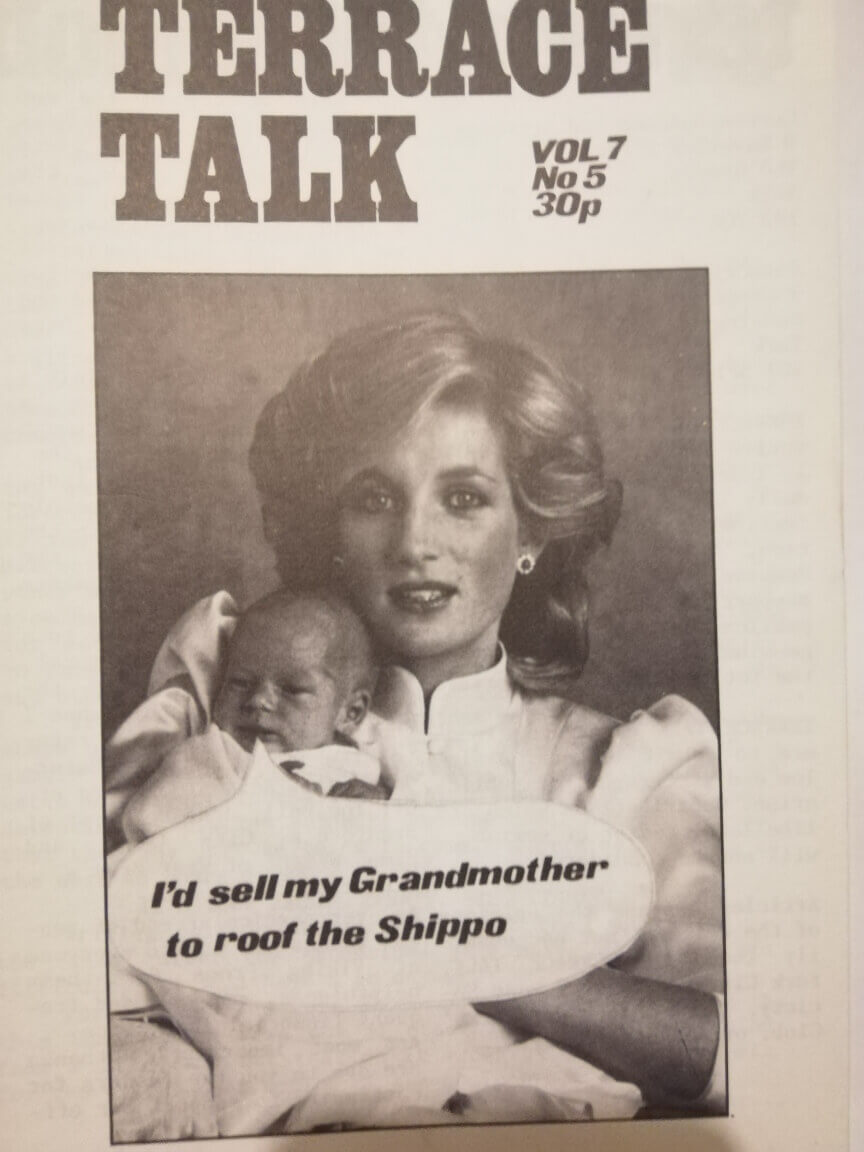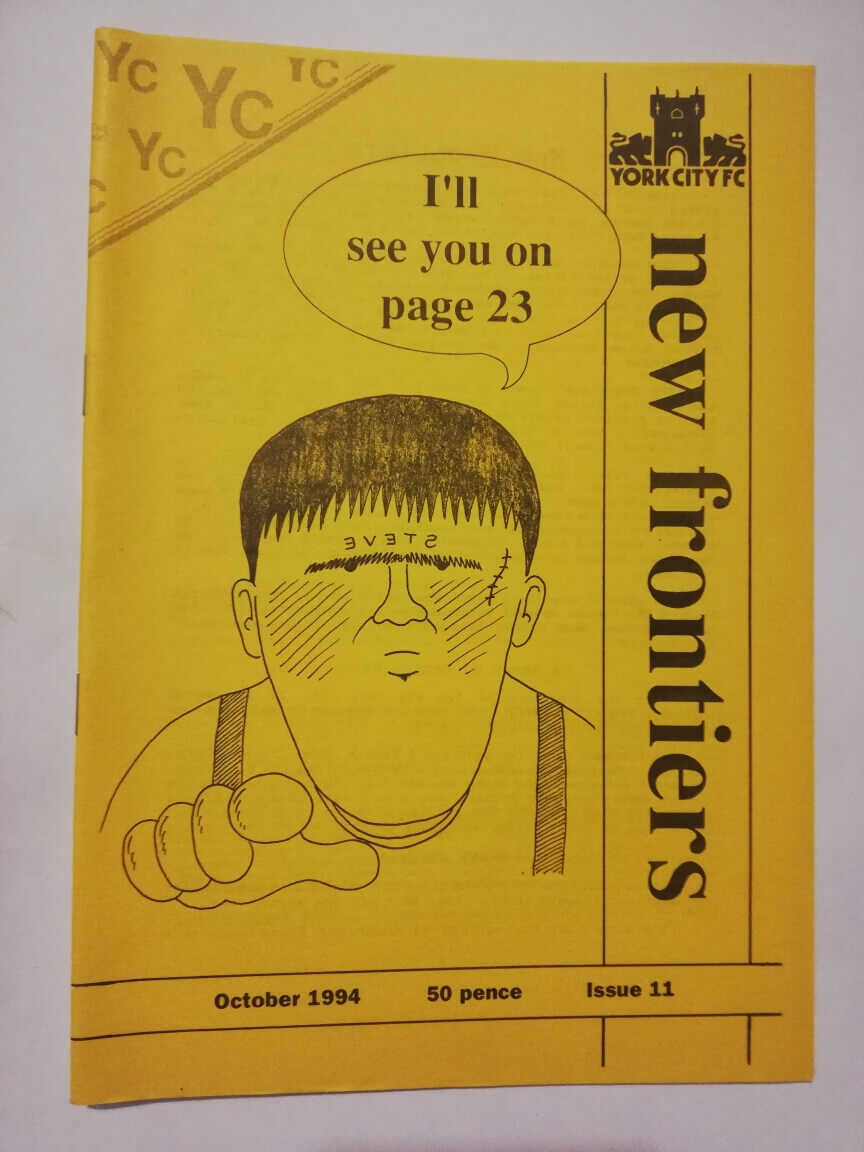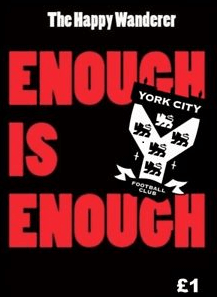 We have not even touched upon the fanzines, often portraying views of the club that the club itself might very well feel uncomfortable with. Below are details of many City related publications. Many knowledgeable observers would cite the Frank Ormston / Mick Kettlewell lead "Terrace Talk" as the forefather of all fanzines, certainly, it helped to pave the way for many more and pre-dates both "When Saturday Comes" and "Off The Ball". Indeed, TT certainly gave "When Saturday Comes" a lot of advice as that fanzine strove to change the perception of the average football fan. Encouragement from TT saw fanzines as diverse as Swansea's "Jackmail" and Leyton's "Orientear" succeed and friendships formed with supporters of those clubs. (WSC #401 noted Arsenal London Supporters Club's Gunflash (dating back to 1950 with a season off in 1985/6) and Hit The Bar (Carlisle United's London Supporters Club London Branch publication, with a continuous print run from 1975 (issue #312 is due in July 2020)) as being older, some purists might argue with their Supporters Club origins that they're not "proper fanzines", but with such long histories, they more than merit a mention. Purists might back "AWOL" from Meadowbank Thistle's Brake Club as being the oldest "modern" fanzine). Later City fanzines included, "In The City", "New Frontiers", "Are You Watching Johnny Ward?", "Ginner's Left Foot", "Y Front" and more, all offering their own unique take on events at City and beyond. All have helped to shape City over the last 35 years and have probably had a more permanent impact on City than any of the more mainstream offerings.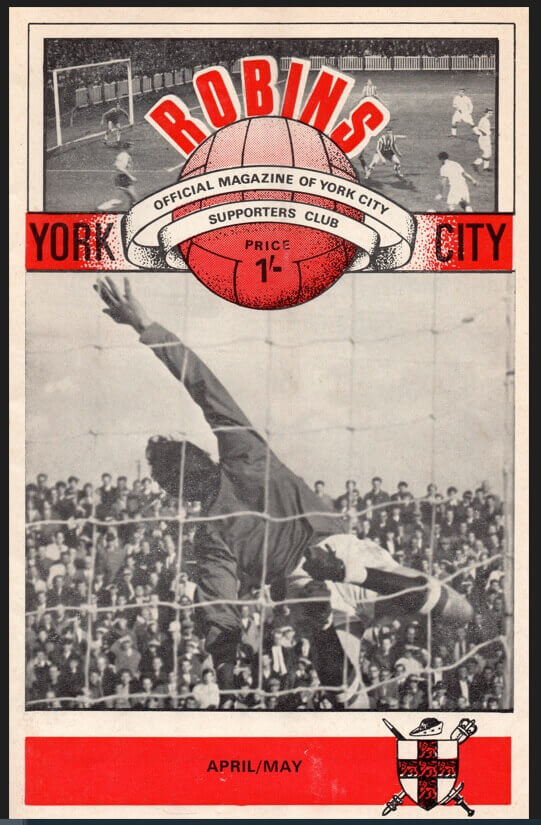 "Terrace Talk" is often regarded as the first of the fanzines of the early 1980s phenomenon and spawned hundreds, maybe thousands, of pale imitations across the country, even further afield and across other sports. "In The City" followed, out of the York Nomads Society stable, as was Terrace Talk.
A long running fanzine was "Ginner's Left Foot", or "GLF" as it became fondly abbreviated to, the work of Daley Mayall (suspect that is not his (or her) real name) and friends. It became a very popular read amongst City fans. It published 10 issues, between February 2002 and April 2005, the main aim was to help keep spirits up during the dark days of Batchelor and Craig (it was laced with LOTS of humour!) and raised essential funds for the Supporters' Trust. Its successor, RaBTaT (Red and Blue Through and Through) sadly lasted just one issue.
On 2nd April, 2016, a new fanzine, "Y Front" launched, published by Michael Miles / Matt Whattam, it had Chris Topping as a celebrity seller. Read More.
All of these fanzines offered an independent viewpoint, often holding contrary views to those of the club, but over 30 years after the first one appeared, you will still see many of the people behind the fanzines still on the terraces supporting City. Take a bow Frank, Dave, Chris, Andrew, Michael and all those others who have the well being of City at the forefront of their actions.
Equally, there is a long history of Supporter Club produced magazines. Any additional information can be sent to the email address at the bottom of this page.
Title

Details

Notes

Terrace Talk

1st issue November 1981

Vol 1 (81/82): 1-6
Vol 2 (82/83): 1-7
Vol 3 (83/84): 1-9 – 12pp, 10p B&W
Vol 4 (84/85): 1-9 – 16pp (#8 - 24pp, #9 - 20pp), 20p
Vol 5 (85/86): 1-9 – 20pp (exc #9 - 16pp), 20p (30p from #8), Glossy cover
Vol 6 (86/87): 1-7 - 20pp, 30p
Vol 7 (87/88): 1-5 - 20pp, 30p
Vol 8 (88/89): 1-4 - 20pp, 50p (incl Roof Appeal donation)
Vol 9 (89/90): 1-2 - 24pp / 20pp, 50p

Issue 1 (November 1981) was one sheet of A4 paper folded over with a real DIY feel
Authors Frank Ormston and Mike Kettlewell
Originally on behalf of the York Nomad Society, although the link became less pronounced in later years
The "daddy" of fanzines, City and beyond
The hardest hitting of all City fanzines
Good mix of City, YNS and supporter news with photos and many regular features, including police and pie tables (which became staples of many later fanzines)
September 1984: Banned from selling inside the ground after 3 years, subsequent TT / YCFC stand off for the rest of its days, although ongoing relationships
Original "Roof The Shippo" article in response to plans to improve the Main Stand (offices and hospitality) and turnstiles
August 1986 issue notes the independence of TT from YNS leaving TT to do and say as it pleases whilst YNS concentrates on its primary function of running cheap reliable travel to away games
October 1986 issue referred to TT as a "magazine". In an article in Sounds headlined "Terrace Talk" which covered the football fanzine culture. The cross over was continued with photos of Ted Chippington following earlier features on The Redskins and The Shove
Vol 7 Issue 3 (January 1988) had an impassioned appeal to "Roof It". The following final 2 issues of the season continued the theme and included the iconic front cover of Princess Diana holding an infant Prince William with an "I'd sell my Grandmother to roof the Shippo" speech bubble coming out of his mouth
Vol 7 saw the first pressures of workload and number of helpers noted as the planned 7 issues became 5
Vol 9 Issue 2 (Dec 1989, #58) is believed to be the last, that season's issues introduced match reports for the benefit of distant readers

In The City

#1: August 1989 (16pp, 40p)
#11 (final): Feb 1992

Authors Dave & Jackie Wells, formerly prominent members of the Terrace Talk team
Starting at 16 pages, increasing to 28 pages (50p)
Priced at 50p by issue 11 (earlier 40p)
Lots of City, fan and YNS related content from number of well known supporters of the time
Particularly good accounts of following City and England away from home
Still reads well today

The Shippo Shout

#1: Feb 1991 (16pp / 20p)

Editors: Phil Newton / Tim Pocock
First City content is on P7
Only known issue

new frontiers

14 paper issues until 1995
Author Chris Forth
Raised over £2,000 for City's Youth Development Fund
Re-launched in 2008 with both paper and web presence
First issue was 20 pages, others up to 28pp
Interesting to note that many of the contributors from all the early fanzines are still regular City supporters
Issue #32 (6th April 2019 / 28pp / £2)
Issue #33 (29th October 2019 / 24pp / £2) - profits split between Dan Parslow testimonial and YCS

Are You Watching Johnny Ward?

#1: Aug 1994 (12pp, 50p)
#2: Sept / Oct 94 (20pp, 50p)

James Euesden noted as writer. Ryan Smith (illustrator) and Jacek Slezak (layout designer)
Not much content, a lot of white space

Oh, What A Shambles

Issues 1 – 4, £1, 28pp (Issue 4 was 36pp), Aug - Nov 1996

John Catton – Editor; Phil Howden – Assistant Editor
Contributions from Jon Rawnsley and various YCS (ex-) members, Phil Howden, Alastair Smith, Chris Cramer, Richard Skilbeck and Chris Forth included
Some profits donated to York City South
Good report of the 1996 Livingston weekend, Euro 96 and topical debate (Dan Kiely's departure to Bury was a popular topic
Extensive away day coverage

A Chunk Of Yorkie

Unpublished

Proposed fanzine of Chris Horner and Mike Bridge
Ross Wilson's 4 page Andy Mac interview saw the light of day in "Win, Lose Or Draw" in February 2001

No One Calls Us The Minstermen

Issue 1, August 1999

Not seen, believed only one issue

Ginner's Left Foot

10 issues (between February 2002 and April 2005). Issues 1-8 cost £1 and 9 & 10 cost £2

Raised over £1,000 for the Supporters' Trust and contributed to Friends of Bootham Crescent campaigns
Editors: Andrew Leathley and Mal Bulmer
The "final" issue was 44 glossy pages featuring an in depth look back at 1954/5 and plenty of humour. The previous issue had had a similar feature on 1984 (The Championship winning season, not the book)
An excellent "Goodbye Bootham Crescent" was published under the GLF banner in November 2020, its 56 pages included many personal recollections from City fans and former players. Email GLF

RaBTaT (Red and Blue Through and Through)

One issue (£2)

Successor of "Ginner's Left Foot"
Editor: Andrew Leathley
Mix full colour pages and B&W. Contained interviews with Dave Batters and Guy Mowbray
Profit went towards the York City Youth Fund

Y Front

First published on 2nd April, 2016

Has become prolific and has a very active web presence featuring many iconic City related pictures
Publisher Michael Miles
Chris Topping was a celebrity seller
4th issue out 3rd November 2018 and 5th issue on 19th April 2019 (32pp / £2)
6th issue out on the first day of the 2019/20 season. 7th issue out in November 2019
Whilst coronavirus saw much of the country shut down, Y Front became prolific. As lockdown ended, it has become a new issue every month enterprise.
2022/3 copies reached a 400 circualtion and due to rising production costs it came with a £3 cover price
August 2023 saw issue 33 hit the terraces
Available at nearly every City home and away game

The Happy Wanderer

1st issued on 24th February 2018 / 12pp / £1

Editor: Sam Radcliffe
Glossy production
Very history orientated. 6 pages on the 2006/7 unsuccessful play off season and 2 pages each on Keith Walwyn and Graham Potter
2nd issue appeared on March 31 2018

Red

7 issues across the 1993/4 and 1994/5 seasons
Issues 3 – 6 94/5, 12pp (except Issue 4 – 24 pp)
8th and final issue in August 2003

Has "Free Free "… running across the bottom, believed free to Junior Reds
One issue has the YC / lion corner earlier used on new frontiers
Styled "A York City Junior and City Reds' funzine"
Believed that David Quinn did a lot of work on it with support from Graham Kilby when Graham was very active with the YDF and Juniors Reds post the Roof Appeal
Interviews with Jon McCarthy and Mike Walker, Steve Roberts (then current YCFC intermediate) and Alastair Yeomans (Radio York)

The York Citizen

Issue 1, November 1997, Minimum Donation £1, 20pp

"Raising Funds On Behalf Of Youth Development At York City FC"
Believed to be the work of the Graham Kilby, David Quinn and others (possibly Gary Beckett included)
A solid read with contributions from Dave Batters / Geoff Walker, Malcolm Huntington, Paul Bowser, James Richardson, Chris Forth and others

Supporters' Club Facts and Figures

1949

Pocklington Branch Coronation Year Handbook

1953

Robins

April 1968

First issue of The Supporters Club magazine. Mix of City and general football articles
Only issue

YCSC Action Pack

2001-2

2 issues, mainly pictures taken from the Yorkshire Evening Press

York City - 50th Anniversary Souvenir Brochure

1972

Supporters Club publication celebrating 50 years of YCFC and The Supporters Club

York City Supporters Club Review / Newsletter

#4: Aug 1982 (20 pages, 15p)
#5: 15p (all pay)
Settled at 12pp and 20p
40 issues in total

SC publication
First 4 issues free to SC members
Usually about 6 issues a season (initially quarterly)
Lots of City and wider football history in earlier issues, becoming more City and City supporter focused
Ended in 1992,"Win, Lose Or Draw" was its successor

Win, Lose Or Draw

1992/3: First season, 8 issues (12p, 20pp)
1993/4: #1 (8pp / 20p), #2-4 (16pp / 20p), #5 (12pp / 30p), 5+ issues
1994/5: Issues 1 & 3, (12pp / 30p)
1995/6: Vol 4, Issues 1-8, (12pp, 30p)
Total 52 issues
Continued until 2002/3 season

YCFC Supporters Club / Suspect Rob Havercroft was the key man behind it
2 page interview with Jack Pinder in both 94/5 issues and ("to be continued in issue 4")
Issue 3 (94/5) was published in October 1994, so probably monthly issues through throughout the season, but that's about the time my attendance seriously declined
Usual mix of City news, match reports and Supporter Club news
Articles from the usual SC members, plus Andy Naylor, 2 or 3 page articles from Steve Mann from issue 4 (95/6) onwards
Whilst acknowledging many of the long standing SC personnel are no longer with us, Ray Wynn and David Quinn excepted, many of the younger SC members of the era featured appear to be no longer supporting City
4 page Andy Mac interview in 2001

1991/2 YCFC Supporters Yearbook August 1991

50p, 20pp (including 6 pages of paid for adverts)

First YCSC year book
Season reviews and previews
Contributors from all the YCSC stalwarts
Guest contributors include Douglas Craig, Malcolm Huntington, Barry Parker, Alan Glasby and Monica Hartland

1992/3 YCFC Supporters Yearbook August 1992

50p, 20pp (including 4 pages of paid for adverts)

Season reviews and previews
Guest contributors included Douglas Craig, Malcolm Huntington, Gordon Staniforth and Alan Glasby

1993/4 YCFC Supporters Yearbook August 1993

50p, 20pp

Full colour front and back
Season reviews and previews
Guest contibrutors included Douglas Craig, Malcolm Huntington and Alan Glasby

1994/5 YCFC Supporters Yearbook August 1994

50p, 20pp

Season reviews and previews
Contributors include Douglas Craig, Ray Wynn, Jeff Mortimer, Malcolm Huntington, Barry Parker, Alan Glasby and Monica Hartland

1995/6 YCFC Supporters Yearbook August 1995

£1, 56pp

Compiled by Mark Copeland
Contributors include Douglas Craig, Ray Wynn, Jeff Mortimer, Tom Kelly, Alastair Yeomans, Dave Battters, Alan Glasby and Monica Hartland
Comprehensive stats of for the 1994/5 season
Continued to be published at the start of every season until August 2007 (although 2006 edition not seen)
1995 issue incorporated an associated "For The Record", FTR was published separately in autumn 1992 / 3 / 4 / 6

YO17

Fanzine produced by Andrew Copeland of the YCFC Supporters Club Malton & Norton branch as noted in August 1995 in the 1995/6 YCFC SC Yearbook
Not seen, 2 issues, Feb/Mar 1995 & Mar/Apr 1995

York City Supporters Trust

2002 / 2003

2 known publications: Trust Launch Booklet (2002) and Annual Update (2003)

City Voice

Believed 2 issues around 2006/7, no other details available
See also Football Fanzines for details of the wider fanzine movement. Copies of new frontiers are still available from the email address below at a fraction of the price quoted on Football Fanzines.
P.S. I almost forgot to mention "The York City Quiz Book" and its successor "The York City Quiz Book Volume 2", both excellent reads. Their 2016 follow up, "The York City Quiz Book And Brief History" received much acclaim for its quiz and memories mix, raising several hundred pounds for club funds.
Just Freddy
Last but certainly not least, on June 9th 2022, former YCS chairman, Joel Stern published "Just Freddy", a very personal story of his grandfather's experience of, and escape from Nazi Germany as a 13 year old boy.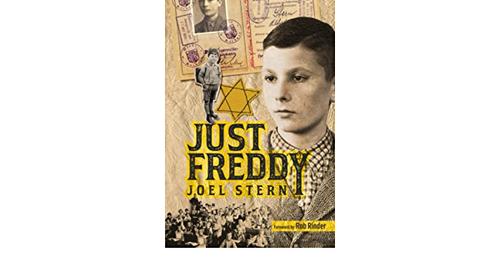 The book portrays Freddy's experience through the eyes of a child and is written primarily for children and young adults aged 11+, with the aim of introducing them to this important subject, as well as teaching themes like acceptance, kindness and overcoming adversity. It charts his journey from a happy childhood in a small German market town, through the Nazi's rise to power as his friends, teachers and eventually, family all desert him. At the height of his problems, he is forced to make a split second decision, one that might just save his life. Barrister, TV & radio personality and all-round general legend, Rob Rinder, MBE write the foreword! "Just Freddy" is available in paperback, hardback and on Kindle in a number of countries including the UK, North America, Australia and mainland Europe. All profits will go to Holocaust education charities. Buy Now