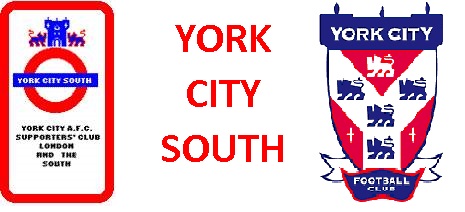 Viv Busby
I was kept busy this week as part of Billy's army tidying up the ground. My specific task was to clean up the classroom, aka The Manager's Office. I was shocked when I went inside to discover a row of desks. In front was a scruffy looking desk full of ink pellets where someone had carved "YCFC Rool OK" and "Chris luvs YCFC", inside were recent copies of The Beano, half eaten Wagon Wheels and gobstoppers. Someone had put an "Expensive Handle With Care" sticker on it, someone else, a "Scrap Heap" sticker next to it.
In one corner was a neat and tidy desk with piles of Conference dossiers and individual training plans.
In the other corner, was another desk, it looked hardly used, was full of blank notepads, unopened scouting reports and one sheet of paper. On reading the paper, it was apparent that it was Viv Busby's desk. He was one of my heroes first time around at City and I'm sure no one would dispute that he was an excellent coach. But his lack of managerial experience suggests that many chairman and directors didn't believe he had those extra qualities that separate a good coach from a good manager.
I reproduce below, the words from that piece of paper which was entitled "Get Your Excuses In First". It contained the following:-
"We were too poor to afford to buy a yellow ball to practice with", use early November
"The ball was too bouncy", best used on a dry pitch
"The grass was too long", if its good enough for Wegner than I'd better use it. Might as well use "The grass was too short" when I get desperate
"We got held up in the traffic on the way to the ground", don't use at Forest Green they get nil attendance
"The boys had trouble picking up the other team in their grey kit", Fergie used it
"The boys had trouble picking up the other team in their blue kit", use at Southend or other seaside grounds
"We are not used to playing at little Conference grounds with no atmosphere"
"The boys had trouble picking up the other team in their green kit, especially in the middle of the park where the groundsman had cut the grass in a mazy pattern"
"You don't expect to win ought with kids", Alan Hansen used it on Match Of The Day and it kept my successor, Booby Saxton, at York first time around in work for over a season
"Our experienced defenders were run off their feet by our opponents speedy youngsters"
"The keeper was tired by playing too much gameboy"
"We didnít prepare properly, mentally or physically", friendlies only
"We're suffering from a lack of quality", I suppose I could use this every week if I want
"Venus was in the wrong juxtaposition with something else"
"The air conditioning was switch on", must use this if we play at Cardiff
"We were rubbish", only use if nothing else fits the bill
"They cut the grass the wrong way", if Lester Piggott can use it when he loses on the favourite ...