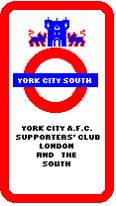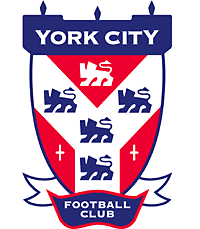 City History

Jon Champion (2011)

February 10, 2011: Jon Champion made a welcome return to York City South and held court for over a couple of hours. He started by telling the assembled masses how he got into journalism and his career to date. In a nutshell, post match Radio York interview when he top scored for York Cricket Club Second Eleven caught the attention of the bigwigs, persuaded to get a degree (Horsforth University), local radio, Radio 5 Live, Match of the Day, ITV and ESPN. He went on to host a general question and answer session and told us quite a few inside stories that I canít repeat here.

Sir Alex Ferguson:

When I go into his office before a game, heís watching racing on the TV

Harry Redknapp:

When I go into his office before a game, heís watching racing on the TV and on the phone to his bookie

Incidentally, Jon re-told his

Sir Alex story and the cause wasnít quizzing Sir Alex about our 3-0

Terry Brown (AFC Wimbledon manager):

A great bloke, he does everything for the club despite difficult family circumstances

Premier TV:

A certain club chairman managed to cock up a deal with ESPN and got rewarded with a Premier TV deal

John Motson:

Sponsors a Barnet playerís kit every season

Shola Ameobi:

Confirmed the story about Sir Bobby Robson calling him the wrong name

Revealed which

BBC commentator has 2 Liverpool season tickets

Revealed which he must ring before 6pm on Friday when the manager nips out for a

Guinness and fish and chip supper

Revealed which Premiership manager is always

interviewed in profile, from the same side, to hide a badly disjointed nose, the result of a career in football.

John Motson:

As a cub MOTD commentator, Jon Champion was told to go to a game and watch Motson commentate. Motson put microphone to mouth, commentated on the kick off after 8 seconds, put the mic down, picked it up and commentated when the ball approached the penalty area. Despite the long gaps, when Champion watched MOTD, the commentary was spot on, no gaps, no lack of continuity.

Incidentally, to this day, John Motson sponsors

the kit of one Barnet player every season

BBC or ITV?

Audience v Portfolio?

Best of both worlds:

ESPN contract with extra work for ITV at the big events (like The World Cup)

Ron Atkinson:

A lovely, very kind man. Champion had some sympathy for his Marcel Desailly comments, believing Atkinson comes from the old school when people werenít PC and the language he used was more prevalent than today

Referees:

Big egos and very competitive

City Debut:

City 2 Newport 0 (Peter Scott and Gordon Staniforth scored), January 7, 1978

All Time Best City Team (That Heís Seen):

Roger Jones; Graeme Murty, Ricky Sbragia, John MacPhail, Alan Hay; Gordon Staniforth, Ian McDonald, Simon Mills, Brian Pollard; John Byrne, Keith Walwyn; Subs: Graeme Crawford, Paul Barnes, Jon McCarthy, Steve James, Peter Lorimer. Manager Denis Smith

Best Player Not To Make It Into That Team:

Jan Novacki, Bolton loanee who starred for a month on loan and then promptly disappeared from the game.

Worst Ever City Team:

Graham Brown in goal , thought about Roy Kay and Jimmy Walsh at full back but gave up as there were too many candidates to pick from.

Two Games He Reported On:

City v Lincoln (David Longhurst RIP), ona day off watching from The Shippo, his story lead all the evening news and sports reports and Palace v Manchester United (Cantona kung fu kick).

City Regret:

City havenít been able to find a role or persuade Michael Sinclair to fulfil a figure head role. A man who is very well respected throughout the game.

Having missed his intended train, he rushed out at last orders. Jon, hope you caught your last train home and many thanks for a lively evening.

PS Doing my research on Jon , I came across a whole web site of his quotes, many thanks to Private Eye:

A regular figure in

Private Eye

's

Colemanballs

, below are a few memorable lines :
"A full-blooded encounter for a number of reasons, many of them illegitimate."
"They seem to be in total, if not complete control"
"Victor Hernandez, like an orchestral conductor directing his troops..."
"Two late goals, both in the last twenty minutes..."
"Thereís 30 minutes gone and weíre in the first quarter of the game."
" Given away by Carvalho... here's Rooney, it's a horrible error by the Portuguese!!!"
Match Intro - Arsenal vs. Man Utd (January 2007) "Meetings between these clubs are never dull, they are often momentous. League championships have been won... tempers have been lost... pizzas have been thrown."
In the 94th minute of Turkey vs. Czech Republic (June 2008) "If a spaceship landed in the centre circle, direct from Mars, I wouldn't be surprised now."
Just after kick off in the England v Czech Republic international friendly (August 2008) "His predecessor was a legend, but he just looks like a plumber." About the Czech Republic manager.
Manchester United v Middlesbrough (December 2008) "And here is Ronaldo...and he's fallen over."
Newcastle's 3 - 0 loss to Liverpool (May 2009) and two matches shy of relegation, after a lingering camera shot from behind the goal in which a knotted bit of netting can be seen. "Is that the hangman's rope in the picture there? . . . Newcastle, hovering over the trap door."
Liverpool vs. Everton (January 2009), after a goal by Joleon Lescott "As a paid-up member of the centre-backs' union, he'll be forced to retire after scoring from there."
Arsenal vs. Chelsea 0-3 (November 2009), after Didier Drogba's opening goal: "Same old story! Arsenal play the football; Chelsea have the goal!"