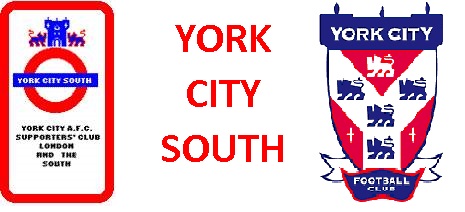 Darlington - York City Reserves ?
How many players can you name who've played for both City and Darlington?
Tony Bridges (When Saturday Comes, #418, March 2022) noted 46 players who have played for both Nottingham Forest and Derby County since 1970. He thought it was a record for the number of players who have played for any 2 clubs since 1970. He was wrong.
I can name 81 players who've played for York City and Darlington in the same period. They include Marco Gabbiadini at the end of his career, David Stockdale who played for both clubs at the start of his career and Gary Himsworth, a glutton for punishment, who had 2 separate spells with both clubs. The majority took a direct route between the clubs.
In the early days, it was a one way road, indeed in the late 1970s, Darlington regularly fielded 5 ex City players in their line up, locally they were nicknamed "York City Reserves", the likes Chris Jones, Jimmy Seal, Barry Lyons, John Stone, Dennis Wann, Phil Taylor and John Peachey.
In recent years it has been a much more 2 way road trodden by many largely nondescript players.
The links between City and Darlington were originally covered in an article in new frontiers (December 1993).
For the record, making a direct journey up along A19 between the clubs were:
Mike Astbury
Peter Bainbridge
Adam Bartlett
John Borthwick
Jonny Burn
Jake Cassidy
Barry Conlon
Mark Convery
Derek Craig
Chris Dickinson
Peter Duffield
Chris Evans
Scott Fenwick
David Ferguson
Marco Gabbiadini
Kevin Gall
Gary Himsworth
Joey Hutchinson
Craig James
Alan Kamara
Barry Lyons
John Mackin
Dan Maguire
Lucas Martin
David McAughtrie
Dave McGurk
John McReady
Glenn Naylor
Gary Pearson
Chris Porter
Adam Reed
Marc Salvati
Mark Samways
Ricky Sbragia
Jimmy Seal
Steve Senior
Neil Smallwood
Kevan Smith
Vinnie Steels
David Stockdale
John Stone
Phil Taylor
Steve Thomas
Steve Tutill
Dennis Wann
John Williams
Whilst taking a more scenic detour between the clubs were:
Mark Beck
Mark Bower
Ryan Bowman
Ryan Brobbel
Don Burluraux
Jonjo Dickman
David Dowson
Stuart Elliott
Stewart Ferebee
James Gray
Kallum Griffiths
Will Hatfield
Richard Hope
Evan Horwood
Michael Ingham
Peter Jameson
Carl Jones
Chris Jones
Gary Martin
Gordon Morritt
Sam Muggleton
Craig Nelthorpe
Lee Nogan
Richard Offiong
John Peachey
Rory Prendergast
Mark Prudhoe
Ben Purkiss
Paul Derrick Robinson (b1978, striker 2004/5 season, signed from Hartlepool)
Paul Robinson (b1984, striker, signed November 2004 on short term deal from Tranmere)
Daniel Rowe
Eddie Rowles
Joe Tait
Neil Tarrant
Phil Turnbull