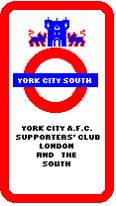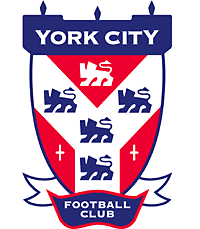 City History - York City's Hall Of Fame
York City were founded in 1922 and in our history, there are many people who deserve a place our hall of fame for all their efforts in helping to shape the club.
Further nominations for inclusion in the hall of fame should be emailed to the address below.
Paul Aimson
Dave Batters
Dave was a lifelong City supporter. He began supporting City in October 1948 when he saw his beloved City beat Mansfield 2-1 in October 1948 with his uncle. It was 1974 and promotion to Division 2 when his name became well known to many City supporters. That season, he made his debut as a programme contributor in the enlarged matchday programme. Since, he has penned many series of articles in the match day programme, they included season by season, on this day, memorable matches and famous players.
He was happy to share his encyclopaedic knowledge with everyone and when we launched the Shipton Street Roof Appeal, it was suggested that Dave write a book detailing the history of City. The book became part of the Breedon Books "A Complete History" series and was published in June 1990. To his great credit, Dave donated all proceeds from the book to the Roof Appeal. An updated version was published in 2008. To this day, the books are a constant source of reference to City supporters the world over. His attention to detail meant his works soon became the definitive reference for many City queries that arose. For many years, he was a regular contributor to City's programme, Yorkpress and other publications.
At home, he built up a huge wealth of City material incusing scrapbooks, cuttings a programmes and other memorabilia which in later years, along with his son he transferred to computer.
For over 35 years, he also commentated on City for York Radio Hospital.
Dave died at home in July 2014, aged 75.
Former Press sports editor Malcolm Huntington said: "Anyone who has had the good fortune to write about football for a living will know only too well that a great deal can depend on the information at one's fingertips. There have been a huge number of occasions when I have been deeply grateful for the knowledge and help of David Batters, who had the most obscure facts and figures at his command. Every club depends a lot on - and is lucky to have - men like David. "A supporter since 1948, he has charted the progress of the club over the years with meticulous care and all those who delight in watching football and York City in particular owe him a great debt of gratitude. He will be sorely missed." Long-standing City supporter Graham Bradbury said: "Dave was one of the nicest chaps around - and with a mind of endless information and statistics".
Steve Beck
x
x
x
x
Arthur Bottom
Phil Burrows
x
x
x
x
Josh Easby
Billy Fenton
Tommy Forgan
Keith Houchen
x
x
x
x
Malcolm Huntington
Barry Jackson
x
x
x
x
Tom Johnston
Jason McGill
Born in 1966, Jason has been a lifelong City supporter. As a boy in the 1980s, he sat in The Popular Stand with little sister Sophie and their Dad. Jason, like he Dad (born in London and a former Spurs youth team player), Rob, was a talented footballer playing reserve team football for then non league Wycombe Wanderers whilst at university in London.
In 2003, Jason donated £50,000 to the save our club campaign as their family's influence became more to the fore. By this time, Sophie had been employed at the club by Douglas Craig. He joined York City as a director after the Supporters' Trust completed their takeover of the club on 26 March 2003, eventually taking the role of managing director in September 2004 after Steve Beck resigned as chairman. He was heavily involved in negotiating the deal for York City to gain full control of Bootham Crescent, after over 99% of the shareholders of Bootham Crescent Holdings voted in favour of the deal in January 2005. He also secured sponsorship from Nestlé Rowntree for Bootham Crescent in January 2005, which saw the ground renamed KitKat Crescent.
The York City Supporters' Trust voted by three to one to accept a takeover offer made by McGill at a meeting on 6 June 2006. His company J M Packaging offered to invest a substantial sum into the club, in return for a majority shareholding. He took the role of chairman at York by the start of the 2008–09 season. He is Managing Director of J M Packaging Ltd based in Malton.
Sophie McGill
Sophie McGill recalls sitting in the stands as a young girl munching her corned beef sandwiches alongside her big (11 years older) brother Jason and their dad in the stands at Bootham Crescent in the 1980s. The family enjoyed their football, both dad and Jason being talented young players in their day.
While teenage friends plastered their bedroom walls with pictures of popstars, footballers were Sophie McGill's pin-ups of choice. It wasn't just that fellas in shorts were better looking than blokes with guitars - football was Sophie's passion, and this understandably influenced those early schoolgirl crushes. That was back in the Eighties, before the rise of the multi-millionaire superstar footballer, the evolution of football into the coolest and sexiest sport on the planet, and the green light for girls to get as giddy about the game as guys. As a pupil at Bootham School, Sophie cut a lone figure as an avid football fan. "It was unusual for a girl to like football," she says. "I'd buy magazines such as Shoot and Match and cut out pictures of the players that I liked. Now it's much more commonplace for girls to like football and you'll find picture of footballers in girls magazines."
"I really got into football when I came to my first York City game with my brother and father when I was about 11 or 12," recalls Sophie. Little did she realise then the role she would play in saving the club some 14 years later. Besides being a fan, Sophie has a post-graduate business qualification in the football industry and has worked at Manchester City and at York City in a marketing and public relations role. During that time, Sophie scored some impressive results, including securing a £30,000 donation from Mohammed Al Fayed, owner of Harrods and Fulham football club. Under the new 'regime' Sophie and her brother Jason are just two of the club's board of unpaid directors. It's quite a promotion for Sophie, the former PR girl now calling the shots at executive level. As a female football director, she's part of an exclusive trio which includes Karen Brady at Birmingham City and Delia Smith at Norwich City. In practical terms, she was in charge of communications, so she is always at the end of a mobile phone. She also gets to travel on the team bus to away games, something which was outlawed in the past (no place for a lady was the excuse given). And like other directors, she has to juggle her day job as well. As a director she had the opportunity and authority to put into practice some of the more modern marketing and business ideas which were not possible before. These include strengthening links between players and the local community, particularly schools. "We have to make our players local celebrities, heroes and role models," says Sophie. Capturing the fans of tomorrow is equally important, she added. Not surprisingly, making money is a priority for the club, which has been saved and continues to thrive thanks to the generosity of fans.
Despite the rollercoaster of uncertainty and the hours of hard work, Sophie wouldn't think twice about doing it all again. Her take on the Save City saga is very much that of the fan. "What would I do with all those Saturday afternoons?" she said, thinking the unthinkable. "I could not adopt another team. How awful would it be if I had children and there wouldn't be a York City for them to support?" It's this emotional attachment to the club which explains how Sophie along with other die-hard fans pulled out all the stops to save City. Ask her to explain the draw of football, the compulsion of fanhood and, such is the complexity, she thinks hard before answering. "It's one of those bizarre things," she begins.
"You go the first time and you get hooked. Obviously supporting York City is different from supporting Manchester United. There's something very romantic about supporting a small club and there's a loyalty and obligation about doing the right thing and supporting your local team. "There are some awful games and then a player will do something amazing... it's almost magical. There are moments of inspiration even at this level which are almost like divine intervention." Indeed miracles do happen in football. As in 1995 when the Minstermen beat Man U 3-0 at Old Trafford. And this season (2013/4) when the club came back from the brink and had a fantastic season, only just missing out on a play-off place to move up into division two. But perhaps the biggest miracle of all is that York City is still around to tackle another season.
This piece was sourced from a Yorkpress article.
Frank Ormston
Frank's early City supporting days were in the dark days of the late 1960s as City suffered 3 re-election seasons. He has been a regular on the terraces ever since, including one long spell in the 1980s when he saw every home and away game over several seasons.
In 1981, he was one of the brains behind "Terrace Talk", City's first fanzine (and the first in England in the 1980s) and was at the forefront of the fanzine boom. His expertise called upon by many other fanzines, as far away as Swansea and London both at club and national level, in the days before "When Saturday Comes" as fan culture swept across the country. "Terrace Talk" was a campaigning fanzine and was never afraid to call the club to task in a way that the local press could never do. Although often not seeing eye to eye with the club's directors, the club appreciated that Frank and Terrace Talk held dearly the well being of York City and the directors and were not afraid to liaise with him and to gain an understanding of supporters' opinion and views in the days before internet message boards just as clubs were realising that supporters mattered. When the Football Supporters' Association was formed in the mid 1980s following the Heysel disaster, Frank was approached by the FSA to form the North Yorkshire branch as the FSA sought to grow spread its Merseyside roots across England. The Shipton Street Roof Appeal was initiated via a "Terrace Talk" article. Frank was a passionate and leading member of the appeal.
Frank has continued to support City and when the Craig / Batchelor days came to an end, he was a prominent member of the City Supporters' Trust and subsequently a leading light in the York City Minstermen.
To this day, he plays a prominent role in the York City Minstermen. At home games, invariably you'll see him in the carpark or near the turnstiles selling 50:50 fundraising tickets.
Gary Mills
Danny Parslow
Danny Parslow deserves his place in our hall of fame as he is the only City player to date to have won the Billy Fenton Clubman Of The Year award on 3 occasions (2009, 2011 and 2013). More below.
George Sherrington
If anyone could really claim the title of 'Mr York City', it was George William Sherrington for his long service and unyielding dedication in a series of different roles. Born on Tyneside in November 1890, Sherrington, known as 'Billy', was one of the founder members of the club and amongst its original directors.
Initially appointed as honorary secretary in 1924, he steered City through a number of difficulties on the way to finally attaining Football League membership in 1929. With the increased workload that brought, 'Billy' took on the role of full-time secretary in February 1930 while relinquishing his directorship post.
But the resignation of manager Jock Collier the following month witnessed Sherrington combining the roles of secretary and first-team boss for the next three years. During that time City also switched homes from Fulfordgate to Bootham Crescent. Between September 1954 and March 1956, he notably worked alongside trainer Tom Lockie in a dual caretaker manager capacity – and famously helped steer the club into the FA Cup semi-finals.
In total, Sherrington served as secretary for 37 years, until his retirement in 1961. He was later appointed as the club's first-ever vice-president before becoming its president in 1966.
Norman Wilkinson
x
x
Jon McCarthy
He earns his place as a member of City's 1993 Wembley winning side. Maybe overshadowed by Paul Barnes and Dean Kiely in that team, he always gave 100%, his wing play thrilling the crowds and providing a constant threat to the opposition. On that day at Wembley, he was probably man of the match (none was awarded), his fast and direct running being a constant threat to the Crewe defence.