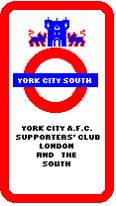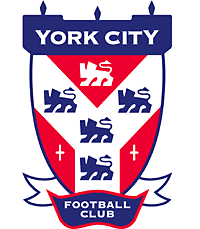 York City South - The Early Years
Recall what YCS did in our early years.
York City London & the South branch was formed in June 1996 by five hardy exiles brought together by the then lone York City member to APFSCIL and fanzine meister John Catton who's dream of a southern based branch was finally realised one sultry summer's evening in a dubious saloon bar in downtown Soho. (I remember being approached by several of this group before the abandoned Brighton game in May - Ed).
Now in our sixth year, we have boasted membership numbers well above the 100 mark (more than the main branch itself). This is largely due to the efficient press gang who roams the terraces preying on those who are suspected of living more than five miles south of York.
York's celebrities are now flocking to join the club with Jon Champion, he of ITV Sport commentary fame, at the helm as President and others such as the popular beat combo Shed 7 and one of the blokes from the comedy due Lee & Herring. Sponsorship remains a high priority to raise the profile of the branch including a home game each season, we which we traditionally lose, and a player of the season, who is normally fired by the club or is immediately injured.
The branch often enjoys sharing rail travel with other APFSCIL clubs and is always happy to guide our visitors around the many fine beer emporiums in York. Although the branch is not competing in the APFSCIL sports leagues, we are regular participants in the annual 5 a side competition, helped by the branch's own weekly 5 a side session and also enter the individual darts competition. The branch also has a regular 11 – a side football squad which has enjoyed a number of friendly games against other APFSCIL league clubs and would be pleased to hear from any club with an empty fixture to fill this season.
Allied to the sponsorship, the branch has established an excellent relationship with York City FC who is the past have not only allowed our football squad to play on the hallowed turf of City's training ground but have also very kindly donated a full 14 player kit for our football squad and have reserved tickets and programmes for cup games and popular league fixtures.
We have also continued a close relationship with the main supporters' branch in York.
Membership this season remains a snip at £5 (It was raised to £10 in 2009). and will gain you not only friendship that you will treasure for life, but also a fine piece of prose in the form of our excellent monthly "Ex-communication" newsletter plus access to discount on our range of exclusive merchandising, including T-shirts, sweatshirts, lingerie, rubberwear and badges. There is also inclusive membership to the main branch giving you access to the Social Club at Bootham Crescent.
This article was written by Paul Hilton and originally published in the APSCIL magazine.