YORK City veteran wordsmith Malcolm Huntington will celebrate a significant landmark as he settles into his press seat to watch the Minstermen take on Gillingham. Today's fixture (December 22, 2012) will mark the 2,000th time he has covered a York City game Ed - the game was postponed, in a career that stretches all the way back to August 1949 having first watched City during WW2.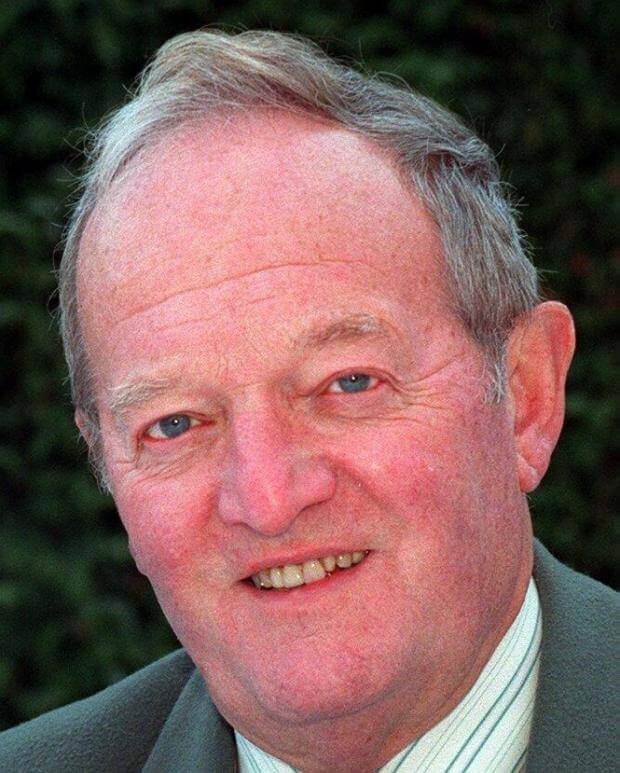 "I can remember my first match (as a press correspondent) very clearly. It was away at Luton in May 1967, and we lost 5-1," said Huntington.
"Strangely enough, York had won by the same scoreline two months earlier against Luton.
"In those days City used to undertake long away matches on the train, something that doesn't happen these days."
Huntington replaced Wilf Meek as the then Yorkshire Evening Press' York City correspondent in 1968, and reported on 1,302 matches before retiring from The Yorkshire Evening Press on 19 May 1995. He has covered the remainder of his games on a freelance basis.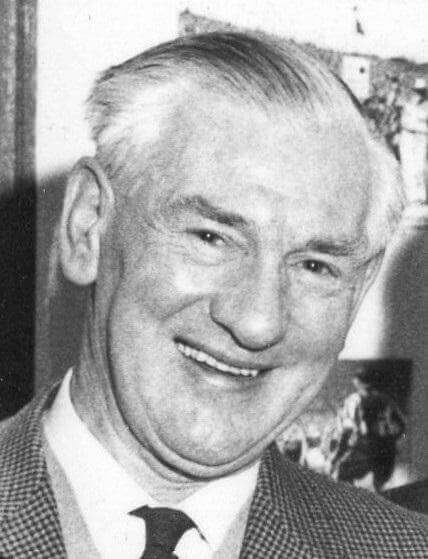 As you might expect, Huntington has seen an array of great players and managers pass through Bootham Crescent in his 53-year career.
"In terms of success, the greatest manager has got to be Tom Johnston," Huntington said. "He was sometimes difficult to communicate with, which made my job difficult at times, but you really couldn't argue with his tremendous achievements. "He got together a great team, signing players like Barry Swallow, Jimmy Seal and Chris Jones." Johnston's squad comprised only 13 regular players, which Huntington believes was crucial to the side's success. "When you've got a small number like that, it's nearly always a good side. Only when you're struggling do you throw on loads of different players. It's not done like that anymore, but it worked. He got City into the old Second Division (the Championship as it's called now)," Huntington recalled. "He played a 2-3-5 formation, with two full-backs, three half-backs and five forwards – you don't see that one much nowadays."
Johnston's famous side is not the only outstanding City team that Huntington has had the pleasure of watching.
"Denis Smith's side that won the old Fourth Division in 1984 was another fantastic team. Smith used a 13-man squad like Johnston and had some fantastic players."
Huntington added: "John Bird's another very interesting manager. In my opinion, he was the unluckiest manager ever. "He signed Dean Kiely, Wayne Hall, Ray Warburton, Nigel Pepper and David Longhurst," recalled Huntington. "That was my saddest day in journalism, the day David tragically collapsed and died on the pitch. I'll never forget that day." City were plagued with injuries at the start of the 1991-1992 season, and a poor run of results led to Bird's unfortunate sacking in October of 1991.
"He was incredibly unlucky. John Ward took over from Bird and added Paul Barnes to the side for £60,000.
"Other than Barnes it was Bird's team who won at Wembley in 1993." City won promotion from the old Third Division with a 4-2 shoot-out victory over Crewe Alexandra, a day that Huntington remembers fondly, "The best quote I ever got was from Wayne Hall when I asked him what on earth he was doing volunteering to take the crucial fifth penalty at Wembley in the 1993 play-off final. "I did it because I'm a bloody thick Yorkshireman," he told me".
He was absent the next time the Minstermen graced the pitch at Wembley in an effort to gain promotion, missing 2010's heartbreaking 3-1 Conference play-off final defeat at the hands of Oxford United.
"We had no idea that City were going to make the play-off final, and my son had arranged for me to go and see Barcelona play Villarreal at the Nou Camp. It was a great game, 3-3, but sadly on that day City lost to Oxford at Wembley.
"I'm a great admirer of Barcelona, and in particular Lionel Messi of course – the greatest player I've ever seen."
The disappointment was short-lived, as Huntington was present as usual for last year's unprecedented Wembley double.
"The club's greatest achievement? Beating Manchester United in 1995 and Everton in 1996 were fantastic, but in terms of the greatest achievement, you're looking at Gary Mills," said Huntington.
"It was truly wonderful following City to Wembley twice in eight days. How many managers can say that in their lives?"
Huntington witnessed the FA Trophy victory over Newport County, but cites last year's play-off final victory as his sweetest moment covering the club.
"City getting back into the Football League was a very emotional occasion, when we beat Luton at Wembley," said Huntington.
Midfield dynamo Scott Kerr has consistently impressed the 78-year-old, and Huntington regards him as one of the club's greatest ever midfielders. "Kerr's the only one of the present team in my best ever York City XI, he's a fantastic midfield general with real leadership qualities."
Throughout his time covering the club, Huntington, whose services to Yorkshire sports journalism were recognised with an MBE, has noticed an intriguing pattern emerging.
"We had great success in 1973, 1983 and 1993 – all years that end in three," he said.
"Will 2013 follow that pattern? Let's keep our fingers crossed."
2017
Malcolm Huntington died on the 26th April 2017 after a short illness. A minute's silence was held in his memory before the Forest Green Rovers game 3 days later.
After retiring from The Yorkshire Evening Press in 1995, he worked as a freelance reporter, often reporting on City's games for various regional papers until finally hanging up his pen in 2013. He rarely missed a City fixture over a 45 year period, totting up over 2,000 matches, but sometimes his other career took precedence, that of an international tennis umpire.
His talents were recognised by being awarded an MBE for services to regional journalism and he was twice voted Yorkshire's Sportswriter Of The Year.
Malcolm was a familiar face at grounds up and down the country, happily chatting to fans outside the ground before the game and then in the press box. My abiding memory of Malcolm is turning up early to home games for many seasons, invariably, he was in the car park holding court with City supporters.
He had a forthright style, and would never shy from confrontation with the York City board, on at least one occasion he was banned by City for being critical of the club. Some thought him to be too close to the club. Nevertheless, he was well respected. Being a City supporter for many years before becoming a journalist, it is easy to understand both viewpoints.
When he retired in 1995, his press articles were the news and views on York City. Emails were barely around, no club had an official PR function (some would say City's PR function was Malcolm Huntington and The Yorkshire Evening Press), whilst twitter and messages boards were still some way in the future. About the only alternative view were the fanzines.
Whilst he expressed the club view on Terrace Talk, he always appreciated anyone who had City's best interests at heart.
My first experience of him was on a Saturday morning in February 1988 when he rang me at home to discuss the "Raise The Roof" article I'd written for Terrace Talk. He wanted to know what we planned. Around the same time, club chairman Michael Sinclair rang Frank Ormston to gauge his thoughts. The Roof Appeal was launched with a big headline story on the back page of The Yorkshire Evening Press.
Throughout The Roof Appeal and later years, there wasn't a single occasion that Malcolm failed to put something in the Press if I asked. If it was to promote City, it went in, no questions asked. He was always keen to promote City.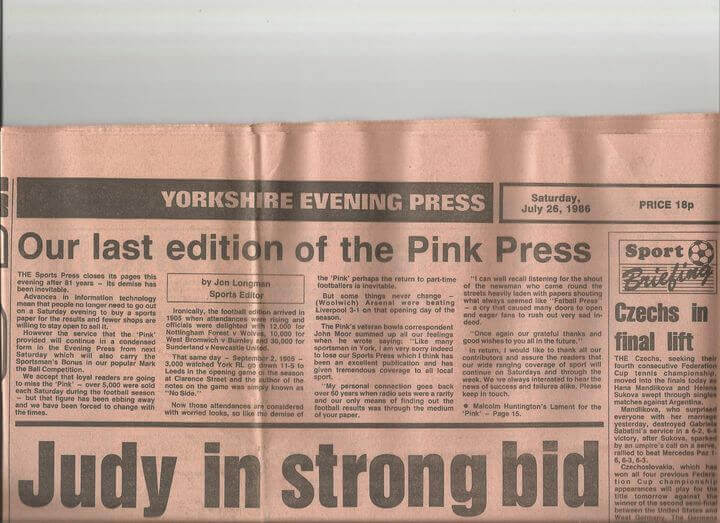 Throughout his journalistic career, his reports in The Press and the Saturday evening "Sports Press" Green / Pink edition (until its demise on 26 July 1986) were essential reading for every City fan, Malcolm being one of City's biggest fans. The Sports Press, sold separately, was launched in 1905 on standard white newspaper, it is best remembered by many as "The Green Press" and from the 1970s, for economic reasons, was printed on pink paper. It was sold as a special edition, available every Saturday evening, from around 6pm in the city centre and local villages, outlying places might have to wait until Sunday morning to receive their copy. In its final years, its 8 broadsheet pages were packed with match reports from around the county plus many regular articles covering a whole multitude of sports. It contained all the days' football, rugby, cricket and horse racing results plus columns covering many local clubs (both senior amateur and boys leagues) with extensive columns covering many more sports, including darts, angling, squash, badminton, tennis, table tennis, horse racing, golf and many more sports. A must for the sports afficando, although without the football, it could sometimes be a hard read during the summer months.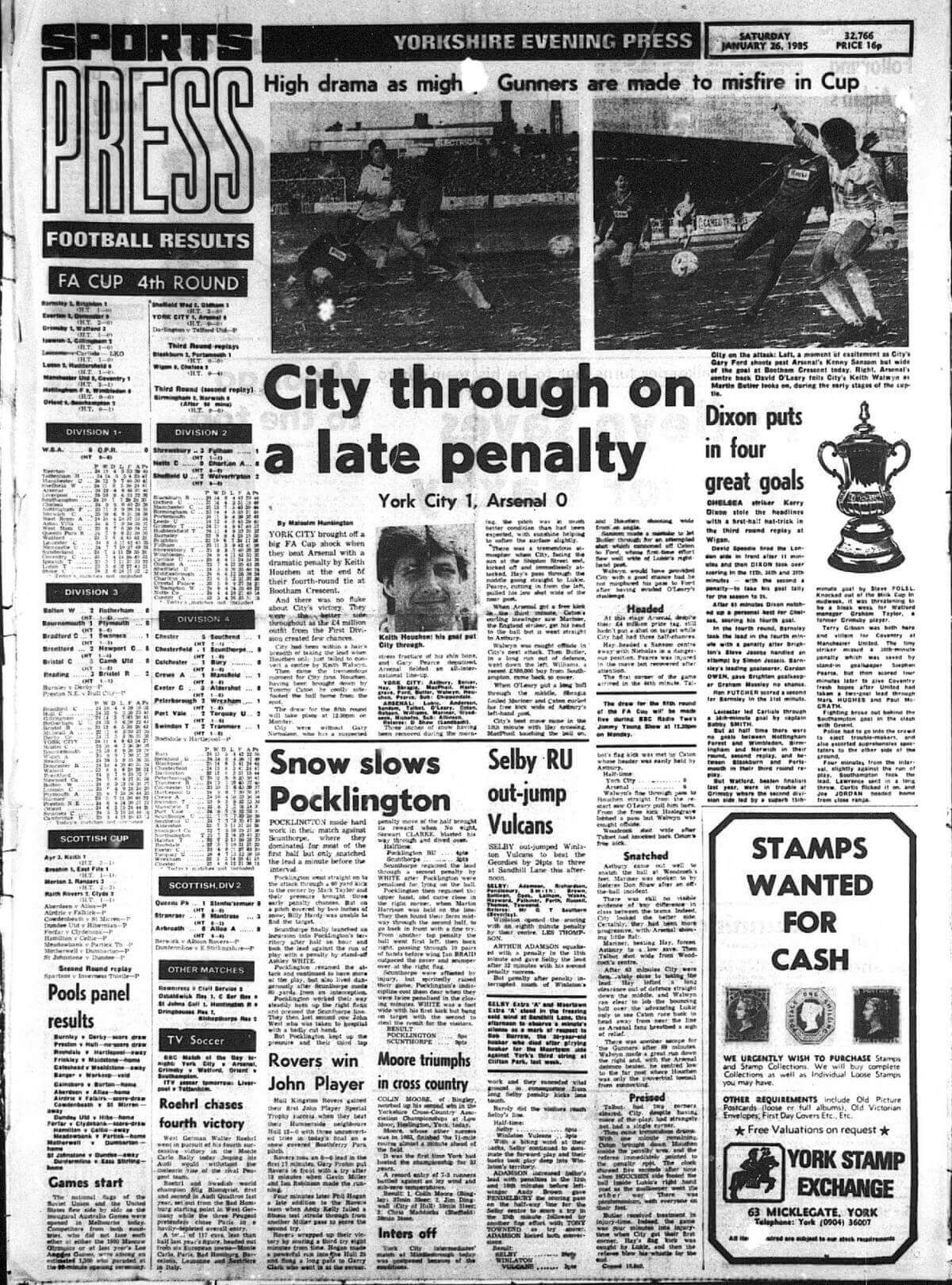 Along with Wilf Meek, Malcolm's reporting on York City created an authoritative archive which chronicles the club's day-to-day history. He covered City's first team for the Yorkshire Evening Press from 1968 onwards until his retirement as chief sports writer in 1995,
Malcolm was a keen schoolboy footballer, playing in goal for York and Yorkshire. He was also nominated for a place in the England schoolboys team but never made an appearance. Failing eyesight meant a premature end to his playing career. He was also a stalwart of the local tennis scene and is probably best known as being a top tennis umpire of his era, best remembered for umpiring Wimbledon finals and a Wimbledon altercation with John McEnroe. He also umpired Davis Cup finals and at 2 Olympics.
Recalling his City favourites, Malcolm once said, "Norman Wilkinson was one of the best. He scored a lot of goals, was always in position to take a pass and covered an enormous amount of ground. I also thought Roger Jones was a great goalkeeper. He had played for Blackburn in the old first division and, even though he was at the end of his career and playing with a bad leg, he was everything you wanted from a goalkeeper and commanded the penalty area brilliantly. That whole team in 1983/84 had some great players, though, like John MacPhail, Ricky Sbragia, Keith Walwyn and John Byrne."
Interesting fact: Malcolm was the first person to spot the deliberate mistake in the original York City Quiz Book.
2013: Malcolm Huntington announces his retirement
Yorkshire Evening Press - YCFC Correspondents
1922 – 1968 Wilf Meek
1968 – 1995 Malcolm Huntington
1995 – 13/Nov/99 Tony Kelly (1st match as Chief Sports Writer was 12/08/95)
07/01/00 – 2003: Dave Stanford
Sep 2003 – June 2019: Dave Flett
Subsequently largely "pool" journalists
Footnote: Malcolm Huntington replaced Wilf "Mr York City" Meek who reported on City from the club's formation in 1922. Meek also served as a City Director and Vice-Chairman and was responsible for producing the match day programme for over 40 years.
Sports Press
The Sports Press was a national obsession for many years, a staple across many towns and cities which published their own newspapers. In its heyday, there were more than 30 regional versions across the country.
York's Sports Press had lasted until 1986 and across the country they gradually dwindled until on July 23th 2022, the last remaining paper, Portsmouth's Sports Mail published its last ever issue.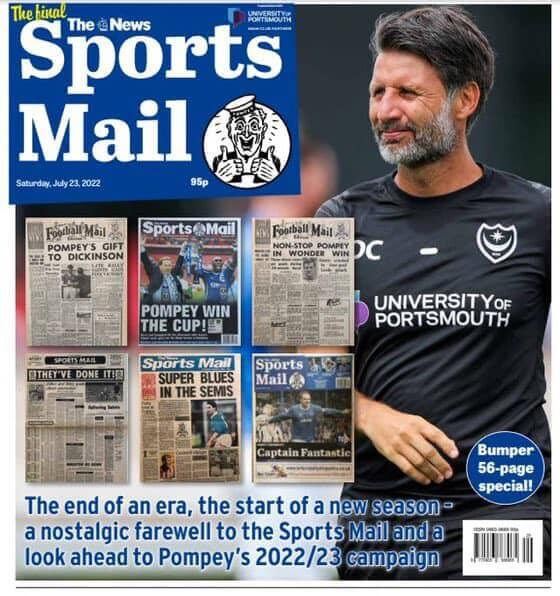 It had been resurrected after a brief hiatus in 2013 and since 2017, following the closure of the Southern Daily Echo's Sports Pink, the Sports Mail has stood alone in what was once a thriving market for Saturday / Sunday sports papers before the advent of multi-channel / satellite TV, the internet and free newspapers. End of an era - Read More.
Birmingham's Sports Argus remembered.