At 6 foot 4 inches and with distinctive ginger hair, Barry Jackson was easily recognisable, that sometimes got him into trouble on the pitch as did his uncompromising, no nonsense style of play.
Born in Askrigg, North Yorkshire in February 1938, Barry moved to York with his family when he was very young. He attended Joseph Rowntee School and was head boy in his final year. Playing for Cliftonville (originally a centre forward), in local minor league football, he was spotted by City. He joined City as an amateur in the summer of 1956 and starred in a public pre-season practice match in August 1956, named Reds vs Blues (effectively first team vs the rest), where it was noted that he "towered above his colleagues", played in front of a crowd of 7,099.
.
He signed a part time professional contract in December 1956, years later, he recalls he was sitting on a pile of potates on a farm in Strensall when manager Sam Bartram arrived to get his signature. His first two seasons were spent with the reserve side. Occasionally he was deployed as a centre forward, he scored a hat trick in a 3-1 reserve team win over Grimsby in February 1957. He made his senior debut (deputising for the injured Howard Johnson) on the opening day of the 1958/9 season against Oldham in the club's first-ever game in Division 4. He made an instant impact that season, being a regular starter and helping City to win a first ever promotion. He was also a member of Cityís next promotion side in 1965.
For several years, he continued his engineering apprenticeship at Cookes (later Vickers on Haxby Road) and recalled being sent to work by his Dad on the day after City beat Leicester in the League Cup in October 1961 complete with 5 stitches in a head gash that he'd received during the game.
Barry was a colossus at the heart of the defence from 1958 to 1970 and still holds the record of 539 League and Cup appearances (scoring 10 goals), possibly a never to be beaten record. He was dropped for the only time in his career in 1968. Teammates spoke of his great heading ability and exceptional fitness, "like having 2 men back there", according to Colin Addison and keeper Tommy Forgan noted "(he always gave) 110 per cent and rarely missed a match". Several teammates believed he was the fittest player they ever played with.
He went on to star in Cityís successful 1970 FA Cup trilogy with Cardiff, then 31 years old, many felt he outplayed John Toshack and deserved to play at a much higher level than Division 4. Jackson had John Toshack in his pocket and later that year, Jackson was fuming as Toshack made a £110,000 transfer to Liverpool.
However, sent off 2 days after the third game, at Scunthorpe, his City career was effectively over, kicking over the home team trainer's water bucket as he left the pitch. That episode later merited a mention in Kevin Keegan's autobiography.
An 8 week ban saw Chris Topping and Barry Swallow establish their centre back pairing. Strict FA rules meant he missed his own testimonial game in February 1970 against Hull. Jackson was released at the end of the season. Incidentally, the ban was one of, if not the longest ban ever given for being sent off, made worse by it being extended to include a 2 week suspended ban (the first ever suspended ban) that Jackson had received for a pre season sending off.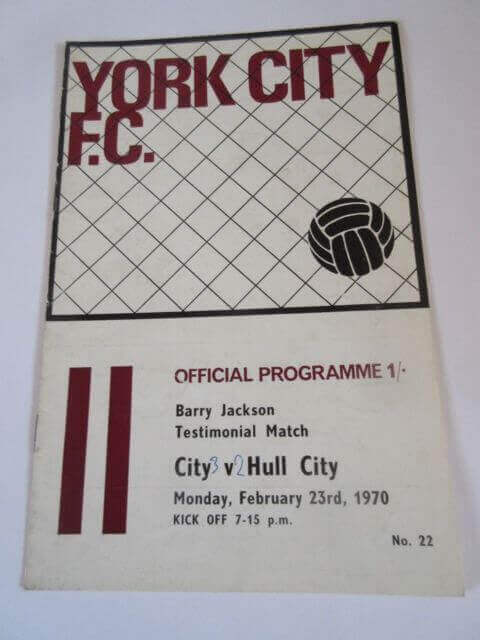 In August 1970, after a very short non league career at Scarborough, he announced his retirement saying it "didn't feel right". (Not the first one to say that about Scarborough - Ed).
A near ever present for 12 seasons, in 2007, he was voted City's all time favourite player in a poll conducted by the PFA as part of their centenary celebrations.
To many, Barry Jackson is regarded as City's best ever defender and wonder why he didn't play at a higher level. However, it is understood that he turned down an offer from Wolves because he didn't want to leave York, dressing talk suggested it was because of his mum's cooking.
Everyone who knew him, during his playing career and later life would probably agree that he was an amiable man, always willing to stop and chat and to encourage young City supporters. Before one game, a 7 year old boy asked him for his autograph, he took the boy into City's dressing room to get the autographs of the whole team.
One of the most passionate and energetic players to have ever worn a York City shirt, I doubt if any opposing forward came off the pitch at the end of a game thinking they'd had an easy game when up against Barry Jackson.
.
Jackson is also remembered for his newsagent / confectionery / tobacco shop he opened at the top of Bootham in July 1963. Later, he worked in the electricity trade for many years for NEEB (North Eastern Electricity Board) / Northern Electric as a meter reader. Barry and his wife Susan retired to Pitlochry in Scotland where he spent the last 20 years of his live.
.
Sadly, in 2020 the family of Chris Topping reported that he was suffering from dementia. He died on November 7th 2021, aged 83.
.
At the time of his passing, his brother Grant said, ďHe was very popular, outgoing, loved by everyone, but also a very private person, particularly in those later years. He was good at all sports, but his main love was always football. I remember when he was an early teenager, he went to a clinic run by Stanley Matthews and after coming back, he spent all of his spare time kicking a ball around the back yard. Barry was a fierce competitor with a short fuse, and I think that this was his Achilles heel, it got him into trouble at times. He was a great brother to me, supportive in any way he could be, and Iím sure that being his brother helped me along in my social life as everyone wanted to talk to me about him!" His wife Susan added, "This is a big thank you to everyone who sent in those wonderful comments about Barry. He would have been so proud - as I am - to know people thought so highly of him. He was a warm, kind, generous man, who never thought very highly of himself. These comments would have given him great joy, as they have eased some pain for me. Thank you. Barry loved his time with York City and Northern Electric. He loved people and chatting. We were married for 53 years. He was, and always will be, the love of my life."