1922 - 1966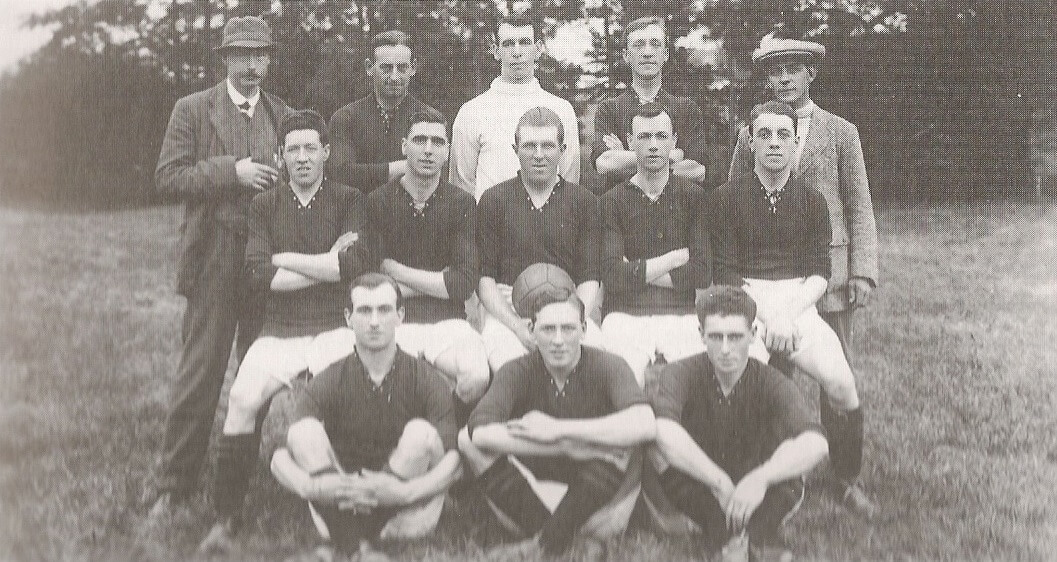 City's original colours were maroon shirts and white shorts (or knickers as they were described at the time).
Note, in October 2020, City themselves stated the colour burgundy was worn between 1922 and 1937, however, looking back at comtemporary reports and programmes, maroon was always the stated colour, never burgundy.
Whilst now, maroon can be considered an unusual colour to wear, it was more popular in those days, possibly due to royal connections.
Very quickly, City changed to maroon and white striped shirts. Socks were black with a couple of maroon bands at the time. Due to financial constraints, some City teams of the 1920s appeared wearing socks knitted by supporters' wives.
City reverted to plain maroon shirts in 1929 and maintained them until 1933 (see Walsall photo).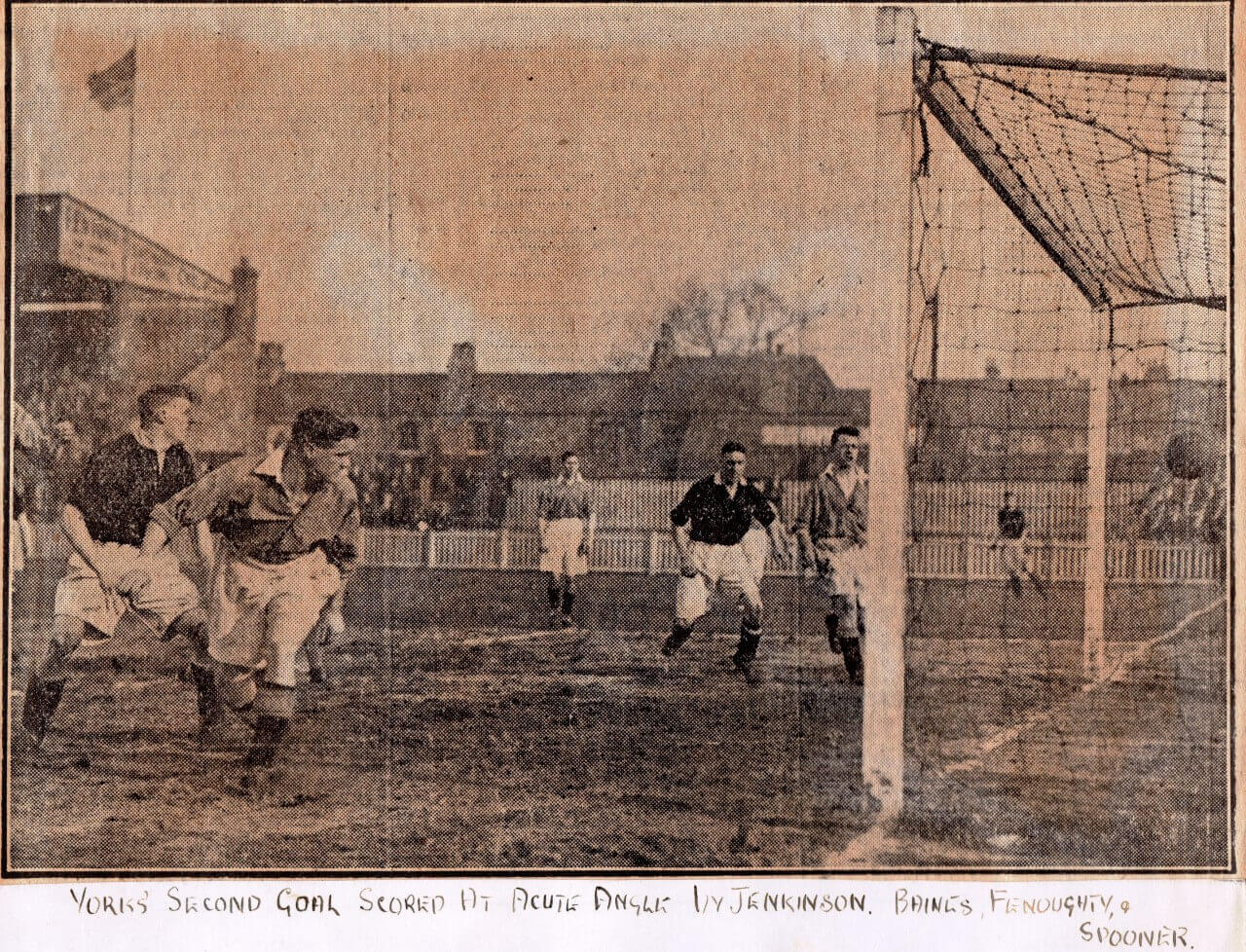 For the 1933/4 season, City played in a unique chocolate and cream striped shirt, in deference to the city's confectionery association (although there was no link between the businesses and the club, apart from the supporters).
Some reports state the chocolate and cream shirt was introduced for the 1932/3 season, but the Walsall photo suggests otherwise.
In 1936, City changed to a "distinctive" red shirt. Red shirt, white shorts was to remain the first choice kit until 1966.
Sock design was to change frequently, but always included a combination of red, white and black. Contemporary reports stated the chocolate / cream shirts clashed too often with the opponents' kit.
When City played Middlesbrough at Bootham Crescent in the FA Cup in February 1938, to avoid a colour clash, City wore tangerines shirts and Boro played in white, cup regulations at the time meant both teams had to change shirts. Boro won the toss for first choice change kit.
In 1950/1, for one season only, City's shirts included the City Of York crest, presumably, as part of the Festival Of Britain celebrations, but otherwise, there was no crest on the shirt until the late 1960s.
1966 - 1990
As City's fortunes floundered, an all white kit (with red piping on cuff and collars) was introduced in 1966. With City's fortunes continuing to flounder, City reverted to maroon in 1969. Some reports at the time blamed the high laundry bills arising from the need to maintain a pristine white coloured shirt was the underlying reason for the switch of kit.
Apart from a City Of York motif during the 1950/1 season, the shirt was devoid of identity until 1969 when the letters "YCFC" appeared.
In 1973, the shirt was embellished with a white stripe running down both sides starting under the armpits. It was around this time that the tradition of handing shirts down from first to reserve to youth sides first ceased, although muchlater, in the NLN days, with shirts no longer bearing players' names, the tradition was revived.
A season later, 1974, as City celebrated promotion to the old, Division 2 (now The Championship), not for the first time (remember chocolate and cream), City's kit was re-designed to provide a unique design with the "Y" front. City's "Y" was added to the shirt.
The "Y-front" was designed by Peter Turpin, a former City junior, and was one of the many promotional ideas of Keith Hunt, City's newly appointed and short lived first Commercial Manager. At the time, there was no advertising value (it was in the days before Yorkie bars) and didn't incur the wrath of The BBC unlike Coventry's shirt of a few years later featuring a design which had like the letter "T" incorporated into it, some said denoting Talbot and the city's car building tradition.
After 2 seasons in the second tier, relegation was marked with a new kit, the maroon and white on the shirt being reversed.
2 years later,1978, City were applying for re-election after 2 successive relegation seasons. City went through an entire re-branding exercise and reverted to red shirts, this time with navy blue shorts, the first time blue had appeared as part of City's regular first choice kit.
The biggest change during this era was the introduction of shirt sponsorship, first allowed by The Football Association in 1977. Kettering Town were the first club to wear a sponsor's name on their shirt. It wasn't until February 1984 that City first sported a sponsor's logo on the shirt.
It wasn't until February 1984 that City wore a sponsored shirt in a game. Chosen for BBC Match Of The Day coverage in a Division 4 table topping game at Blackpool, City struck their first short sponsorship deal, it was with Cameron's Brewery who were closely associated with City for several years around the time. For the game, City wore "Hansa", a popular Cameron's lager, on their light blue change shirt and then for the rest of the season. An extended deal with Camerons saw "Camerons" appear on the shirt from the start of the 1984/5 season. The logo was retained for the rest of the season before changing to "Camerons" for the 1984/5 season before reverting to "Hansa" for 4 seasons until 1990. The association ending, when Cameron's commercial director, formerly a long serving and prominent former amateur footballer with Rowntrees' (and City's reserve side) left the company.
The 1985 "Arsenal" shirt featured white sleeves and a white flash across the upper body.
It should be noted that City's club sponsor was Newitts and the team were pictured wearing shirts with their name on the front in various team photos from 1981 (PHOTO) but they were never worn in a competitive game.
1990 - To Date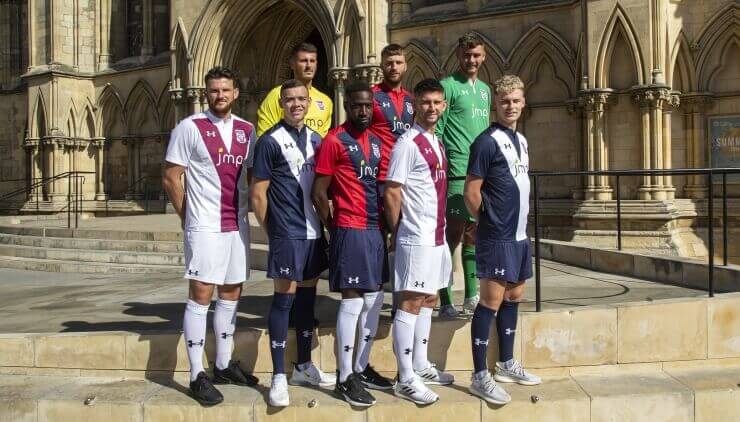 Recent years have seen continual changes in kit design as shirts became a fashion item and money maker for clubs. Socks changed frequently and the shirt design changed even more frequently.
For the 1990/1 season, City's shirt sponsor was Flamingo Land (nearly a decade before their owner launched a hostile takeover bid) and was followed by 6 years with Portakabin. The Yorkshire Evening Press, Phoenix Software and CLP all followed briefly. Legal firm Pryers enjoyed a 6 year association as shirt sponsor which ended with 2 wins at Wembley in 2012. 7 years with Benenden Health followed before Jason McGill's JMP assumed shirt sponsorship in 2019. It is believed that the value of many of these shirt sponsorships annually amounted to around a small five figure sum.
The 1993 shirt saw a "YC" logo introduced on one shoulder and the opposite short leg. The red / blue combination remained intact until 1997. In that year, City played in all red, albeit with blue and white pipping running down the shorts and shorts.
For the 1996/7 season, the red / blue colours were retained. The new 2nd kit was all white with blue socks (the previous blue / white clashed too often) and a 3rd kit was introduced, turquoise / black stripes, black shorts and blue / black socks, the first stripes since the chocolate / cream of the 30s.
The John Batchelor era saw City revert to a "Y" front, this time in red (white "Y" and red shorts) as he sought to bond with City's supporters. To link the club to Batchelor's motor racing ambitions, the shirt had one sleeve with a black and white chequered flag design at the shoulder.
In 2009, City wore a one off purple shirt for the FA Trophy at Wembley. Purple being the colour of the robes of the Archbishop Of York, the shirts were auctioned after the game with proceeds going to his youth charity.
In spring 2019, City announced a hugely popular one off maroon shirt (see above) for the last ever game at Bootham Crescent, due to be played in April 2019. Given the stadium move being delayed, the shirt was not worn as intended. However given its huge popularity, City kept the design for the 2019/20 season (see above), this time, red with a navy blue "Y", the change kit being the colours reversed (albeit a white "Y"), another nod back to the 1970s change kit and a white shirt with "Y" as third choice.
For the 2019/20 end of season play offs, City were granted permission to wear the commenorative maroon Y shirt (white shorts and socks) in what was expected to be the last ever game at Bootham Crescent. Manufactured in 2019, it contained the sponsor's name "Benenden Health", they'd ended their sponsorship deal in summer 2019. City legend Graeme Crawford, spoke when the shirt was unveiled in early 2019, "Everyone used to like wearing this shirt and I think the design is now synonymous with York City Football Club. It was also a lucky shirt back in the seventies and, hopefully, it will be as lucky again. The new version puts a modern take on an old design and I really like it." Unfortunately, it wasn't lucky.
2020/1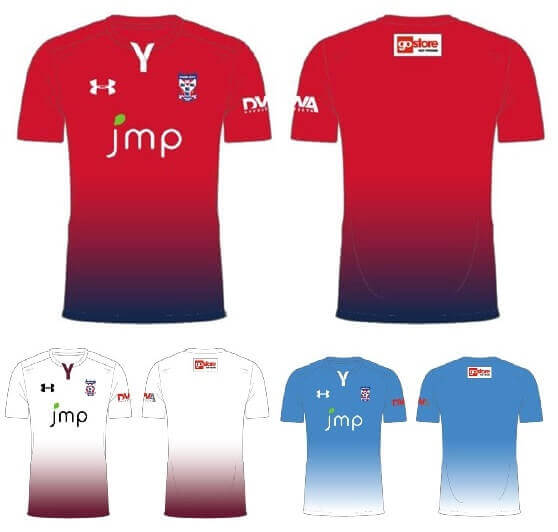 For 2020/1, once again City unveiled 3 new strips, all with a twist on the iconic Y-front design, it was incorporated into the collar.
The home featured a red to navy gradient, navy shorts and navy socks.
The away kit was produced with a nod to the club's heritage using traditional colours white and burgundy (First time I've seen it described as burgundy and not maroon – Ed), which were used from 1922-1937 and in the 1970s. The 3rd kit design will feature a sky blue to white design with white shorts and white socks.
Goalkeeper kits were green, yellow, and white designs respectively.
For the first time, the kit featured 3 sponsors' names, main sponsor JM Packaging, back of shirt sponsor GoStore and new sleeve sponsor DWA Architects.
Details were announced on October 1st but given logistical difficulties, City kicked off the season in the previous season's kit. The new kit made its bow in game 5 (October 17th v Brackley).
Buy retro City Kits and City Kit, all sales benefit City.
This page used to be a link to an external site and is now expanded to give more context.
Footnote:
or many years, in cup ties, the home team wore their change shirts if there was a clash, however, in earlier times, both teams would play in a change kit. In 1955, Blackpool wore white and City wore blue. In 1938, when City played Middlesbrough, both teams changed, City wore tangerine and Middlesbrough white.
For many years, City's keeper, like all Football League keepers wore plain green jerseys whilst England's international keeper wore yellow. In Scotland, this was reversed, yellow being worn in domestic games and yellow in internationals. Shorts and socks being the same as the outfield players. It remained like this until the 1970s.
Worst ever City kit? Many would say the 2016/7 change kit variously described as electric green and hi vis yellow.
As with bigger clubs, City sign a contract with a shirt manufacturer, so are tied in for the duration and terms of that contract, probably meaning the shirt style is reflective of the manufacturer of the time. It is understood that for 2020/1, City are still under contract to Under Armour.