Over the years, the role of the manager has changed. Indeed, City once went 18 months without one, during that time we reached the FA Cup semi final
Our Greatest Ever Manager
In a 2013 vote to celebrate 125 years of the Football League, Tom Johnston was voted City's greatest ever manager polling 35% of the vote. Behind him were Alan Little (26%), Gary Mills (22%) and Denis Smith (17%).
However, the debate around City's greatest ever manager will rage and rage.
I'll nominate Tom Johnston, the only manager to lead City top 2 promotions, building 2 sides in the process and taking City in an upwards trajectory in each of his 6 seasons with us. He left with City comfortably placed in Division 2 (now known as the Championship), somewhere no other City manager has ever taken us. Arguably, he is the City manager to get the most out of his players, relatively few went onto have significant careers after their time with City, Brian Pollard and Cliff Calvert, the youngest players in his squad being the exceptions. The rest, essentially journeymen, continued their way down football's pyramid after City.
Denis Smith spent 5 years in charge of City, inheriting Keith Walwyn and John Byrne, like Johnston before him, he re-shaped City's side with free transfer signings and within 2 years had taken City to the Division 4 championship becoming the first ever English side to gain over 100 points in a season. Good cup runs followed in each of the next 2 seasons, but he and City struggled to refresh the side but twice challenged for promotion to the Championship before running out of steam in the spring. Losing key players, City struggled in the 1986/7 season and Smith resigned at the end of the season to become Sunderland manager, leaving City in a perilous state.
Another contender for City's best ever manager is Alan Little. He led City to promotion to Division 3 (tier 3) in 1993. His reign is best remembered for our first ever Wembley visit and massive cup wins over Manchester United and Everton. Again, under Little, City fell short of a second promotion. His side was to spend 6 seasons above the basement division, equalling the club record 6 seasons Johnston's City side had enjoyed a decade earlier. Both Johnston and Little had over 6 years in charge of City whilst Smith was manager for over 5 years. Longevity its self must be considered a measure of success in itself.
One differential between the 3 managers is that only Johnston was able to build two separate sides, it would have been interesting to see if Johnson could have repeated the feat in 1975, something that Wilf McGuinness spectacularly failed to achieve. Johnston, Smith and Little all lost out of contract players, (Burrows, MacPhail, Walwyn and Kiely included), Smith and Little struggled to replace them. That is one perennial obstacle to City's progression as a Football League club.
When asked in 2013, Malcolm Huntington replied, "Tom Johnston was the one who did the best job. He took the club from the old Fourth Division to the second on a shoestring budget by signing people like Chris Jones and Jimmy Seal. The best to deal with as a reporter, though, was John Ward, right. It was his first job in management and he was very open and gave me lots of good information."
You could make an argument based on stats (see below for City's manager stats), but that can cloud the issue. On that basis, by summer 2020, Steve Watson would be a strong contender.
The Early Years: Pre 1960
Jock Collier, appointed in 1928 at £4 a week, was City's first manager and was in post a year later when we entered The Football League. A Scottish midfielder, he had a decent playing career, including a spell at Hull before joining City from QPR.
Prior to Collier, City's board had employed a player / coach as was the way in those days. He was very much a hired hand who usually reported to the directors and secretary. In March 1930, Collier announced he would resign at the end of the season to become mine host at The Punchbowl Inn in York.
Collier was succeeded by George "Billy" Sherrington for 3 years. He'd moved to York before World War 1 to take up a senior position in the civil service and was a founder member of our club in 1922. His reign ended with his "promotion" to secretary in 1933. He was to later have 2 spells as caretaker manager, most famously for 18 months from September 1954, when alongside Tom Lockie, he took City to the 1955 FA Cup semi final. Dubbed "Mr York City", on his retirement, after 37 years as secretary in 1961, he was appointed City's first ever Vice President and in 1966 President, a position in which he served until his death in 1977. To many he was "Mr York City" having key in City gaining Football League status in 1929 and instrumental in securing and developing Bootham Crescent and the 54/5 FA Cup run.
Jock Collier returned in 1933 and served for nearly 4 years before being replaced by former player Tom Mitchell in March 1937, later he was to launch his own sports shop in Kings Square. In his first full season, Mitchell led City to the FA Cup quarter finals. His managerial spell straddled World War 2, so on his resignation in February 1950, he had served nearly 13 years, making him City's longest serving manager. An 8 year spell as a director in the 1960s followed.
With league football suspended during WW2, friendlies were arranged. City director, Arthur Wright assumed managerial duties until he resigned during the 1942–43 season. Tom Lockie replaced him until he stood down when league football resumed in 1946.
Tom Mitchell was followed in March 1950 by Dick Duckworth (captain of our 1938 FA Cup quarter final team), his reign lasted just over a season and ended with a 3-0 win over Stockport in October 1952. Having previously tendered his resignation, he served his notice and started his new job on the following Monday as Stockport manager, just 2 days after he'd overseen his current club beat his new club. He was followed by Charlie Spencer, unfortunately, previous health problems re-surfaced and he died in office less than 3 months after his appointment, thus becoming City's shortest term manager.
Spencer was followed by Jimmy McCormick who had just over a season in charge before a dispute with the directors over team selection lead to his resignation in September 1954, by which time he'd assembled the squad that took City to an FA Cup semi final later that season.
Sherrington and Tom Lockie assumed caretaker duties that were to last for 18 months. Lockie, a Scottish born centre half had joined City in 1933 and spent a season with us before returning as reserve team trainer in 1936, quickly earning promotion to first team trainer. Over 18 months and 86 league games, they won 58% of the league points available, a record not surpassed in City's history, other than by short term caretaker managers. However, that is overshadowed by the 1955 FA Cup run that ended in glorious defeat in a replay against Newcastle, the eventual winners, as City attracted nationwide (and further) coverage.
In March 1956, Sam Bartram was a popular choice when appointed manager. A respected keeper, he was one of the best (if not the best) keepers never to play for England. He had fond memories of York from when playing for City during the war. He spent 4 years with City, being the first City manager to take City to promotion (and a season later, the first to see City relegated). He was Charlton's record appearance holder and played in 3 FA Cup Finals for them. The search for a new manager had taken around 18 months and included Don Roper, a long serving and prolific Arsenal right winger. He and his wife being invited to Bootham Crescent for a look around in December 1955, he was to reject the chance to become City's player manager. Bartram's reign ended in 1960 when he accepted the position of Luton manager. Later, he was to enjoy a successful career as a Sunday People journalist.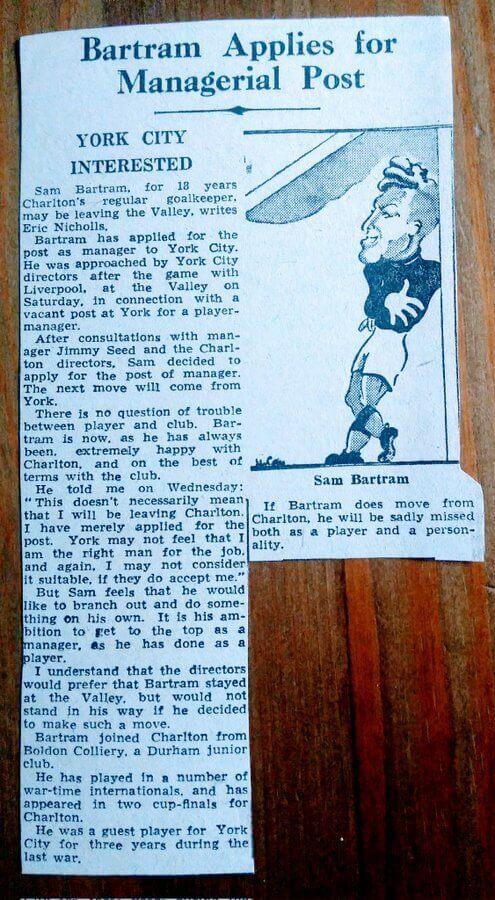 False Hopes: 1960 - 82
Tom Lockie was promoted to manager and spent over 7 years in the role, the longest in City's post WW2 era, ending when he became the first City manager to be sacked. Lockie had originally joined City in the summer of 1933, he left after a season and returned in 1936, initially as reserve team trainer and assisted during our 1938 FA Cup run.
Lockie must take great credit for his many roles at the club over 34 years. Mainly as physio / trainer, but also as joint caretaker manager during the 1955 Happy Wanderers FA Cup run as well as overseeing the continuance of football at Bootham Crescent during World War 2.
The player who played under him also held him in high regard. Barry Jackson noting, "Tom was wonderful trainer and physio" whilst Andy Provan liked him, "he was like an old uncle, he was honest even though he didn't have a sense of humour". Possibly his last great feat for City was to lure Ted MacDougall to the club.
Throughout his time in York, he and his wife rented the house next to the Post Office in New Earswick. His reign came to an end following successive relegation and re-election seasons with home fans gathering on the old Enclosure beneath the directors' box singing "Send Tom Lockie to Vietnam" to the tune of "Michael row the boat ashore". His village connections meant City's players were often hired as painters and handymen in the village throughout the summer off season months of the 1960s. Signs of the times and an indication of the earnings power of the football employee. Indeed, after leaving City, Lockie worked in the wages' office at Rowntree Mackintosh until reaching retirement age.
Lockie was followed by Joe Shaw, a playing legend at Sheffield United; in fact there is a statue outside Bramall Lane to commemorate him. In his first managerial appointment, he lasted only 9 months at City before resigning for personal reasons just before the start of the 1968/9 season, citing the commute from Sheffield allied to worries over his wife's wool shop in Sheffield. However, he signed 2 prolific strikers, Ted MacDougall and Tommy Ross and laid the early foundations for Tom Johnston.
Tom Johnston arrived in October 1968 with a strong pedigree. As a player, he'd made the Scottish squad without winning a cap and had served both Nottingham clubs well, scoring 114 goals from the left wing. A fully qualified FA coach, he honed his skills in Iceland, took Rotherham to the first ever Football League Cup final and had also managed Grimsby and Huddersfield before City.
Many would argue he was City's most successful ever manager. Others might suggest he could have done more and were disappointed by the manner of his departure. With over 6 years in charge, his stay was only surpassed by Tom Lockie.
His sides mirrored his image. Dour. In his second full season he lead us to promotion from the bottom division, and having survived on goal average for the next 2 seasons, he took us in to Division 2 (now The Championship) for the first time in 1974, becoming the only ever manager, to date, to lead City to 2 promotion campaigns. His sides were based on a strong back four and solid professionalism. The experienced Barry Lyons and Ian Butler provided the class and know how whilst experienced lower league strikers, Chris Jones and Jimmy Seal, scored plenty of goals. Evidence suggests Tom Johnston was very much an office manager and left the coaching and training to his coaches. Our first player of the year, Phil Burrows left at the end of his contract, Johnston being very one dimensional during contract negotiations, apparently when Burrows asked for a rise, Johnston told him, "see that lemonade crate over there, go and stand on it, its the only rise you'll get". Johnston's era was marked by general dressing room unrest, the players almost going on strike at one time.
Johnston left us in January 1975, news broke just after we'd drawn away to Arsenal in the FA Cup and were comfortably placed in the league. He resigned to return to Huddersfield, one of his former clubs, as General Manager, a division below us and what appeared to be a back office job, although, he was promoted to manager a few months later. Given the era, it is highly likely that the salary was an attractive feature of his new job and one that City couldn't match.
His successor was Wilf McGuinness. His previous managerial job in England had been as Manchester United manager in the post Busby era. He maintained our league status in 1975 but as the team aged, his replacements failed to perform and we suffered successive relegations in 1976 and 1977.
Given City's history, its interesting to speculate whether Tom Johnston would have made a better job of building a new side, certainly history suggests that City have always struggled to rebuild a successful side higher up the leagues, struggling with age old problem of affordability, both of transfer fees and wages.
McGuinness, with a long Manchester United career behind him struggled with City. He and his signings, many established players with Manchester United connections failed to deliver with City. Perhaps he didn't endear himself to the squad when on his arrival, he told them they weren't good enough. Later, when returning with City to Old Trafford, during the pre match warm up, he called his players towards him and told them to walk towards the Old Trafford faithful alongside him, where he fully expected to receive a rapturous welcome home. All he and the players got was a volley of abuse and boos. On a 1975 post season trip to Majorca, he played a trick on the board at Brian Pollard's 21st birthday meal. Excusing himself on the pretext of going to the airport to meet his brother, he returned dressed up in various player's clothes and wearing a wig purporting to be his brother. In a flamboyant display, he belittled the players and directors. Quite how the board didn't twig (the players were in on the joke) is a mystery, but it wasn't until Barry Swallow deliberately brushed Wilf's head dislodging his wig that the joke was out. A story in the excellent "City Memoirs" book tells of McGuinness lying flat on the training ground pretending to have been knocked out by a fallen branch, only for the players to hurdle him, ignoring any possible ailment. In 2017, Chris Jones noted that McGuinness had been suffering from dementia for the past 3 years.
McGuinness' reign ended in October 1977 and he was followed by Charlie Wright. He failed to spark a real upturn in our fortunes. He was a flamboyant figure with prominent moustache and colourful language to the fore. I remember him when as an opposing keeper at City he had a proper jovial rapport with the City fans behind his goal. Graeme Crawford recalls him as the person who opened his eyes to specialised keeper coaching.
After Wright, youth coach Barry Lyons stepped up into the managerial hot seat. Maybe not cut out to be a manager, he lasted less than 9 months before reverting back to his youth team position. The high spot of his reign was undoubtedly his signing of Keith Walwyn for £4,000. Youth coach Kevin Randall became caretaker, lasting 3 months in the role before Barry Swallow took over.
Knowing the importance of a commanding centre half, one of Swallow's first acts was to bring Stoke's Denis Smith to York on loan for the rest of the season. Smith openly admits that he came to York to play football and had no thoughts of staying beyond the end of the season. However, with a keen interest in coaching and management already developed, Denis Smith was appointed player manager in May 1982.
False Hopes (2): 1982 - 2004
Denis Smith's 5 years were to see unparalleled progress. A first trophy, the Division 4 championship in 1984 with a record number of points and 2 good cup runs, both ending in defeat in Round 5 replays at Anfield cemented his place in City's history. John Byrne went from being a struggling young reserve player to top flight international striker and alongside astute signings, Smith turned a struggling side into a formidable lower league team. Smith's final season saw the old problem return, how to replace the stars of the team. John MacPhail and Keith Walwyn left at the end of their contracts in successive seasons for pittance compensation fees. Once again, City were unable to find adequate replacements. Smith's City side struggled in its final season, relegation was narrowly avoided. However, the slump didn't prevent Sunderland, just relegated into our division from appointing Smith as their new manager. At Sunderland, once again, the Smith / Busby partnership demonstrated their coaching ability when plucking Marco Gabbiadini from York, a mis firing young striker, and turning him into the darling of Roker Park whose goals inspired Sunderland to immediate promotion. He later managed WBA, Bristol City, Oxford and Wrexham and joined the 1,000 club, an elite group of managers who have managed 1,000 games.
After Smith, Booby Saxton took on the City baton. At the time, if you believed reports, the club was in melt down. Maybe the Smith squad had grown old together and it is true that many players were out of contract, less than a 5 a side team were actually signed up when he arrived. However, Saxton's City kicked off with just 4 newcomers.
A last day win at Brentford saw City rise off the foot of the table for the only time of the season, with a new record of just 8 league wins in a season. The Smith mantra of "he's young, we can coach the mistakes out of him" being replaced by "He's young and inexperienced, he can't do any more", they sounded beaten before they even started. Saxton's resigned in September 1988 as the team struggled back in Division 4. Despite attempts by the club, he wouldn't change his mind and withdraw his resignation.
Despite an abysmal record as City manager, his player's spoke highly of him. Dale Banton, raised at West Ham, named him the best manager he played under whilst Michael Ingham, recalled him doing all the coaching sessions when he was a young pro at Sunderland where all the "lads loved him".
John Bird, left the manager's post at Hartlepool to come to York. He was to spend just over 3 years with City. Bird's first 2 seasons saw solid mid table finishes, the first being notable for taking over and improving a struggling side. His reign was characterised by a number of notable signings and a loosening of purse strings by the City board. City struggled to recover from David Longhurst's death and finished the 1990/1 season in 21st place, being manager John Bird was probably affected more than most by his death. A slow start to the following season saw Bird relieved of his duties in September 1991. Whilst results were not spectacular, Bird left a solid side, the basis of side that was to enjoy success in the 1990s. Malcolm Huntington rated him as City's unluckiest manager ever. "He signed Dean Kiely, Wayne Hall, Ray Warburton, Nigel Pepper and David Longhurst. That was my saddest day in journalism, the day David tragically collapsed and died on the pitch. I'll never forget that day". City were plagued with injuries at the start of the 1991-1992 season and a poor run of results led to Bird's unfortunate sacking in October of 1991.
John Ward was a surprise choice as City's next manager. He interviewed very well and beat more experienced candidates, including Billy McEwan. Ward brought top flight coaching methods to City, although new to Division 4, his man management skills saw the team embrace Ward and his methods and kick on. To Bird's side, he was to add Paul Barnes and Gary Swann. 1992/3 saw City play some exciting football. With Swann, Nigel Pepper, Tony Canham and Jon McCarthy in midfield, Barnes and Ian Blackstone supplied the goals as City moved towards the top of Division 4. Ward's ability caught the eyes of Bristol Rovers who approached City to talk to Ward about their vacant managerial position. Ward was swayed and left City in March 1993. Of all the City's managers, alongside Smith, he probably had the most stellar managerial career.
Alan Little who had been assistant to both Ward and Bird was immediately promoted to manager, initially as caretaker manager. Speaking in 2019, Nigel Pepper described John Ward as someone who "knew everything about the game" and felt there was no transition problem when he left. "(Alan Little) was a strong character, a fantastic motivator, nasty, but in a good way, but could be ruthless when he had to be. A 100% winner. Everyone had the utmost respect for him". With a 5-1 away win in his first game, he carried on in the same vein as Ward to took York into the play offs and a Wembley play off final win over Crewe. Jon McCarthy praised Little's honest, work rate and integrity, attributes which he believes Little saw in him as he started his professional career. Speaking on York Hospital Ball, 2 of the stars of the Ward / Little era, spoke highly of both managers.
A division higher, City reached the play offs again in 1994. The following season saw City finish 9th after being in play off contention for a long time. Despite losing Jon McCarthy, hopes were high for the 1995/6 season, but ended in last day survival at Brighton, by which time City had recorded one of the best results in our history, a 3-0 win at Old Trafford against a reasonably strong Manchester United, a win that was to deny United the treble that season. After a very public fall out with the chairman, Paul Barnes became the latest high profile departure and was followed by Dean Kiely at the end of the season. Yet again City struggled to adequately replace the departees and were to encounter 2 seasons flirting with relegation (plus League Cup success over Everton). December 1998 saw a memorable league win over Manchester City, it was a rare highlight before a horrendous last week of the 1998/9 season when City lost twice and both Wycombe and Oldham won twice times, the only combination of results that could send City back down into the basement.
By this time, Little had been sacked and replaced by Neil Thompson as player manager in March 1999. As well as Barnes and McCarthy, City netted big fees for Richard Cresswell (£950k) Graeme Murty (£750k) and Jon Greening (£1.2m including add on clauses), the 3 biggest fees received in our history.
Those 6 seasons (1993-9) in Division 3 were, along with the Tom Johnston era, the longest time we've ever spent playing above the basement division. For many supporters, those 6 years are fondly remembered. Promotion, a first Wembley visit, wins over Manchester United and Everton, a succession of players nurtured at the club who moved onto better things and a successful youth policy.
Thompson failed to stabilise City, winning only 10 of his 45 games in charge, and was sacked and replaced by Terry Dolan within a year. Thompson recalled, he "probably wasn't quite ready for the job, the York situation was maybe a bit early for me, we had a very young team and they had a lot of financial problems at the club." Whether he ever had the senior players in the dressing room with him is debatable. However, Thompson later had a long career coaching junior sides at top clubs with Christian Fox noting how he had learned a lot from Thompson in his time with City. Equally, Rodney Rowe made disparaging remarks about Thompson on York Hospital Ball.
Arriving in February 2000, with a good reputation, Dolan's team played a dour style of football which never really engaged the fans, although in each of his 3 full seasons, he steadily improved our league position from 17th to 14th to 10th before being sacked at the end the 2002/3 season.
The Non League Years (1)
With The Supporters Trust in charge, Chris Brass was appointed player manager at the age of 27 in June 2003 on a 3 year contract, the youngest manager in The Football League since 1946 and at the time of his appointment, a popular choice of many supporters. Omens were good, City started the league season with 4 straights wins. Just 6 more games were won as City plunged from top to bottom and out of The Football League.
Brass was sacked in November 2004 and Viv Busby, brought back to the club to assist Brass, promoted to caretaker manager, a position he held for 3 months until Billy McEwan was appointed manager. McEwan had previously been interviewed for the post in 1991.
Despite a heavily restricted budget, a slow upturn in form saw City reach the play offs in 2007 before losing in the semi final to Morecambe. 2 of McEwan's signings from lower non league sides, Martyn Woolford and Richard Brodie, went onto have good City careers before netting the club about £500,000 when sold.
A "big taskmaster", McEwan's sacking coincided with 2 successive away wins. In a 2019 interview, Dave Flett noted he knew for a fact it was more or less player power that got him the boot, and the player's wanted an easier life, he believes McEwan's sacking was the one that the board got wrong. Certainly McEwan's opinion on David Stockdale's lack of commitment was well publicised at the time.
Speaking on Hospital Ball, David McGurk noted how the dressing room became polarised between the over 30 year old players and the younger players and how McEwan didn't always see eye to eye with the elder players whilst being a strong influence on the development of many of the younger players. Clayton Donaldson recalled how McEwan "could speak for England", so persuasive he was when selling the club to Donaldson.
Once again the sacked manager's assistant, this time, Colin Walker was promoted to caretaker manager. He extended the run of consecutive away wins to 7 matches, another club record for a new manager. His City side wasn't to taste defeat until their 14th game, another club record. Promoted to permanent manager on Boxing Day 2007, he won the manager of the month award a few days later. After his initial success, Walker, a lovely gentleman according to Michael Ingham, but lacking leadership, appeared out of his depth and wasn't able to sustain his initial momentum. City finished the season 14th and after just 5 wins in the first 19 games of the following season, Walker was sacked in November 2008. Speaking to Barnsley FC's Heritage Project in 2020, he said, "got offered the change to be a manager, never ever thought I'd be a manager, wish I hadn't. Speaking to York Hospital Ball, Richard Brodie contrasted the excellent man management skills he received under Billy McEwan and Martin Foyle to those of Colin Walker who once told him that he'd never play for City again and seemed to believe there was a drinking culture amongst City's large north east contingent (and gradually sought to reduce it), no doubt leading to an uneasy feeling in the dressing room.
In succession, Martin Foyle was appointed manager and initially struggled to improve the team. Conference survival (City were in the bottom 4 during 4 April match days, the only bottom 4 spots in our first Conference spell apart from some early season table glitches) was secured in the penultimate game. The following month, City visited the new Wembley where we lost 2-0 to Stevenage in The FA Trophy, we struggled to make an impression on a team who'd lost in the play off semi finals a few days earlier. The following season saw a return to Wembley and a 3-1 defeat against Oxford in the play off final; 2 goals down in the first 15 minutes effectively saw the game out of our reach. With Brodie leaving in August 2010, Foyle couldn't re-energise City (and maybe himself as well). Equally, speaking on Hospital Ball, David McGurk noted how the loss of Richard Brodie and Luke Graham had left him feeling deflated, the better players being picked off and City with a lesser squad. Foyle resigned in September 2010.
To replace him, City went to Tamworth to appoint Gary Mills, a bright young Conference manager. In his first season, Mills took City to 8th and setting the foundations for 2011/2 when astute signings of proven Conference players saw City do the Wembley double and return to The Football League.
Back In The Football League
Relying on the Conference side, City struggled back in The Football League as many players failed to make the step up. In his book Clarke Carlisle casts doubts on some of the managerial traits of Mills. From the outside, there was a strong feeling that he was intransigent in his style of play. With City struggling for survival he was sacked in March 2013 and almost immediately replaced by Nigel Worthington. Given the closeness of Mills and the McGill family, it must have been a difficult and painful decision to make. Whatever, Mills left City with the best points gained record (53.7%) of all City's permanent managers, fractionally beating Denis Smith's record.
Worthington returned to the game after 4 years out and at a much lower level than he had previously experienced. With astute signings, survival was assured on the final day of the season. The following season started in a similar fashion, but a revival starting in January saw City surge from the bottom 2 to the play offs and defeat against Fleetwood. Prospect appeared bright for the 2013/4 season, but the new signings didn't work out and Worthington resigned after a painful 3-1 defeat at Newport in October. Subsequent reports indicated that Worthington may have been frustrated at his inability to get his message across to lower league players. Michael Ingham recalled Worthington's "only mistake was not bringing in his own backroom team as the lads never took to Torps (Steve Torpey)".
Once again City had a new manager within a couple of days. Russ Wilcox, very recently sacked by Scunthorpe, after leading then to Division 2 promotion just 6 months earlier, was recruited. The appointment of Wilcox was too far down the road when a very late candidate emerged, so City said no to Ricky Sbragia when he said he'd like to be considered. Again, a spring revival saw City survive, but once again, the new season saw little improvement and Wilcox was sacked in October 2015, just over a year after his appointment.
After a one game caretaker reign of Cresswell / Greening / Leaning, Jackie McNamara was appointed manager in November 2015. City's form dipped even further resulting in relegation to the National League. Between them, Wilcox and McNamara achieved a club record low of just 7 league wins in a season. Only the high number of drawn games prevented City doing a double of least points / least wins.
The Non League Years (2)
Year In, Year Out. Manager In, Manager Out
Where Will it End? Worthington resigned in October 2014 Successive managers, Wilcox, McNamara, Mills and Gray were all appointed in the autumn, survived to re-build with their own players in the following summer before losing their jobs a few weeks / months into the new season, leaving behind a squad of players with some allegiance to the outgoing manager and worrying for their futures under a new manager.
Speaking on York Hospital Ball (August 2022), Russ Penn noted around this time, "York fans are very demanding. Nigel Worthington was booed after 2 months (of his final season) because we weren't near the top of the table. The fans also had a big call in Russ Wilcox's sacking, the chairman listened to the fans, we wouldn't have got relegated under Russ Wilcox".
Jackie McNamara
Gary Mills
Martin Gray
Sam Collins
Steve Watson and his greatest goals
John Askey. Won the supporters backing, united the club, gained promotion but incurred the wrath of Henderson
David Webb
Michael "Mikey" Morton
Neal Ardley and his first City press conference.
It was interesting to watch the "next manager" betting market when Ardley was appointed. In some ways, it was not dissimiliar to Charlton who were looking to replace Dean Holden with the likes of Michael Appleton, Danny Cowley and Darren Moore being high up in both markets. When Fleetwood sacked Scott Brown, the same set candidates were once again largely amongst the favourites. For City, at longer odds were many of the candidates when City were looking to replace John Askey nearly a year earlier. According to the betting market other leading City candidates included Neal Ardley , Phil Parkinson (Altrincham) and Mike Williamson. At one stage, Darren Moore went odds on, helped by David Stockdale's Sheffield Wednesday links and being reportedly spotted at a City game (it is believed it was actually Frank Sinclair watching his son Tyrese play for Rochdale). Soon, Neal Ardley became odds on favourite. On September 4th, Darrell Clarke was cut from 33/1 in the morning, quickly down to 2/1 by early afternoon before drifting out to 5/1ater in the day. It was the same day that Sol Campbell suddenly appeared at 11/1 following various social media postings and despite rumours on him being interviewed, Karl Robinson was not listed at 50/1 or shorter. The market had been suspended on a couple of occasions and was again suspended on the afternoon of September 5th as Neal Ardley tightened to odds on favourite at 1 / 4. Ardley was appointed manager a day later. It is understood that Matt Uggla, Darren Kelly and David Stockdale were prominent in the recruitment process, a change in approach from last year when Glen Henderson and the York City Supporters' Trust appointed David Webb.
Neal Ardley appointed meant that City have had 4 permanent managers in under one year.
Over the years, we've had many different styles of manager. Without being prescriptive, those who instilled discipline and structure and had a no nonsense attitude have tended to have had better results. Some "nice guys" and a couple whose core experience was coaching at youth / academy level have struggled and I'm sure that some other managers failed to win the respect of the players.
... and See the managers
Managers That Got Away - What Might Have Been

Over the years there have been many people who might have made good City managers but never got the chance to do so for various reasons, they include:
Martin O'Neill - Never even got an interview when he applied soon after he'd retired from playing
Aidy Boothroyd - Agreed a youth contract with City as a 16 year old, but he went elsewhere. Successful lower league management career and later England Under 21 manager
Steve McClaren - York born
Billy McEwan - Unsuccessfully applied for the job about 12 years before he eventually got it
Malcolm Crosby - Paul Stephenson, Steve Agnew, Paul Groves - just some ex players who've recently enjoyed long and top flight coaching careers
Graham Potter - Only considered good enough to coach City's Under 14s' side. Teammate Chris Smith recalled that he got on well with Potter, he thought him so intelligent and would look after the younger lads but he never thought Potter would go on to have such a good managerial career
Barry Swallow - Chris Jones likened him to Malcolm Allison, his record as caretaker wasn't too bad
Neil Warnock - He's managed just about everyone else
Tony Collins - a short lived City playing career and later a long career as manager, coach and scout including working with Don Revie at Leeds and England
Ricky Sbragia - a very late candidate in 2014 when Russ Wilcox's appointment was about to be confirmed
Managers Of The Month
Before 1992, a divisional manager of the month was awarded. Winners included:
Denis Smith (August 1986 - Bell's Whisky Third Division Manager Of The Month)
Since 1992 the following City managers have been voted divisional manager of the month:
John Ward (August 1992 and September 1992)

Alan Little (March 1994)
Terry Dolan (August 2002)
Billy McEwan (February 2006, August 2006 (3 way share with Jim Smith (Oxford) and Frank Gray (Grays)) and April 2007)

Colin Walker (December 2007)
Martin Foyle (November 2009)
Gary Mills (November 2010 and April / May 2012 (one award))
Nigel Worthington (April 2013 and March 2014). (Incidentally, he was Division 2 Manager Of The Month for September 1998, he received his award on October 5 before Blackpool's 2-1 home defeat to City)
Steve Watson (February 2019) - Vanarama National League North How Steve and City Did It
Steve Watson (August 2019) - Vanarama National League North
Steve Watson (October 2021) - Vanarama National League North
John Askey (February 2022) - Vanarama National League North
The Next Arsenal Manager?
I came across this on the tube travelling home from work on the day that Unai Emery was sacked in November 2019.
Further Reading
Refer to the City History pages for more detail on many of our managers, including pen portraits, season reviews and interviews with some of our more recent managers. Also see City On TV for action from many games.
For details of every City manager, their success records and durations Click Here.