Manchester United 0 YORK CITY 3
On 20 September 1995, York City stunned the football world by inflicting a humiliating defeat on Manchester United in the Coca-Cola Cup.
Listen: City's Great Victory - BBC 25 Years On
Our paths haven't crossed very often. When they had, we'd lost. We got played off the park when we were both in Division 2 in 1974/5. The 0-1 at Bootham Crescent was the most one sided 1-0 I have ever seen. In 1992, our youth side lost 5-0 to the Beckham babes side at Old Trafford in the quarter finals of The FA Youth Cup. I'd predicted we'd go out in Round 1, so to reach Old Trafford was a result in itself.
Whilst sitting in a Manchester hotel just a few hours before what would become one of the most momentous night in York City's history, manager Alan Little admitted to feeling apprehensive about what lay ahead.
The Minstermen, having won their first league game of the season just 4 days earlier, just one place off the bottom of Division Two, were due to face a Manchester United side who the previous season had set a new Premiership scoring record by thrashing Ipswich Town 9-0.
Mindful of Manchester Unitedís 9-0 win over Ipswich, Little sent out his team to play their normal game, display their normal work ethic and that the defenders should stand their ground, not to dive in and to stay on their feet.
The size of the task facing York was illustrated by the bookmakers offering odds of up to 20-1 on a victory by the away side in the Coca-Cola Cup second round first leg tie.
Little, mindful that a heavy defeat could shatter his side's confidence as they tried to pull away from the relegation zone, hoped his side could emerge unscathed from what was expected to be a tough evening against Alex Ferguson's expensively assembled squad.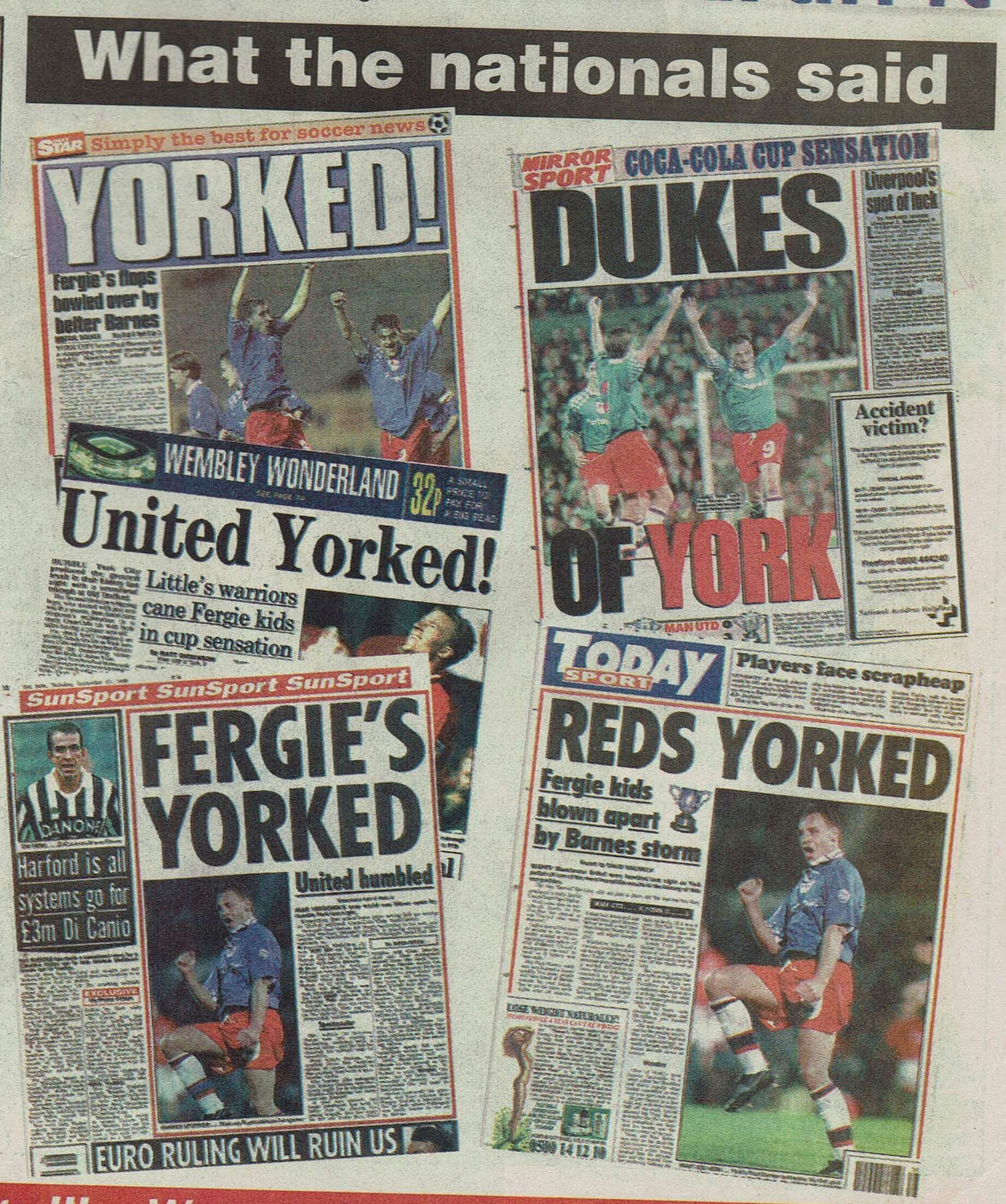 Speaking to the Yorkshire Post from his home on the outskirts of York, the former City manager recalls: "It is incredible to think it took place 10 years ago because so much of it still feels fresh. I remember clearly sitting in the hotel on the afternoon and discussing with some of our staff what might happen during that night's game.
"Manchester United had thumped Ipswich Town 9-0 a few months before and I was thinking 'that could happen to us'. Thankfully, I could not have been more wrong as it turned out to be a fantastic night for everyone involved with York City. It was made even more special because no-one expected it."
United's intent was clear with Ferguson making just two changes from the side that had thrashed Bolton in the Premiership the previous weekend with Pat McGibbon (a full Northern Ireland international) coming in for Steve Bruce and young goalkeeper England Under 21 keeper Kevin Pilkington replacing Peter Schmeichel. Hardly a reserve side.
Yes, they were both debutants, both turned 20, one a full international, the other an England Under 21 international. With Paul Parker, Dennis Irwin, Lee Sharpe, Gary Pallister, Phil Neville, Brian McClair, David Beckham and Ryan Giggs in their starting line up, it was representative of their strongest line up of the time. I daresay everyone of United's team (bar Pilkington) would have walked straight into City's side.
No one mentioned that we had 3 younger graduates of our youth policy in our side and that we had a younger average age than United. We were without the injured Paul Stephenson.
Little said: "I told the players before the game that the key to winning would be if we could do three things very well. We spoke about how important it was to not dive in, that we had to keep the ball when in possession and that we had to try and get in behind them. We managed to do all three."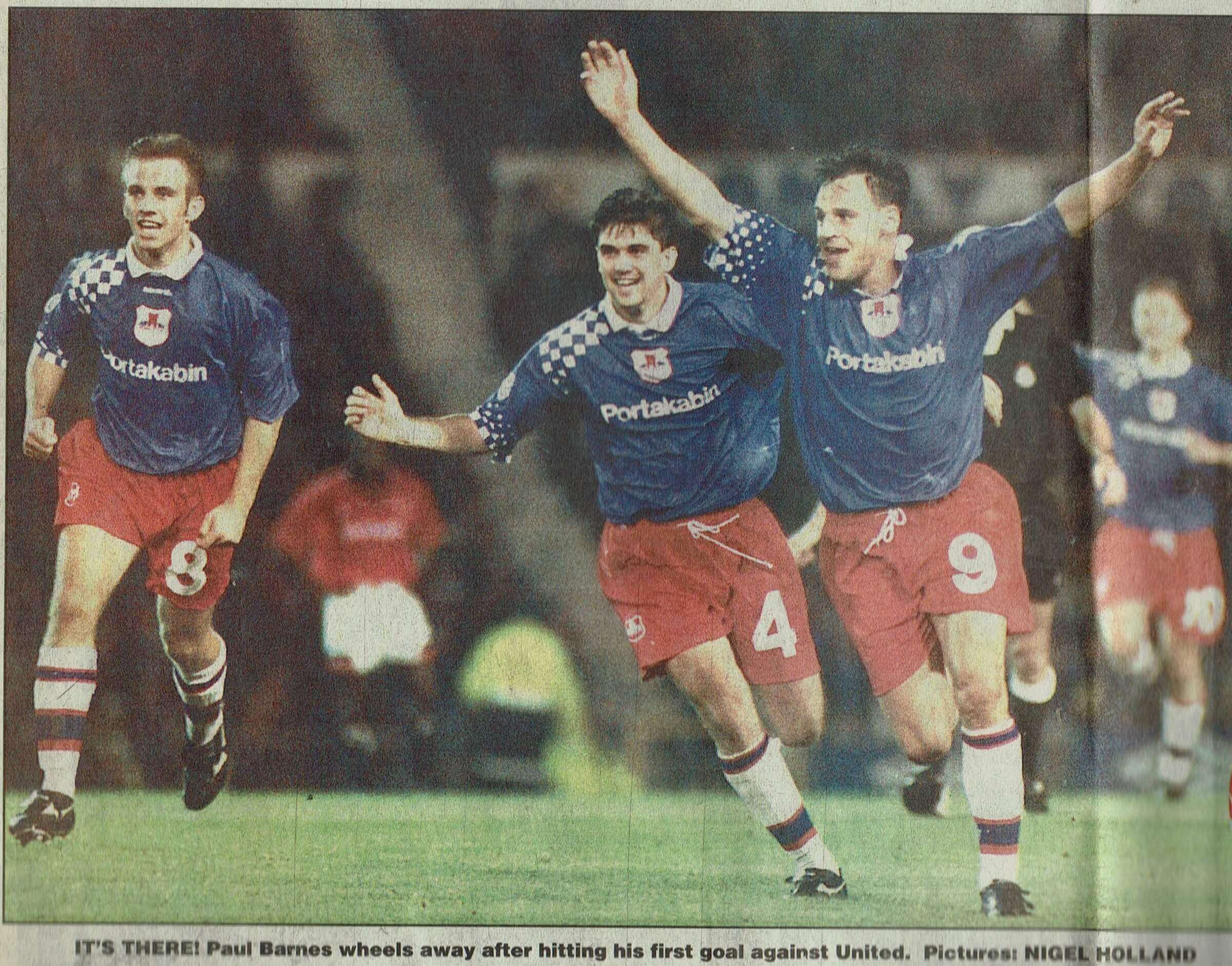 Despite facing seasoned internationals such as Ryan Giggs, Paul Parker, Lee Sharpe, Brian McClair and Gary Pallister, the Minstermen refused to be intimidated and started well. The 5,000 visiting fans in a sell-out crowd of 29,049, one stand was under construction at Old Trafford at the time. After 24 minutes, Graeme Murty robbed Phil Neville on halfway before Barnes unleashed a shot from 25 yards deceived Pilkington.
The former City manager said: "The building work probably worked in our favour because if we had gone 1-0 up in front of 50,000 rather than 29,000, then it could have been a bit more difficult. "The players continued to play well and managed to get a couple more goals early in the second half."
City held firm as Manchester United pushed forward for the equaliser. After 51 minutes, Paul Barnes, in full flight and heading towards goal, was felled by a poor challenge from McGibbon, with the young defender receiving his marching orders for a professional foul. Barnes netted the resulting penalty, celebrating with a Klinsmann dive. Two minutes later Tony Barras beat Pilkington with a firm header from Nigel Pepper's free-kick.
Unbelievably, City were three goals ahead and their travelling army of fans were quick to mock their illustrious hosts by cheekily asking 'are you Scarborough in disguise?'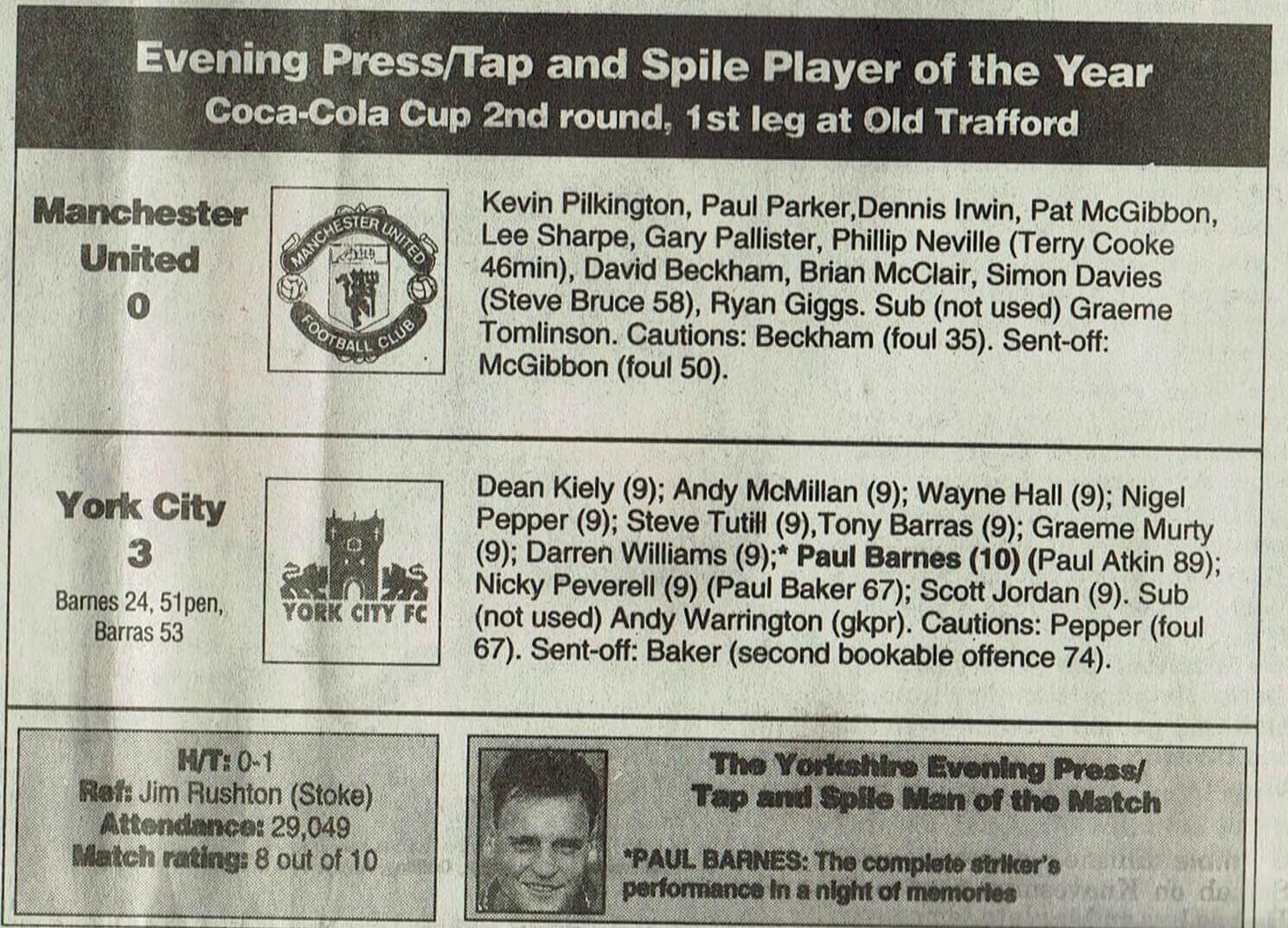 Paul Barnes was denied a hat trick with a goal disallowed for a dubious offside call. Young striker, Nicky Peverell blazed over as City contuinued to push forward.
United brought on Steve Bruce on the hour but even the dismissal of City's Paul Baker 10 minutes from time could not inspire the home side to pull a goal back. Little, who is keen to get back into football after spending 12 months living in Spain, said: "They were already down to 10 men by then and I can honestly say I was not worried when Paul was sent off. It was our night and the fear factor had gone by then.
After the game, Fergie launched an early "harirdryer" treatment on his players, it was over an hour after the final whistle when they finally emerged to mingle with the City players in the players' bar.
Fergie's fledglings had been annihiiated. Excuses were made about a weakened side. After the game, Paul Barnes was quoted as saying, "we could have scored more, but we didn't want to embarrass them", words that Fergie was to repeat on many occasions after United's successes over the next 10 years.
It was also interesting to get the reaction of the match commentators. United's own video had a commentator who seemed surprised that City could play an attractive passing game, rather than kick and rush, whilst believing we'd run out of steam by half time and normal order would be resumed. Radio York's match summariser broke into tears and couldn't speak, "I can't speak, go away", he said when asked for a word about our first goal.
There In Spirit
Househunting had prevented me going to the game, even listening to the radio commentary.
When I got home, I put on teletext. "Manchester United 0 York City 3". My first reaction was that teletext didnít cater for double figures and it should read "Manchester United 10 York City 3". I remember reading a story from the 1950 World Cup when news of England's 1-0 defeat against The USA reached England via telegram, the papers printed England 10 USA 1 believing there had been an error in transmission of the result.
A quick look at the answerphone suggested something was amiss. An unheard of 5 messages. Gradually the truth dawned, we'd won 3-0.
I was still phoning around at 3 in the morning to get the full story as friends returned home from the game. The following day, many people came up to me at work and said "well done" as though I had been a part of the team, most showing a genuine interest in City for the first time.
That was more than some City supporters got. Down on the south coast, 2 bleary eyed supporters were greeted in the office the following morning, "how did you get on?", "3-0", "It could have been worse", not realising we'd won rather than lost until much later in the day.
And pity the 2 poor supporters who set off from London by motorbike, straight up the M1, somehow he missed the M6 turning, ended up in Sheffield and navigated, without a map, their way across Sheffield and over the Pennines. Arriving in Manchester after kick-off, they spent an hour tearing around Manchester looking for the ground. Eventually they gave up, beaten, and headed back onto the M6 to start the long ride home. It was only when they bumped into some Chelsea fans at a service station that they learnt about the evening's events, which they refused to believe. It wasn't until they arrived home in the early hours that they realised exactly what they had missed. Unfortunately Rob and Wayne are no longer York City South members but their story, told brilliantly by them, is an absolute classic.
Meanwhile, in New Zealand, Josh "There's Only One Arthur Bottom" Easby, was at work, his boss with access to a news feed and knowing Josh's devotion to City rushed upstairs with a print out of the result. Josh didn't believe it, fearing nifty use of a typewriter was a means of winding him up. It was severeal hours and some phone calls later that the truth dawned. The story has happy ending as the New Zealand branch of the City supporters club grew from under 20 members to 65.
The Return Leg
Alan Little recalled, "For the return at Bootham Crescent, they understandably had all the big names in the team and we very quickly went 2-0 behind. We were thinking 'this could be curtains for us'. But then we managed to get a vital goal and eventually go through 4-3 on aggregate". In front of 9,386 at a packed Bootham Crescent, the big guns, including Eric Cantona, back from a nine month suspension, sought to put matters right with goals in the opening 15 minutes through Terry Cook and Scholes. A defiant City, with young goalkeeper Andy Warrington, on his debut, in inspired form, hit back with Jordan firing home on 39 minutes. Scholesís second 10 minutes from time made it 3-1 on the night, but the City dug in to record a famous 4-3 aggregate win.
"It was an incredible achievement and one that everyone who was involved with York should be very proud of."
Round 3 - QPR (A)
Round 3 saw City visit QPR, then a top flight club with Trevor Sinclair in his prime. City fought hard but couldn't ovecome a mini injury crisis and went down 3-1.
Unbelievably, the support City received at Loftus Road was even louder than at Old Trafford. 90 minutes of non stop singing. Ray Wilkins applauded the City faithful before he took a corner during the game and at the end, the whole QPR side came across to applaud the packed City masses. For atmosphere, many City supporters would say that night has never been bettered anywhere, Bootham Crescent, Wembley, Old Trafford or Anfield.
Throughout the second half, ďAlan Little's Barmy Red and blueĒ reverberated around the ground.
Speaking on York Hospital Ball in 2023, Alan Little note how demanding the cup run was and how it took a while to recover from the unbelievable amount of effort, both physically and mentally and that it impacted the rest of season.
10 Years Later: Re-live The Night
Following the success of the Phil Howden / York TV "Happy Wanderers" DVD earlier in 2005, a product that raised approximately £1,600 for York City Football Club, he launched another trip down memory lane.
As you all know, 2005 was the 10th anniversary of that famous night in Manchester when the brave battling boys of York City turned over Manchester United 3-0 at Old Trafford, one of the great achievements in our illustrious history.
To celebrate the anniversary, Phil got hold of a good quality copy of the 1995 video of the full match, which you may remember was sold in the Club Shop at the time. After some negotiations with Manchester United and Paul Doherty International (who filmed and produced the original), Phil obtained the rights in order to re-edit the footage and re-release for sale to raise money for York City FC. A big thanks to both parties in Manchester for their kindness.
Never again do we have to listen to the condescending tones of the MUTV commentator and Phil even correctly identified Paul Baker as being sent off.
Now you may ask yourself, "I have the video, why bother with the DVD?" Well, I hope the DVD version will attract you as City supporters as, although the footage has been taken from a video, it is pretty good quality. In addition, Phil has added replays and graphics which where strangely omitted from the original. All in all, it is a much more pleasurable watch than the original. With DVD technology you can easily skip onto your favourite bits of that night. As usual, Phil's faithful sidekick, Andrew Leathley, designed another excellent cover for it!
The DVD went on sale on the night of the anniversary itself (September 20th, York City v Dagenham & Redbridge). The price was £12 and the DVD was 1 hour and 50 minutes long. Details of how to get hold of a copy of "Manchester United v York City - 10th Anniversary Re-Edit" could previously be found at the DVD's now sadly deleted very own web page (thanks to Andrew Clayton!).
FERGIE AUCTION PLUS ANDY MC. September 22 and an "Evening with Andy McMillan" in the York City FC Social Club (2 days after the 10th anniversary of the Manure 0 City 3 match). The evening saw the conclusion of an auction for a copy of the match DVD signed by Sir Alex Ferguson. History doesn't record which DVD wnet for eth most, the one signed by Sir Alex or the one signed by Alan Little.
Finally, and most importantly as it was the main reason for the existence of these productions. All profits from the DVD's sale went to the York City Youth Development Fund, the Centre of Excellence and other City causes - all very worthy causes in the difficult financial circumstances experienced by our club.
Payment can be done by cash in person or cheque made payable to "York Minstermen" and sent to Phil Howden, 1 Marmian Drive, Stockton-On-The-Forest, York, YO32 9UX.
Email Chris your memories of the game
.