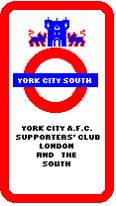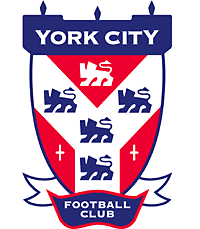 York City's Naughty Boy Step
For all the highlights in City's illustrious history, we've had our fair share of lowlights, both on and off the pitch. Below is our list of candidates for York City's naughty step, reserved for those naughty boys, some far more so than others, who have discredited City. The steps are largely filled by off the pitch miscreants, the bad players went straight into York City's all time worst team.
DOUGLAS CRAIG (and BARRY SWALLOW) As chairman, Douglas Craig's reign started well with our first Wembley triumph in 1993, followed by 2 good seasons in the 3rd flight and a League Cup win over Manchester United in 1995. Within a month of the United win, Craig was involved in an altercation with the team after a 6-1 defeat at Peterborough. The season petered out, survival was only confirmed 5 days after the official end of the season on a Thursday morning in Brighton. A successful youth policy provided players for the first team whilst the sale of starlets such as Jon Greening, Richard Cresswell and Graeme Murty would eventually net the club nearly £3m. Cries of "where's the money gone" were answered by paying over £700,000 for the likes of (oops, nearly called them players) Colin Alcide, Barry Conlon, Gordon Connelly, Rob Matthews, Adrian Randall, David Rush, John Sharples and Mark Tinkler. A rot set in, along with the inflated fees paid, City's wage bill spiralled out of control. The wage bill was £1.6m in 1999/2000 (the first one back in Division 4) and was twice as big as that of 5 seasons earlier. It rose to £2.16m in 2000/1. This at a time when total income was around £1.4m and total expenditure was £2.7m. Those 2 seasons saw City's wages to turnover amongst the worst ever known in English football. With a changing transfer market and City's youth production line drying up, there were no big sales to cover the losses. In 1999, in an attempt to safeguard City's future in the case of liquidation, the directors decided to split the football club from its main asset the ground. Bootham Crescent Holdings was formed. In December 2001, at the AGM, Craig announced the directors would resign at the end of the season and invited offers to take over the football club. Historically, City's share's had been traded at their £1 face value, most being passed from director to director, some being held by fans. The vast majority of the shares were held by a small number of people, mainly the directors, a small number were held by a few fans (some had been passed down through several generations and others bought in 1979 or 1983 when the share capital was expanded). The directors were seen as the moral guardians of the club, looking after it and passing control onto the next generation. Craig said, "since when did the moral guardians of the club have to sit and take abuse, vilification and vandalism and continue to hold the role". Craig and his fellow directors walked away with the ground (worth several million pounds) and left a near worthless football club behind, doing a deal to sell their football club shares to John Batchelor. Although, he did nothing illegal, up to that time, since our formation in 1922, the chair and board (and all shareholders) had bought and sold their sales at (or around) their £1 face value. They were effectively the guardians of our football club, performing their duties as a labour of love and not seeking to profit from York City. Indeed, given the amount of time and effort (and often additional financial backing provided), it was often a loss maker. No one had ever looked to make a share trading profit, indeed some had been bought at £1 and sold for a few pence less. Craig had been a City supporter for many years before joining the board in 1978 and becoming chairman in 1990. His political views were well known and even some people who disliked him and his forthright opinions respected him for his fairness. In the early years of his reign as chairman, City enjoyed steady progress, with promotion via Wembley, a second successive play off season, a 3-0 Old Trafford win and strong youth team seemingly putting City on a strong upwards curve. A (dis) honourable mention for Barry Swallow who is fighting Craig for the top spot. Voted our player of the millennium in 2000, as a director, he profited from Douglas Craig's actions and netted a tidy sum from the sale of his shares (some reports noted around £200,000), ignoring pleas from supporters to donate the sale proceeds back to the club. PS Craig is possibly high up on AFC Wimbledon's naughty steps for his role on an FA panel which overturned a Football League ruling which paved the way for the original Wimbledon club to move to Milton Keynes in 2003.
JACK FOUNTAIN John (commonly known as Jack) Fountain received a 15 month prison sentence in 1965 for his part in a nationwide bribery / betting scandal, first exposed by The Sunday People, that shook the nation. A former City captain, it was alleged that he was involved in fixing 2 City matches, a 2-1 home defeat by Tranmere in October 1961 and a 3-2 away defeat at Oldham in December 1961. He continued to play for City until his contract was terminated in late 1963. He stood trial alongside 9 other players and ex players. The then recently retired Jimmy Gauld received a 4 year prison sentence as ringleader, whilst all the other guilty players, including 2 ex England internationals each received 15 months or less in prison. They were all banned from football for life. In total, over 30 players were prosecuted. Wilf Meek, the Yorkshire Evening Press' City correspondent at the time described it as "the most unfortunate and sickening week in City's history".
JOHN BATCHELOR Thought of asour saviour when he bought the club from Douglas Craig. Opinion started to change when schemes linking City with his motor racing team and branding us as York City Soccer Club to generate interest in USA surfaced. In October 2002, he launched half price season tickets for the following season and denied claims that City were in financial trouble. A month later, City entered a creditors' voluntary agreement leading to the rise of the York City Supporters' Trust and their eventual takeover of the club. The truth behind the Batchelor reign made grim reading. He diverted club sponsorship money into his racing team, season ticket money had been mis-spent and walked away with a £120,000 profit (some reports stated it was £300,000). He died in 2010 of liver failure, probably caused by alcoholism.
REECE THOMPSON Joined City in the summer of 2015, the young striker signed from Frickley after an impressive trial which cumulated in a wonder strike in a pre season friendly against Newcastle. His early season form, 3 goals in his first 6 competitive matches, suggested we'd made a good signing. After a Johnston Paints game in early October, he was struck down by a virus which the club later said was a "long term illness". Russ Wilcox, who'd signed him left and was replaced by Jackie McNamara. Early in 2016 McNamara said he'd never met Thompson and had no idea when he'd be fit enough to return to the club. Miraculously, just a few days later, he was back in training. He never regained his zest under McNamara and was allowed to leave for North Ferriby United in September 2016. Another promising talent that never flourished at York. The underlying illness was never officially disclosed although enough rumours abounded to point to his real problem. Subsequently, it is an understatement to suggest that Reece Thompson endeared himself to City supporters. His goading celebration in front of the Longhurst after scoring for relegation rivals North Ferriby on New Year's Day 2017, along with regular social media spats, cemented his status in some circles as one of the most unpopular players to pull on a City shirt. Invariably Thompson's display for NFU, Guiseley and Boston always saw City' defence unsettled and antagonism towards City's fans continued, as witnessed by his miraculous recovery once Daniel Rowe was cautioned for a foul against him when playing for Boston in December 2017. Before him, it is also believed that Martin Garrett suffered similar personal problems. STOP PRESS: Reece Thompson jailed for assaulting girlfriend
ANDY FERRELL A wholehearted midfielder, former Newcastle junior, Andy Ferrell joined City in May 2009 on a free and moved to Gateshead in February 2010 for £3,500. In June 2012, he was arrested for supplying drugs and later received a 4 year jail sentence after admitting being concerned in the supply of cocaine and amphetamines. At Newcastle Crown Court, Ferrell, along with 14 others admitted a series of offences and were jailed form a total of more than 40 years. It is understood that after leaving Newcastle in 2004 and signing a £5,000 a week deal with Watford, his gambling addiction began. As he plummeted down the divisions, he turned to supplying drugs to make money and became involved in a plot to supply cocaine an amphetamine across Tyneside. A friend said, "He's one of the nicest lads you'll meet in your life. He had everything going for him, but he went off the rails because of gambling. He's not a bad lad and he's absolutely gutted now. It's such a shame to see so much talent go to waste. He just got massively into gambling. I think it's a very common problem with footballers. They are earning all this money, but they can't go out and drink every night so they go out and gamble. When he gets out he will be able to get into coaching or something like that. I'm confident he will get back on track. He's determined to put it behind him. He's a special kid. He's got something about him." Released in 2014, he joined Ashington and in May 2015 was appointed manager of Bedlington Terriers. His side were relegated in his first season and he was relieved of his duties in September 2016.
TOMMY HENDERSON A fair haired, direct, right winger we picked up on a free from Bradford Park Avenue when they lost their Football League status in 1970, he lit up the following 2 seasons. He took Albert Johanneson's place in the side in November 1970 and was a regular for the rest of the season as we gained promotion. He held his place in the side throughout the following season as we struggled in Division 3. I recall him being a fan's favourite. With a diminutive stature and big bushy side burns, his powerful runs down the wing and stunning shots were crowd pleasers as we won promotion in his first season and fought off relegation a season later. At the end of the 1971/2 season, as reported on BBC's Look North at the time, he was sacked when caught stealing someone's wage envelope, believed to contain £27, from inside the club, in the days when wages were paid in cash in little brown envelopes. Sadly that was the end of a promising league career and he drifted around the non league circuit never to be heard of again.
ADAM SMITH One of many wide men who flattered to deceive. This time over 18 months between late 2008 and 2010. After City, he drifted through (and down) the leagues until hitting the front pages (in Derbyshire at least) in January 2017 when found guilty of a "sophisticated" £22k fraud in a case involving claiming money back on multiple occasions for a single purchase from TK Maxx stores across the country. Read More.
MOSES ASHIKODI A perpetual offender who did little wrong (apart from not scoring enough and if that's a crime, this page would be very long) in his 6 months with us. He joined us, initially on loan in November 2011 and was released after not featuring in either of our 2012 Wembley double winning triumphs and scoring just once in 11 appearances. A speedy striker, with us, like with many of his clubs, he failed to deliver after showing initial promise. However, by all accounts, he toed the line whilst with us, something that's not true of some of his other clubs. Starting his career at Millwall, at 16, he left the club by mutual consent in 2004 after a training ground incident that reportedly saw him threaten fellow striker Mark McCammon with a plastic knife. In 2016, he played for at least 6 clubs in the lower echelons of the pyramid. They included one game at Croydon where he walked out of the club after being subbed on his debut in March and ending the year at Chatham Town where in his second appearance, he stormed off the pitch, just 7 minutes after coming on as a sub, after a flare up with a teammate, leaving Croydon with 10 men (having used all the substitutes. He was sacked after the game. At last count, still short of his 30th birthday, he'd had 28 clubs, ranging from Rangers and West Ham all the way down to the lower tiers of the pyramid in a career characterised by impressive trials, contracts cut short and petulance when not in the starting side.
MARK MALEY Not sure if he qualifies or not, but he's on the lower steps anyway. A Sunderland loanee, he was an irregular left back for us throughout most of the 2001/2 season before a season ending thigh injury saw him return to Sunderland in March 2002. The following month, when messing around in his flat with an airgun and teammate John Oster, he was accidentally shot in the eye, an injury which ended his football career.
GARY MARTIN Signed on November 2nd, 2017, it seemed a strange signing as he had already agreed a 3 year deal in play for Lillestrom in Norway from January 1st. He scored his only goal for City in our FA Trophy win over Coalville on November 25th. He was sacked 2 days later when City discovered he'd played local amateur football in Darlington a day earlier. Given Martin Gray and his backroom team's Darlington and north east connections, it is surprising Gary Martin thought he wouldn't be spotted breaking his professional contract with City. Read More.
NIGEL PEPPER Our former midfield hard man, so hard, he received 3 red cards in four games against Darlington in the 1990/1 season. In over 5 years with City, he was integral to our successes, including our 1993 Wembley play off win and later League Cup success over Manchester United. As well as his tackling ability, he was a regular scorer from midfield. After playing for Bradford City and Aberdeen, his career came to an end with Scunthorpe. On only his second appearance for them, early in the 2000/1 season, he was sent off for a bad tackle, receiving his red card on a stretcher as he left the field with a badly broken leg. He made just one more league appearance before being released at the end of the following season and drifting out of league football.
BARRY JACKSON A club legend, he played a club record 539 competitive games for us between 1958 and 1970. The PFA named him City's greatest ever player. Having received a suspended ban (2 weeks and £15) for being sent off in pre season game at Scarborough in 1969, the first time a suspended ban had been invoked, his final season ended in ignominy when he was sent off playing for City at Scunthorpe in January 1970, the incident being made worse when he angrily kicked over a trainer's bucket as he left the pitch. The FA clamped down hard, invoking his previous suspended ban, they banned him for 8 weeks and fined him £25, the longest ban ever given by The FA for a sending off offence, in an era when 2 weeks was the norm. Given City's postponements that season, the ban covered 15 league games (February 16 to April 11) plus his own testimonial against Hull in February. Consequences? This was one of the cases held up when moving away from bans in week to current system of game bans shortly afterwards. For Jackson, he was unable to regain his first team place, never playing again for City, as Topping and Swallow cemented their places. Jackson retired from professional football at the end of the season, but did have a short spell at Scarborough. Lots of parents would also put him on the naughty step for the amount sweets their kids bought from his sweet shop at the end of Bootham.
THE SUBWAY INCIDENT 4 City players, Strikers Michael Rankine and Michael Gash, winger Craig Nelthorpe and goalkeeper Michael Ingham were arrested in the early hours of a Sunday morning in August 2009 after an altercation outside the Subway sandwich shop in Clifford Street, York. A day early, all 4 had featured in City's away friendly 3-1 defeat at FC Halifax where Nelthorpe had been sent off. The 4 who'd earlier been in The Gallery nightclub were understood to have been in an argument with two adult males which ended in violence. They were held in custody for a few hours before being sent to trial in September 2010. In the words of the police, it "escalated into violence" and the two males were subjected to a "serious assault" with one ending up in York Hospital with facial injuries. Whilst on BBC's 606 website, "GerraldAggro", in his own words and with his own spelling, wrote "they attacke my mate on the night he's got a fractured cheek bone, broken nose and chipped tooth, coloured lad was in subway and wouldn't allow my mate out the door as he was very drunk, my finally got through after a while and 3 mates started walking past gallery to taxi rank near fire station the they ran and jumped him from behind. Also one of my mates who was there that night it happened was an ex city palyer released a few years back made a few 1st appereances and was talking to ingham on the night yet the other three attacks his best mate. its a disgrace!!!!! should be locked up!!! Lad taking them to court anyway!!!!!" It was to be over a year before the trial concluded by which time Nelthorpe and Gash had left City. Gash pleaded guilty to affray along with Nelthorpe, while Rankine also admitted guilt, but to a lesser charge. The court also accepted a not guilty plea from Nelthorpe to a count of assault causing actual bodily harm and the players. Ingham's not guilty plea was accepted and he faced no further action after prosecution described his involvement as "minimal."
PAUL CRICHTON Our 2004 return to non league wilderness started with new signing Paul Crichton, apparently doing a favour for his mate, Chris Brass, in goal. He lasted just 4 games before a very public falling out with City fans during a 4-0 defeat at Gravesend. He had a verbal altercation with City fans behind the goal who accused him of not trying. Words were said and Crichton's City career was over. His departure was swift, probably released from a short term weekly contract rather than being sacked as sometimes reported. Read More. About 10 years earlier, I also recall Dean Kiely being goaded when he came back to York with Bury. City fans goaded him for leaving us for more money and Kiely responded with a hand gesture of counting his money behind his back in full view of his baiters. I'm afraid there's no naughty step for Dean Kiely.
YORKIE / SHIPPO October 1st, 1994, City's original mascot, Shippo, disgraced himself during the half time penalty shoot out when he was in goal facing the Junior Reds. He dropped his shorts causing much merriment in the Longhurst, chants of "Shippo For England" and even caused Douglas Craig to leave the boardroom to see what all the commotion was about. To this day, Shippo has always maintained he didn't know what he was doing due to tunnel vision. Come April 29, 2000, Yorkie, his successor allegedly squirted water at Halifax's skipper as City went 2 up in an explosive match that saw Halifax have 3 players sent.

ANDY BISHOP Andy almost deserves a double entry. After the early kick off draw at Farnborough in October 2004, he walked into the club bar, dressed in a gaudy, non club issue, bright blue shell suit and bought 6 cans of lager, the assumption being they were for his own consumption on the long coach journey home. Fashion sense and re-hydration habits both deserve a low rung on the naughty steps. The only saving grace? Andy Bishop scored our goal in the draw and finished that and the next season as our top scorer.
JOHN MacCPHAIL Newly signed from Sheffield United in February 1982, shortly afterwards, he was fined for travelling from his Sheffield home to York on a train ticket bought with a young persons (under 24) rail card when aged 28. He paid using a card he was not entitled to use. It didn't stop MacPhail from being voted City's player of the year in 1984, our Division 4 championship winning season and again a year later. At the time the incident was laughed off as a "Jack the lad" antic perpetrated against a big company.
YCFC YOUTH TEAM Coming Soon
CRAIG SKINNER Does he deserve place on the list? He joined City in March 1999 on a 3 year contract. He played just 10 times for City over the remainder of that season and the whole of the next season (1999/2000). He didn't play at all for City (first team or reserves) in the 2000/1 season and wasn't mentioned in any injury dispatches. On March 31, 2001, at a fans forum, Douglas Craig stated, "It is now in a position where it would be wrong for us or anybody at the club to pass any comment at all (on Craig Skinner's situation). It is a matter that will have to be decided by the League in due course". That summer, his contract was terminated a year early. The following season he played a handful of games for Leigh RMI and Northwich Victoria in his native Lancashire before disappearing from view. Was he a naughty boy and what do he do to be ostracised for a whole season?
TONY YOUNG Signed by Wilf McGuinness, his contract was cancelled by mutual consent in November 1978 due to disciplinary problems.
KEITH USHER Some might have seen him as an intransigent club man, but he gets on the naughty boy step for the language he gave Bobby Robson on the first occasion the pair spoke. As England manager, Robson (in his pre Sir days) took his England side to Aylesbury for a warm up in advance of Euro 88. With the Shipton Street Roof Appeal in full swing, we wrote to England (unbeknown to Keith and City) asking if they would play a fund raising game at Bootham Crescent. At the time, in quiet moments, there was a long running office joke that City's youth team coaching staff (Gary Naylor et al) would ring Keith and pretend to be Bobby Robson (Usher's hero) and try, usually successfully, to wind up Keith. One day in April 1990, Keith took a call, the usual banter followed, the caller insisted that he was Robson, more insistent than usual, "I really am Bobby Robson, about your request to bring the England team to York for a friendly", Keith's language got riper and riper, his face redder and redder. The caller, maintaining his dignity and poise, continued to insist he was Bobby Robson. With Keith in full expletive tirade mode, in walked Gary Naylor. Keith realised it wasn't a wind up, he really was speaking to the actual Bobby Robson, the England manager. All credit to Bobby Robson for having the decency to call personally and offer his apologies that England had no free dates for a friendly. Bobby, graciously accepted Keith's apology and the pair proceeded to have a long chat.
JACKIE McNAMARA Contrast John MacPhail's treatment with Jackie McNamara. He was vilified. Despite his protestations and extenuating circumstances (he had a ticket, albeit for an earlier train and offering to pay for a new ticket), he was found guilty in court, so earns a place near the bottom step.
SCOTT FLINDERS Fittingly bottom of the list. Well he was found guilty by The FA and served a 5 game ban for racial abuse for uttering the words "Not Your Kind" which were construed as being a racist insult by a player who'd just physically attacked him, an attack that could well have seen the AFC Wimbledon striker placed on the sex offenders register if it had been done on the high street. The hearing deemed Flinders to be an unreliable witness and found him guilty based on rather flimsy evidence. Although not legally trained, from reading the case transcript I feel confident I could have got him off.
"Mr Flinders, your wife has been insulted and your testicles squeezed, when you said, "My wife doesn't like your kind", did you mean the kind of man who verbally insults another man's wife and then squeezes your testicles?"
"Yes Mi Lud."
Case dismissed.
Read More
DAVID RUSH A striker, signed from Oxford in £85,000 in January 1997, he was effectively sacked in September 1997. The reason was never disclosed but its believed he may have crossed a white line. Despite hoping to get some money for him, we never did. He was playing for Morpeth at the start of the next season (including scoring 2 in a 3-2 over Blue Star on August 17 1998) and later played 10 league games for Hartlepool.