Following the evening, York City South made a contribution of 400 pounds to Daniel Parslow's testimonial fund. Many thanks to everyone who supported our Pizza evening and / or bought the new frontiers fanzine.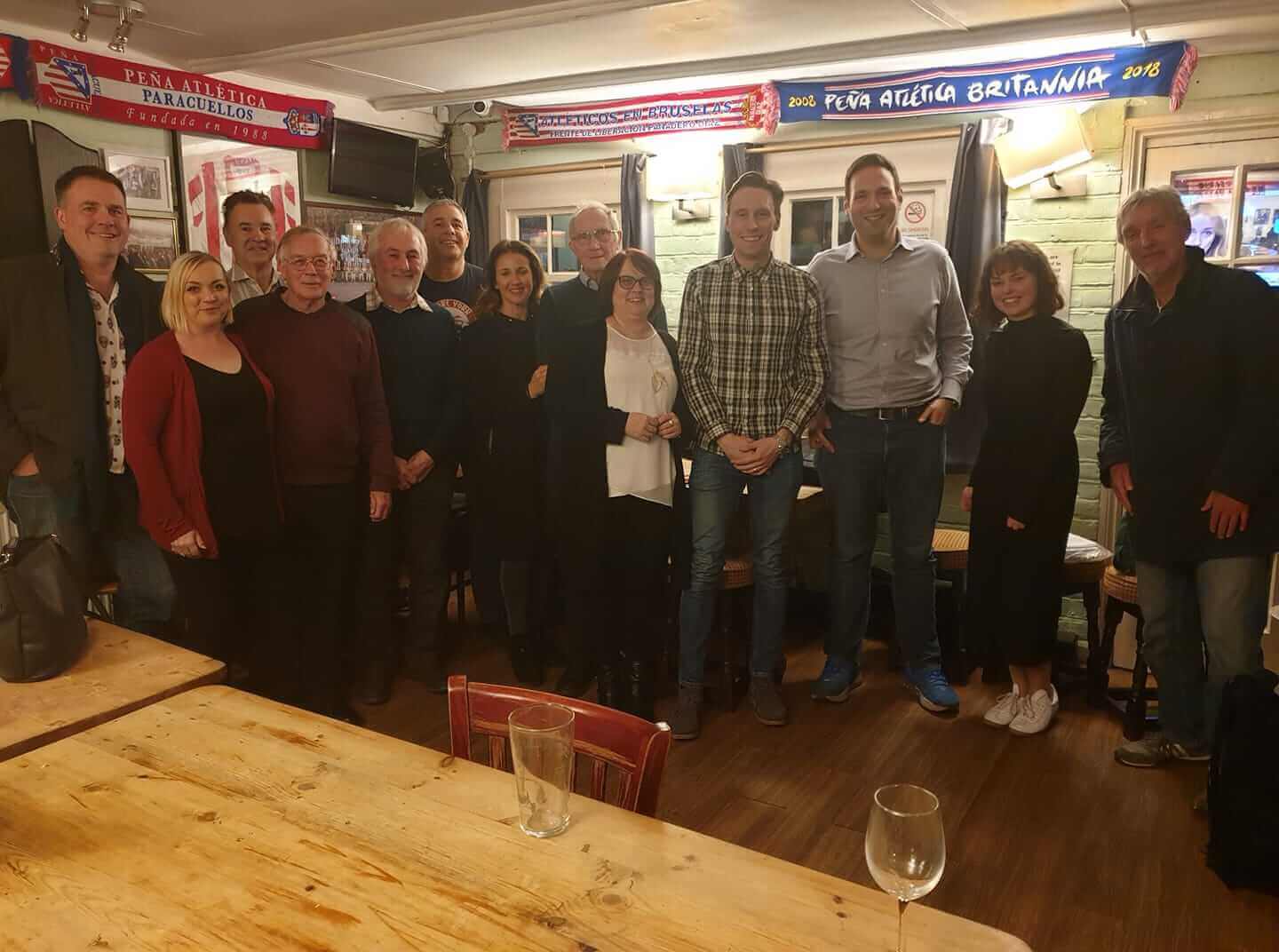 A large audience enjoyed an insightful evening with lots of interesting stories in the company of Daniel. With Sophie McGill in attendance, many events were seen from 2 different perspectives. Sophie opened the evening by describing Daniel as "My very favourite, nicest York City player. The most polite, most intelligent, honourable". Here's Daniel's story.
Early Career
Daniel developed through the youth ranks at Cardiff, but as they didn't send young players out on loan, he arrived at York in the summer of 2006 as a "floppy haired 20 year old". Having been contacted by Billy McEwan, and taking the advice of his Cardiff reserve team coach, Colin Walker, who was later to be his manager at City, he drove up to York for a trial, not realising just how far it was.
Whilst at Cardiff, Daniel won 5 Welsh under 21 caps.
2006 - 2015 First City Career
Daniel wasn't a regular for most of his first season with City which ended in a play defeat at Morecambe, whom Daniel believed City should have beaten. He made his City debut as a substitute in the 3-0 defeat at Crawley at September, his instructions from Billy McEwan were "go and win me the game", nerves calmed.
Daniel fondly recalled James Dudgeon, Anthony Lloyd, Nathan Peat, Steve Bowey and Neal Bishop as early City teammates whilst recalling the immense power and strength of Manny Panther.
Sophie recalled the Clayton Donaldson dilemma facing City in that January window. With him out of contract in the summer, should City accept one of the bids for him for Championship clubs. That would incur the wrath of the supporters and impact Cityis promotion chances. City took the decision not to sell and accept losing him in the summer for a slightly less tribunal decided fee. Unfortunately, his agent found a loophole which allowed him to join a non English club (Hibs) for no transfer fee.
After losing to Morecambe it was hard to re-group the following season, especially given the playing budget wasnit as generous in the early post Craig / Bachelor years. Sophie noted Billy McEwan had "a one dimensional style of management" with "lots of discipline" but was "old school and intensive".
Daniel recalled McEwan as getting into his head and wanting to kick every ball.
McEwan gave way to Colin Walker, he changed the atmosphere at the club, but nothing else. The team went on a long winning run. Such was Walker's success, that there was no option but to elevate him from caretaker to permanent manager. It turned out to be a false dawn as Walker proved to be a better coach than manager. Daniel noting, "there is so much more to being a manager".
It was under Walker that Parslow first became a regular City starter. He wasn't unperturbed about the challenge of having to prove himself under each new manager.
Martin Foyle was a manager who liked to keep himself distant from his players. He felt he was someone you could know for years and not know.
Daniel felt he played some of his best football under Gary Mills, the 2011/2 team was so strong and confident. Rather unsurprisingly, he named that season as his most memorable and most enjoyable. Everyone knew their role in the team. Under Mills, Daniel loved training and said Mills was a great guy to be around and "a players' manager" and someone who was straight and tried to simplify things simple, everyone knew their role.
Whilst audience members expressed their nervousness during the Luton Wembley win, Daniel said that he (and the players in general) didn't feel nerves, but with clocks in grounds and by talking to the referee, they were always aware of how much time there was left to play. Equally whilst supporters might have felt rivalry with Luton, to the players, that rivalry wasn't there, just the importance of the game.
Mills' lack of tactical acumen was found out with City back in Division 2 where City's dressing room became a "nervous, not flat" place. Gary Mills' team talk was to tell you what you're good at, when you win the ball, give it to someone who is better than you.
Sent out on loan under Nigel Worthington (after recovering from his ACL injury), he returned to find Russ Wilcox in charge, he told Daniel, "you're not big enough for me", Wilcox's preference being for big and ugly centre backs. Daniel overheard a conversation in the Secretary's office, the gist of it being to send him back out on loan as soon as possible. Daniel didn't get a chance and realised his days were numbered and soon returned to Grimsby for another loan spell. Wilcox signed Stephane Zubar. He was released at the end of the season.
Cheltenham
Having written about 20 letters to (Division 2 and non league) clubs offering his services, he received a phone call from Gary Johnson, manager of Cheltenham, just relegated to The National League. Johnson had just pencilled in his squad numbers for the new season ahead of the first pre season friendly, he was short of a number 6. His assistant, Simon Milton recalled they'd just thrown a letter from a defender into the bin. It was Daniel's letter, a phone call later, he was on the motorway down to Cheltenham to start a trial and a friendly the following day. The trial was to lead to a one year contract.
That season, Daniel played every minute of every game. Cheltenham won immediate promotion. Daniel being voted player of the season and he'd probably say it was his best, most consistent season.
Throughout his time with Cheltenham, Daniel lodged with his parents during the week and drove back to York and his wife whenever he had time off.
Daniel noted that Cheltenham had a system and the manager was so thorough and organised. Gary Johnson drilled into every player their position and role. Before every game, the team would watch 30 minutes of video of their opponent's previous game; each player would get a 10 minute video package of their direct opponent and a 5 page dossier on their strengths.
Daniel contrasted Johnson's detailed preparation to that of Gary Mills in his laissez faire / Brian Clough mode when he'd get his players to play to their strengths rather than worrying about the strengths of the opposition.
Gary Mills and Gary Johnson were the managers he most enjoyed playing under.
Back in Division 2, Daniel was still a regular Cheltenham starter. By Christmas, with Cheltenham looking to press on and Daniel's motorway driving was getting no easier, Gary Johnson told him he felt Daniel was struggling and that he was looking for a new centre back. Johnson would allow Daniel to leave if was able to find another club.
Return To City
Although Martin Gray had had quick success with Darlington, he struggled to communicate with City's players and to tell them what he wanted. His record of signings was poor.
Sam Collins was a "good coach, had a lot of youth team experience, but struggled with men's football", noting the different skills required in the 2 areas.
Daniel noted Steve Watson has "City super organised, solid and hard to beat, (with football) such a confidence game" and that how Watson's presence has allowed some of last season's players to flourish under him this season, especially Joe Tait and David Ferguson. He felt Ferguson had previously been playing under pressure as Martin Gray's marque signing.
Daniel regretted he had Steve Watson for only a few weeks, although not a first pick when he arrived, Watson told Daniel that he'd get his chance. It was 6 o'clock before the Hereford game that he knew he was in the team. He didn't play again after his concussion injury just before half time.
For a manager, it is all about how you deliver information. From day one it was obvious to Daniel that Watson had authority and was delivering simple, clear messages whilst Micky Cummins is a good coach and puts on good sessions with a good intensity.
Daniel is not worried about McNulty's lack of pace in a back 3, but he might be more vulnerable in a back4. He confidently predicted City will win the league this season.
It was about one month after his concussion that Daniel returned to training. He collapsed at the half way point when jogging around the training ground. It was then that he realised he might not play again for City and found that upsetting. After another week off, he went back to training and a session in the Roko gym where, disorientated, he fell off an exercise bike.
It was then that he first visited a neuro surgeon who diagnosed severe concussion, with plenty of rest, no reading and no TV being the medicine. The only exercise he was allowed was gentle walking. It took about 4 months until he could see an improvement.
Although his City contract was up, the club doctor said the club had a duty of care to look after him.
For his testimonial, it felt good to pull on his boots for one last time.
39 ex team mates turned up, including Jason Walker on crutches and Andre Boucaud travelling from London despite being injured and unable to play. It was very pleasing that so many turned up for the night. Gary Mills in his pre match team talk for the 2012 team, castigated the players for not keeping in touch with each other and needing a testimonial to re-unite.
Post Playing Career
Daniel has taken his entry level coaching badges but his next level badge stalled when he was at Cheltenham and he has not yet completed it. He regrets not starting his badges earlier.
Daniel has a sports science degree and would like to do something in that field. He'd recommend Matthew Syed's book, "Black Box Thinking".
Daniel noted there wasn't a great demand for sports science at City's level as clubs with tight budgets would invariably spend it on an additional player. It is a field he'd like to explore.
Agents
Daniel did not believe in agents. Many wanted to represent him when he was at Cardiff, but when he left, no one offered anything. He believed he could do anything an agent could do. He was happy to write and speak to managers himself. His moves to York City and Cheltenham came about through his own actions rather than through agents.
At times during his career, Daniel heard whispers that he could move and earn more elsewhere but he stayed believing City to be progressing, he enjoyed York and didn't believe it was worth a move for a few pounds more.
Most players at National League North level have an agent.
Sophie believes agents can be disruptive to a club, noting how Clayton Donaldson's agent engineered his move to Scotland (Ed: it can't be considered a great success for him as he returned to Crewe and a struggling Division 1 club, City had had bids from Championship clubs only 18 months earlier).
City Teammates
Enjoyed playing with Michael Ingham, "a solid keeper" who Daniel noted it was important for a defender to have faith in the keeper behind him. It built understanding and confidence.
Did a good impression of Hamza Bencherif getting upset and denying he was the dorita eater (which he wasn't) under Collins.
When asked about his best centre back partners at City, David McGurk was the first to be named, he learnt a lot from Jason Goodliffe and Janos Kovacs and name checked John "slower than erosion" McCombe.
Jon Parkin, "a great guy, good character, good guy, really humble" who always borrowed Daniel's toothpaste. Re the Amsterdam incident, Parky had got time off from Sam Collins and he believes that Parky though he did nothing wrong.
Ash Chambers, so much ability but needed constant reminders he was so good.
Vadaine Oliver, "athletic". When he was signing, the McGills were in the boardroom, Jason introduced Vadaine to his Dad, "Dad, This is Vadaine Oliver", Dad greeted him and enquired, "What's it like in Copenhagen?"
Sophie believed Craig Farrell was a "classy player".
Andre Boucaud, "so much technical ability, refreshing attitude", who told Daniel, "Pars bruv, what are you doing booting the ball, just pass me ball".
When Clarke Carlisle joined City, Daniel was living in the next village to him. Gary Mills asked Daniel to drive Clarke ("a very nice guy, honest") to York on a daily basis as he banned from driving. He did, the pair of them had some good conversations en route. Daniel regrets he didn't spot the mental health condition that later surfaced in Clarke. Daniel heard from Michael Potts that about 6 weeks earlier, he'd seen Clarke in Preston not looking at all well.
Along The Way
Sophie noted how Daniel was "brilliant", the City player who did most to support City's community programme.
On one occasion, he was asked to go up to Alne and the Bluebell pub to draw a City Christmas raffle. He got there, introduced himself to the bar staff, did his duty and drove back to York. By the time he was home, he was regretting not asking the barmaid for her number. The very next evening, he drove back to the pub. The barmaid was working again. "Hi, I was at the raffle last night", he said, Emma the barmaid, enquired, "Did you forget your prize". They later married.
Sophie last met Emma Parslow at York races and observed at home she had the same jacket that Emma was wearing, Emma replied, "Thanks, but its my Mum's jacket".
Daniel told us he keeps in touch with nearly every manager he played under.
Daniel believes City under estimated the power of the press, a position which can turn it into an us and them situation.
Proudest moment was leading City out at Wembley in 2009.
After his ACL injury in November 2013, he lost a yard of pace, it was most noticeable when doing fast feet drills.
Jackie McNamara placed too much faith in youngsters.
Mills asked Daniel to speak to Amari Morgan-Smith to get him to sign for York, Daniel believes we never saw the best of Morgan-Smith at City.
Darren Bent (when playing an Under 21 international) against England was the best striker he faced. He also came up against James Milner and Carlton Cole on international duty. Matthew Etherington was another highly rated opponent.
At City level, the Adebayo Akinfenwa was always a difficult opponent who Daniel would let have the first ball and aim to win the second ball.
Appeared on the daytime quiz programme "Penny Drop" in summer 2017 with Emma.
Yorkpress - announces retirement
Listen: Daniel Parslow on York Hospital Ball
Footnote: Daniel Parslow was the first City player to win the Billy Fenton Clubman Of The Year award on 3 occasions (2009, 2011 and 2013). Sean Newton later equalled that feat.