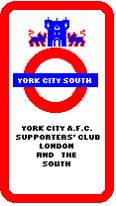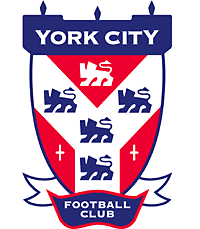 James Walker Memorial Trophy
York City South Player Of The Season
Its that time of the year again, your chance to vote for City's player of the season. The York City South award is decided in April and is presented by YCS when we're in a sponsor's box on April 1st at the Braintree game. Check if places still available. The club's own "Billy Fenton Clubman Of The Year" and several supporters club awards are also decided in April.
Click the dates below for more.
Saturday March 12 York City Clubman Of The Year Award - The History Read the history of City's Clubman Of The Year award, named in memory of Billy Fenton, one of our 1954/5 Happy Wanderers who took City to The FA Cup semi final that season.
March 13 Billy Fenton, after whom the City's own award is named The life and times of Billy Fenton, after whom the club's player of the year award is named and details of every winner of our cub's award. Plus footage of his and our team's goals as we reached the 1955 FA Cup Semi Final and a sneak look at action from our 1938 FA Cup run. Do you know which of our Clubmen winners has the player of the season trophy named in his honour at one of his previous clubs?
March 14 The James Walker Memorial Trophy - The History Read the history of York City South's own player of the year award and check out all the winners of our branch award.
March 15 Keepers Recall the careers of every City keeper.
March 16 Paul Aimson Many would call him City's best ever player.
March 17 Dread Zone For every player we fondly remember for their time at City, there are many more who passed through without making their mark. Unfortunately, some still cause supporters nightmares to this day. So bad, we've even launched a reserve side! PLUS A first look at City's naughty step.
March 18 City Abroad Today we recall some of the City players to have played abroad, taking in Turkey, a Canadian fireman, China and Malta where a former centre half played in the European Cup.
March 19 Young Guns How many of the ten youngest players ever to turn out for City can you recall. 3 went on to have top flight careers. Depending on how you class it, up to 6 had reasonably successful careers where playing for City was about the pinnacle of it and the other sunk without trace despite 2 spells with City. PS None went on to win a player of the year award with us.
March 20 The Chamber Of Horrors Today, we recall some nightmare games featuring City. 12 Matches From The Chamber Of Horrors. The article originally appeared in issue 13 of new frontiers, a York City fanzine dating back to 1992 Read New Frontiers. Also in this issue, to balance the horrors, the issue also included features on our 1955 Happy Wanderers and Steve Cooper whilst Sam recalled the perils of being a City ball boy in 1987.
March 21 City Player Records Download details of every player to have played for City, including details of transfer fees, appearances and for the current squad, their contracted end dates.
Wednesday March 22 The Contenders Voting closes tonight. Still unsure who to vote for? With well over 40 players this season, you're certainly spoilt for choice, so here is our guide to all the candidates help you to make up your mind. Remember folks, your vote really does count.